MTB Tire Test:

Maxxis

Ikon 3C MaxxSpeed TLR
---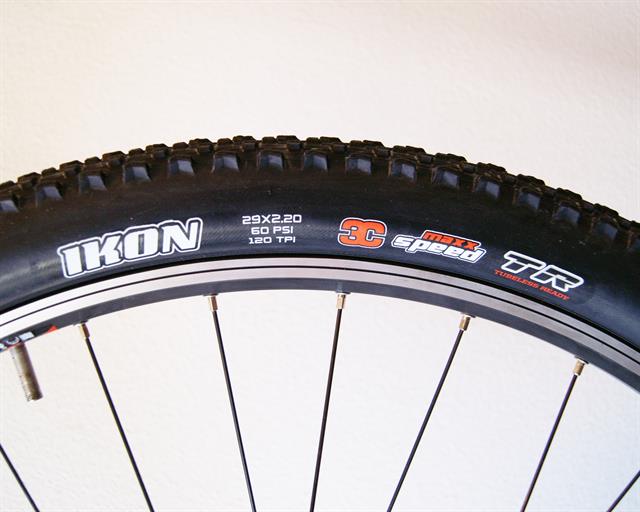 The Maxxis Ikon 3C MaxxSpeed Tubeless Ready 29 x 2.2 mountain bike tire is the fastest Ikon available from Maxxis. After the disappointing performance of the Maxxis Ikon Exception Silkworm on our test, I'm testing another Ikon to give Maxxis a fair chance against the other brands. This version has the 120 TPI casing and a triple compound MaxxSpeed rubber compound with no extra puncture resistance. It is Tubeless Ready rated, so it should not be a problem to get it set up tubeless with sealant.
Ad Buy Maxxis Ikon 3C MaxxSpeed TLR at Amazon.com
My first impression is that the 3C MaxxSpeed feels a lot more subtle when compared to the Ikon Exception. When compared side by side, they look identical but the 3C MaxxSpeed clearly has a different rubber compound, it seems soft and sticky. Unlike the Ikon Exception, this tire did have matching packaging. It is made in Taiwan as well.
Manufacturer Specifications
Manufacturer Specs
Brand
Maxxis
Model
Ikon 3C MaxxSpeed TLR
Year
2014
Supplied By
Bought in store
New or Used
New
Mileage
0 km
Price Range
High
Buy At

Ad

Amazon.com
Manufacturer part number
TB96740000
TPI
120
Compound
3C MaxxSpeed
Bead
Folding
ETRTO
57-622
Size Inch
29"
Width Inch
2.20
Specified Weight
590 grams
Max Pressure
60
Made In
Members Only
Available Sizes
29 x 2.35
29 x 2.20
29 x 2.00
26 x 2.20
26 x 2.00
Maxxis Ikon 3C MaxxSpeed TLR Test Results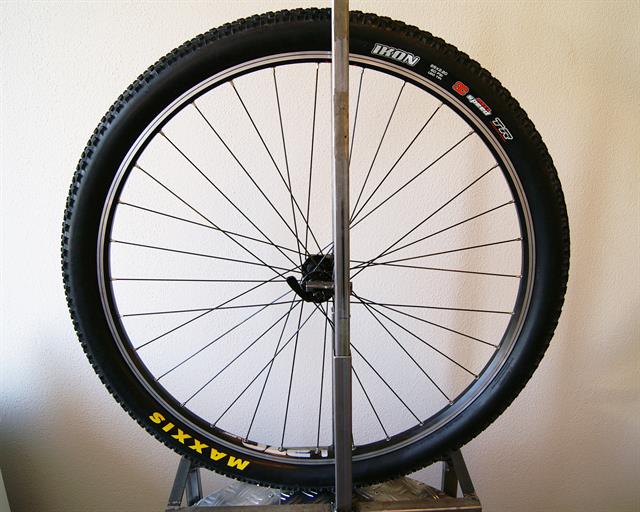 Size, Weight, and Thickness Measurements
advertisement
Size, Weight, and Thickness Measurements
Specified Weight
590 grams
Measured Weight
581 grams
Measured Width Carcass
53 mm (un-round)
Measured Width Tread
51 mm
Measured Height
54 mm (un-round)
Measured Knob Height Center
2.3 mm
Measured Knob Height Edge
3.8 mm
Measured Total Thickness Center (excluding knobs)
1.70 mm
Measured Total Thickness Sidewall
Members Only
All size measurements are taken at an air pressure of 35 psi / 2.4 bars on a 17.8 mm inner width rim.
The measured weight of this Ikon is 581 grams, this is 9 grams less than the advertised weight of 590 grams. Measured width of the tread on a 17C rim at 35 psi is 51 mm. The carcass is a bit wider and measures 53 mm wide. Height of the tire is 54 mm. These measurements seem to be typical for 2.2/2.25 sized mountain bikes tires.
Height of the center knobs is 2.5 mm. The knobs at the edge of the tire have a height of 3.8 mm. These measurements are typical for an all-round cross-country mountain bike tire.
Rolling Resistance Test Results
Rolling Resistance Test Results
Inner Tube
Conti MTB 29 (225 gr butyl)
Rolling Resistance
55 PSI / 3.8 Bar
Members Only
Rolling Resistance
45 PSI / 3.1 Bar
Members Only
Rolling Resistance
35 PSI / 2.4 Bar
27.6 Watts
CRR: 0.00827
Rolling Resistance
25 PSI / 1.7 Bar
31.5 Watts
CRR: 0.00944
All numbers are for a single tire at a speed of 29 km/h / 18 mph and a load of 42.5 kg / 94 lbs.

Use the formula: RR (Watts) = CRR * speed (m/s) * load (N) to calculate rolling resistance at a given speed and load.
Rolling resistance at an air pressure of 25 psi is 31.5 watts. Compared to the Ikon Exception Silkworm, the Ikon 3C MaxxSpeed has on average a 7 watts lower rolling resistance at the same air pressure. Still, rolling resistance is quite a bit higher when compared to a Racing Ralph, which has a rolling resistance of 23.9 watts at the same air pressure and also has a comparable knob height. This means you loose 7.5 watts of power, per tire, with the Ikon 3C.
Puncture Resistance Test Results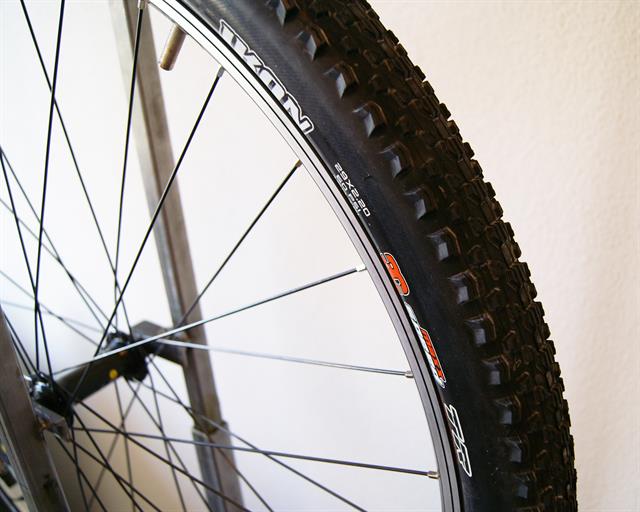 Puncture Resistance Test Result (higher is better)
Puncture Resistance Tread
6 Points
Puncture Resistance Sidewall
Not Tested
While rolling resistance is lower than the Ikon Exception Silkworm, puncture resistance is 15 % lower as well (6 points vs 7 points for the Ikon Exception). Comparable tires from other brands that have a much lower rolling resistance are able to perform much better in the puncture test as well.
Conclusion
Auch! This is the most expensive tire I've tested yet, but it seems Maxxis really can't compete with their mountain bike tires when only testing rolling resistance and puncture resistance. I've never used any Maxxis tires on my bikes before so I can't comment on grip and wear.
While Rolling resistance is lower when compared to the Ikon Exception Silkworm, the Ikon 3C MaxxSpeed still can't compete on rolling resistance, when compared to mountain bike tires from other vendors. It's price is also too high, at least in Europe, these cost more than tires from most other brands. You would expect a high-tech tire for the money.
Ad Buy Maxxis Ikon 3C MaxxSpeed TLR at Amazon.com
RATING: 2 / 5
TEST VERDICT: Not Recommended
Comments