Road Bike Tire Test:

Michelin

Power Cup TLR
---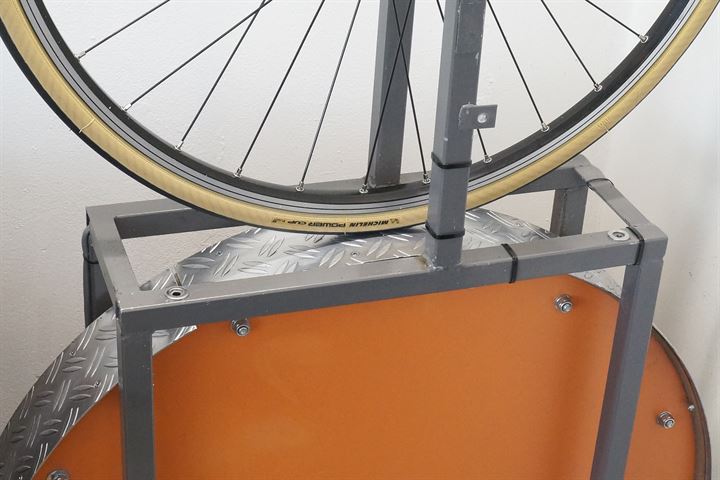 The Power Cup is the latest addition to Michelin's road bike tire lineup. With the Power Cup, Michelin goes head-on with the Continental Grand Prix 5000 series that's been the "gold standard" in road bike tires for the past few years. The Power Cup is available in a traditional "clincher" tube-type version, a tubeless-ready (TLR) version, and a tubular version for those that still prefer tubular tires.
A quick look at Michelin's latest road bike tire lineup suggests the Power Cup will replace both the Power Road, Power Road TLR, Power Endurance, and the Power Competition that we've known for a while now. The Power Time Trial is still available as their fastest time-trial tire and the Power All Season also still looks to be available as their highest grip tire.
From a construction standpoint, and although it might be possible more has changed here, the Power Cup TLR comes closest to the Power Road TLR as they both seem to use a 4x120 TPI casing construction. The most significant change appears to be the compound, as the Power Cup comes with Michelin's Gum-X compound, that's supposed to be a step up in performance. Tread thickness has also been reduced slightly to be more in line with other recently introduced tubeless road bike tires.
The Power Cup TLR is available in the 25-622 (700x25c), and 28-622 (700x28c) sizes. Both sizes are available in a full black version and a "classic" version with light-colored sidewalls. As we've found the Power Cup TLR a bit hard to find, this is a test of the 25-622 version with the light-colored sidewalls as it's the only version we've found available for sale.
Manufacturer Specifications
Manufacturer Specifications
Brand
Michelin
Model
Power Cup TLR
Year
2022
Tire Type
Tubeless
Supplied By
Bought in store
New or Used
New
Mileage
0 km
Price Range
Very High
Buy At
Manufacturer part number
598238
EAN
3528705982386
TPI
4x120
Compound
Gum-X
Bead
Folding
ETRTO
25-622
Size Inch
28"
Specified Width (mm)
25
Specified Weight
270 grams
Max Air Pressure (psi)
116
Made In
Members Only
Available Sizes
25-622 (700x25c)
28-622 (700x28c)
Michelin Power Cup TLR Test Results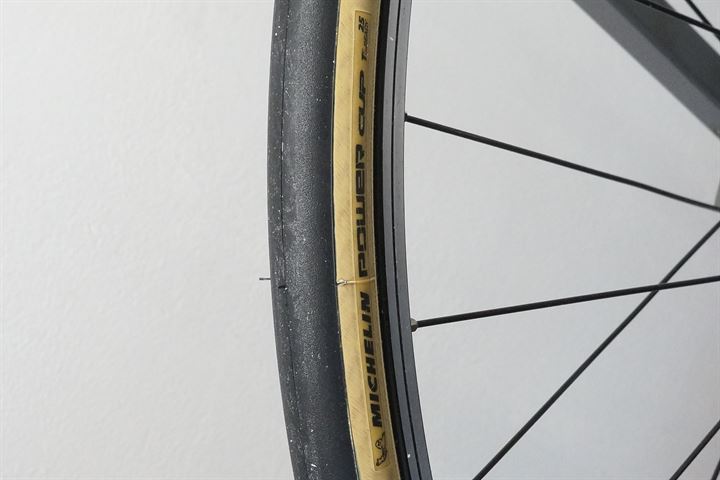 Size, Weight, and Thickness Measurements
advertisement
Size, Weight and Thickness Measurements
Specified Weight
270 grams
Measured Weight
259 grams
System Adjusted Weight
(tire + valve + rim seal)
279 grams
Measured Width
28 mm (un-round)
Measured Height
25 mm (un-round)
Total Tire Thickness Center
2.4 mm
Total Tire Thickness Sidewall
Members Only
Unmounted Casing Width
71 mm
Unmounted Tread Width
Members Only
All size measurements are taken at an air pressure of 100 psi / 6.9 bars on a 17.8 mm inner width rim.
Rolling Resistance Test Results
Rolling Resistance Test Results
Inner Tube
None (20 ml sealant)
Rolling Resistance
140 PSI / 9.7 Bar
Not Tested
Rolling Resistance
120 PSI / 8.3 Bar
8.6 Watts
CRR: 0.00258
Rolling Resistance
100 PSI / 6.9 Bar
9.2 Watts
CRR: 0.00276
Rolling Resistance
80 PSI / 5.5 Bar
Members Only
Rolling Resistance
60 PSI / 4.1 Bar
Members Only
All numbers are for a single tire at a speed of 29 km/h / 18 mph and a load of 42.5 kg / 94 lbs.

Use the formula: RR (Watts) = CRR * speed (m/s) * load (N) to calculate rolling resistance at a given speed and load.
Puncture Resistance Test Results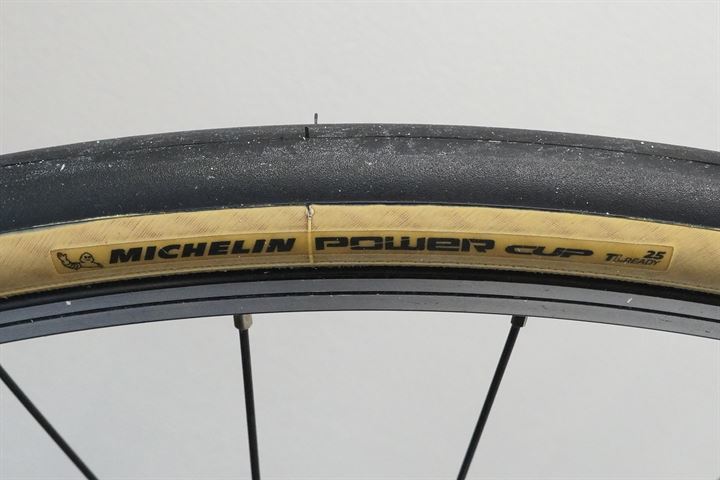 Puncture Resistance Test Results (higher is better)
Total Puncture Score Tread
42 Points
Total Puncture Score Sidewall
Members Only
Tread Puncture Force Sharp Needle
Members Only
Tread Puncture Force Blunt Needle
Members Only
Tread Total Tire Thickness
2.4 mm
Sidewall Puncture Force Sharp Needle
Members Only
Sidewall Puncture Force Blunt Needle
Members Only
Sidewall Total Tire Thickness
Members Only
Static Grip Test Results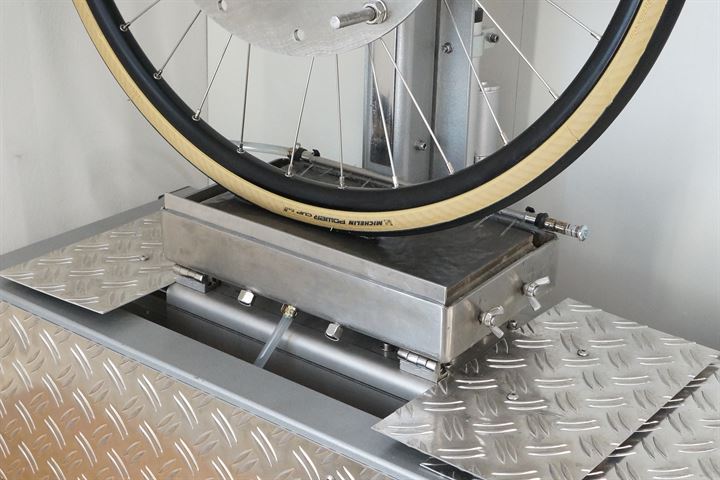 Static Grip Test Results
Wet Grip Average
71 Points
Wet Grip Center
Members Only
Wet Grip Edge
Members Only
Grip in points = coefficient of friction * 100
Conclusion
The performance of the Michelin Power Cup TLR is incredibly strong in almost all of our tests. When compared to its main target: the Continental Grand Prix 5000 S TR (read our review), the Power Cup TLR is on par in the rolling resistance tests, performs 15% better in the tread puncture test, and also offers an 8% increase in our wet grip tests.
We would have loved to rate the new Power Cup TLR 5 out of 5, but we have to subtract 0.2 points as the casing seems way too big for a 25-622 tire, and (even more important) the tread is far too small. The tread-to-casing ratio (percentage of the casing covered by the tread) comes in at just 35.2% (GP 5000 S TR = 42.2%), the lowest tread cover of all road bike tires that we've had on the test bench.
The small tread makes this tire unsuitable for wider rims, and we recommend sticking to 15 mm and 17 mm rims as you run the risk of riding on the sidewall on wider rims at high lean angles. We're puzzled why Michelin went in this direction as they only had to copy the Power Time Trial tread and casing sizes, and it would have been fine.
If you're still on 15 or 17 mm rims, we definitely recommend the Power Cup TLR over the Grand Prix 5000 S TR.
RATING: 4.8 / 5
TEST VERDICT: Highly Recommended
Comments