---
Touring Bike Tire Test:

Schwalbe

Marathon Almotion
Schwalbe Marathon Almotion
---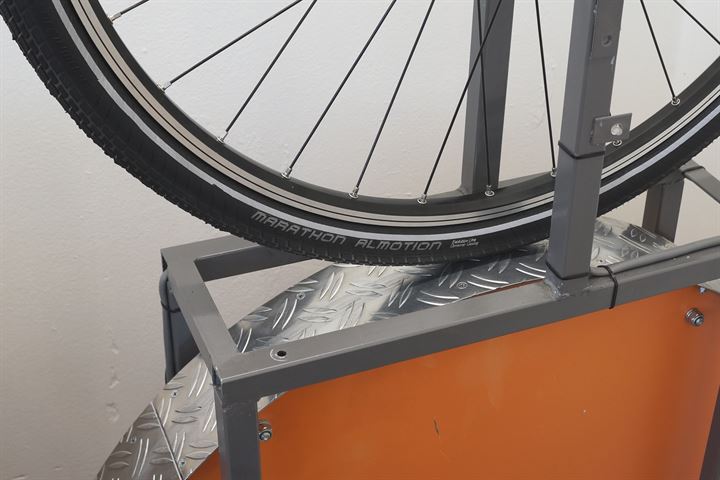 The Schwalbe Marathon Almotion is one of the newest tires in the Schwalbe Marathon lineup. Just like the new Marathon Supreme (read review) that I reviewed some time ago, the Almotion uses the very low rolling resistance OneStar compound that is also used on Schwalbe's top of the line road bike tires. I'm reviewing the non-tubeless rated "dynamic casing" version of the Almotion in the 40-622 size as it should be slightly faster than the TL-Easy Almotion which uses slightly thicker sidewalls to keep the air in when used without an inner tube.
Ad Buy Schwalbe Marathon Almotion at Amazon.com
Even though both the new Marathon Supreme (2016+) and Almotion use the same OneStar compound, the anti-puncture systems used on these tires is what sets them apart. The Almotion uses the same kind of anti-puncture material that's also used on the Marathon GreenGuard (i.e. a 3 mm thick anti-puncture layer) which makes the tire a bit heavier than the Supreme which uses a much thinner but harder to penetrate anti-puncture material.
NOTE: It appears Schwalbe has discontinued the non-tubeless version of this tire in the last few weeks. After checking their site today, it seems the Almotion will only be available with a TL-Easy casing that is slightly heavier (655 grams Vs 610 grams). As I've already done all the testing, and I don't have time to test the TL-Easy version anytime soon, my experience with the Schwalbe MTB tires has been that rolling resistance of the TL-Easy version will be at most 5% higher at the same air pressure when compared to the regular versions.
Manufacturer Specifications
Manufacturer Specs
Brand
Schwalbe
Model
Marathon Almotion
Year
2016
Supplied By
Bought in store
New or Used
New
Mileage
0 km
Price Range
High
Buy At

Ad

Amazon.com
Manufacturer part number
11600593
TPI
67
Compound
OneStar
Bead
Folding
ETRTO
40-622
Size Inch
28"
Width mm
40.00
Specified Weight
610 grams
Max Air Pressure (psi)
80
Made In
Members Only
Available Sizes
55-622 (28x2.15)
50-622 (28x2.00)
40-622 (28x1.50)
50-584 (27.5x2.00)
55-559 (26x2.15)
Schwalbe Marathon Almotion Test Results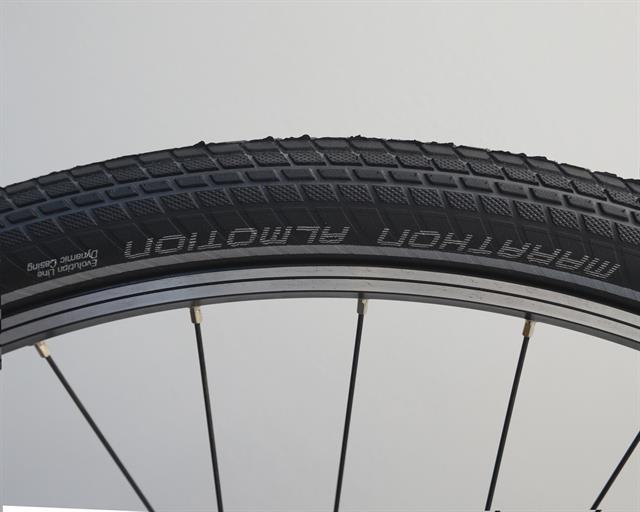 Size, Weight, and Thickness Measurements
advertisement
Size, Weight, and Thickness Measurements
Specified Weight
610 grams
Measured Weight
629 grams
Measured Width
38 mm (un-round)
Measured Height
39 mm (un-round)
Tread Depth
2.0 mm
Total Tire Thickness Center
6.6 mm
Total Tire Thickness Sidewall
Members Only
All size measurements are taken at an air pressure of 60 psi / 4 bars on a 17.8 mm inner width rim.
Specified weight of the 40-622 Marathon Almotion with the Dynamic casing is 610 grams; my sample puts 629 grams on the scale. The measured width on my 17C rim, at an air pressure of 60 psi is 38 mm. Measured height comes in at 39 mm.
Tread depth comes in at 2.0 mm which is decent for a touring bike tire and a bit more than the Marathon Supreme (read review). The total thickness of the tire at the center of the tread comes in at 6.6 mm. The 6.6 mm thickness indeed indicates this tire uses a 3 mm thick anti-puncture layer under the tread. The sidewalls have a thickness of 0.9 mm which is slightly thicker than the Marathon Supreme which came in at 0.7 mm.
Rolling Resistance Test Results
Rolling Resistance Test Results
Inner Tube
Conti Tour 28 (170 gr butyl)
Rolling Resistance
90 PSI / 6 Bar
No Data

Rolling Resistance
75 PSI / 5 Bar
15.8 Watts
CRR: 0.00474
Rolling Resistance
60 PSI / 4 Bar
17.1 Watts
CRR: 0.00513
Rolling Resistance
45 PSI / 3 Bar
Members Only

Rolling Resistance
30 PSI / 2 Bar
Members Only

All numbers are for a single tire at a speed of 29 km/h / 18 mph and a load of 42.5 kg / 94 lbs.

Use the formula: RR (Watts) = CRR * speed (m/s) * load (N) to calculate rolling resistance at a given speed and load.
Whoa! Rolling resistance of the Marathon Almotion is extremely low. At the lower air pressures, the Marathon Almotion even outperforms the very fast Vittoria Voyager Hyper (read review) which is a much lighter and thinner tire. Just like the Marathon GreenGuard (read review), which uses the same 3 mm thick anti-puncture material, rolling resistance only goes up slightly when dropping the air pressure to 45 psi / 3 bars. This goes to show that the stuff they use in this tire adds just a slight amount of rolling resistance at the cost of a higher weight.
Although rolling resistance of the Marathon Almotion is lower when compared to the Voyager Hyper or Marathon Supreme (read review), you do have to keep in mind that the anti-puncture layer in the Marathon Almotion makes it a stiffer tire. What this means is that -for the same comfort level- you have to run less pressure in the Almotion which in turn increases rolling resistance. I'm not sure exactly how much lower air pressure has to be, but I guess this to be somewhere around 10-15 psi. The Almotion is a very fast tire, but the thick anti-puncture layer makes it look even better in this test when compared to the more supple tires.
Puncture Resistance Test Results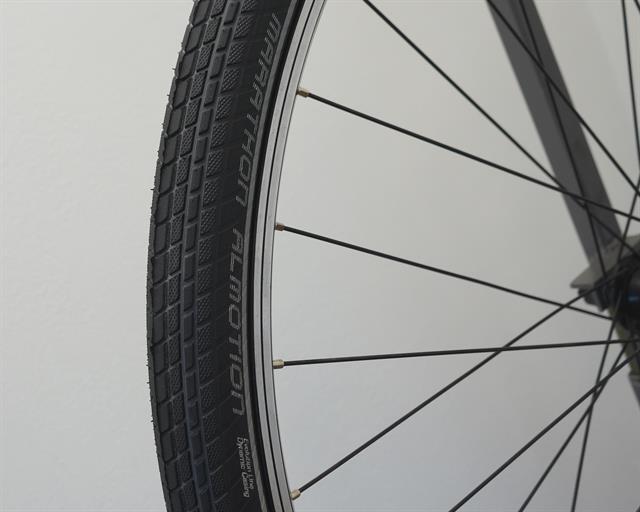 Puncture Resistance Test Results (higher is better)
Total Puncture Score Tread
107 Points
Total Puncture Score Sidewall
Members Only
Tread Puncture Force Sharp Needle
13 Points
Tread Puncture Force Blunt Needle
No Data
Tread Total Tire Thickness
6.6 mm
Sidewall Puncture Force Sharp Needle
Members Only
Sidewall Puncture Force Blunt Needle
No Data
Sidewall Total Tire Thickness
Members Only
In the raw puncture resistance test (puncture force), the Marathon Almotion comes very close to the Marathon GreenGuard which uses the same anti-puncture system. Compared to the Marathon Supreme (15 points), it takes less force to puncture the Almotion (13 points) as the thicker, but softer anti-puncture layer is easier to puncture. In the sidewall puncture test, the Almotion scores a decent 5 points, which is less than the GreenGuard (8 points) but better than the Supreme (3 points).
When we also take the total thickness of the tire into account (Puncture Factor = Puncture force * tire thickness), the Almotion does very well for a tire with such a low rolling resistance. Puncture Factor of the Almotion comes in at 86 points, which is double the score of the Voyager Hyper (40 points) and slightly better than the Marathon Supreme (75 points).
Conclusion
I didn't expect the Marathon Almotion to be this fast of a tire! At the realistic air pressure of 60 psi / 4 bars, the Marathon Almotion is the fastest touring bike tire tested to date. Although real-world rolling resistance will be slightly higher when compared to the more supple tires because you'll have to run a little less pressure in these tires to get to the same comfort level, puncture resistance is much better than those tires as well. In a way, this appears to be the Evolution version of the Marathon GreenGuard which has been my top pick for price/performance for a long time.
It's a shame Schwalbe discontinued the non-tubeless version of the Almotion so soon. The TL-Easy version should be nearly as good when used with an inner tube and offer stronger sidewalls as a bonus. On the other hand, when you use the TL-Easy the way it is meant to be used (tubeless) rolling resistance will come in even lower. My (educated) guess for a tubeless Marathon Almotion TL-Easy is 15.0 watts at an air pressure of 60 psi / 4 bars which makes this tire competitive with some of the fastest road bike tires while offering a much higher puncture resistance.
Ad Buy Schwalbe Marathon Almotion at Amazon.com
RATING: 5.0 / 5
TEST VERDICT: Highly Recommended
Comments