Fat Bike Tire Test:

Surly

Larry
---
---
---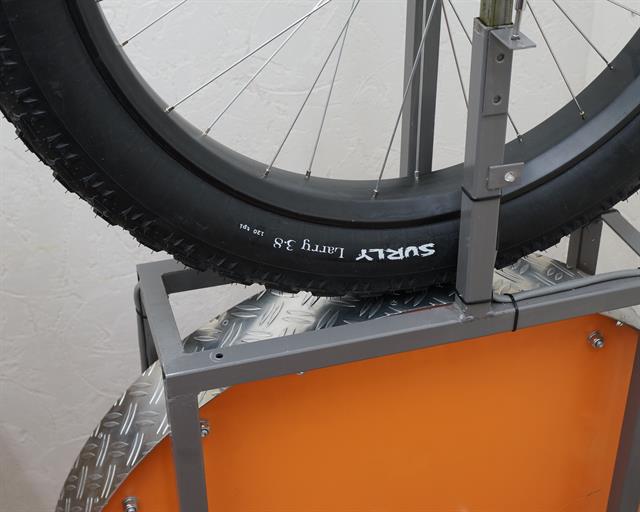 The Surly Larry is a tire designed specifically as a front tire for fat bikes. It features a series of dart shaped knobs and tiny domes in between the knobs that supposedly combine traction and drift control. This is a review of the folding 120 TPI version as that version is the lightest and should also be the fastest. A cheaper 27 TPI wire bead version of this tire is available as well.
Ad Buy Cycling Equipment at Amazon.com - Tires, Parts, and Bikes
Just like the 45NRTH fat bike tires, the Surly fat bike tires are expensive. The high prices set high expectations so I'm really looking forward to testing this tire to see if the Surly tires are worth the money. I couldn't find much information about rubber compounds, puncture layers, reinforcements or other specifications of the Surly tires so let's just test this tire and see where it ends up.
Manufacturer Specifications
Manufacturer Specifications
Brand
Surly
Model
Larry
Year
2016
Supplied By
Bought in store
New or Used
New
Mileage
0 km
Price Range
High
Buy At
Manufacturer part number
TPI
120
Compound
Bead
Folding
ETRTO
Size Inch
26"
Width Inch
3.80
Specified Weight
1256 grams
Max Air Pressure (psi)
30
Made In
Members Only
Available Sizes
26x4.70
26x3.80
Surly Larry Test Results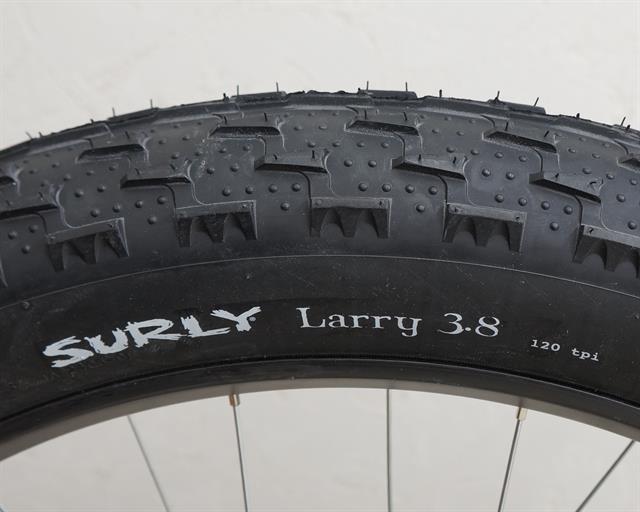 Size, Weight, and Thickness Measurements
Size, Weight, and Thickness Measurements
Specified Weight
1256 grams
Measured Weight
1212 grams
Measured Width Carcass
93 mm (un-round)
Measured Width Tread
90 mm
Measured Height
80 mm (un-round)
Measured Knob Height Center
4.5 mm
Measured Knob Height Edge
4.5 mm
Measured Total Thickness Center (excluding knobs)
2.50 mm
Measured Total Thickness Sidewall
Members Only
All size measurements are taken at an air pressure of 16 psi / 1.1 bars on a 65 mm inner width rim.
Some of the sparse technical data about the Larry is that it should have a weight of close to 1256 grams. My sample comes in at 1212 grams and makes this one of the few tires that actually weigh less than the specified weight. The measured casing width on a 65C rim at an air pressure of 16 psi is 93 mm. The shoulder knob to shoulder knob width is 90 mm. The 3.80 rating on this tire seems to make sense as it's a bit smaller than the 4.00 rated tires.
The center and shoulder knobs on the Larry all have the same height of 4.5 mm which is a middle of the pack knob height for a fat bike tire. The sidewalls have an average thickness of about 0.9 mm which also fits the middle of the pack.
Rolling Resistance Test Results
Rolling Resistance Test Results
Inner Tube
None (60 ml sealant)

(current protocol)
Schwalbe SV13J (390 gr)

(test protocol)
Rolling Resistance 20 PSI / 1.4 Bar
Members Only
Members Only
Rolling Resistance 16 PSI / 1.1 Bar
Members Only
Members Only
Rolling Resistance 12 PSI / 0.8 Bar
32.2 Watts
CRR: 0.00965
37.7 Watts
CRR: 0.01130
Rolling Resistance 8 PSI / 0.6 Bar
40.9 Watts
CRR: 0.01226
48.4 Watts
CRR: 0.01451
All numbers are for a single tire at a speed of 29 km/h / 18 mph and a load of 42.5 kg / 94 lbs.

Use the formula: RR (Watts) = CRR * speed (m/s) * load (N) to calculate rolling resistance at a given speed and load.
Rolling resistance of the Larry isn't very low, but it does outperform the equally expensive tires from 45NRTH. Compared to the top performing tires, more than 10 watts is lost per tire at the low air pressure of 8 psi / 0.6 bars. At higher air pressures, the difference is a bit smaller but still significant.
As most Surly tires seem to use the same construction and probably come out of the same factory, I don´t expect their other tires to magically perform much better in the rolling resistance test. For the money they ask for this tire, I feel it disappoints.
Puncture Resistance Test Results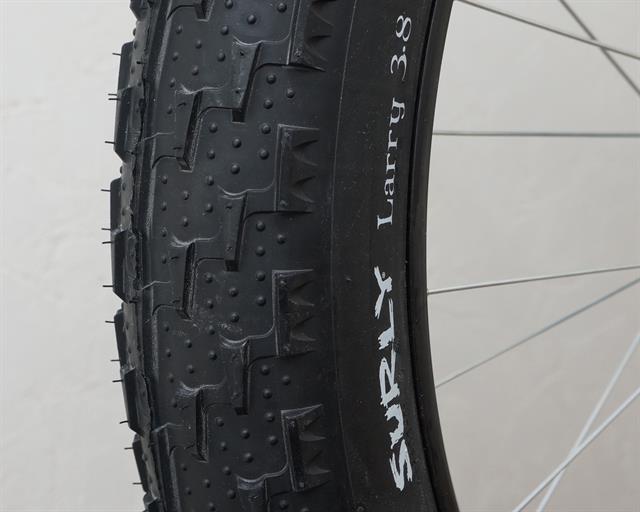 Puncture Resistance Test Results (higher is better)
Total Puncture Score Tread
30 Points
Total Puncture Score Sidewall
Members Only
Tread Puncture Force Sharp Needle
6 Points
Tread Puncture Force Blunt Needle
Members Only
Tread Total Tire Thickness
2.50 mm
Sidewall Puncture Force Sharp Needle
Members Only
Sidewall Puncture Force Blunt Needle
Members Only
Sidewall Total Tire Thickness
Members Only
Surprisingly, the Larry doesn't perform that well in the puncture resistance tests either. With scores of 6 in the tread puncture test and 4 points in the sidewall puncture test, it comes in at the bottom of the pack.
Conclusion
The Surly Larry doesn´t impress me at all. A couple of years ago this tire might have been a good option, but other tires have become available that greatly outperform this tire. When you like to run your tires at very low air pressures, it´s important to have tires that provide a low rolling resistance. Compared to the Surly Larry, the best rolling fat bike tires can save 25+ watts of power for a pair of tires.
I rate the Surly Larry 3 out of 5 because it does stay under 50 watts per tire at 8 psi / 0.6 bars and outperforms some tires in our tests. Check the fat bike tire overview (overview) to see which tires have a lower rolling resistance.
Ad Buy Cycling Equipment at Amazon.com - Tires, Parts, and Bikes
RATING: 3 / 5
TEST VERDICT: Recommended
Comments