Road Bike Tire Test:

Michelin

Dynamic Sport 25
Michelin Dynamic Sport 25
---
---
---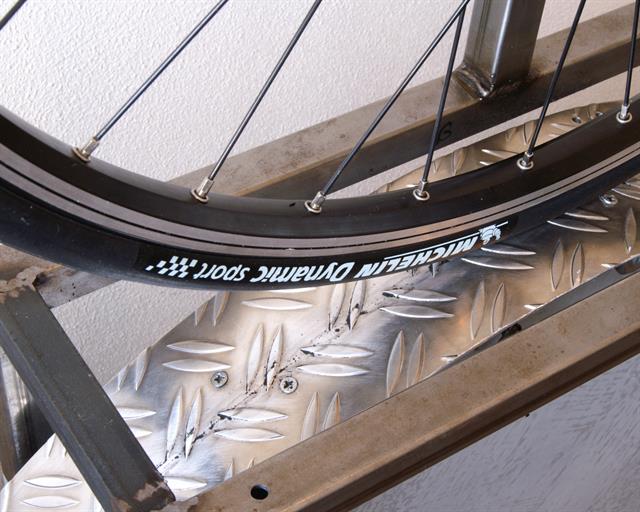 The Michelin Dynamic Sport is Michelin's cheapest road bike tire. It's only available as a wire bead version in 23, 25, and 28 mm sizes. Unfortunately, not a lot of information can be found about this tire. Michelin describes the Dynamic Sport as a strong and long-wearing tire and that it's available in lots of different colors. The sparse info I've found is that this tire has a 30 TPI casing, which isn't that exciting.
Ad Buy Michelin Dynamic Sport at Amazon.com
The Michelin Dynamic Sport is a direct competitor to other low-cost tires like the Continental Ultra Sport (review), Vittoria Zaffiro (review) and Schwalbe Lugano (review). Because I've already tested those tires, it will be possible to compare them side by side. The Ultra Sport is my current favorite in the low-cost category. Most cheap tires skimp on protection, Michelin does claim the Dynamic Sport to be a 'strong' tire. Let's test and find out if this tire really is strong!
Manufacturer Specifications
Manufacturer Specifications
Brand
Michelin
Model
Dynamic Sport
Year
2015
Tire Type
Tubetype (clincher)
Supplied By
Bought in store
New or Used
New
Mileage
0 km
Price Range
Low
Buy At

Ad

Amazon.com
Manufacturer part number
TPI
30
Compound
Bead
Wire
ETRTO
25-622
Size Inch
28"
Specified Width (mm)
25
Specified Weight
305 grams
Max Air Pressure (psi)
102
Made In
Members Only
Available Sizes
23-622 (700x23C)
25-622 (700x25C)
28-622 (700x28C)
Michelin Dynamic Sport 25 Test Results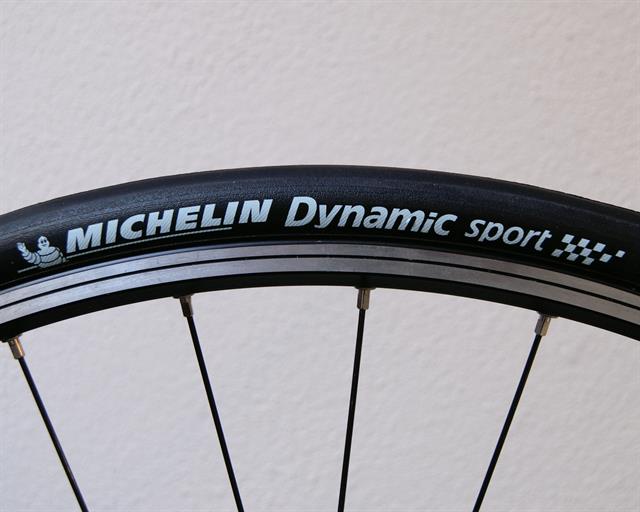 Size, Weight, and Thickness Measurements
Size, Weight and Thickness Measurements
Specified Weight
305 grams
Measured Weight
304 grams
System Adjusted Weight
(tire + inner tube (100 gr)
404 grams
Measured Width
25 mm (un-round)
Measured Height
23 mm (un-round)
Total Tire Thickness Center
3.2 mm
Total Tire Thickness Sidewall
Members Only
Unmounted Casing Width
No Data
Unmounted Tread Width
No Data
Tread Cover (Tread / Casing Ratio)
No Data
All size measurements are taken at an air pressure of 100 psi / 6.9 bars on a 17.8 mm inner width rim.
As this is a wire bead tire, it has a higher weight than most folding tires right from the start, the steel wire is heavier than the kevlar wire used in folding tires. Michelin claims 305 grams, my sample comes in at 304 grams. The Dynamic Sport is a small tire for its rated size. Measured width of the carcass comes in at 25 mm, height comes in at 23 mm. This is the smallest 25C rated tire I've measured up to now, most come in at 26 - 27 mm wide on a 17C rim.
The new tire thickness measurements both come in at very average values. Total tire thickness at the center of the tire is 3.2 mm, the sidewalls have a thickness of 0.7 mm.
Rolling Resistance Test Results
Rolling Resistance Test Results
Inner Tube
Conti Race28 (100gr butyl)
Measured Width
25 mm (un-round)
Rolling Resistance
Real tire width in mm:
22-24 = 132 psi/9.1 bar
25-27 = 120 psi/8.3 bar
28-29 = 108 psi/7.4 barUltra High Air Pressure
(120 psi / 8.3 bar)
17.3 Watts
CRR: 0.00519
Rolling Resistance
Real tire width in mm:
22-24 = 110 psi/7.6bar
25-27 = 100 psi/6.9 bar
28-29 = 90 psi/6.2 barExtra High Air Pressure
(100 psi / 6.9 bar)
18.1 Watts
CRR: 0.00543
Rolling Resistance
Real tire width in mm:
22-24 = 88 psi/6.1 bar
25-27 = 80 psi/5.5 bar
28-29 = 72 psi/5.0 barHigh Air Pressure
(80 psi / 5.5 bar)
Members Only
Rolling Resistance
Real tire width in mm:
22-24 = 66 psi/4.6 bar
25-27 = 60 psi/4.1 bar
28-29 = 54 psi/3.7 barMedium Air Pressure
(60 psi / 4.1 bar)
Members Only
The Road Bike section is a multi tire size section, air pressures have been adjusted to the measured casing width.

All numbers are for a single tire at a speed of 29 km/h / 18 mph and a load of 42.5 kg / 94 lbs.

Use the formula: RR (Watts) = CRR * speed (m/s) * load (N) to calculate rolling resistance at a given speed and load.
Maximum allowed air pressure as indicated on the sidewall is 102 psi. I did inflate the Dynamic Sport to 120 psi to be able to keep the results consistent across the site. Luckily, the tire didn't explode :)
Rolling resistance at the over-inflated air pressure of 120 psi is 17.3 watts. At an air pressure of 100 psi, rolling resistance rises to 18.1 watts. At the even lower air pressure of 80 psi, rolling resistance is 19.5 watts.
Rolling resistance is a good bit higher when compared to the Continental Ultra Sport. The Ultra Sport is still the best performing low-cost tire by far. When compared to the Vittoria Zaffiro, rolling resistance is very similar. The Zaffiro has a lower rolling resistance at 120 psi and 100 psi. At 80 psi the Dynamic Sport is able to outperform the Zaffiro by 0.6 watts.
Puncture Resistance Test Results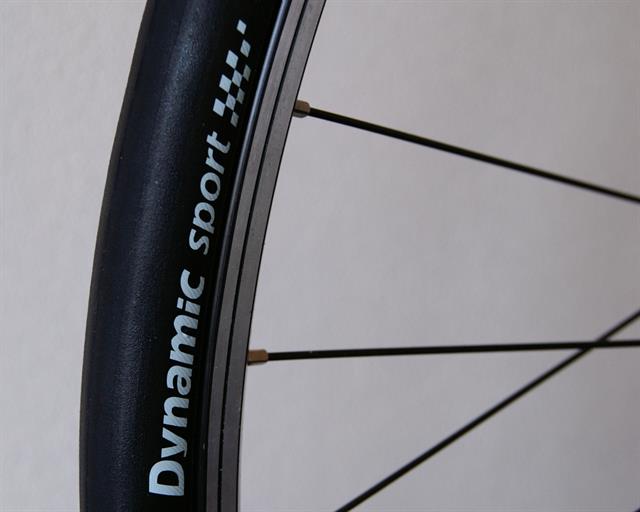 Puncture Resistance Test Results (higher is better)
Total Puncture Score Tread
42 Points
Total Puncture Score Sidewall
Members Only
Tread Puncture Force Sharp Needle
8 Points
Tread Puncture Force Blunt Needle
No Data
Tread Total Tire Thickness
3.2 mm
Sidewall Puncture Force Sharp Needle
Members Only
Sidewall Puncture Force Blunt Needle
No Data
Sidewall Total Tire Thickness
Members Only
Even though Michelin describes the Dynamic Sport as a sturdy tire, performance in the tread puncture resistance test is awful. With a score of 8 points, it's the lowest scoring road bike tire to date. In the sidewall test, it scores 4 points, which is a low to average value. The Ultra Sport and Zaffiro both score 10 / 4 in those tests.
Static Grip Test Results
NOTE: Grip test data is only available on tires tested after November 2018. You can find more information about our grip test here: Introducing Grip Testing
Static Grip Test Results
Wet Grip Average
No Data
Wet Grip Center
No Data
Wet Grip Edge
No Data
Grip in points = coefficient of friction * 100
Conclusion
I really like the Pro 4 tires from Michelin, but I totally can't recommend the Dynamic Sport. Although rolling resistance is decent, it gets outperformed by the Continental Ultra Sport. The Conti fits the same low-cost category but has a much lower rolling resistance. I'm also very disappointed by the performance of the Dynamic Sport in the puncture tests, it scores the lowest score to date and gets outperformed by the Ultra Sport in this test as well.
If you're really looking for low-cost tires, grab the Continental Ultra Sport II's (review). Those are best-in-class tires. As I've said before, I think it's worth it to spend slightly more on tires and go for a pair of Vittoria Rubino Pro (review) or Continental Grand Prix (review). Both those tires have a lower rolling resistance, better puncture resistance, lower weight, and can be had for slightly more than the really cheap tires.
Ad Buy Michelin Dynamic Sport at Amazon.com
RATING: 2.0 / 5
TEST VERDICT: Not Recommended
Comments