Touring Bike Tire Test:

Continental

E.Contact
---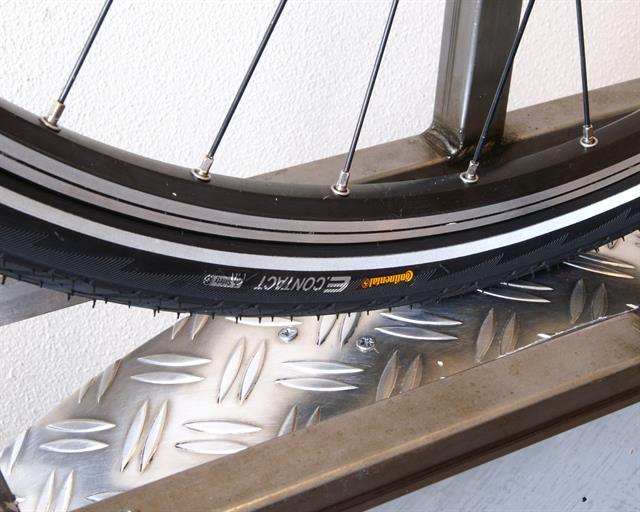 According to Continental, the E.Contact is a tire designed for large e-bikes or rental bikes. They claim this tire to have the highest puncture and cut protection while still providing a low rolling resistance thanks to its double layer of puncture resistance material. The E.Contact comes with the ECO 50 logo and the ECE-R75 certification which makes it suitable for high-speed e-bikes up to 50 km/h.
To achieve the highest puncture protection, Continental uses both a thick but soft layer of puncture resistance material together with a SafetyPlus Breaker which is a layer which is harder to penetrate, but much thinner. When examining the E.Contact, I immediately noticed this to be a very stiff tire. On top of that, the rubber compound itself also appears to be of a very hard kind. I definitely believe this tire to be hard to puncture, but is rolling resistance still acceptable?
Manufacturer Specifications
Manufacturer Specs
Brand
Continental
Model
E.Contact
Year
2015
Supplied By
Supplied by Continental
New or Used
New
Mileage
0 km
Price Range
Med
Buy At
Manufacturer part number
0100687
TPI
3/180
Compound
Bead
Wire
ETRTO
37-622
Size Inch
28"
Width mm
37.00
Specified Weight
800 grams
Max Air Pressure (psi)
87
Made In
Members Only
Available Sizes
47-622 (28x1.75)
42-622 (28x1.60)
37-622 (28x1.40)
47-559 (26x1.75)
Continental E.Contact Test Results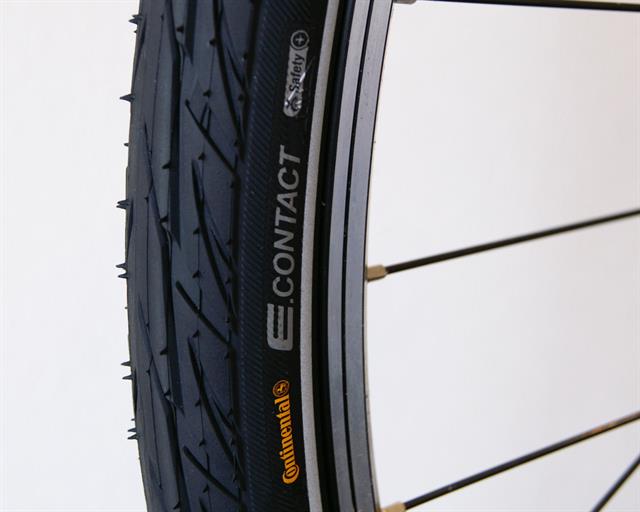 Size, Weight, and Thickness Measurements
Size, Weight, and Thickness Measurements
Specified Weight
800 grams
Measured Weight
840 grams
Measured Width
35 mm (un-round)
Measured Height
35 mm (un-round)
Tread Depth
2.0 mm
Total Tire Thickness Center
6.6 mm
Total Tire Thickness Sidewall
Members Only
All size measurements are taken at an air pressure of 60 psi / 4 bars on a 17.8 mm inner width rim.
Rolling Resistance Test Results
Rolling Resistance Test Results
Inner Tube
Conti Tour 28 (170 gr butyl)
Rolling Resistance
75 PSI / 5 Bar
29.6 Watts
CRR: 0.00887
Rolling Resistance
60 PSI / 4 Bar
33.4 Watts
CRR: 0.01001
Rolling Resistance
45 PSI / 3 Bar
Members Only
Rolling Resistance
30 PSI / 2 Bar
Members Only
All numbers are for a single tire at a speed of 29 km/h / 18 mph and a load of 42.5 kg / 94 lbs.

Use the formula: RR (Watts) = CRR * speed (m/s) * load (N) to calculate rolling resistance at a given speed and load.
Puncture Resistance Test Results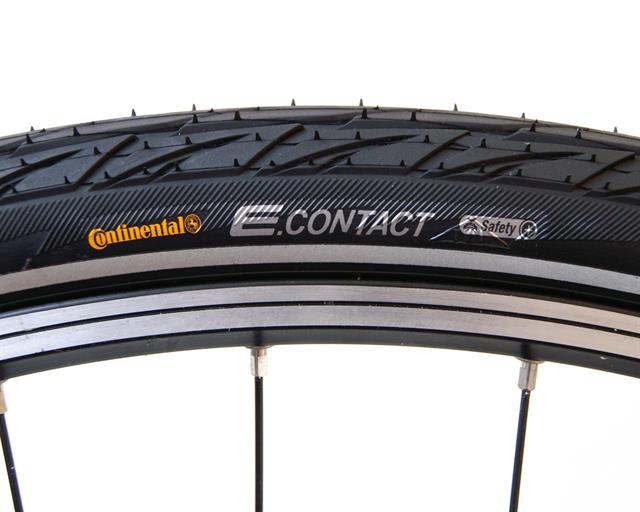 Puncture Resistance Test Results (higher is better)
Total Puncture Score Tread
124 Points
Total Puncture Score Sidewall
Members Only
Tread Puncture Force Sharp Needle
16 Points
Tread Puncture Force Blunt Needle
No Data
Tread Total Tire Thickness
6.6 mm
Sidewall Puncture Force Sharp Needle
Members Only
Sidewall Puncture Force Blunt Needle
No Data
Sidewall Total Tire Thickness
Members Only
Static Grip Test Results
NOTE: Grip test data is only available on tires tested after November 2018. You can find more information about our grip test here: Introducing Grip Testing
Static Grip Test Results
Wet Grip Average
No Data
Wet Grip Center
No Data
Wet Grip Edge
No Data
Grip in points = coefficient of friction * 100
Tour/E-Bike grip test rim width = 23.0 mm
Conclusion
Puncture resistance is good, but rolling resistance is very high. Continental's claim of offering the highest puncture resistance while still rolling easy isn't true. I really like Conti's road bike and mountain bike tires, but can't recommend using their touring bike tires as they don't impress. Using the E.Contact on rental bikes might be a good choice as I'm sure the hard compound and strong sidewalls will last for ages.
It gets boring, but just getting a pair of Schwalbe Marathon (read review) or Marathon Plus (read review) seems to be the easy choice in the tour/e-bike category. Those tires provide a good puncture resistance and a much lower rolling resistance.
RATING: 2.0 / 5
TEST VERDICT: Not Recommended
Comments