MTB Tire Test:

IRC

Mythos XC
---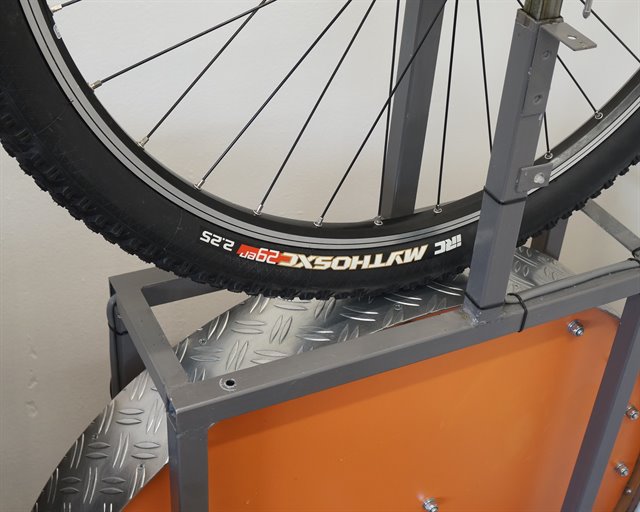 I've chosen to test the Mythos XC because it's IRC's tire that comes closest to the Schwalbe Racing Ralph (read review) which I consider to be the gold standard XC MTB tire. The Mythos XC is available in both a regular and Tubeless Ready version. As the Tubeless Ready version is only available in the smaller 2.10 size, I've decided to test the regular version as that's available in both the 2.10 and 2.25 sizes.
Ad Buy Cycling Equipment at Amazon.com
The Mythos XC is the first tire from IRC that I'm testing. Testing new brands is always exciting as anything is possible in the puncture resistance and rolling resistance tests. When purely looking at the specifications, the Mythos doesn't seem anything special: 60 TPI casing, a relatively high weight of 710 grams, and an unspecified compound. Let's jump to the results to see if we've found an absolute gem or just a random performer as the specifications suggest.
advertisement
Manufacturer Specifications
Manufacturer Specs
Brand
IRC
Model
Mythos XC
Year
2017
Supplied By
Bought in store
New or Used
New
Mileage
0 km
Price Range
High
Buy At
Manufacturer part number
TPI
60
Compound
Bead
Folding
ETRTO
54-622
Size Inch
29"
Width Inch
2.25
Specified Weight
710 grams
Max Pressure
45
Made In
China
Available Sizes
26x1.95
26x2.10
26x2.25
27.5x2.10
29x2.10
29x2.25

IRC Mythos XC Test Results
Size, Weight, and Thickness Measurements
advertisement
Size, Weight, and Thickness Measurements
Specified Weight
710 grams
Measured Weight
701 grams
Measured Width Carcass
52 mm
Measured Width Tread
54 mm
Measured Height
51 mm
Measured Knob Height Center
2.2 mm
Measured Knob Height Edge
4.0 mm
Measured Total Thickness Sidewall
0.65 mm
Measured Total Thickness Center (excluding knobs)
2.20 mm
All size measurements are taken at an air pressure of 35 psi / 2.4 bars on a 17.8 mm inner width rim.
The specified weight of the 29 x 2.25 Mythos XC is 710 grams; my sample is a bit lighter at 701 grams. The measured width on a 17C rim, at an air pressure of 35 psi / 2.4 bars is 54 mm wide. The maximum width of the casing is 52 mm which is on the small side for a 29 x 2.25 rated tire.
The tread pattern of the Mythos XC looks fast. The center knobs have a height of 2.2 mm which is less than the Racing Ralph (2.5 mm). The edge knobs have a height of 4.0 mm which is the same as the Racing Ralph. The sidewalls have a thickness of 0.65 mm which is right in the middle of the ultra thin sidewall tires that come in at 0.5 mm and the protected sidewall tires that come in closer to 0.8 mm.
Rolling Resistance Test Results
Rolling Resistance Test Results
Inner Tube
Conti MTB 29 (225 gr butyl)
Rolling Resistance
55 PSI / 3.8 Bar
23.2Watts
CRR: 0.00695
Rolling Resistance
45 PSI / 3.1 Bar
24.4 Watts
CRR: 0.00731
Rolling Resistance
35 PSI / 2.4 Bar
26.6 Watts
CRR: 0.00797
Rolling Resistance
25 PSI / 1.7 Bar
30.8 Watts
CRR: 0.00923
All numbers are for a single tire at a speed of 29 km/h / 18 mph and a load of 42.5 kg / 94 lbs.

Use the formula: RR (Watts) = CRR * speed (m/s) * load (N) to calculate rolling resistance at a given speed and load.
The rolling resistance of the Mythos XC isn't very low, but not that bad either. At the high air pressure of 55 psi / 3.8 bars, rolling resistance comes in at 23.2 watts which is 4.6 watts more than the Racing Ralph SnakeSkin (read review). When lowering the air pressure, the rolling resistance of the Mythos XC starts rising a bit faster. At the low air pressure of 25 psi / 1.7 bars, the disadvantage against the Racing Ralph has grown to 6.8 watts.
When we compare the IRC Mythos XC to tires from other brands that use compounds that aren't optimized as much towards achieving a low rolling resistance as the top performers, it performs decently in the rolling resistance test. Performance isn't bad, but if your main priority is low rolling resistance, this isn't your tire.
Puncture Resistance Test Results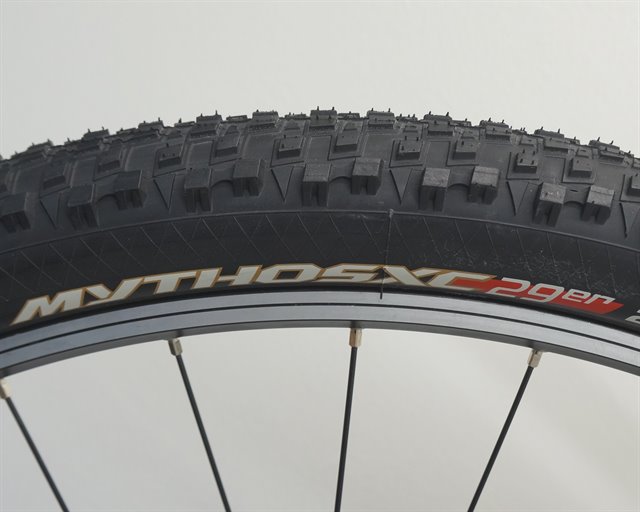 Puncture Resistance Test Result (higher is better)
Puncture Resistance Tread
6 Points
Puncture Resistance Sidewall
5 Points
In the rolling resistance tests, the Mythos doesn't impress either. In the tread puncture resistance test, it scores a below average 6 points. In the sidewall puncture test, it performs a bit better with a score of 5 points which is close to the average in the MTB category.
Conclusion
When purely looking at the specifications, the IRC Mythos XC doesn't give an impressive first impression. After putting this tire through our tests, the first impression comes pretty close to the final result: the Mythos XC isn't a bad tire as rolling resistance and puncture resistance are not bad, but don't impress either. I'm sure if you're looking for a decent XC MTB tire it will serve you well. If you're looking for a fast, low rolling resistance tire, the Mythos XC shouldn't be on your list.
Curious about how the Mythos XC compares to the competition? Visit the MTB overview page and don't forget to use the comparison section to compare up to 3 tires side by side.
Ad Buy Cycling Equipment at Amazon.com
RATING: 3 / 5
TEST VERDICT: Recommended
Comments