MTB Tire Test:

Continental

Race King RaceSport
Continental Race King RaceSport
---
---
---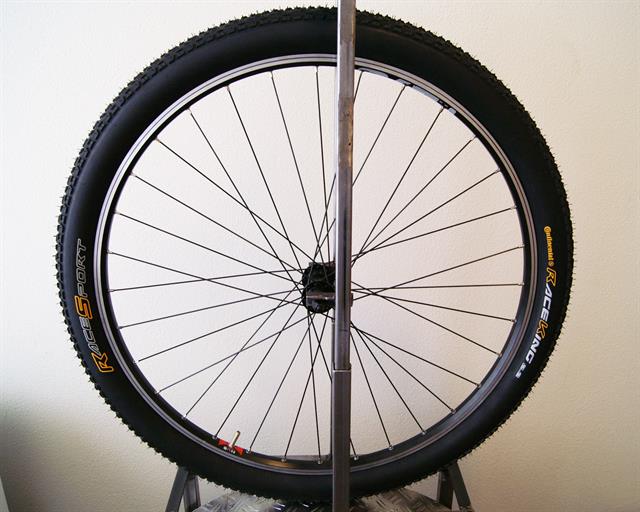 Because this is the fastest mountain bike tire I have tested yet, I've been using it as a rear tire for some time, and it really is quick in real life as well. Continental says the Race King RaceSport 29 x 2.2 is the ultimate race tire with World Cup performance. This is accomplished with an "optimal combination of ultra-lightweight and race-worthy puncture resistance." There used to be a SuperSonic version of the Race King, but it is no longer available. The RaceSport is now the fastest Race King you can buy.
Ad Buy Continental Race King RaceSport at Amazon.com
RaceSport means this version has the Continental Black Chili Compound, 3/180 TPI casing and it's handmade in Germany. It does not have a Tubeless-Ready rating. If you want the Tubeless-Ready rating, you need the Protection series which has a reinforced casing.
Although the RaceSport does not have a Tubeless-Ready rating, my personal experience is that it works just fine with a tubeless conversion kit on standard rims. Although getting it to seal completely might take a few days because of the thin sidewalls.
Manufacturer Specifications
Manufacturer Specs
Brand
Continental
Model
Race King RaceSport
Year
2014
Supplied By
Bought in store
New or Used
New
Mileage
0 km
Price Range
High
Buy At

Ad

Amazon.com
Manufacturer part number
0100545
TPI
3/180
Compound
Black Chili
Bead
Folding
ETRTO
55-622
Size Inch
29"
Width Inch
2.20
Specified Weight
540 grams
Max Air Pressure (psi)
65
Made In
Members Only
Available Sizes
29x2.20
29x2.00
27.5x2.20
26x2.20
26x2.00
Continental Race King RaceSport Test Results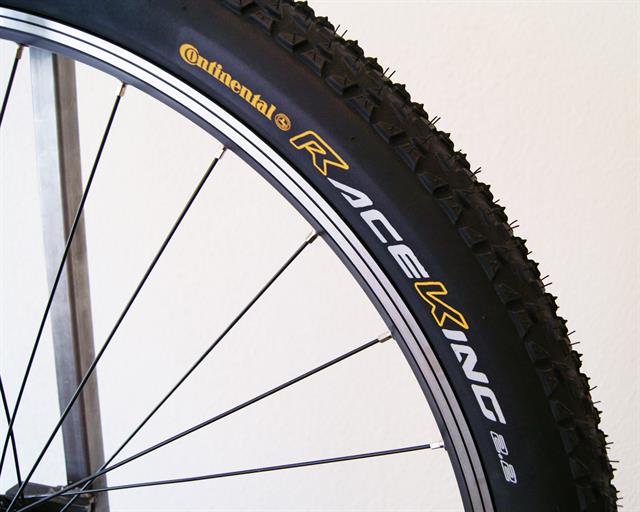 Size, Weight, and Thickness Measurements
Size, Weight, and Thickness Measurements
Specified Weight
540 grams
Measured Weight
497 grams
Measured Width Carcass
55 mm (un-round)
Measured Width Tread
51 mm
Measured Height
55 mm (un-round)
Measured Knob Height Center
2.5 mm
Measured Knob Height Edge
2.5 mm
Measured Total Thickness Center (excluding knobs)
1.7 mm
Measured Total Thickness Sidewall
Members Only
All size measurements are taken at an air pressure of 35 psi / 2.4 bars on a 17.8 mm inner width rim.
The actual weight of this RaceSport only 497 grams while Continental claims it to have a weight of 540 grams. I'm not sure if this is normal or that I just got lucky and received an exceptionally light sample (I bought it in a store myself). I am also not sure how much the extra 40 grams will influence the results; I might test this in the future.
Rolling Resistance Test Results
Rolling Resistance Test Results
Inner Tube
Conti MTB 29 (225 gr butyl)
Rolling Resistance
55 PSI / 3.8 Bar
Members Only
Rolling Resistance
45 PSI / 3.1 Bar
Members Only
Rolling Resistance
35 PSI / 2.4 Bar
20.0 Watts
CRR: 0.00600
Rolling Resistance
25 PSI / 1.7 Bar
22.4 Watts
CRR: 0.00671
All numbers are for a single tire at a speed of 29 km/h / 18 mph and a load of 42.5 kg / 94 lbs.

Use the formula: RR (Watts) = CRR * speed (m/s) * load (N) to calculate rolling resistance at a given speed and load.
On the most important measurement for off-road usage which is at an air pressure of 25 psi / 1.7 bar, rolling resistance is a very low 22.4 watts. At higher air pressures, rolling resistance is best in class as well. It will be very hard for other manufacturers to get close to the rolling resistance of the Race King RaceSport
Puncture Resistance Test Results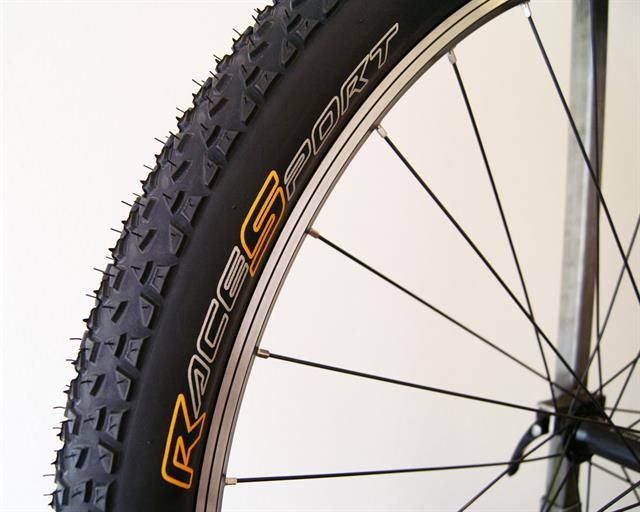 Puncture Resistance Test Results (higher is better)
Total Puncture Score Tread
29 Points
Total Puncture Score Sidewall
Members Only
Tread Puncture Force Sharp Needle
7 Points
Tread Puncture Force Blunt Needle
No Data
Tread Total Tire Thickness
1.7 mm
Sidewall Puncture Force Sharp Needle
Members Only
Sidewall Puncture Force Blunt Needle
No Data
Sidewall Total Tire Thickness
Members Only
Unexpectedly, this tire is able to score 7 points in the puncture resistance test. 7 points is average but excellent for such a fast tire. I did not expect the RaceSport to perform this well in the puncture resistance test because the tire feels fragile and flexible.
Conclusion
Continental Race King RaceSport
Performance compared to all other MTB tires
(100% is fastest - lightest - highest - strongest)
The Race King RaceSport is a race tire as performance in the rolling resistance test is great. Although knob height at the edge of the tire is low with a height of only 2.5 mm, there are a lot of knobs to make up for it. I probably wouldn't want to use it as a front tire unless you're riding a lot on a very hard surface. Volume is very high as well, with a casing width of 55 mm and height of 55 mm it's is the biggest 2.2 rated tire I've seen yet.
Low rolling resistance, average puncture resistance, low weight, small knobs: If you want to go fast and don't need a whole lot of grip, buy a Race King!
Ad Buy Continental Race King RaceSport at Amazon.com
RATING: 5.0 / 5
TEST VERDICT: Highly Recommended
Comments