Road Bike Tire Test:

Michelin

Power All Season
Michelin Power All Season
---
---
---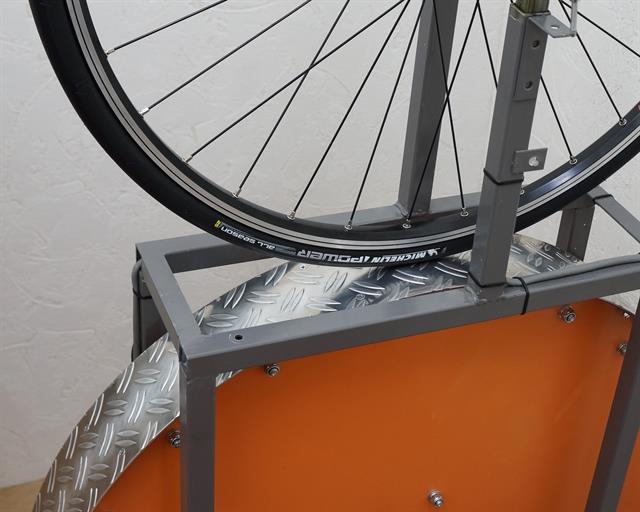 The Michelin Power All Season is designed to provide the best possible grip in wet or cold conditions. To achieve this high grip, it uses a Hi-Grip tread pattern and a special Hi-Grip compound that has been optimized to provide more grip under harsh conditions. The downside of this high grip design is a much higher rolling resistance. Unfortunately, building a tire that offers both an insane amount of grip and a very low rolling resistance is simply impossible.
Ad Buy Michelin Power All Season at Amazon.com
Compared to the Power Endurance (read review), the Power All Season also offers a wider Aramid Protek+ puncture strip that protects the tread area and the top 25% of the sidewall against punctures. A surprise is the downgraded 60TPI carcass. The Power Endurance, which is the more all-round Michelin Power tire, uses an 110 TPI carcass and the Power Competition (read review) even goes up to 180 TPI. All of these changes will once again result in a higher rolling resistance.
Even though I'm not able to test the grip and wear aspects of tires (yet), I trust Michelin enough to know that this tire will be one of the grippiest and safest tires on the market. Michelin claims the new Power All Season provides 15% more grip than the old Michelin Pro 4 Grip, which was designed according to the same principles. Let's go and test this tire and find out how much speed you'll lose when favoring grip over rolling resistance.
Manufacturer Specifications
Manufacturer Specifications
Brand
Michelin
Model
Power All Season
Year
2016
Tire Type
Tubetype (clincher)
Supplied By
Bought in store
New or Used
New
Mileage
0 km
Price Range
High
Buy At

Ad

Amazon.com
Manufacturer part number
544924
EAN
3528705449247
TPI
3x60
Compound
Grip compound
Bead
Folding
ETRTO
25-622
Size Inch
28"
Specified Width (mm)
25
Specified Weight
270 grams
Max Air Pressure (psi)
109
Made In
Members Only
Available Sizes
23-622 (700x23C)
25-622 (700x25C)
28-622 (700x28C)
Michelin Power All Season Test Results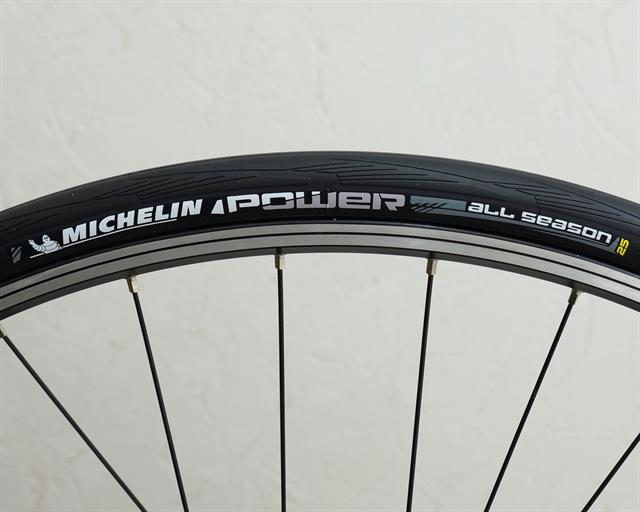 Size, Weight, and Thickness Measurements
advertisement
Size, Weight and Thickness Measurements
Specified Weight
270 grams
Measured Weight
275 grams
System Adjusted Weight
(tire + inner tube (100 gr)
375 grams
Measured Width
26 mm (un-round)
Measured Height
23 mm (un-round)
Total Tire Thickness Center
3.3 mm
Total Tire Thickness Sidewall
Members Only
Unmounted Casing Width
63 mm
Unmounted Tread Width
Members Only
Tread Cover (Tread / Casing Ratio)
Members Only
All size measurements are taken at an air pressure of 100 psi / 6.9 bars on a 17.8 mm inner width rim.
The measured width on my 17C rim, at an air pressure of 100 psi, is 26 mm. height is 23 mm. This means the Power All Season measures slightly smaller than both the Power Competition and Endurance which both came in at 27 mm wide and 24 mm high. While specified weight is 270 grams, my Power All Season puts 275 grams on the scale.
With a total tire thickness at the center of the tire of 3.3 mm, the Power All Season is a bit thicker than both the Competition (2.6 mm) and Endurance (2.8 mm). The 3.3 mm thickness is also a bit more than most other road bike tires which seem to come in closer to 2.7-3.0 mm. With a thickness of 0.85 mm, the sidewalls are thicker than most other road bike tires as well.
Rolling Resistance Test Results
Rolling Resistance Test Results
Inner Tube
Conti Race28 (100gr butyl)
Rolling Resistance
140 PSI / 9.7 Bar
Not Tested
Rolling Resistance
120 PSI / 8.3 Bar
21.3 Watts
CRR: 0.00638
Rolling Resistance
100 PSI / 6.9 Bar
22.7 Watts
CRR: 0.00680
Rolling Resistance
80 PSI / 5.5 Bar
Members Only
Rolling Resistance
60 PSI / 4.1 Bar
Members Only
All numbers are for a single tire at a speed of 29 km/h / 18 mph and a load of 42.5 kg / 94 lbs.

Use the formula: RR (Watts) = CRR * speed (m/s) * load (N) to calculate rolling resistance at a given speed and load.
Whoa! Optimizing a tire to provide more grip results in a sky-rocketing rolling resistance. When compared to the Power Competition (read review), rolling resistance has nearly doubled. This means that (for a pair of tires) instead of 21.8 Watts, you're going to lose 42.6 watts in rolling resistance alone when switching from Power Competitions to Power All Seasons. When compared to the Power Endurance (read review), the difference is smaller (29 watts/pair), but still substantial.
When compared to other tires that are designed to provide better grip in wet conditions, the Power All Season is much slower as well. When looking at the overview page (road bike overview), the Continental Grand Prix 4-Season (read review) seems to really stick out as an all-season tire that still provides a decent rolling resistance. When comparing the GP 4-Season and Power All Season side by side (compare), it's obvious the GP 4-Season still uses Conti's best 3/330 carcass while the Power All Season has been downgraded from the 3x180 TPI carcass of the Power Competition to a much lower 3x60 TPI carcass.
It must be said, the Power All Season might offer more grip over the GP 4 season, I don't know, but it's a mystery why they downgraded to 3x60 TPI when you're expecting the Michelin Power range to be the best choice and are paying good money for them.
Puncture Resistance Test Results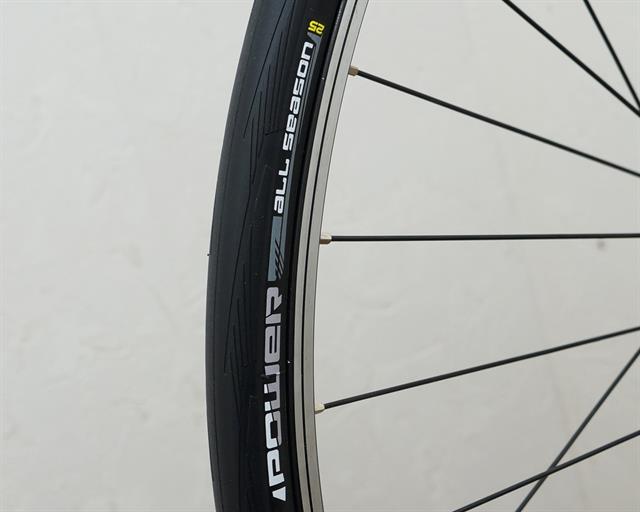 Puncture Resistance Test Results (higher is better)
Total Puncture Score Tread
70 Points
Total Puncture Score Sidewall
Members Only
Tread Puncture Force Sharp Needle
14 Points
Tread Puncture Force Blunt Needle
No Data
Tread Total Tire Thickness
3.3 mm
Sidewall Puncture Force Sharp Needle
Members Only
Sidewall Puncture Force Blunt Needle
No Data
Sidewall Total Tire Thickness
Members Only
With a tread puncture resistance score of 14 points, the Power All Season scores slightly above average. Compared to the Power Endurance which uses the same Protek+ puncture resistance material, puncture resistance has improved by 1 point. I expect the 1 point increase to be the result of the increased tire thickness of 3.3 mm Vs the 2.8 mm of the Power Endurance.
Because the Power All Season uses a wider Protek+ strip under the tread that also covers about 25% of the sidewall, puncture resistance of the sidewall has been increased to 6 points. The 6 points is the average between the bottom part of the sidewall with no extra protection (4.5 pts) and the top part with extra protection (7.5 points).
Static Grip Test Results
NOTE: Grip test data is only available on tires tested after November 2018. You can find more information about our grip test here: Introducing Grip Testing
Static Grip Test Results
Wet Grip Average
No Data
Wet Grip Center
No Data
Wet Grip Edge
No Data
Grip in points = coefficient of friction * 100
Conclusion
It's hard to judge a tire like the Power All Season -that's obviously designed with high grip in mind- when only testing rolling resistance and puncture resistance. At least we now know how much is lost in the rolling resistance department when favoring grip over rolling resistance. Because rolling resistance is this high, it could very well be possible the Michelin Power All Season is the road bike tire that provides the most grip and safest ride.
I do rate the Power All Season a 2 out of 5 because it is supposed to be a top of the line product from Michelin, but uses a downgraded 60 TPI carcass over the Power Competition and Power Endurance. TPI is not a guarantee for a low rolling resistance tire, but it makes you wonder how much better the All Season could have been when it would have used the 180 TPI carcass of the Power Competition.
Ad Buy Michelin Power All Season at Amazon.com
RATING: 2.0 / 5
TEST VERDICT: Not Recommended
Comments