Road Bike Tire Test:

Continental

Ultra Sport III
Continental Ultra Sport III
---
---
---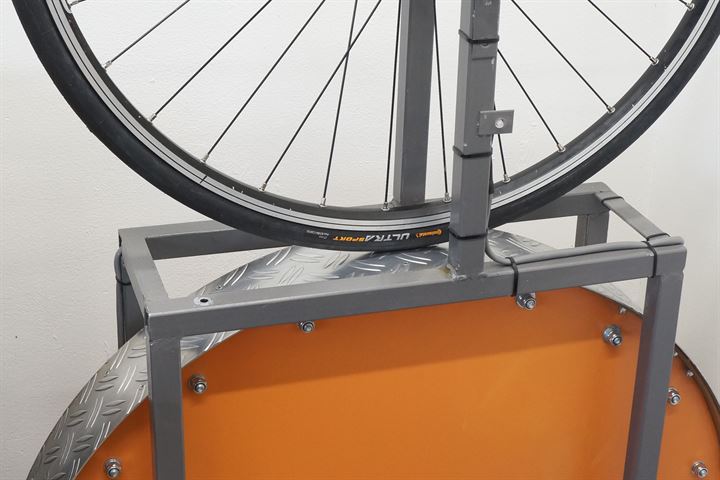 NOTE: We added wet grip test data on 2021-11-26. The rating of the Continental Ultra Sport III has been upgraded by 0.1 points because of very good results in the grip test.
The Continental Ultra Sport III replaces the Ultra Sport II as Continental's cheapest road bike tire. We tested the Ultra Sport II back in 2015 and found it to offer a lot of value for your money as it offers just slightly less performance when compared to more expensive tires. Over the last 5 years, the Ultra Sport II has been the only tire in the lowest price range that we recommend (rating of 3 / 5 or higher).
Ad Buy Continental Ultra Sport III at Amazon.com
The updated Ultra Sport III is still very similar to the Ultra Sport II (read our review). The most obvious change is the new tread pattern of the Ultra Sport III that gives it a more modern look and feel. Also new is an E25 rating for use on E-Bikes with a maximum speed of 16 mph / 25 km/h. Unchanged is the 3/180 casing and PureGrip compound which both are ranked just behind Continental's 3/330 casing and Black Chili compound.
Just like the Ultra Sport II, the Ultra Sport III doesn't have an additional anti-puncture layer under the tread which is something we see more often on cheaper tires. Some of this is made up by the thicker 3/180 casing that offers a bit more protection when compared to the thinner 3/330 casing that's used on Conti's more expensive tires. The biggest drawback of the 3/180 casing is a higher weight and a higher rolling resistance.
This is a test of the 25-622 folding version of the Ultra Sport III. An even cheaper wire bead version is available as well but we always recommend the folding versions as it saves you ~200 grams for a pair of tires at very little additional cost.
Manufacturer Specifications
Manufacturer Specifications
Brand
Continental
Model
Ultra Sport III
Year
2020
Tire Type
Tubetype (clincher)
Supplied By
Bought in store
New or Used
New
Mileage
0 km
Price Range
Low
Buy At

Ad

Amazon.com
Manufacturer part number
0150457
EAN
4019238026849
TPI
3/180
Compound
PureGrip
Bead
Folding
ETRTO
25-622
Size Inch
28"
Specified Width (mm)
25
Specified Weight
270 grams
Max Air Pressure (psi)
123
Made In
Members Only
Available Sizes
23-622 (700x23c)
25-622 (700x25c)
28-622 (700x28c)
32-622 (700x32c)
25-584 (650x25B)
28-584 (650x28B)
Continental Ultra Sport III Test Results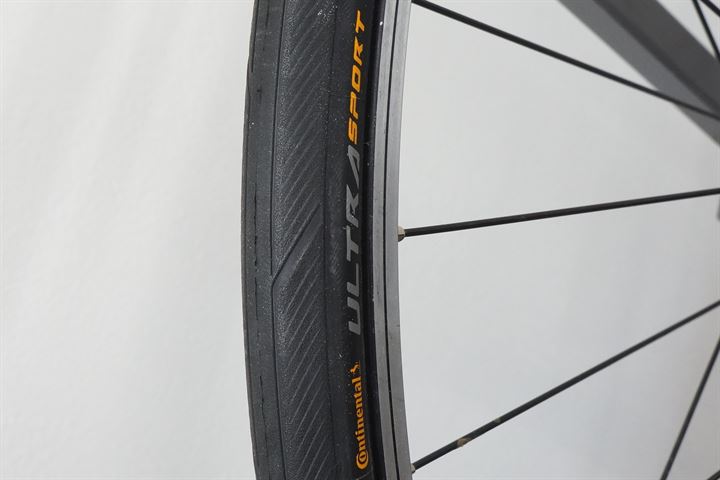 Size, Weight, and Thickness Measurements
advertisement
Size, Weight and Thickness Measurements
Specified Weight
270 grams
Measured Weight
267 grams
System Adjusted Weight
(tire + inner tube (100 gr)
367 grams
Measured Width
26 mm (un-round)
Measured Height
24 mm (un-round)
Total Tire Thickness Center
3 mm
Total Tire Thickness Sidewall
Members Only
Unmounted Casing Width
64 mm
Unmounted Tread Width
Members Only
Tread Cover (Tread / Casing Ratio)
Members Only
All size measurements are taken at an air pressure of 100 psi / 6.9 bars on a 17.8 mm inner width rim.
Rolling Resistance Test Results
Rolling Resistance Test Results
Inner Tube
Conti Race28 (100gr butyl)
Rolling Resistance
140 PSI / 9.7 Bar
Not Tested
Rolling Resistance
120 PSI / 8.3 Bar
14.1 Watts
CRR: 0.00423
Rolling Resistance
100 PSI / 6.9 Bar
14.7 Watts
CRR: 0.00441
Rolling Resistance
80 PSI / 5.5 Bar
Members Only
Rolling Resistance
60 PSI / 4.1 Bar
Members Only
All numbers are for a single tire at a speed of 29 km/h / 18 mph and a load of 42.5 kg / 94 lbs.

Use the formula: RR (Watts) = CRR * speed (m/s) * load (N) to calculate rolling resistance at a given speed and load.
Puncture Resistance Test Results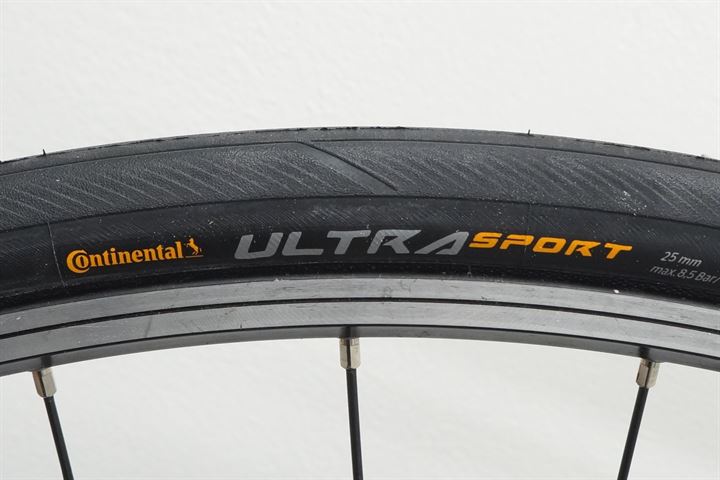 Puncture Resistance Test Results (higher is better)
Total Puncture Score Tread
53 Points
Total Puncture Score Sidewall
Members Only
Tread Puncture Force Sharp Needle
10 Points
Tread Puncture Force Blunt Needle
Members Only
Tread Total Tire Thickness
3 mm
Sidewall Puncture Force Sharp Needle
Members Only
Sidewall Puncture Force Blunt Needle
Members Only
Sidewall Total Tire Thickness
Members Only
Static Grip Test Results
NOTE: Grip test data is only available on tires tested after November 2018. You can find more information about our grip test here: Introducing Grip Testing
Static Grip Test Results
Wet Grip Average
71 Points
Wet Grip Center
Members Only
Wet Grip Edge
Members Only
Grip in points = coefficient of friction * 100
Conclusion
It's quite obvious from our test results the only change made to the Ultra Sport III is a new tread pattern and an E25 rating. While no improvements have been made that show up in our tests, the Ultra Sport III still offers the most bang for your buck when we compare it to other road bike tires in the lowest price class.
When we compare the Ultra Sport III to Continental's top of the range Grand Prix 5000, rolling resistance of the Ultra Sport III is 40% higher, weight is 20% higher, and puncture resistance is the same. In terms of price, it looks like you can buy 2 Ultra Sport III's for the price of a single Grand Prix 5000 (read our review). We leave it up to everyone to decide whether that performance difference is worth it.
Ad Buy Continental Ultra Sport III at Amazon.com
RATING: 3.1 / 5
TEST VERDICT: Recommended
Comments