Fat Bike Tire Test:

Specialized

Fast Trak Fat
Specialized Fast Trak Fat
---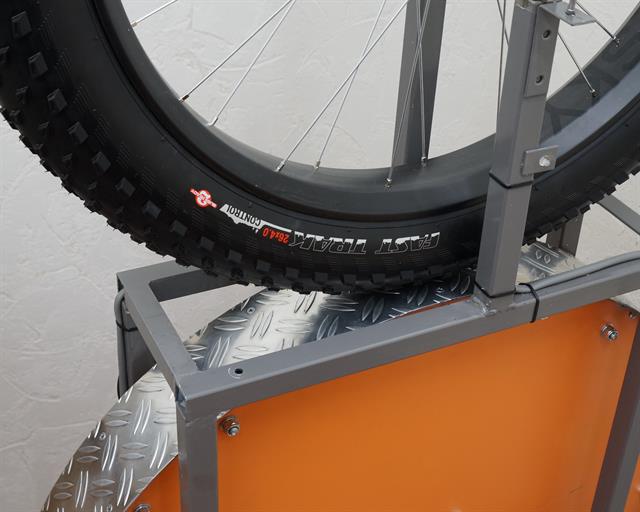 The Specialized Fast Trak Fat is the fat bike version of their normal sized Fast Trak mountain bike tire. The normal sized mountain bike tires from Specialized perform quite well in our rolling resistance tests and that makes it interesting to test their fat bike tires as well. The Fast Trak Fat is only available as a 26 x 4.00, 120 TPI, 2Bliss Ready folding version with a 60a compound.
Next to the Fast Trak Fat also comes the Ground Control Fat which has bigger knobs and is made for rougher conditions. I must say I really like the tread pattern on both Specialized fat bike tires. The Fast Trak Fat really looks lean and mean with the large amount of knobs that are a bit lower in the center and bigger on the shoulders. Although a fast looking tire definitely isn't a guarantee it actually rolls fast, I'm really curious how the fast Fat Trak performs.
Manufacturer Specifications
Manufacturer Specifications
Brand
Specialized
Model
Fast Trak Fat
Year
2016
Supplied By
Bought in store
Sponsored by
Wolf Tooth Components
New or Used
New
Mileage
0 km
Price Range
High
Buy At
Manufacturer part number
TPI
120
Compound
60a
Bead
Folding
ETRTO
100-559
Size Inch
26"
Width Inch
4.00
Specified Weight
0 grams
Max Pressure
15
Made In
Members Only
Available Sizes
26 x 4.00
Specialized Fast Trak Fat Test Results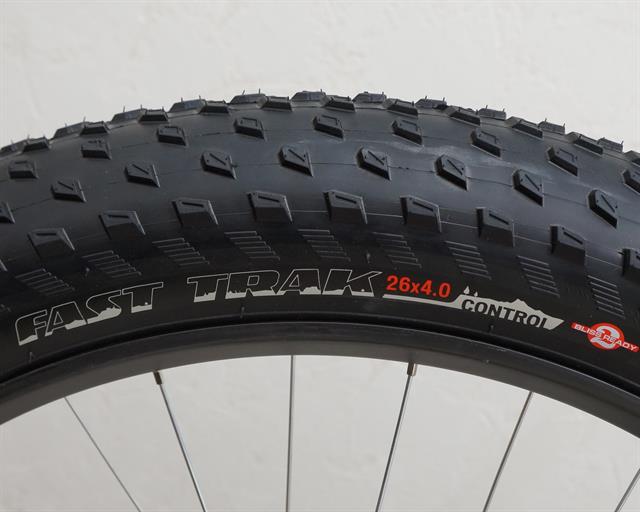 Size, Weight, and Thickness Measurements
advertisement
Size, Weight, and Thickness Measurements
Specified Weight
0 grams
Measured Weight
1189 grams
Measured Width Carcass
95 mm (un-round)
Measured Width Tread
98 mm
Measured Height
82 mm (un-round)
Measured Knob Height Center
3.2 mm
Measured Knob Height Edge
4.8 mm
Measured Total Thickness Center (excluding knobs)
1.80 mm
Measured Total Thickness Sidewall
Members Only
All size measurements are taken at an air pressure of 16 psi / 1.1 bars on a 65 mm inner width rim.
I couldn't find a specified weight anywhere, but my sample of the Fast Trak Fat comes in at 1189 grams which is a nice weight for a fat bike tire. The measured width of the casing is 95 mm, the shoulder knobs even stick out a bit further making the total width 98 mm. The measured height is 82 mm. These measurements come pretty close to other 26 x 4.00 rated fat bike tires.
The center knobs have a height of 3.2 mm, the shoulder knobs are a bit bigger and have a height of 4.8 mm. The sidewalls on this tire are surprisingly thick. With a measured sidewall thickness of 1.5 mm, the Fat Trak Fat has the thickest sidewalls of all fat bike tires I've tested up to now. Running these tubeless shouldn't be a problem.
Rolling Resistance Test Results
Rolling Resistance Test Results
Inner Tube
Schwalbe SV13J (390 gr)
Rolling Resistance 20 PSI / 1.4 Bar
Members Only
Rolling Resistance 16 PSI / 1.1 Bar
Members Only
Rolling Resistance 12 PSI / 0.8 Bar
34.1 Watts
CRR: 0.01022
Rolling Resistance 8 PSI / 0.6 Bar
43.4 Watts
CRR: 0.01301
All numbers are for a single tire at a speed of 29 km/h / 18 mph and a load of 42.5 kg / 94 lbs.

Use the formula: RR (Watts) = CRR * speed (m/s) * load (N) to calculate rolling resistance at a given speed and load.
Is it fast if it looks and sounds fast? The answer to that question is yes and no. The Fast Trak Fat gets outperformed by the Schwalbe Jumbo Jim LiteSkin by up to 6.5 watts at 8 psi / 0.6 bars, but if you look at the sidewall thickness of this tire, it should be compared to the SnakeSkin version of the Jumbo Jim which I haven't tested yet. The SnakeSkin version of the Jumbo Jim will be a little slower which will make the Fast Trak Fat look a bit better.
At higher air pressures, the differences between the Jumbo Jim and Fast Trak Fat get even smaller. From the 6.5 watts disadvantage at 8 psi / 0.6 bars, the disadvantage of the Fast Trak Fat shrinks to 2.7 watts at 20 psi / 1.4 bars. If you ride on asphalt a lot, the Fast Trak Fat will be an excellent choice, it also runs a lot quieter than the Jumbo Jim which has much bigger and wider spaced knobs.
Puncture Resistance Test Results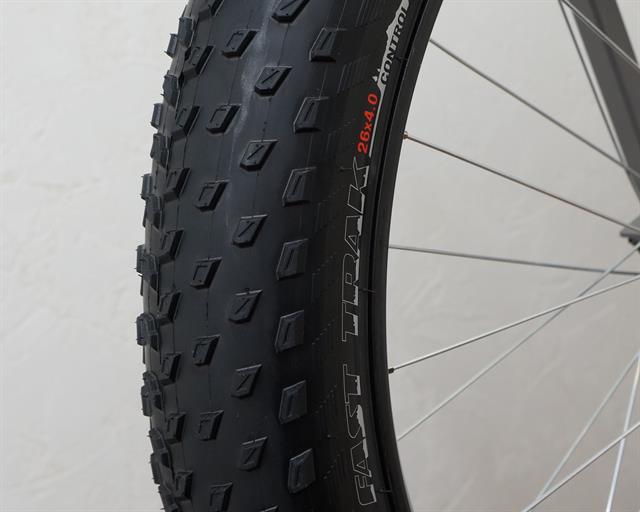 Puncture Resistance Test Result (higher is better)
Puncture Resistance Tread
8 Points
Puncture Resistance Sidewall
Members Only
Puncture resistance of the Fat Trak Fat is excellent. In the tread puncture resistance test, it scores an above average 8 points. In the sidewall test, it scores 7 points which is a very good score as well and expected from the very thick sidewalls.
Conclusion
Specialized Fast Trak Fat
Performance compared to all other fat bike tires
(100% is fastest - lightest - highest - strongest)
I think the Fast Trak Fat is an excellent tire if you're looking for a fast fat bike tire that still provides a lot of protection and will be easy to run tubeless. The lighter and thinner Schwalbe Jumbo Jim LiteSkin does outperform the Fast Trak Fat in the rolling resistance test by up to 6.5 watts per tire at very low air pressures.
Rated 4 out of 5 because I do expect the SnakeSkin version of the Jumbo Jim to be faster than the Fast Trak Fat while providing similar puncture resistance, bigger knobs, and ease of tubeless mounting. Look at the fat bike overview (overview) to see how this tire performs compared to other fat bike tires.
RATING: 4 / 5
TEST VERDICT: Recommended
Comments