---
Fat Bike Tire Test:

Surly

Larry 27 TPI
---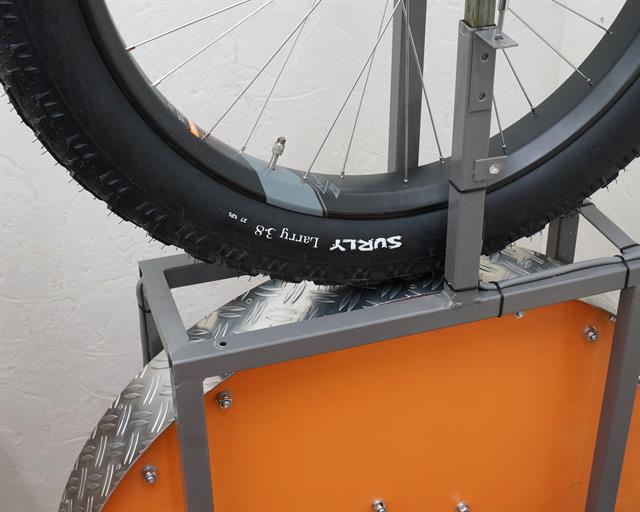 The Surly Larry is available in both a folding bead 120 TPI and a wire bead 27 TPI version. Because the price difference between these versions is quite large, it's interesting to compare both and see how much you're losing when going with the cheaper version. When looking at the specifications of both the 120 TPI and 27 TPI versions, the most obvious difference is the much higher weight of the cheaper version: 1567 grams Vs 1256 grams.
Ad Buy Cycling Equipment at Amazon.com
Except for the much higher weight of the 27 TPI version, both versions appear to be identical when fitted to the bike. The only thing that makes it clear you're running the 27 TPI version is the small "27 tpi" printing on the sidewalls of the tires. Unfortunately, Surly doesn't give a lot of technical details about their tires. I couldn't find any info about the compounds used on these tires, so I'm not sure if the differences seen in the tests come from the casing or the compound.
advertisement
Manufacturer Specifications
Manufacturer Specifications
Brand
Surly
Model
Larry 27 TPI
Year
2016
Supplied By
Bought in store
Sponsored by
Wolf Tooth Components
New or Used
New
Mileage
0 km
Price Range
High
Buy At
Manufacturer part number
TPI
27
Compound
Bead
Wire
ETRTO
Size Inch
26"
Width Inch
3.80
Specified Weight
1567 grams
Max Pressure
30
Made In
China
Available Sizes
26 x 3.80
Surly Larry 27 TPI Test Results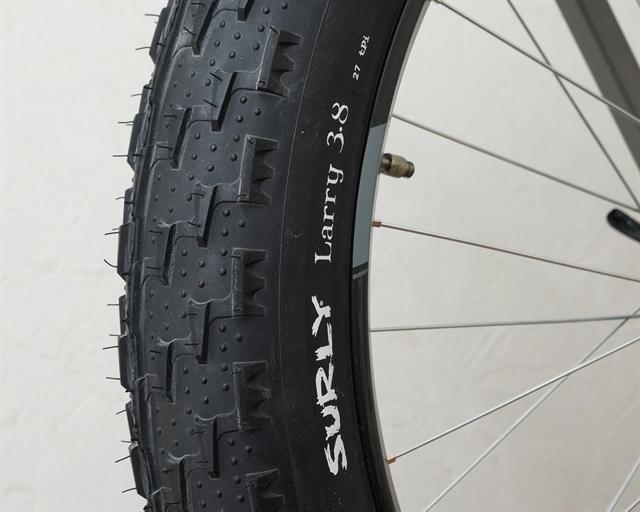 Size, Weight, and Thickness Measurements
advertisement
Size, Weight, and Thickness Measurements
Specified Weight
1567 grams
Measured Weight
1660 grams
Measured Width Carcass
95 mm
Measured Width Tread
92 mm
Measured Height
81 mm
Measured Knob Height Center
4.5 mm
Measured Knob Height Edge
4.5 mm
Measured Total Thickness Sidewall
1.30 mm
Measured Total Thickness Center (excluding knobs)
2.90 mm
All size measurements are taken at an air pressure of 16 psi / 1.1 bars on a 65 mm inner width rim.
As mentioned before, the biggest difference is the much higher weight of the 27 TPI version. After measuring both tires, the difference is even bigger as my sample of the 120 TPI version came in below the specified weight and the 27 TPI version came in quite bit heavier than the specified weight: 1660 grams Vs 1567 grams. When fitting both the 120 TPI and 27 TPI version on a 65 C rim, inflated to 16psi, the 27 TPI version ends up slightly bigger with a max casing width and height of 95 and 81 mm (the 120 TPI Larry came in at 93 and 80 mm).
After measuring the thickness of the casing of both tires, it becomes clear why the 27 TPI carries that much more weight: the sidewalls and tread section of the 27 TPI Larry are much thicker. The sidewalls of the 27 TPI version have a thickness of 1.3 mm (120 TPI = 0.9 mm). The tread section of the tire has a thickness of 2.9 mm (120 TPI = 2.5 mm). The height of the knobs is the same for both the 27 and 120 TPI versions.
Rolling Resistance Test Results
Rolling Resistance Test Results
Inner Tube
Schwalbe SV13J (390 gr)
Rolling Resistance 20 PSI / 1.4 Bar
33.5 Watts
CRR: 0.01004
Rolling Resistance 16 PSI / 1.1 Bar
38.1 Watts
CRR: 0.01142
Rolling Resistance 12 PSI / 0.8 Bar
43.5 Watts
CRR: 0.01304
Rolling Resistance 8 PSI / 0.6 Bar
53.0 Watts
CRR: 0.01589
All numbers are for a single tire at a speed of 29 km/h / 18 mph and a load of 42.5 kg / 94 lbs.

Use the formula: RR (Watts) = CRR * speed (m/s) * load (N) to calculate rolling resistance at a given speed and load.
As expected, the 27 TPI version has a higher rolling resistance than the more expensive and lighter 120 TPI Larry (read review), but the disadvantage isn't as big as I had expected. On average, it appears rolling resistance of the 27 TPI Larry is close to 10 - 15 % higher across the different air pressures.
While rolling resistance isn't that much higher than the 120 TPI Larry, it must be said the 120 TPI Larry didn't perform that well in the rolling resistance test in the first place. When comparing the 27 TPI Larry with the much faster Schwalbe Jumbo Jim, rolling resistance is close to 50% higher.
Puncture Resistance Test Results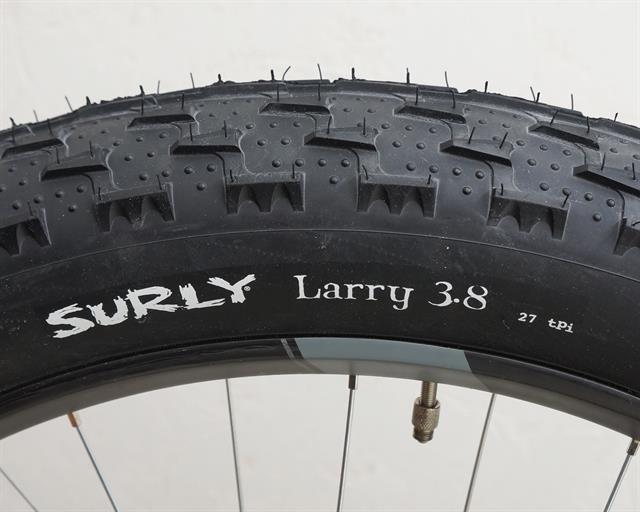 Puncture Resistance Test Result (higher is better)
Puncture Resistance Tread
5 Points
Puncture Resistance Sidewall
4 Points
In the puncture resistance tests, the 27 TPI Larry scores nearly the same as the 120 TPI Larry in both the tread and sidewall tests.
Conclusion
Just like the 120 TPI version of the Larry, I'm not impressed by this cheaper 27 TPI version. Weight is way too high for me to consider this tire and to make matters worse, comes in over the specified weight by nearly 100 grams. I can't recommend this tire because even though this is a cheaper alternative to the 120 TPI Larry, it's more expensive than other top of the line, better performing tires from other manufacturers.
If you want to compare all data of the 27 TPI and 120 TPI Larry side by side, go here: Larry 120 TPI Vs Larry 27 TPI side by side comparison Take a look at the fat bike overview page to see which tires perform better on our tests.
Ad Buy Cycling Equipment at Amazon.com
RATING: 2 / 5
TEST VERDICT: Not Recommended
Comments