Road Bike Tire Test:

Pirelli

P Zero Velo
---
---
---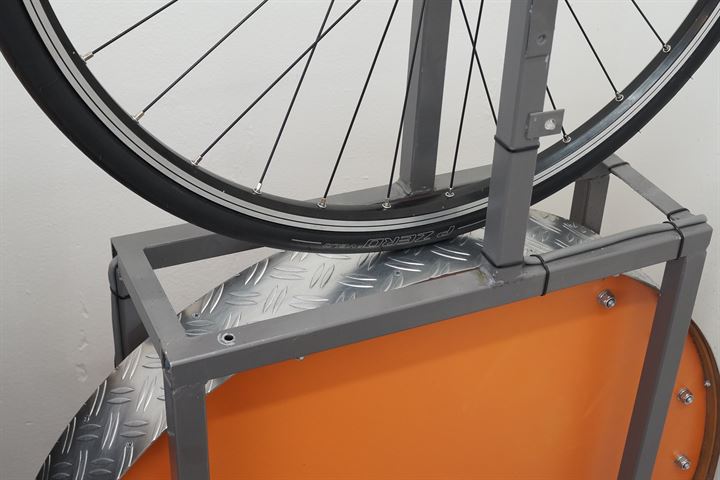 Pirelli, one of the greatest players in the car and motorcycle tire market, has made a comeback into the bicycle tire market and released a full range of high-end road bike tires. This is big news because 80 to 90% of a bicycle tire's performance is determined by the rubber compound. Pirelli has a long history of developing compounds for car and motorcycle tires that consistently come out on top in tests performed by independent institutions.
Ad Buy Pirelli P Zero Velo at Amazon.com
The new range of Pirelli road bike tires consists of three tires. The first and most all-round tire is the Pirelli P Zero Velo that can be seen as a direct competitor to popular tires like the Continental Grand Prix 4000S II. The second tire is an ultra-light time-trial tire: Pirelli P Zero Velo TT. The third is an all-season version with a compound that's optimized more towards cold and wet conditions: Pirelli P Zero Velo 4S.
I've tested all three of these tires, check the reviews below to go to the particular tire's review and test results. You can also compare all three of the new Pirelli tires side by side in the comparison section of this website.

Pirelli P Zero Velo review (this)
Pirelli P Zero Velo TT review
Pirelli P Zero Velo 4S review

Compare: P Zero Velo Vs P Zero Velo TT Vs P Zero Velo 4S
Pirelli P Zero Velo overview
The regular P Zero Velo that can be recognized by the silver markings on the sidewall will probably become the most popular tire of these newly released tires. It comes with a 127 TPI casing, an aramid fiber puncture belt under the tread, and a "SmartNET Silica" compound optimized for low rolling resistance, and grip under all-round conditions. The P Zero Velo is available in the 23-622, 25-622, and 28-622 sizes.
The P Zero Velo is similar in construction to popular all-round tires like the Continental Grand Prix 4000S II (read review), Schwalbe One (read review), Vittoria Open Corsa G+ (read review), Michelin Power Competition (read review) and a whole bunch of other tires from smaller manufacturers. As the road bike tire market is quite crowded, Pirelli definitely needs some unique selling points to be successful. Let's review our test results and see how to the P Zero Velo compares to the competition.
Manufacturer Specifications
Manufacturer Specifications
Brand
Pirelli
Model
P Zero Velo
Year
2017
Tire Type
Tubetype (clincher)
Supplied By
Bought in store
New or Used
New
Mileage
0 km
Price Range
High
Buy At

Ad

Amazon.com
Manufacturer part number
TPI
127
Compound
SmartNET Silica
Bead
Folding
ETRTO
25-622
Size Inch
28"
Specified Width (mm)
25
Specified Weight
210 grams
Max Air Pressure (psi)
110
Made In
Members Only
Available Sizes
23-622 (700x23C)
25-622 (700x25C)
28-622 (700x28C)
Pirelli P Zero Velo Test Results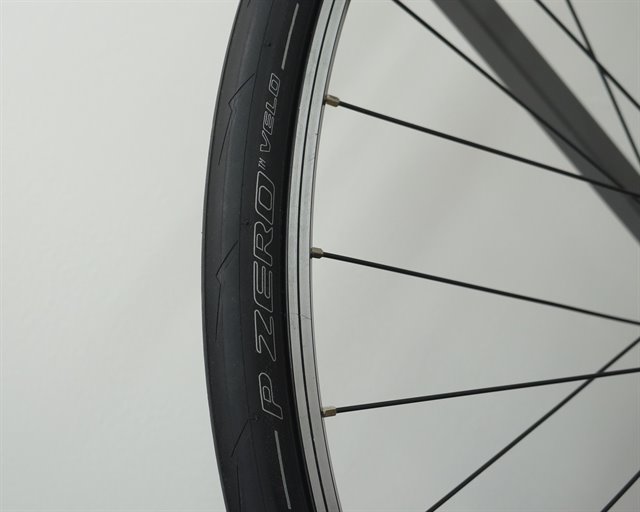 Size, Weight, and Thickness Measurements
advertisement
Size, Weight and Thickness Measurements
Specified Weight
210 grams
Measured Weight
210 grams
System Adjusted Weight
(tire + inner tube (100 gr)
310 grams
Measured Width
27 mm (un-round)
Measured Height
25 mm (un-round)
Total Tire Thickness Center
2.6 mm
Total Tire Thickness Sidewall
Members Only
Unmounted Casing Width
No Data
Unmounted Tread Width
No Data
Tread Cover (Tread / Casing Ratio)
No Data
All size measurements are taken at an air pressure of 100 psi / 6.9 bars on a 17.8 mm inner width rim.
Weight. Specified weight of the 25-622 P Zero Velo is 210 grams; my sample is spot on and puts 210 grams on the scale! For a 25 mm all-round tire, 210 grams is about as good as it gets.
Size. On my 17C rim, at an air pressure of 100 psi / 6.9 bars, the P Zero Velo measures 27 mm wide and has a height of 25 mm. For a 25-622 rated tire, this is quite a big tire which is in line with the competition as most 25-622 rated tires seem to come in close to 26-27 mm.
Tire Thickness. At the center of the tread, the maximum thickness of the P Zero Velo comes in at 2.6 mm. 2.6 mm is a bit less than both the Conti GP4000S and Schwalbe One that both came in at 2.9 mm, but similar to both the Michelin Power Competition and Vittoria Corsa G+ that came in at 2.6 mm and 2.4 mm respectively. The sidewalls have a thickness of 0.60 mm which is close to the average in this category.
Rolling Resistance Test Results
Rolling Resistance Test Results
Inner Tube
Conti Race28 (100gr butyl)
Rolling Resistance
140 PSI / 9.7 Bar
Not Tested
Rolling Resistance
120 PSI / 8.3 Bar
12.5 Watts
CRR: 0.00375
Rolling Resistance
100 PSI / 6.9 Bar
13.2 Watts
CRR: 0.00396
Rolling Resistance
80 PSI / 5.5 Bar
Members Only
Rolling Resistance
60 PSI / 4.1 Bar
Members Only
All numbers are for a single tire at a speed of 29 km/h / 18 mph and a load of 42.5 kg / 94 lbs.

Use the formula: RR (Watts) = CRR * speed (m/s) * load (N) to calculate rolling resistance at a given speed and load.
* Maximum allowed air pressure as indicated on the sidewall is 110 psi / 7.6 bars. I did take measurements at 120 psi 8.3 / bars to keep all results consistent across the website. As the recommended air pressure for 25 mm tires is in the 80 - 100 psi range for road use, this shouldn't be a problem.
At the very high air pressure of 120 psi / 8.3 bars, the P Zero Velo comes in at 12.5 watts while the "gold standard" Conti Grand Prix 4000S II (read review) comes in at 12.2 Watts. The newer Michelin Power Competition (read review) does perform a bit better at this high air pressure with a rolling resistance of 10.9 watts. At the lower air pressure of 80 psi / 5.5 bars, the Conti GP4000S II stretches its legs a bit with a rolling resistance of 13.7 watts versus 14.6 watts for the brand new P Zero Velo.
Although the P Zero Velo comes in slightly behind the competition in the rolling resistance tests, the P Zero Velo performs very strong in these tests. The differences between the top performing tires are so small that other characteristics can become more important than the slight disadvantage in the rolling resistance tests.
Something that does worry me a bit is that the brand new Pirelli is a bit slower than much older tires that have been around for a long time (GP4000S II and Schwalbe One). If both Conti and Schwalbe go back to the drawing board, they might be able to shave off another couple percentage points in these tests.
Puncture Resistance Test Results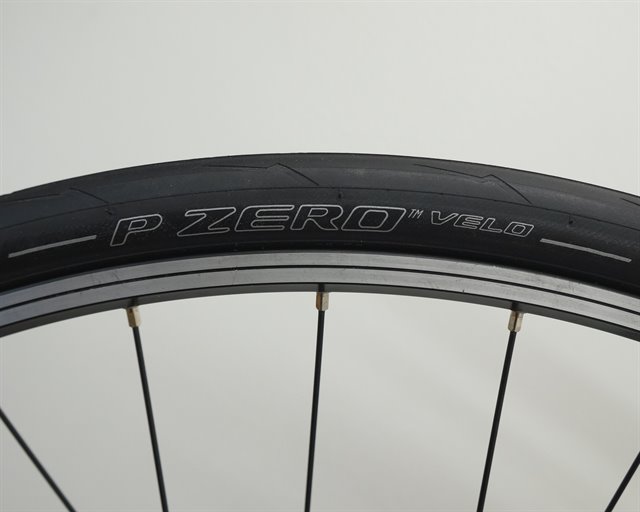 Puncture Resistance Test Results (higher is better)
Total Puncture Score Tread
54 Points
Total Puncture Score Sidewall
Members Only
Tread Puncture Force Sharp Needle
12 Points
Tread Puncture Force Blunt Needle
No Data
Tread Total Tire Thickness
2.6 mm
Sidewall Puncture Force Sharp Needle
Members Only
Sidewall Puncture Force Blunt Needle
No Data
Sidewall Total Tire Thickness
Members Only
In both the tread and sidewall puncture tests, the P Zero Velo performs on par with the other all-round tires from the big manufacturers as well. Pretty much all tires with a tread thickness between 2.4 and 3.0 mm and an aramid anti-puncture belt perform somewhere in the 10-12 points range in the tread puncture test.
Static Grip Test Results
NOTE: Grip test data is only available on tires tested after November 2018. You can find more information about our grip test here: Introducing Grip Testing
Static Grip Test Results
Wet Grip Average
No Data
Wet Grip Center
No Data
Wet Grip Edge
No Data
Grip in points = coefficient of friction * 100
Conclusion
Pirelli launching a new range of road bike tires has been big news in the cycling industry. Although these tires are brand new, and no ride reports can be found yet on how these perform in real-life, I can confirm that the P Zero Velo is a tire that performs well in all of our tests. Rolling resistance is just a couple of tenths behind the competition, but other characteristics of these tires can easily sway towards the P Zero Velo in real-life.
Pirelli did a great job with launching the P Zero Velo tires and as their car and motorcycle tires are always top-notch as well, I have no problems recommending these tires based on our tests. These tires have now started to become available and real-life ride reports will start to trickle in as well. If you've tried these yourself, let me know how you like them as I'm curious to your opinion as well!
Ad Buy Pirelli P Zero Velo at Amazon.com
RATING: 5.0 / 5
TEST VERDICT: Highly Recommended
Comments