Road Bike Tire Test:

Vittoria

Corsa Pro TLR 28
Vittoria Corsa Pro TLR 28
---
---
---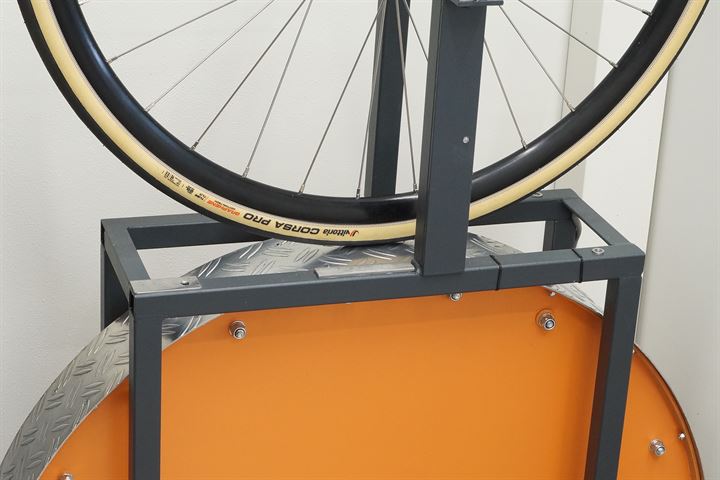 The Vittoria Corsa range of cotton road bike tires has been around for a long time, and Vittoria has regularly introduced new and improved versions over the last couple of years. The new Corsa Pro takes cotton road bike tires to a whole new level by vulcanizing the rubber tire tread with the cotton casing, while the previous editions all used a separate casing with a glued-on tread.
Ad Buy Vittoria Corsa Pro TLR at Amazon.com
Vittoria recently also introduced the Corsa N.EXT (read our review), which is more oriented to enthusiast cyclists thanks to its nylon casing that's more user-friendly and offers a more durable construction. The cotton Corsa Pro is a step above the Corsa N.EXT, and this is the tire used by pro riders that demand the absolute best performance and don't mind sacrificing some things that would hold them back in a race.
And if you're wondering if these are the exact same tires the pro cycling teams use, we can confirm that as we've tested tires (both tubeless-ready and tubular) for winning pro teams, and they perform exactly the same as the cotton Vittoria tires you can buy in stores.
Let's get on to the main improvement of the new Corsa Pro: Vulcanizing. Vulcanizing tires comes with several benefits, and the most obvious ones are performance-oriented, as glue isn't required anymore. Some improvements simply come from removing the glue (lower weight, reduced rolling resistance, better flexibility and grip) and some from the vulcanized tread that becomes tightly integrated with the casing and prevents movement between the casing and tread as much as possible.
Vulcanizing reduces rolling resistance as any friction between the tread and casing is lost energy, resulting in increased rolling resistance. Vulcanizing further reduces rolling resistance as it fills the tiny pores in the casing, reducing the micro movement/rubbing of the individual casing wires that make up the casing (320 threads per inch on the cotton tires).
Although we're not sure how much energy would be lost by internal casing friction, Vittoria had to step up their game, as it all adds up when you want to compete with the best tires out there.
The Corsa Pro will be available in both tubeless-ready and tubular versions in sizes ranging from 24 mm up to 32 mm for the tubeless-ready version and 23 mm up to 30 mm for the tubular version. For a tire like the Corsa Pro, it's probably still a bit too early to drop the tubular tires, and we don't have any exact numbers on it, but there seems to be a significant shift towards tubeless-ready tires even in the pro-peloton.
We're testing the 28 mm tubeless-ready Corsa Pro, and straight from the start, it's obvious this is a big step up from the previous tubeless-ready Vittoria Corsa (read our review). From a construction standpoint, it feels like a 2nd generation cotton tubeless-ready tire as the entire tire feels much more solid when compared to the 1st generation cotton tubeless-ready tires that maybe weren't designed from the ground up to be tubeless-ready tires.
The end result of this new tubeless-ready construction is much easier tubeless setup and installation, which could be troublesome on some cotton tubeless-ready tires. Although inflation was easy, it didn't immediately hold air all that well, and it's the big difference between the Corsa Pro and the Corsa N.EXT, which seals instantly and holds air very well. The Corsa Pros will take some time with regular shaking and turning to get them to hold air long enough for a race.
Manufacturer Specifications
Manufacturer Specifications
Brand
Vittoria
Model
Corsa Pro TLR
Year
2023
Tire Type
Tubeless
Supplied By
Bought in store
New or Used
New
Mileage
0 km
Price Range
Very High
Buy At

Ad

Amazon.com
Manufacturer part number
11A00389
TPI
320
Compound
Graphene +Silica
Bead
Folding
ETRTO
28-622
Size Inch
28"
Specified Width (mm)
28
Specified Weight
295 grams
Max Air Pressure (psi)
95
Made In
Members Only
Available Sizes
24-622 (700x24c)
26-622 (700x26c)
28-622 (700x28c)
30-622 (700x30c)
32-622 (700x32c)
Vittoria Corsa Pro TLR 28 Test Results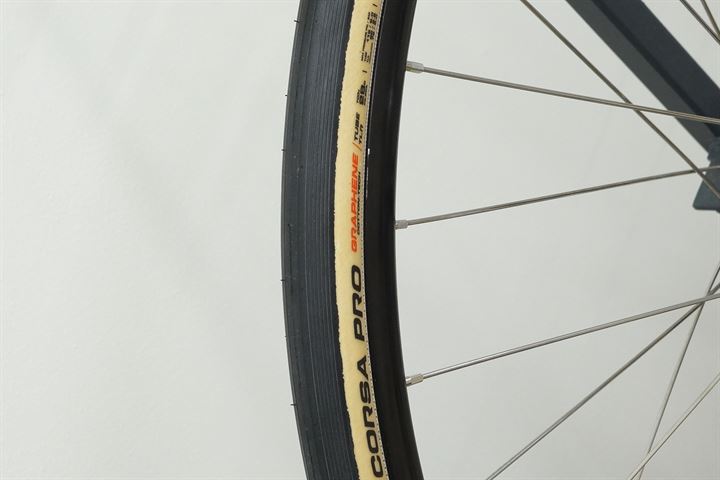 Size, Weight, and Thickness Measurements
Size, Weight and Thickness Measurements
Specified Weight
295 grams
Measured Weight
273 grams
System Adjusted Weight
(tire + valve + rim seal)
293 grams
Measured Width
28 mm (un-round)
Measured Height
25 mm (un-round)
Total Tire Thickness Center
2.4 mm
Total Tire Thickness Sidewall
Members Only
Unmounted Casing Width
73 mm
Unmounted Tread Width
Members Only
Tread Cover (Tread / Casing Ratio)
Members Only
All size measurements are taken at an air pressure of 100 psi / 6.9 bars on a 17.8 mm inner width rim.
Rolling Resistance Test Results
Rolling Resistance Test Results
Inner Tube
None (20 ml sealant)
Measured Width
28 mm (un-round)
Rolling Resistance
Real tire width in mm:
22-24 = 132 psi/9.1 bar
25-27 = 120 psi/8.3 bar
28-29 = 108 psi/7.4 barUltra High Air Pressure
(108 psi / 7.4 bar)
9.3 Watts
CRR: 0.00279
Rolling Resistance
Real tire width in mm:
22-24 = 110 psi/7.6bar
25-27 = 100 psi/6.9 bar
28-29 = 90 psi/6.2 barExtra High Air Pressure
(90 psi / 6.2 bar)
9.9 Watts
CRR: 0.00297
Rolling Resistance
Real tire width in mm:
22-24 = 88 psi/6.1 bar
25-27 = 80 psi/5.5 bar
28-29 = 72 psi/5.0 barHigh Air Pressure
(72 psi /5.0 bar)
Members Only
Rolling Resistance
Real tire width in mm:
22-24 = 66 psi/4.6 bar
25-27 = 60 psi/4.1 bar
28-29 = 54 psi/3.7 barMedium Air Pressure
(54 psi / 3.7 bar)
Members Only
The Road Bike section is a multi tire size section, air pressures have been adjusted to the measured casing width.

All numbers are for a single tire at a speed of 29 km/h / 18 mph and a load of 42.5 kg / 94 lbs.

Use the formula: RR (Watts) = CRR * speed (m/s) * load (N) to calculate rolling resistance at a given speed and load.
Puncture Resistance Test Results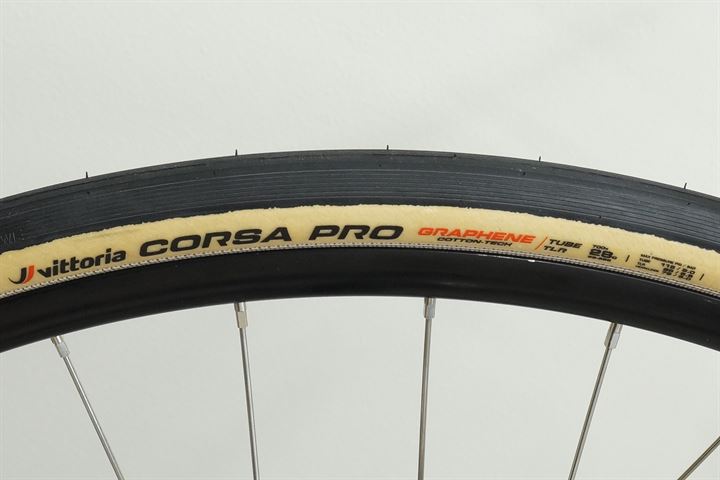 Puncture Resistance Test Results (higher is better)
Total Puncture Score Tread
46 Points
Total Puncture Score Sidewall
Members Only
Tread Puncture Force Sharp Needle
Members Only
Tread Puncture Force Blunt Needle
Members Only
Tread Total Tire Thickness
2.4 mm
Sidewall Puncture Force Sharp Needle
Members Only
Sidewall Puncture Force Blunt Needle
Members Only
Sidewall Total Tire Thickness
Members Only
Static Grip Test Results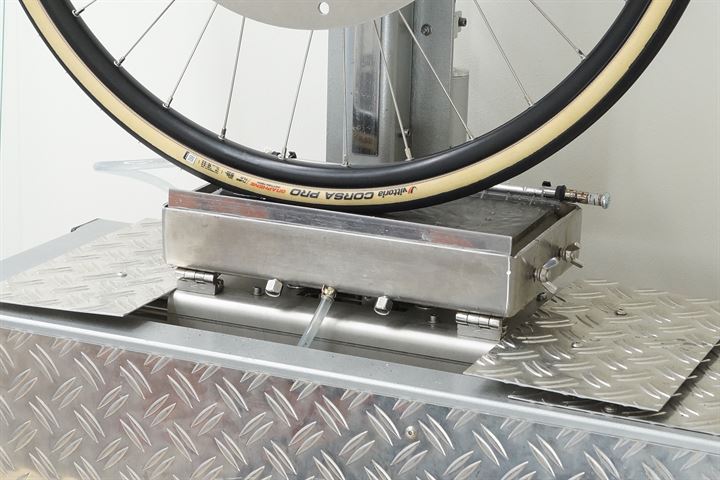 Static Grip Test Results
Wet Grip Average
74 Points
Wet Grip Center
Members Only
Wet Grip Edge
Members Only
Grip in points = coefficient of friction * 100
Conclusion
The tubeless-ready Vittoria Corsa Pro is a big step up from a performance point of view when we compare it to Vittoria's first-generation cotton Corsa TLR (read our review). We see a lower weight, better grip, and much lower rolling resistance. The Corsa Pro rolls roughly 3 watts faster in our test, translating to 6 watts for a pair of tires at our standard test speed. For a pro rider that averages 40 to 45 km/h (25 - 28 mph), the savings are even more significant, and we're looking at roughly 10 watts for a pair of tires which is a lot for any pro rider.
The increase in performance comes at the cost of some protection as the new Corsa Pro TLR has become a bit thinner, easier to puncture, and the tread width has decreased by roughly 2 mm, making the tire more prone to sidewall punctures. The reduction in tread puncture resistance is probably a side effect of the vulcanizing process, as the glue used on the older tires probably was a bit tougher to penetrate.
The sidewalls are the weakest link on the Corsa Pro, but some of it is exaggerated by testing the 28 mm version instead of the 25/26 mm version. If you've ever looked at a cotton tire closely, you probably noticed the lower part of the sidewalls is made up of 2 layers while the upper part near the tread is only 1 layer thick. Because the sidewalls of the 28 mm version are higher/longer, the part made up of 1 layer is larger, which affects our puncture test and thickness measurements.
If you require more protection, Vittoria also offers the Corsa Pro Control, which comes with a slightly thicker and slightly wider tread, and a compound even more optimized for bad weather conditions. We hope to test the Corsa Pro Control soon to get exact figures on the differences between these tires.
When comparing the Corsa Pro to the Corsa N.EXT (read our review), our data clearly indicates the differences between these tires. The Corsa N.EXT simply offers more durability and protection and less performance. What our data doesn't show is user-friendliness, as the Corsa N.EXT is much more of a set-and-forget tire, while the Corsa Pro is going to need pro-level attention to unlock its performance.
When compared to tires from other brands, we can see why pro riders would choose the Vittoria Corsa Pro over other brands, as it ticks all the right boxes when it comes down to performance and safety: low rolling resistance and incredible grip.
Ad Buy Vittoria Corsa Pro TLR at Amazon.com
RATING: 5.0 / 5
TEST VERDICT: Highly Recommended
Comments