---
Fat Bike Tire Test:

Schwalbe

Jumbo Jim LiteSkin PaceStar
Schwalbe Jumbo Jim LiteSkin PaceStar
---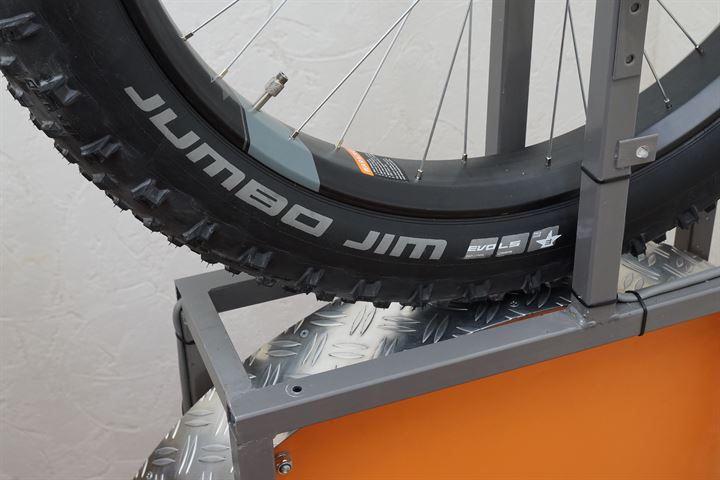 Because almost all Schwalbe tires perform very well in the rolling resistance tests, the Schwalbe Jumbo Jim is the fat bike tire that can't be left out of the fat bike section. I'm testing the LiteSkin version of the Jumbo Jim because I want to know how low rolling resistance of a fat bike tire can go. A TL-Easy SnakeSkin version of the Jumbo Jim is available as well which should be a bit slower because of the stronger sidewalls.
Ad Buy Schwalbe Jumbo Jim LiteSkin PaceStar at Amazon.com
The Jumbo Jim is manufactured from the same materials that are also used to create the fast-rolling Schwalbe mountain bike tires. This means the Jumbo Jim uses a 127 TPI folding casing with tubeless-ready beads and the well known Schwalbe PaceStar compound. The tread pattern looks like it can handle a wide range of conditions with the relatively low, wide spaced center knobs and huge shoulder knobs that should provide plenty of cornering grip.
Manufacturer Specifications
Manufacturer Specifications
Brand
Schwalbe
Model
Jumbo Jim LiteSkin PaceStar
Year
2016
Supplied By
Bought in store
Sponsored by
Wolf Tooth Components
New or Used
New
Mileage
0 km
Price Range
High
Buy At

Ad

Amazon.com
Manufacturer part number
11600714
TPI
127
Compound
PaceStar
Bead
Folding
ETRTO
100-559
Size Inch
26"
Width Inch
4.00
Specified Weight
990 grams
Max Pressure
30
Made In
Members Only
Available Sizes
26 x 4.80
26 x 4.40
26 x 4.00
Schwalbe Jumbo Jim LiteSkin PaceStar Test Results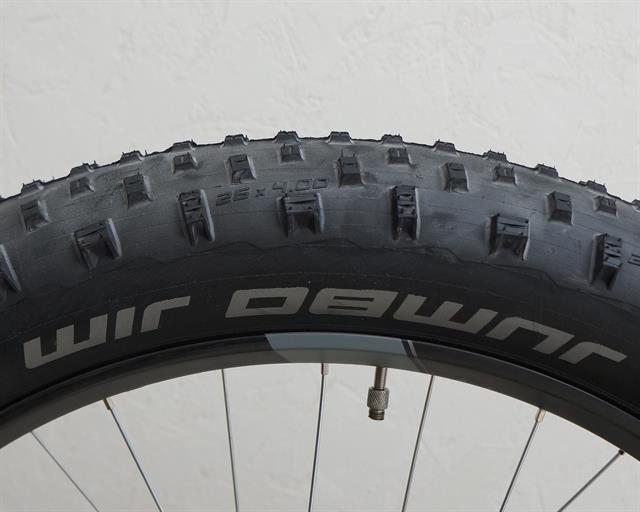 Size, Weight, and Thickness Measurements
advertisement
Size, Weight, and Thickness Measurements
Specified Weight
990 grams
Measured Weight
1079 grams
Measured Width Carcass
95 mm (un-round)
Measured Width Tread
98 mm
Measured Height
84 mm (un-round)
Measured Knob Height Center
3.7 mm
Measured Knob Height Edge
6.8 mm
Measured Total Thickness Center (excluding knobs)
1.65 mm
Measured Total Thickness Sidewall
Members Only
All size measurements are taken at an air pressure of 16 psi / 1.1 bars on a 65 mm inner width rim.
Specified weight of the Jumbo Jim LiteSkin is 990 grams; my sample comes in at a much higher 1079 grams. The sub-1000 grams specified weight is probably a marketing gimmick, If you can get your hands on a 990 grams Jumbo Jim, don't let it go again. The maximum width of the casing is 95 mm, the shoulder knobs stick out a bit further and measure 98 mm wide. The height of the tire is 84 mm. The volume of the Jumbo Jim is good and in line with other 26 x 4.00 rated tires.
The Jumbo Jim has some surprisingly big knobs. The center knobs have a height of 3.7 mm which is not bad. The shoulder knobs are huge on this tire and have a maximum height of 6.8 mm. The shoulder knobs on the Jumbo Jim are the biggest I've seen yet. Because this is the LiteSkin version of the Jumbo Jim, the sidewalls have a thickness of just 0.55 mm. The 0.55 mm sidewall measurement is in line with the 'regular' Schwalbe MTB tires. The SnakeSkin version will come in close to 0.85 mm.
Rolling Resistance Test Results
Rolling Resistance Test Results
Inner Tube
Schwalbe SV13J (390 gr)
Rolling Resistance 20 PSI / 1.4 Bar
Members Only
Rolling Resistance 16 PSI / 1.1 Bar
Members Only
Rolling Resistance 12 PSI / 0.8 Bar
28.7 Watts
CRR: 0.00860
Rolling Resistance 8 PSI / 0.6 Bar
36.9 Watts
CRR: 0.01106
All numbers are for a single tire at a speed of 29 km/h / 18 mph and a load of 42.5 kg / 94 lbs.

Use the formula: RR (Watts) = CRR * speed (m/s) * load (N) to calculate rolling resistance at a given speed and load.
In the rolling resistance test, the Jumbo Jim shows us what's possible and outperforms all other fat bike tires that have been tested up to now. At the very low air pressure of 8 psi / 0.6 bars, the Jumbo Jim stretches its legs and outperforms the next best tire by 6.5 watts. Even at the higher air pressures, the Jumbo Jim performs very strong although the gap to the competition is a bit smaller at 2.7 watts at 20 psi / 1.4 bars.
Although the Jumbo Jim performs very strong, it must be said that the LiteSkin sidewalls are much thinner and weaker than the competition. Getting the Jumbo Jim to seal in a tubeless set up might be a bit harder; the SnakeSkin version of the Jumbo Jim should make a tubeless set up much easier. I do expect the SnakeSkin still has less rolling resistance than the competition. From experience with the regular sized Schwalbe MTB tires, the Jumbo Jim SnakeSkin should come in at 39 - 40 watts at 8 psi / 0.6 bars.
Puncture Resistance Test Results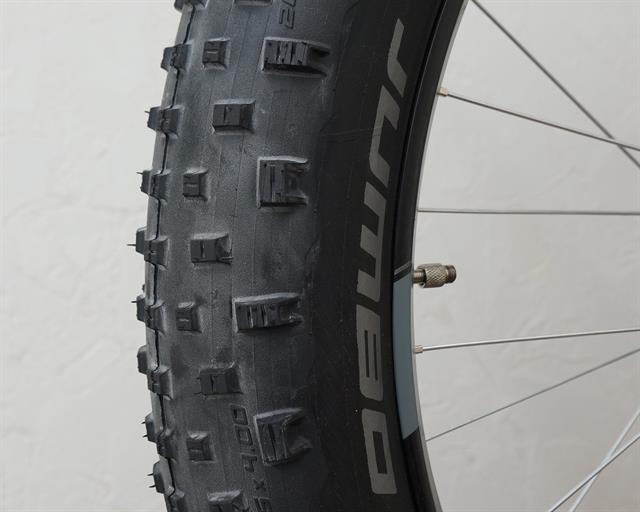 Puncture Resistance Test Result (higher is better)
Puncture Resistance Tread
6 Points
Puncture Resistance Sidewall
Members Only
As expected from a tire built to provide race performance, the Jumbo Jim comes in at the bottom of the list in the puncture resistance tests. Still, puncture performance isn't that bad as it comes just a few points short in both the tread and sidewall puncture tests.
Conclusion
Schwalbe Jumbo Jim LiteSkin PaceStar
Performance compared to all other fat bike tires
(100% is fastest - lightest - highest - strongest)
As expected from Schwalbe, the Jumbo Jim LiteSkin performs very strong in the rolling resistance test. If you're looking for a fat bike tire with race performance, the Jumbo Jim is the only tire worth considering as it will save you close to 15 watts for a pair of tires. Although the sidewalls are thin and performance in the puncture test isn't that great, it does have bigger knobs than the competition and should provide plenty of grip.
Rated 5 out of 5 because it simply is the fastest fat bike tire and that's by far the most important criteria on this site. I'm looking into testing the SnakeSkin version as well, but I'm convinced it will perform very strong as well and provide some additional sidewalls strength/sealing.
Ad Buy Schwalbe Jumbo Jim LiteSkin PaceStar at Amazon.com
RATING: 5 / 5
TEST VERDICT: Highly Recommended
Comments