MTB Tire Test:

Continental

Speed King II RaceSport
Continental Speed King II RaceSport
---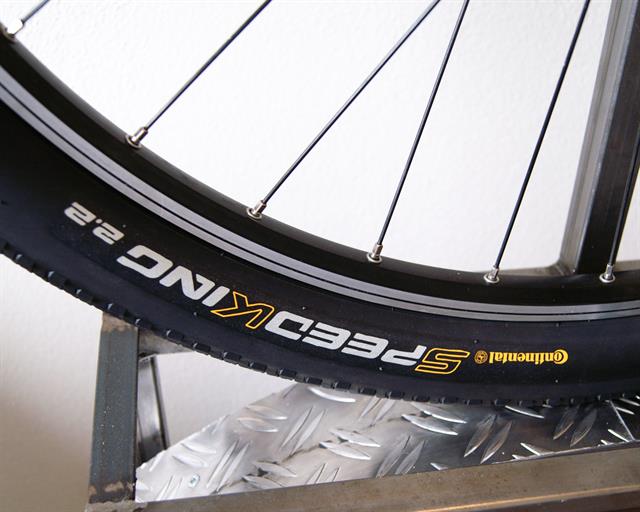 The Continental Speed King II RaceSport 29 x 2.2 is Continentals fastest mountain bike tire. Although the Speed King II is a newer version of the original Speed King, it's an entirely different tire, and the only thing they have in common is the name. While the original Speed King did have some decent knobs, the Speed King II is pretty much a semi-slick with a knob height of 0.5 mm at the center of the tire and 1.5 mm at the edge of the tire.
Ad Buy Continental Speed King II RaceSport at Amazon.com
While most other Continental mountain bike tires are available as Protection, RaceSport, Performance, and Sport versions, the Speed King is only available as a RaceSport version. The RaceSport versions are the fastest and lightest tires produced by Continental. The RaceSport version comes with an 180 TPI casing, Black Chili Compound and is handmade in Germany. Being only available as a RaceSport version further indicates this tire is designed with only one thing in mind: Speed.
I wouldn't dare use this tire as a front tire but would consider it as a rear tire in dry conditions. It could also be a good fit when riding over very soft sand or as an asphalt tire. If you're expecting even a single drop of rain, grab something else. This is the first semi-slick mountain bike tire I'm testing so this should give some interesting data about how much big knobs slow you down.
advertisement
Manufacturer Specifications
Manufacturer Specs
Brand
Continental
Model
Speed King II RaceSport
Year
2015
Supplied By
Bought in store
New or Used
New
Mileage
0 km
Price Range
High
Buy At

Ad

Amazon.com
Manufacturer part number
0100933
TPI
3/180
Compound
Black Chili
Bead
Folding
ETRTO
55-622
Size Inch
29"
Width Inch
2.20
Specified Weight
465 grams
Max Pressure
65
Made In
Germany
Available Sizes
29 x 2.20
27.5 x 2.20
26 x 2.20
Continental Speed King II RaceSport Test Results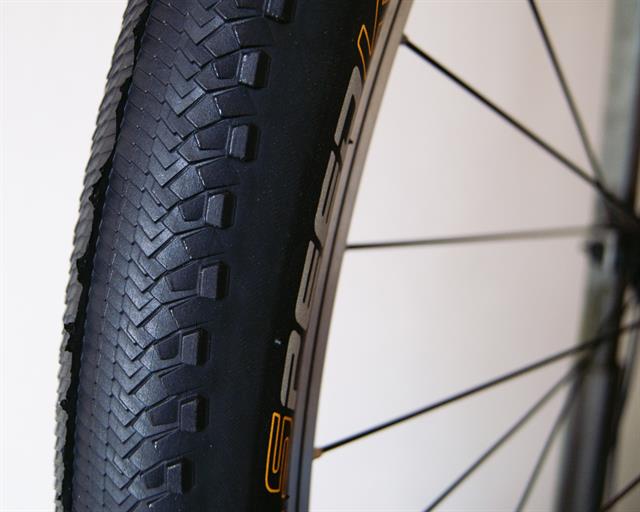 Size, Weight, and Thickness Measurements
Size, Weight, and Thickness Measurements
Specified Weight
465 grams
Measured Weight
467 grams
Measured Width Carcass
54 mm
Measured Width Tread
49 mm
Measured Height
53 mm
Measured Knob Height Center
0.5 mm
Measured Knob Height Edge
1.5 mm
Measured Total Thickness Sidewall
0.45 mm
Measured Total Thickness Center (excluding knobs)
1.70 mm
All size measurements are taken at an air pressure of 35 psi / 2.4 bars on a 17.8 mm inner width rim.
I've measured this sample of the Speed King 29 x 2.2 at 467 grams while the specified weight by Continental is 465 grams. Width and height of the casing are 54 and 53 mm respectively. As noted previously, "knob" height at the center of the tire is 0.5 mm, which is virtually non-existent. The small knobs at the edge of the tire have a height of 1.5 mm.
Rolling Resistance Test Results
Rolling Resistance Test Results
Inner Tube
Conti MTB 29 (225 gr butyl)
Rolling Resistance
55 PSI / 3.8 Bar
14.5Watts
CRR: 0.00435
Rolling Resistance
45 PSI / 3.1 Bar
15.1 Watts
CRR: 0.00453
Rolling Resistance
35 PSI / 2.4 Bar
16.6 Watts
CRR: 0.00498
Rolling Resistance
25 PSI / 1.7 Bar
19.1 Watts
CRR: 0.00573
All numbers are for a single tire at a speed of 29 km/h / 18 mph and a load of 42.5 kg / 94 lbs.

Use the formula: RR (Watts) = CRR * speed (m/s) * load (N) to calculate rolling resistance at a given speed and load.
Yes! Rolling resistance is very very low. Much lower than all other mountain bike tires tested to date. At an air pressure of 25 psi, rolling resistance is 19.1 watts. This is 3.2 watts less than the Schwalbe Thunder Burt (read review) which was the previous record holder. Compared to the Continental Race King (read review), rolling resistance is 3.3 watts lower. At higher pressures, the advantage increases to 3.5 - 4.0 watts. This tire will fly on asphalt.
What's interesting is that if you use the Speed King in a tubeless configuration (read tubeless comparison), rolling resistance at 55 psi will be close to 12.0 watts. 12.0 watts means it would have less rolling resistance than a Continental Grand Prix 4000S II road bike tire (read review) at 120 psi.
Puncture Resistance Test Results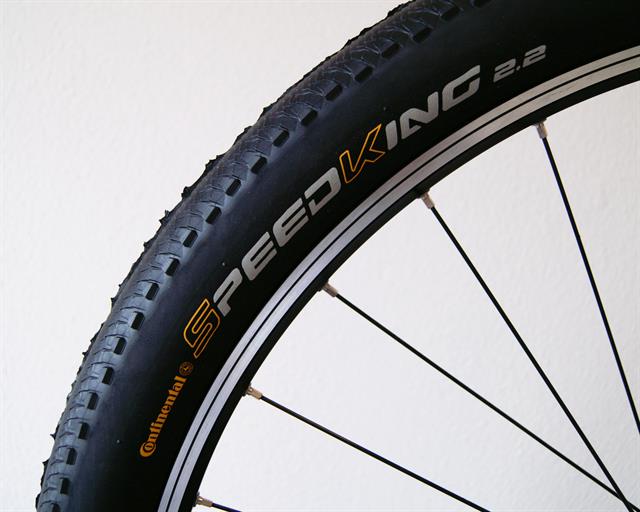 Puncture Resistance Test Result (higher is better)
Puncture Resistance Tread
7 Points
Puncture Resistance Sidewall
4 Points
In the puncture resistance test, the Speed King scores an average score of 7 points. This is just as good (or bad) as the Race King and slightly worse than the Thunder Burt.
Conclusion
Continental Speed King II RaceSport
Performance compared to all other MTB tires
(100% is fastest - lightest - highest - strongest)
I can't conclude anything else than that the Continental Speed King II is a very very fast semi-slick mountain bike tire. Of course, it doesn't give you a lot of grip, but if the conditions suit this tire, you should be flying. It might be best to use the Speed King as a rear tire with a Race King (read review) or X-King (or any other tire) on the front, but this should be totally dependent on the conditions.
Highly recommended as a dry weather rear tire or maybe even as a front tire if conditions allow. I'm almost 100% certain you won't find a faster mountain bike sized tire anywhere. If you think otherwise, please let me know.
Ad Buy Continental Speed King II RaceSport at Amazon.com
RATING: 5 / 5
TEST VERDICT: Highly Recommended
Comments