Fat Bike Tire Test:

Kenda

Juggernaut Pro
---
---
---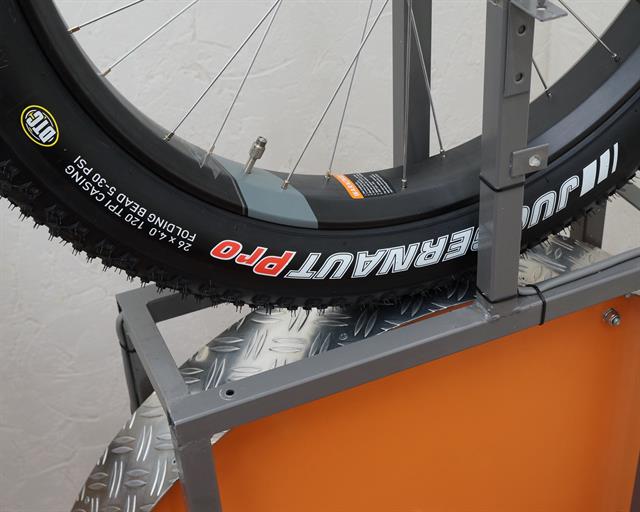 The Kenda Juggernaut Pro is the lightest 26x4.00 sized fat bike tire you can buy. With a specified weight of just 835 grams, it's much lighter than most other fat bike tires. To achieve this exceptionally low weight, Kenda uses an ultralight 120 TPI casing covered with a minimal amount of rubber. The drawback of this light construction is clear: this definitely isn't the most durable or indestructible fat bike tire.
Ad Buy Kenda Juggernaut Pro at Amazon.com
Next to the ultralight 120 TPI casing, the Juggernaut Pro also uses a dual tread compound with softer cornering knobs and harder center knobs for longer life. The folding beads are of the tubeless-ready kind which makes this tire easier to seal when used in a tubeless configuration. A cheaper 60 TPI wire bead version of the Juggernaut is available as well. Do keep in mind the 60 TPI version has a much higher weight of 1285 grams.
With such a low weight, it seems logical for this tire to also have an exceptionally low rolling resistance. Let's put this tire to the test and find out if that's true.
Manufacturer Specifications
Manufacturer Specifications
Brand
Kenda
Model
Juggernaut Pro
Year
2016
Supplied By
Bought in store
New or Used
New
Mileage
0 km
Price Range
Med
Buy At

Ad

Amazon.com
Manufacturer part number
TPI
120
Compound
Dual Tread Compound
Bead
Folding
ETRTO
100-559
Size Inch
26"
Width Inch
4.00
Specified Weight
835 grams
Max Air Pressure (psi)
30
Made In
Members Only
Available Sizes
26x4.50
26x4.00
Kenda Juggernaut Pro Test Results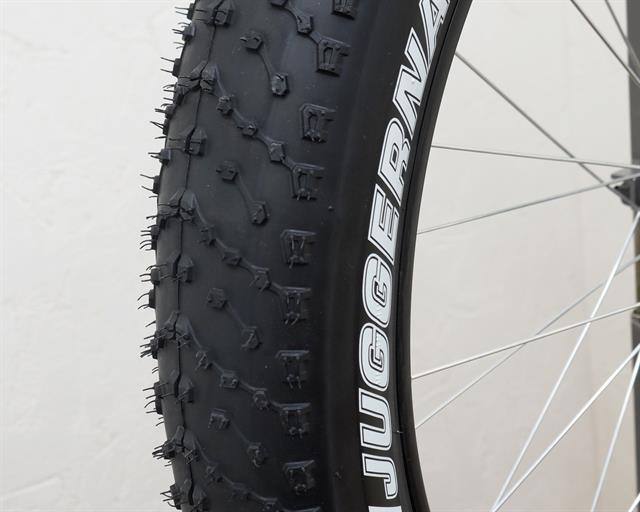 Size, Weight, and Thickness Measurements
Size, Weight, and Thickness Measurements
Specified Weight
835 grams
Measured Weight
853 grams
Measured Width Carcass
101 mm (un-round)
Measured Width Tread
92 mm
Measured Height
84 mm (un-round)
Measured Knob Height Center
3.0 mm
Measured Knob Height Edge
3.0 mm
Measured Total Thickness Center (excluding knobs)
1.70 mm
Measured Total Thickness Sidewall
Members Only
All size measurements are taken at an air pressure of 16 psi / 1.1 bars on a 65 mm inner width rim.
As previously mentioned, specified weight is 835 grams. My sample of the Juggernaut comes in at a slightly higher 853 grams. On a 65C rim, at an air pressure of 16 psi, the casing of the 26x4.00 Juggernaut has a width of 95 mm. The maximum height of the tire comes in at 84 mm.
With a height of 3 mm for both the center and edge knobs, the knobs on the Juggernaut are the smallest I've measured up to now. As expected for a tire with such a low weight, the sidewalls have a thickness of just 0.5 mm which is much less than most other fat bike tires. It must be said that most fast normal sized MTB tires have sidewalls that are just as thin as these.
Rolling Resistance Test Results
Rolling Resistance Test Results
Inner Tube
None (60 ml sealant)

(current protocol)
Schwalbe SV13J (390 gr)

(test protocol)
Rolling Resistance 20 PSI / 1.4 Bar
Members Only
Members Only
Rolling Resistance 16 PSI / 1.1 Bar
Members Only
Members Only
Rolling Resistance 12 PSI / 0.8 Bar
42.1 Watts
CRR: 0.01262
47.6 Watts
CRR: 0.01427
Rolling Resistance 8 PSI / 0.6 Bar
51.7 Watts
CRR: 0.01550
59.2 Watts
CRR: 0.01775
All numbers are for a single tire at a speed of 29 km/h / 18 mph and a load of 42.5 kg / 94 lbs.

Use the formula: RR (Watts) = CRR * speed (m/s) * load (N) to calculate rolling resistance at a given speed and load.
Low weight? Check! Low rolling resistance? No! Not at all. It's crazy, but the Juggernaut Pro actually has the highest rolling resistance of all fat bike tires I've tested to date. How can rolling resistance be so high when the tire is this light? To me, it's clear Kenda doesn't use materials that have been optimized to offer a low rolling resistance. Maybe they forgot to think about this or they simply don't care about the rolling resistance of their tires.
I can't imagine how high rolling resistance of the 60 TPI version of this tire will be. My machine probably can't even handle that tire as the 120 TPI Juggernaut was already stressing the machine to the max. At full power, at an air pressure of 8 psi / 0.6 bars, I was only able to spin this tire up to 195 rpm instead of the required 200 rpm, the machine simply didn't have enough power. I've added 2.5% to the 195 rpm measurement to calculate the 200 rpm (18 mph / 29 km/h) power.
Puncture Resistance Test Results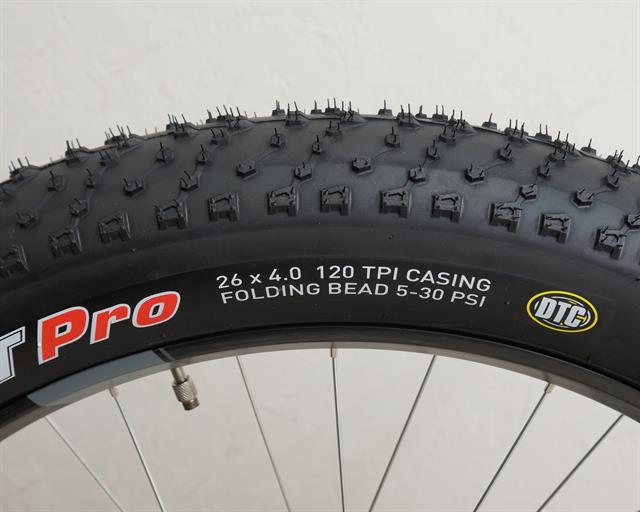 Puncture Resistance Test Results (higher is better)
Total Puncture Score Tread
26 Points
Total Puncture Score Sidewall
Members Only
Tread Puncture Force Sharp Needle
7 Points
Tread Puncture Force Blunt Needle
Members Only
Tread Total Tire Thickness
1.70 mm
Sidewall Puncture Force Sharp Needle
Members Only
Sidewall Puncture Force Blunt Needle
Members Only
Sidewall Total Tire Thickness
Members Only
As expected from such a light tire, puncture resistance isn't impressive. With a tread puncture score of 7 points, it performs average. The sidewall puncture score of 4 points is lower than average but expected from the very thin sidewalls.
Conclusion
The 120 TPI Kenda Juggernaut Pro is a fat bike tire with an extremely low weight. Unexpectedly, rolling resistance is extremely high and it's the reason I wouldn't touch this tire with a 10-foot pole. When compared to the Schwalbe Jumbo Jim LiteSkin (read review), at an air pressure of 8 psi, you'll lose close to 40 - 50 watts of power for a pair of tires. When you consider that the average cyclist can generate 250 watts, that's an insane amount of power lost in the tires.
I rate this tire 1 out of 5 based on my tests. I can't see a reason to fit these tires if they perform this bad in the tests, I give it the 1 point for its low weight. Check the overview page (overview) to see which tires I do recommend.
Ad Buy Kenda Juggernaut Pro at Amazon.com
RATING: 1 / 5
TEST VERDICT: Not Recommended
Comments