Fat Bike Tire Test:

45NRTH

Van Helga
---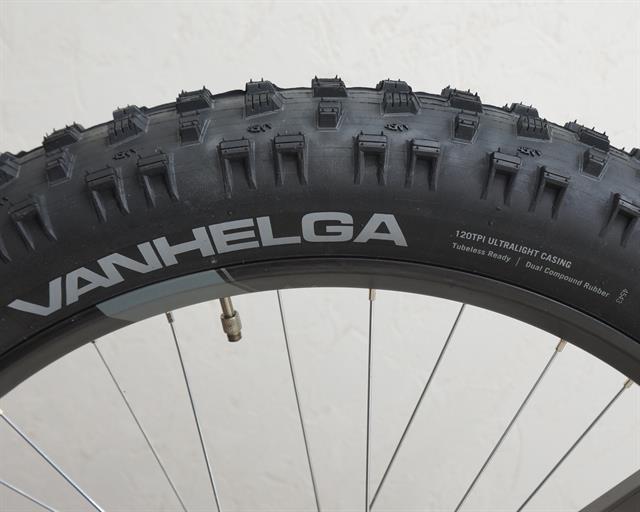 The 45NRTH Van Helga is a fat bike tire designed to perform best in loose snow. Compared to the 45NRTH Hüsker Dü (read review) that I've tested a couple of months back, the Van Helga sports much bigger siped knobs that should provide a good bit of extra grip over the Hüsker Dü. Just like the Hüsker Dü that I've tested, I'm testing the most expensive 120 TPI version of the Van Helga as this version is the most advanced and should perform best in the rolling resistance test. A cheaper 60 TPI version is available as well.
After looking through all of the specifications of the Hüsker Dü and Van Helga, one of the most interesting differences seems to be the use of a dual compound rubber on the Van Helga (60a in center, 52a on sides) while the Hüsker Dü uses an unspecified (single?) compound. One of the (IMO) necessary specifications that are missing on the 45NRTH website is the weight of these tires. Surprisingly, after weighing both tires, the Van Helga is a bit lighter than the smaller knobbed Hüsker Dü.
Let's put the Van Helga to the test to find out how much the bigger knobs on this tire will slow you down.
Manufacturer Specifications
Manufacturer Specifications
Brand
45NRTH
Model
Van Helga
Year
2016
Supplied By
Bought in store
Sponsored by
Wolf Tooth Components
New or Used
New
Mileage
0 km
Price Range
High
Buy At
Manufacturer part number
TPI
120
Compound
Dual compound rubber
Bead
Folding
ETRTO
Size Inch
26"
Width Inch
4.00
Specified Weight
0 grams
Max Pressure
30
Made In
Members Only
Available Sizes
26 x 4.00
45NRTH Van Helga Test Results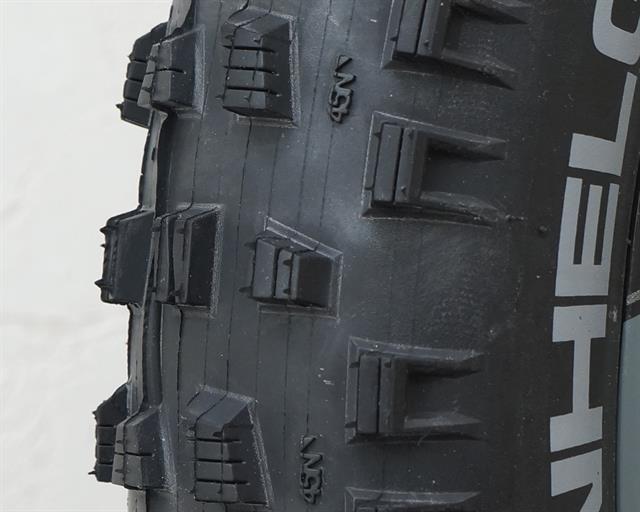 Size, Weight, and Thickness Measurements
advertisement
Size, Weight, and Thickness Measurements
Specified Weight
0 grams
Measured Weight
1229 grams
Measured Width Carcass
97 mm (un-round)
Measured Width Tread
98 mm
Measured Height
84 mm (un-round)
Measured Knob Height Center
5.8 mm
Measured Knob Height Edge
6.5 mm
Measured Total Thickness Center (excluding knobs)
1.85 mm
Measured Total Thickness Sidewall
Members Only
All size measurements are taken at an air pressure of 16 psi / 1.1 bars on a 65 mm inner width rim.
The measured weight of my sample of the Van Helga 26 x 4.00 120 TPI is 1229 grams. As the Hüsker Dü came in at 1290 grams, the Van Helga takes the win here. On my 65C rim, the Van Helga comes in at a maximum width of 98 mm, the casing is almost as wide as the widest point of the tire and comes in at 97 mm. The measured height is 84 mm. Size wise, the 45NRTH tires are quite big for their size.
The knobs in the center of the tire have a height of 5.8 mm. The edge knobs have a height of 6.5 mm. Compared to the other fat bike tires, the knobs on the Van Helga are huge.
Rolling Resistance Test Results
Rolling Resistance Test Results
Inner Tube
Schwalbe SV13J (390 gr)
Rolling Resistance 20 PSI / 1.4 Bar
Members Only
Rolling Resistance 16 PSI / 1.1 Bar
Members Only
Rolling Resistance 12 PSI / 0.8 Bar
41.0 Watts
CRR: 0.01229
Rolling Resistance 8 PSI / 0.6 Bar
51.0 Watts
CRR: 0.01529
All numbers are for a single tire at a speed of 29 km/h / 18 mph and a load of 42.5 kg / 94 lbs.

Use the formula: RR (Watts) = CRR * speed (m/s) * load (N) to calculate rolling resistance at a given speed and load.
The Hüsker Dü (read review) didn't make a great impression in the rolling resistance test as it was outperformed by a lot of tires from other manufacturers with a similar knob height. Surprisingly, the Van Helga performs nearly equal to the Hüsker Dü in the rolling resistance test which is quite an accomplishment for a tire with much bigger knobs. Compared to the other brands, performance seems to be decent when you take the larger knobs into account.
I'm pretty sure everybody wonders how it's possible the Van Helga with its big knobs has less rolling resistance than the Hüsker Dü with its much smaller knobs. My explanation is that the Van Helga and Hüsker Dü have different compounds and are potentially made in a different factory with different materials. I base this on the mold marks and mold hairs on both tires which are entirely different. This also explains the lower weight of the Van Helga.
Puncture Resistance Test Results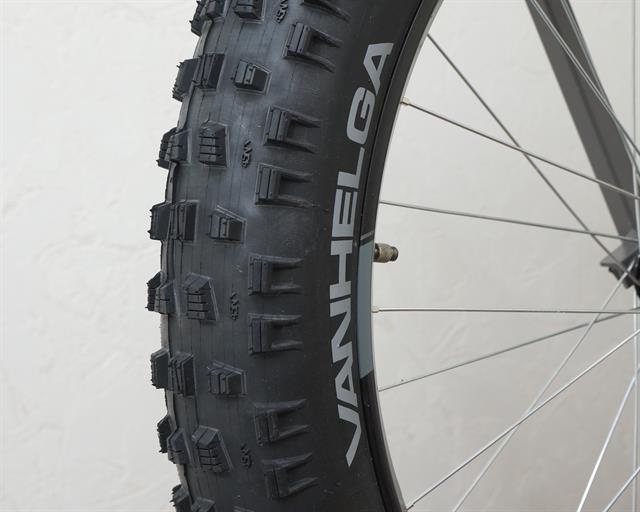 Puncture Resistance Test Result (higher is better)
Puncture Resistance Tread
6 Points
Puncture Resistance Sidewall
Members Only
In the puncture resistance tests, the Van Helga performs below average in both the tread and sidewall tests.
Conclusion
Just like the 45NRTH Hüsker Dü (read review), the 45NRTH Van Helga doesn't perform that well in both the rolling resistance and puncture resistance tests. Personally (and when having in mind the amount of money you'll have to pay for a pair of these tires), I'm not impressed by the performance of the 45NRTH tires. I do find the Van Helga to be a better tire than the Hüsker Dü as it offers very large knobs that should provide very good grip on all kinds of surfaces.
Rated 3 out of 5 as rolling resistance is decent for a tire with knobs this big. If you're looking for a fat bike tire with very large knobs, this might be the right tire. Look at the fat bike tires overview page (overview) to see which tires perform better on our tests.
RATING: 3 / 5
TEST VERDICT: Recommended
Comments