Road Bike Tire Test:

Continental

Competition (tubular) 25
Continental Competition (tubular) 25
---
---
---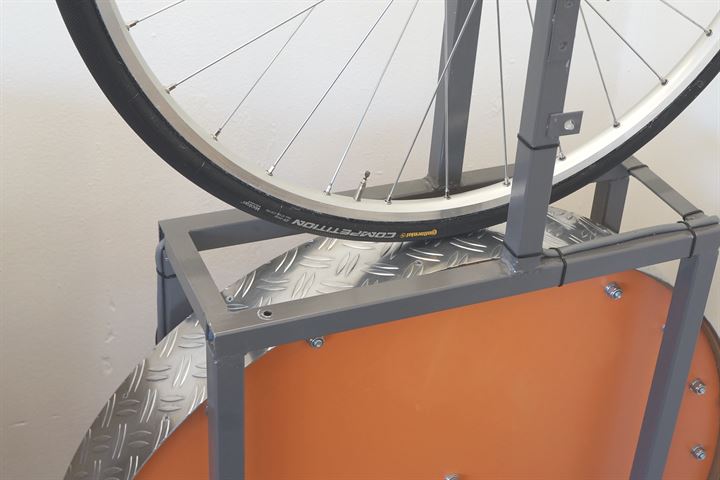 The Continental Competition is an all-round tubular tire and is the first tubular tire I'm testing (after a lot of requests). The Continental Competition features a 3/180 casing with a max pressure of 175 psi, a Vectran puncture protection insert, and (of course) the well-known Continental Black Chili compound that has proven to be one of the fastest compounds on the market. Equivalent clincher tires would be the Conti GP4000S II, Schwalbe One, Michelin Power Competition, and Vittoria Open Corsa.
Ad Buy Continental Competition (tubular) at Amazon.com
Continental specs this tire as a GrandTour/Tour/Race tire which makes it an all-round tire. As this is the first tubular tire I've tested it won't be possible to compare it with other tubulars yet, but it will be fascinating to see how this tire compares to the best performing clinchers. I've ordered some more tubular tires so keep an eye on the site as I'll be posting reviews of those tires in the next few months.
I've spent quite some time testing the Continental Competition in the last weeks. What I've learned is that getting consistent results with tubular tires is a lot harder when compared with the clincher tires. The quality of the mounting can make a difference of 1-2 watts in the rolling resistance test. The most important part seems to be in using the right type and amount of glue, and also the drying time of the glue is important. As an example: I started testing this tire with a loose fit (no glue or tape), this resulted in up to 30% more rolling resistance compared to the best result which was with the tire glued to the rim and a drying time of 72 hours.
Manufacturer Specifications
Manufacturer Specifications
Brand
Continental
Model
Competition (tubular)
Year
2016
Tire Type
Tubular
Supplied By
Bought in store
New or Used
New
Mileage
0 km
Price Range
Very High
Buy At

Ad

Amazon.com
Manufacturer part number
0196189
TPI
3/180
Compound
Black Chili
Bead
Tubular
ETRTO
28x25
Size Inch
28"
Specified Width (mm)
25
Specified Weight
280 grams
Max Air Pressure (psi)
170
Made In
Members Only
Available Sizes
28x19
28x22
28x25
Continental Competition (tubular) 25 Test Results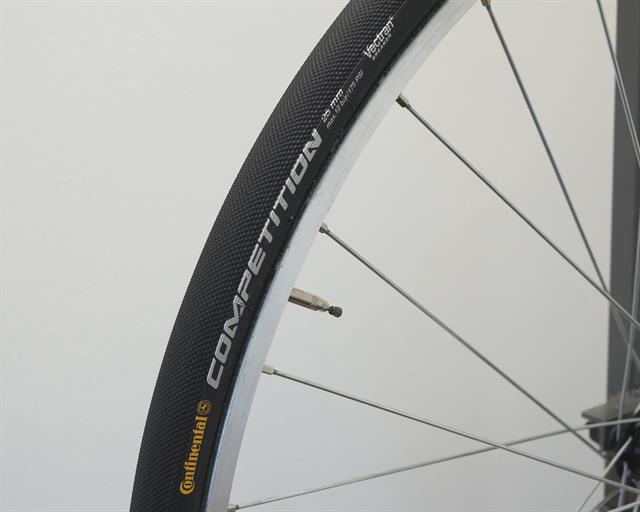 Size, Weight, and Thickness Measurements
Size, Weight and Thickness Measurements
Specified Weight
280 grams
Measured Weight
285 grams
System Adjusted Weight
(tire + tubular glue)
295 grams
Measured Width
25 mm (un-round)
Measured Height
24 mm (un-round)
Total Tire Thickness Center
2.5 mm
Total Tire Thickness Sidewall
Members Only
Unmounted Casing Width
No Data
Unmounted Tread Width
Members Only
Tread Cover (Tread / Casing Ratio)
No Data
All size measurements are taken at an air pressure of 100 psi / 6.9 bars on a 21.5 OD rim.
Specified weight of the 25x28 Continental Competition is 280 grams; my sample came in slightly heavier at 285 grams. On my 21.5 mm OD tubular rim, at an air pressure of 100 psi/ 6.9 bars, the tire has a width of 25 mm and a height of 24 mm.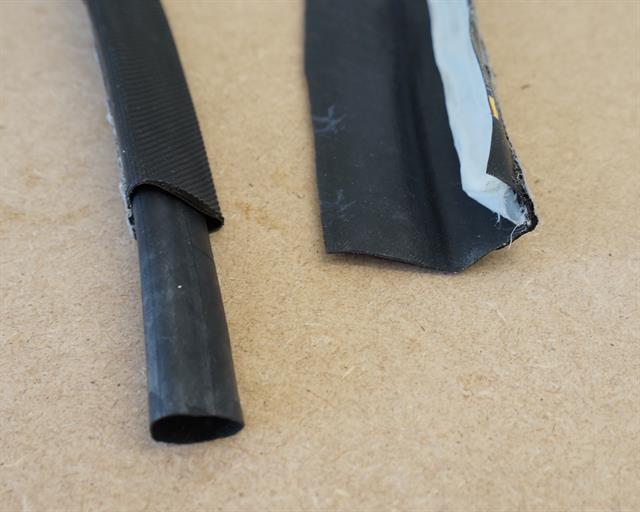 I've cut the tire open to measure the tread and sidewall thickness and to get a look inside. It's interesting to see the Competition uses a very thin butyl inner tube with a thickness of just 0.4 mm. The total thickness of the tread part of the tire comes in at 2.5 mm which is a bit less than the clincher GP4000S II (read review), Schwalbe One (read review) and Michelin Power Comp (read review) which all came in at about 2.7 - 2.9 mm thick. The sidewalls have a thickness of 0.55 mm.
Rolling Resistance Test Results
Rolling Resistance Test Results
Inner Tube
Tubular
Measured Width
25 mm (un-round)
Rolling Resistance
Real tire width in mm:
22-24 = 132 psi/9.1 bar
25-27 = 120 psi/8.3 bar
28-29 = 108 psi/7.4 barUltra High Air Pressure
(120 psi / 8.3 bar)
14.2 Watts
CRR: 0.00426
Rolling Resistance
Real tire width in mm:
22-24 = 110 psi/7.6bar
25-27 = 100 psi/6.9 bar
28-29 = 90 psi/6.2 barExtra High Air Pressure
(100 psi / 6.9 bar)
15.3 Watts
CRR: 0.00459
Rolling Resistance
Real tire width in mm:
22-24 = 88 psi/6.1 bar
25-27 = 80 psi/5.5 bar
28-29 = 72 psi/5.0 barHigh Air Pressure
(80 psi / 5.5 bar)
Members Only
Rolling Resistance
Real tire width in mm:
22-24 = 66 psi/4.6 bar
25-27 = 60 psi/4.1 bar
28-29 = 54 psi/3.7 barMedium Air Pressure
(60 psi / 4.1 bar)
Members Only
The Road Bike section is a multi tire size section, air pressures have been adjusted to the measured casing width.

All numbers are for a single tire at a speed of 29 km/h / 18 mph and a load of 42.5 kg / 94 lbs.

Use the formula: RR (Watts) = CRR * speed (m/s) * load (N) to calculate rolling resistance at a given speed and load.
*Tubular gluing process: Continental rim cement, two layers on rim, two layers on tire -> let dry for 24 hours. Next day: 1 layer on tire, mount tire to rim -> let dry for 72 hours. Test tire after 72 hours.
Even though this tire is rated up to 175 psi / 12 bars, I've performed tests at 60 / 80 / 100 / 120 psi to stay in line with all of the clincher tests on the site. As this is a 25 mm tire, my opinion is that you shouldn't run it over 120 psi / 8.3 bars anyway (road use) as it'll be way too stiff and uncomfortable on most roads.
On average, I'm a bit disappointed by the rolling resistance of the Continental Competition. I was expecting this tire to at least come close to the clincher Grand Prix 4000S II as the construction of both tires is very similar. It must be said though that max pressure of the Grand Prix 4000S II is 120 psi while the Competition has a max pressure rating of 175 psi. When running the Competition at an air pressure of 175 psi, it could very well come closer to the 12.2 Watts of the Grand Prix 4000S II read review) at 120 psi.
It would be nice if Conti made a tubular tire with the 3/330 casing, built to withstand a max pressure of 120/130 psi as most people seem to run less pressure these days.
Puncture Resistance Test Results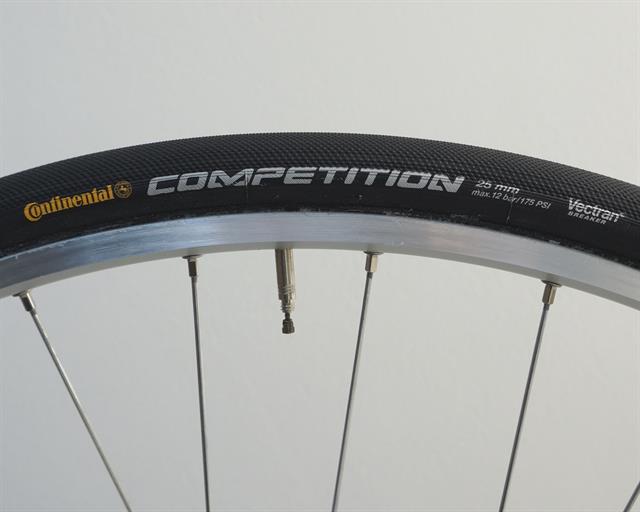 Puncture Resistance Test Results (higher is better)
Total Puncture Score Tread
50 Points
Total Puncture Score Sidewall
Members Only
Tread Puncture Force Sharp Needle
11 Points
Tread Puncture Force Blunt Needle
No Data
Tread Total Tire Thickness
2.5 mm
Sidewall Puncture Force Sharp Needle
Members Only
Sidewall Puncture Force Blunt Needle
No Data
Sidewall Total Tire Thickness
Members Only
In the tread puncture test, the Competition scores 11 points and performs as expected for a tire with a tread thickness of 2.5 mm and a single layer of Vectran Breaker under the tread. In the sidewall test, it comes in at 4 points which is as expected and comparable to most other tires without reinforced sidewalls.
Static Grip Test Results
NOTE: Grip test data is only available on tires tested after November 2018. You can find more information about our grip test here: Introducing Grip Testing
Static Grip Test Results
Wet Grip Average
No Data
Wet Grip Center
No Data
Wet Grip Edge
No Data
Grip in points = coefficient of friction * 100
Road bike grip test rim width = 19.0 mm
Conclusion
Because this is the first tubular tire I've tested, it's difficult to draw any conclusions from the numbers. When we compare the Continental Competition with the best clincher tires with similar tread thickness and puncture protection, it just doesn't impress me all that much. On top of that, the clinchers are way easier to mount, much cheaper, and patching a flat is no problem. I'm really looking forward to seeing if any tubular tires can beat the best clinchers.
Check back in the next months as I'll be testing and publishing reviews of the most popular tubular tires. In the meantime, check the road bike overview to see how this tire compares to the rest.
Ad Buy Continental Competition (tubular) at Amazon.com
RATING: 3.0 / 5
TEST VERDICT: Recommended
Comments