Road Bike Tire Test:

Continental

Grand Prix
---
---
---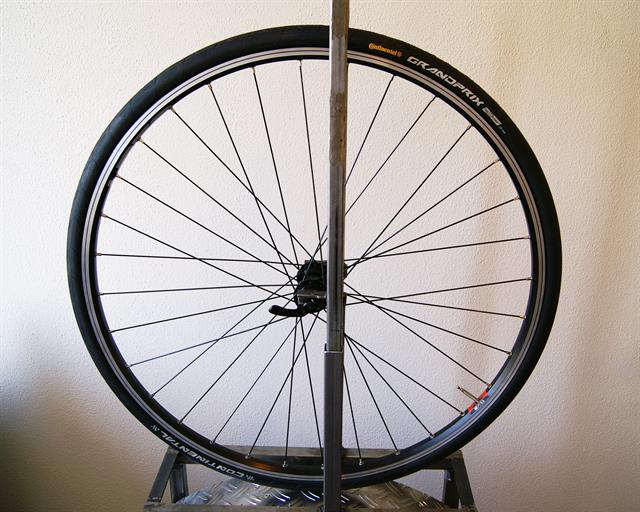 The Continental Grand Prix 700 x 25C is a medium priced road bike tire. It's handmade in Germany, has a 3/180 TPI carcass, PolyX puncture protection, and the Continental Black Chili compound for reduced rolling resistance, more grip, and higher mileage. You get quite a lot for your money with this tire. The Grand Prix is pretty much a cheaper version of the Grand Prix 4000S II tire from Continental. Continental specifies the Grand Prix as a Tour / Race tire while the Grand Prix 4000S II gets specified as a Tour / Race / Time Trial tire.
Ad Buy Continental Grand Prix at Amazon.com
I choose to test this tire because I wanted to know how a cheaper choice in a manufacturers tire line-up compares to the top of the line product. While most other manufacturers top of the range tires are manufactured in low-labor-cost countries, it's a surprise the packaging says this medium priced Continental is handmade in Germany.
Manufacturer Specifications
Manufacturer Specifications
Brand
Continental
Model
Grand Prix
Year
2014
Tire Type
Tubetype (clincher)
Supplied By
Bought in store
New or Used
New
Mileage
0 km
Price Range
Med
Buy At

Ad

Amazon.com
Manufacturer part number
0100637
TPI
3/180
Compound
Black Chili
Bead
Folding
ETRTO
25-622
Size Inch
28"
Specified Width (mm)
25
Specified Weight
245 grams
Max Air Pressure (psi)
120
Made In
Members Only
Available Sizes
23-622 (700x23C)
25-622 (700x25C)
28-622 (700x28C)
23-571 (650x23C)
28-559 (26x1 1/8)
28-406 (20x1.10)
Continental Grand Prix Test Results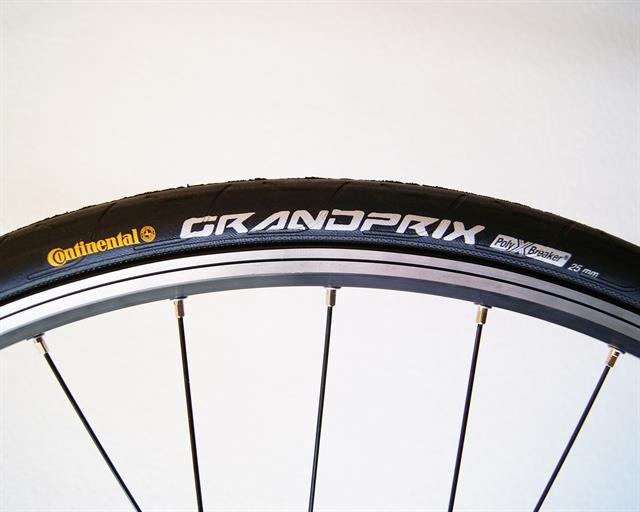 Size, Weight, and Thickness Measurements
advertisement
Size, Weight and Thickness Measurements
Specified Weight
245 grams
Measured Weight
239 grams
System Adjusted Weight
(tire + inner tube (100 gr)
339 grams
Measured Width
26 mm (un-round)
Measured Height
24 mm (un-round)
Total Tire Thickness Center
No Data
Total Tire Thickness Sidewall
Members Only
Unmounted Casing Width
No Data
Unmounted Tread Width
No Data
Tread Cover (Tread / Casing Ratio)
No Data
All size measurements are taken at an air pressure of 100 psi / 6.9 bars on a 17.8 mm inner width rim.
The measured weight of the Continental Grand Prix is a bit higher than more expensive tires but with a weight of 239 grams, comes in lower than the specified weight of 245 grams. This tire is close to a true 25C tire with a width of 26 mm and a height of 24 mm on a 17C rim.
Rolling Resistance Test Results
Rolling Resistance Test Results
Inner Tube
Conti Race28 (100gr butyl)
Rolling Resistance
140 PSI / 9.7 Bar
Not Tested
Rolling Resistance
120 PSI / 8.3 Bar
14.0 Watts
CRR: 0.00420
Rolling Resistance
100 PSI / 6.9 Bar
14.5 Watts
CRR: 0.00435
Rolling Resistance
80 PSI / 5.5 Bar
Members Only
Rolling Resistance
60 PSI / 4.1 Bar
Members Only
All numbers are for a single tire at a speed of 29 km/h / 18 mph and a load of 42.5 kg / 94 lbs.

Use the formula: RR (Watts) = CRR * speed (m/s) * load (N) to calculate rolling resistance at a given speed and load.
Performance is excellent for a tire in this price range. Rolling resistance is a bit higher when compared to the top of the line road bike tires. At an air pressure of 120 psi, rolling resistance is 14.0 watts. 14.0 watts is 1.8 watts higher than the more expensive Continental GP4000S II which came in at 12.2 watts. At an air pressure of 100 psi, rolling resistance is excellent at 14.5 watts. Dropping air pressure to 80 psi results in 15.9 watts of rolling resistance.
Puncture Resistance Test Results
Puncture Resistance Test Results (higher is better)
Total Puncture Score Tread
No Data
Total Puncture Score Sidewall
Members Only
Tread Puncture Force Sharp Needle
13 Points
Tread Puncture Force Blunt Needle
No Data
Tread Total Tire Thickness
No Data
Sidewall Puncture Force Sharp Needle
Members Only
Sidewall Puncture Force Blunt Needle
No Data
Sidewall Total Tire Thickness
Members Only
While rolling resistance is a bit worse than more expensive tires, puncture resistance is a bit better. With a score of 13, it outperforms the GP4000S II by 2 points in the puncture resistance test.
Static Grip Test Results
NOTE: Grip test data is only available on tires tested after November 2018. You can find more information about our grip test here: Introducing Grip Testing
Static Grip Test Results
Wet Grip Average
No Data
Wet Grip Center
No Data
Wet Grip Edge
No Data
Grip in points = coefficient of friction * 100
Conclusion
With a rise in rolling resistance of only 0.5 watts, the Continental Grand Prix performs very well at 100 psi / 6.9 bars. At 80 psi / 5.5 bar performance is still good but compared to more expensive tires the differences start to become bigger. It seems performance of cheaper tires is still decent, and the difference is much smaller than I expected it would be. When you're just touring for fun, you probably won't notice the difference.
For the price of a single Grand Prix 4000S II, you can almost buy a pair of Grand Prix. Rolling resistance will be 4 to 7 watts higher for a pair of tires when making a correction for an average road bike speed of 23 mph / 36 km/h. You also have to carry 40-50 grams extra weight, but you'll gain 18% in puncture resistance. What you also get is the same Black Chili compound, which I know has excellent grip and little wear.
Ad Buy Continental Grand Prix at Amazon.com
RATING: 4.0 / 5
TEST VERDICT: Recommended
Comments