Touring Bike Tire Test:

Schwalbe

Marathon (GreenGuard)
Schwalbe Marathon (GreenGuard)
---
---
---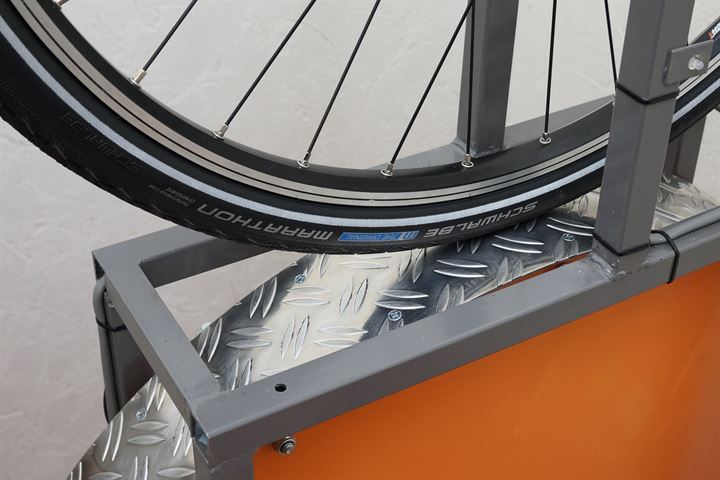 The Schwalbe Marathon is probably the most popular touring bike tire of the last ten years. Almost all bicycle shops fit the Marathon as the standard replacement tire when the time comes to fit new tires. With the rise of the E-Bike, the need for high-quality, low rolling resistance tires has become even more important. The bigger sizes of the Marathon (37-622+ ) come with the E-Bike Ready 25 and 50 ratings which means they can withstand the higher loads and higher speeds of e-bikes.
Ad Buy Schwalbe Marathon (GreenGuard) at Amazon.com
For this review, I've tested the original Schwalbe Marathon 622x37 (35C) with the 3 mm thick GreenGuard anti-puncture layer. The idea behind this thick, but soft layer is that objects that penetrate the tire do not reach the inner tube. The thick anti-puncture layer should work brilliantly to prevent flats from small objects like glass or small pieces of steel. When you happen to ride over a long nail or screw, you're out of luck. There is also a Schwalbe Marathon Plus (read review) which has an even thicker anti-puncture layer of 5 mm.
The Schwalbe Marathon has been on my list for a long time. With this test also comes an entirely new Tour/E-Bike section. There is also a new kind of puncture score called 'Puncture Factor.' Because of the significant differences in the construction of the tires in the Tour/E-Bike class, I've found the standard puncture resistance test -which is based on the force required to puncture the tire, to be insufficient. Puncture Factor is simply the force needed to puncture the tire, multiplied by the total thickness of the tire. Puncture Factor should provide a more realistic puncture resistance score.
Manufacturer Specifications
Manufacturer Specs
Brand
Schwalbe
Model
Marathon (GreenGuard)
Year
2015
Supplied By
Supplied by Schwalbe
New or Used
New
Mileage
0 km
Price Range
Med
Buy At

Ad

Amazon.com
Manufacturer part number
11100007
TPI
67
Compound
Endurance
Bead
Wire
ETRTO
37-622
Size Inch
28"
Width mm
37.00
Specified Weight
730 grams
Max Air Pressure (psi)
85
Made In
Members Only
Available Sizes
40-635 (28x1.50)
32-630 (27x1.25)
50-622 (28x2.00)
47-622 (28x1.75)
40-622 (28x1.50)
37-622 (28x1.40)
32-622 (28x1.25)
28-622 (28x1.10)
25-622 (28x1.00)
23-622 (28x0.90)
37-590 (26x1.40)
44-584 (27.5x1.65)
50-559 (26x2.00)
47-559 (26x1.75)
40-622 (26x1.50)
32-559 (26x1.25)
47-507 (24x1.75)
47-406 (20x1.75)
40-406 (20x1.50)
44-355 (18x1.65)
35-349 (16x1.35)
47-305 (16x1.75)
Schwalbe Marathon (GreenGuard) Test Results
Size, Weight, and Thickness Measurements
Size, Weight, and Thickness Measurements
Specified Weight
730 grams
Measured Weight
729 grams
Measured Width
35 mm (un-round)
Measured Height
36 mm (un-round)
Tread Depth
2.3 mm
Total Tire Thickness Center
7.3 mm
Total Tire Thickness Sidewall
Members Only
All size measurements are taken at an air pressure of 60 psi / 4 bars on a 17.8 mm inner width rim.
The Schwalbe Marathon used for this test comes in at a weight of 729 grams; this is almost spot on to the advertised weight of 730 grams. The total width of the 37-622 Marathon on a 17C rim, at an air pressure of 60 psi (4 bars) comes in at 35 mm. Measured total height is 36 mm.
I've measured tread depth at 2.3 mm, which is a higher than average score and means there is plenty of rubber on the tire. The total thickness of the tire at the center of the tread comes in at 7.3 mm -tires without a thick anti-puncture layer seem to come in at 4 - 5 mm. The sidewalls have a thickness of 1.65 mm.
Rolling Resistance Test Results
Rolling Resistance Test Results
Inner Tube
Conti Tour 28 (170 gr butyl)
Rolling Resistance
75 PSI / 5 Bar
19.6 Watts
CRR: 0.00588
Rolling Resistance
60 PSI / 4 Bar
21.3 Watts
CRR: 0.00638
Rolling Resistance
45 PSI / 3 Bar
Members Only
Rolling Resistance
30 PSI / 2 Bar
Members Only
All numbers are for a single tire at a speed of 29 km/h / 18 mph and a load of 42.5 kg / 94 lbs.

Use the formula: RR (Watts) = CRR * speed (m/s) * load (N) to calculate rolling resistance at a given speed and load.
Rolling resistance is very low. The 3 mm GreenGuard anti-puncture layer doesn't seem to affect rolling resistance all that much. The Marathon even has the lowest rolling resistance of all tires that have been tested to date. Even the Schwalbe Marathon Racer (read review) has a higher rolling resistance than the plain Marathon, which is something I really didn't expect.
EDIT: more tires have been tested now, please visit the overview page to compare all tires. The only tire that comes close to the rolling resistance of the Marathon is the CST E-Series Reach (read review). The CST has a slightly lower rolling resistance at 75 psi but loses out at lower, more useful air pressures. When you take into account the CST is pretty much a slick tire with only half the tread depth and puncture resistance, the performance of the Marathon is very good.
Puncture Resistance Test Results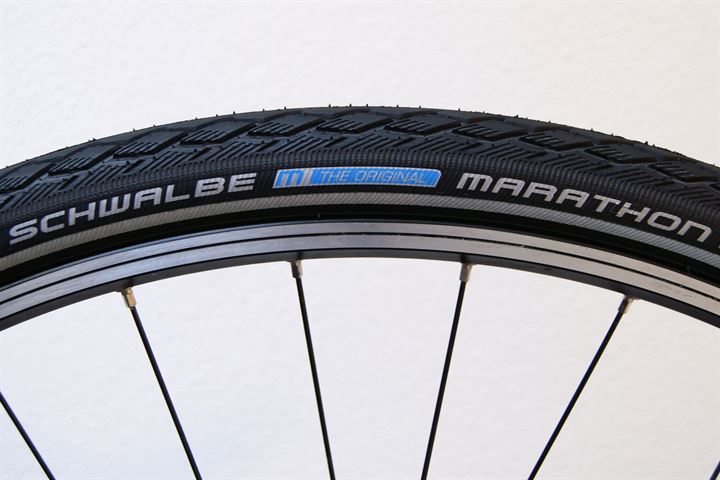 Puncture Resistance Test Results (higher is better)
Total Puncture Score Tread
124 Points
Total Puncture Score Sidewall
Members Only
Tread Puncture Force Sharp Needle
14 Points
Tread Puncture Force Blunt Needle
No Data
Tread Total Tire Thickness
7.3 mm
Sidewall Puncture Force Sharp Needle
Members Only
Sidewall Puncture Force Blunt Needle
No Data
Sidewall Total Tire Thickness
Members Only
How does a tire with a 3 mm anti-puncture layer perform in the puncture test? Because the anti-puncture layer which is used in the Marathon is made of a soft material (latex), the force required to penetrate the tire with a 1 mm thick, steel needle isn't spectacular. The Marathon scores 14 points in the tread puncture test and 5 points in the sidewall test, which is still a decent result.
When we also take the thickness of the tire into account, the Marathon gets to a Puncture Factor score (Puncture Resistance * Tire Thickness) of 102 points in the tread test and 8 points in the sidewall test. Only the Vittoria Randonneur (read review) and Schwalbe Marathon Plus (read review) are able to get higher Puncture Factor scores.
Static Grip Test Results
NOTE: Grip test data is only available on tires tested after November 2018. You can find more information about our grip test here: Introducing Grip Testing
Static Grip Test Results
Wet Grip Average
No Data
Wet Grip Center
No Data
Wet Grip Edge
No Data
Grip in points = coefficient of friction * 100
Conclusion
The Schwalbe Marathon GreenGuard is THE tire to beat in the Tour/E-Bike class. Rolling resistance is in another class entirely, which is something you might not expect when you only read the specifications. The Marathon even outperforms tires like the Marathon Racer (read review) and Continental TopContact (read review) which appear much faster on paper. On top of this low rolling resistance also comes a good protection against punctures, which makes it a very balanced tire.
I definitely recommend this tire. It's fast, has a high puncture resistance, more than enough tread and to make it even better, pricing is very decent as well. It will be very hard to beat this tire.
Ad Buy Schwalbe Marathon (GreenGuard) at Amazon.com
RATING: 5.0 / 5
TEST VERDICT: Highly Recommended
Comments