---
Road Bike Tire Test:

Vittoria

Corsa Elite (tubular)
Vittoria Corsa Elite (tubular)
---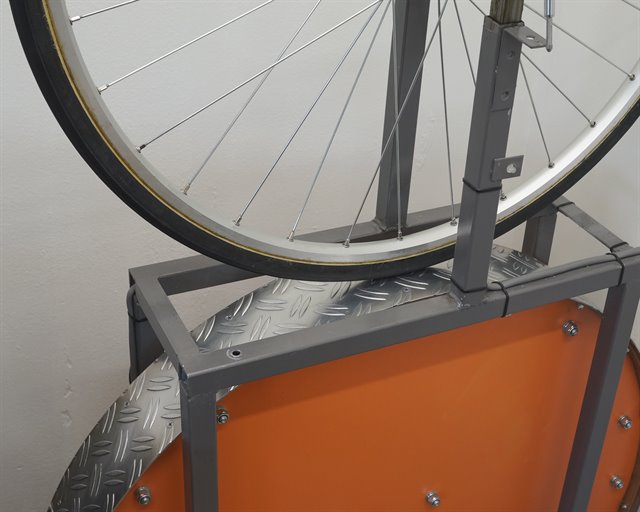 The Vittoria Corsa Elite is a mid-range tubular road bike tire that is suited for both training and racing. The Corsa Elite comes with a 290 TPI casing which is slightly less dense than the top of the line Corsa G+ that comes with a 320 TPI cotton casing. The glued on tread is made from an Aramid 3D Compound that is optimized for both wet and dry weather conditions. The Corsa Elite also comes with a layer of puncture resistance material under the tread to protect against punctures.
Ad Buy Cycling Equipment at Amazon.com
One more big difference is that the Corsa Elite is equipped with a butyl inner tube while the more expensive Corsa G+ (read review) is fitted with a latex inner tube. In general, a butyl inner tube is more user-friendly as it won't require daily pressure checks. The convenience of a butyl inner tube does come at the cost of a slightly higher rolling resistance. Read on to see how this tire stacks up against the more expensive tubular tires on our tests.
advertisement
Manufacturer Specifications
Manufacturer Specifications
Brand
Vittoria
Model
Corsa Elite (tubular)
Year
2017
Tire Type
Tubular
Supplied By
Bought in store
New or Used
New
Mileage
0 km
Price Range
High
Buy At
Manufacturer part number
111.1EL.02.25.111TG
TPI
290
Compound
3D Compound
Bead
Tubular
ETRTO
28x25
Size Inch
28"
Width
25
Specified Weight
290 grams
Max Pressure
200
Made In
Thailand
Available Sizes
28x21
28x23
28x25
Vittoria Corsa Elite (tubular) Test Results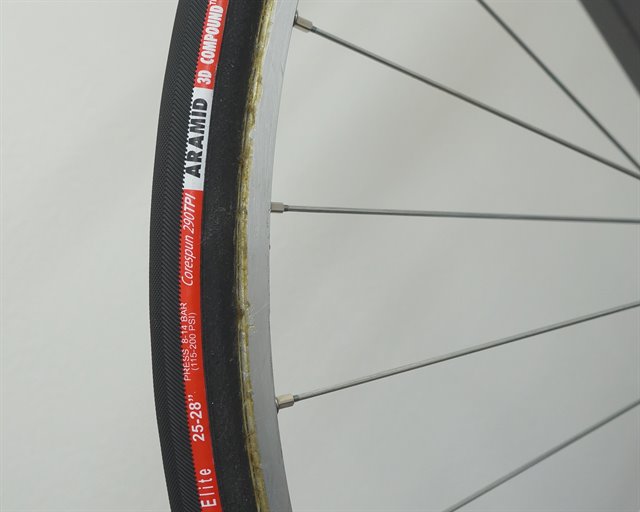 Size, Weight, and Thickness Measurements
advertisement
Size, Weight and Thickness Measurements
Specified Weight
290 grams
Measured Weight
298 grams
System Adjusted Weight
(tire + tubular glue)
308 grams
Measured Width
25 mm
Measured Height
23 mm
Total Tire Thickness Center
2.4 mm
Total Tire Thickness Sidewall
0.6 mm
Unmounted Casing Width
No Data
Unmounted Tread Width
30 mm
All size measurements are taken at an air pressure of 100 psi / 6.9 bars on a 21.5 OD rim.
The specified weight of the 28x25 Corsa Elite is 290 grams, my sample is a bit heavier at 298 grams. At an air pressure of 100 psi / 6.9 bars, the Corsa Elite measures 25 mm wide. The measured height is 23 mm.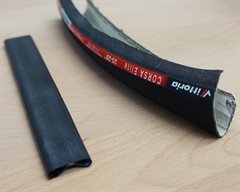 After cutting the tire open, we clearly see this tire comes with a butyl inner tube. This butyl tube has a thickness of 0.55 mm which is comparable to an extra light inner tube. The total thickness of the tire at the center of the tread is 2.4 mm; the sidewalls have a thickness of 0.6 mm. I'm surprised by the thickness of the tread as I would have expected this to be closer to 3 mm for a training oriented tire.
Rolling Resistance Test Results
Rolling Resistance Test Results
Inner Tube
Tubular
Rolling Resistance
140 PSI / 9.7 Bar
12.3 Watts
CRR: 0.00369
Rolling Resistance
120 PSI / 8.3 Bar
12.9 Watts
CRR: 0.00387
Rolling Resistance
100 PSI / 6.9 Bar
13.6 Watts
CRR: 0.00408
Rolling Resistance
80 PSI / 5.5 Bar
15.4 Watts
CRR:0.00462
Rolling Resistance
60 PSI / 4.1 Bar
18.1 Watts
CRR: 0.00543
All numbers are for a single tire at a speed of 29 km/h / 18 mph and a load of 42.5 kg / 94 lbs.

Use the formula: RR (Watts) = CRR * speed (m/s) * load (N) to calculate rolling resistance at a given speed and load.
*Tubular gluing process: Continental rim cement, two layers on rim, two layers on tire -> let dry for 24 hours. Next day: 1 layer on tire, mount tire to rim -> let dry for 72 hours. Test tire after 72 hours.
Rolling resistance of the Corsa Elite is better than I expected from a 'training' tire. When we compare the Corsa Elite with the Corsa G+ (read review) that costs nearly twice as much, rolling resistance is just 0.4 watts more at 140 psi / 9.7 bars, 0.6 watts more at 120 psi / 8.3 bars, and 0.8 watts more at 100 psi / 6.9 bars. The slightly higher rolling resistance is probably the result of the butyl inner tube instead of a latex inner tube.
When we compare the Corsa Elite with other tubular tires that are also equipped with butyl inner tubes, like the Continental Competition (read review) and Schwalbe Pro One HT (read review), the Corsa Elite easily outperforms both those tires in the rolling resistance tests. An excellent result when you consider the lower price of the Corsa Elite.
Puncture Resistance Test Results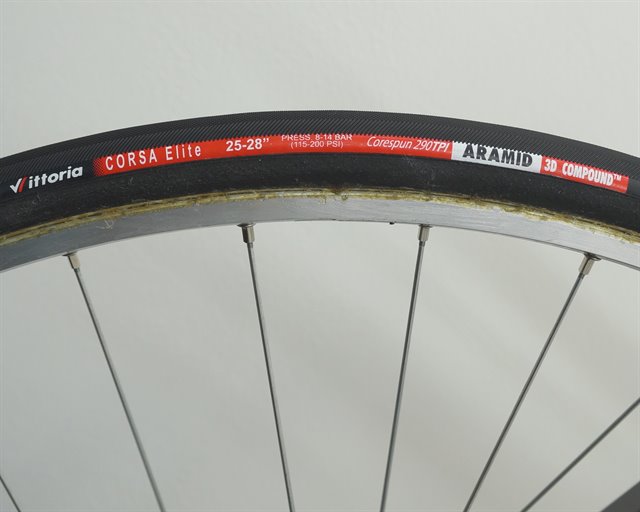 Puncture Resistance Test Results (higher is better)
Puncture Resistance Tread
12 Points
Puncture Resistance Sidewall
3 Points
In the puncture tests, the Corsa Elite performs excellently as well. In the tread puncture test, the Corsa Elite outperforms the Corsa G+ by 1 point (12 points Vs 11 points). In the sidewall test, the Corsa Elite scores just 3 points which is a low score but in line with most other tubular tires that mostly perform in the 3-4 points range.
Conclusion
Vittoria Corsa Elite (tubular)
Performance compared to all other road bike tires
(100% is fastest - lightest - thickest - strongest)
The Corsa Elite performs excellent on our tests, and its lower price tag makes it even better. Although rolling resistance is slightly higher than the newer Corsa G+, the Corsa Elite has the advantage of using a butyl inner tube which doesn't require daily pressure checks. In the puncture resistance tests, it scores slightly better as well when compared to the Corsa G+. Tread thickness is a bit on the low side for a training oriented tire, but still slightly better than the Corsa G+.
If you're looking for some good value tubular tires, the Corsa Elites have to be on your shortlist. In general, the Vittoria tubular tires seem to be the tires to beat at the moment. Check the overview page here: road bike overview to make up your own mind.
Ad Buy Cycling Equipment at Amazon.com
RATING: 4.0 / 5
TEST VERDICT: Recommended
Comments