Fat Bike Tire Test:

Maxxis

Mammoth
---
---
---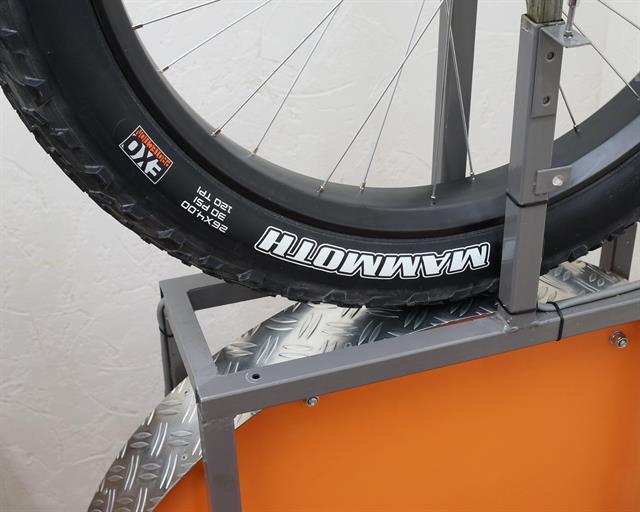 The Maxxis Mammoth is Maxxis's first try at building a fat bike tire. The Mammoth has relatively low, closely spaced knobs center knobs that are made of a harder rubber compound (Dual Compound) to try to keep rolling resistance and wear to a minimum. The side knobs are much bigger and made of a softer compound to give as much cornering grip as possible. On paper, the Mammoth seems to be the perfect fat bike tire.
Ad Buy Maxxis Mammoth at Amazon.com
I've tested the 120 TPI EXO version of the Mammoth to see how it stacks up to other top of the line tires. The 120 TPI EXO version comes with reinforced EXO sidewalls, but no tubeless beads. A 120 TPI EXO/TR version is available as well that features rubber coated beads to help seal the tire when used tubeless. Strange enough, the 60 TPI version actually has the same weight as the 120 TPI version, this is because it doesn't use reinforced sidewalls. I expect the 60 TPI version to be a much weaker tire.
Manufacturer Specifications
Manufacturer Specifications
Brand
Maxxis
Model
Mammoth
Year
2016
Supplied By
Bought in store
New or Used
New
Mileage
0 km
Price Range
High
Buy At

Ad

Amazon.com
Manufacturer part number
TPI
120
Compound
DUAL
Bead
Folding
ETRTO
102-559
Size Inch
26"
Width Inch
4.00
Specified Weight
1270 grams
Max Air Pressure (psi)
30
Made In
Members Only
Available Sizes
26x4.00
Maxxis Mammoth Test Results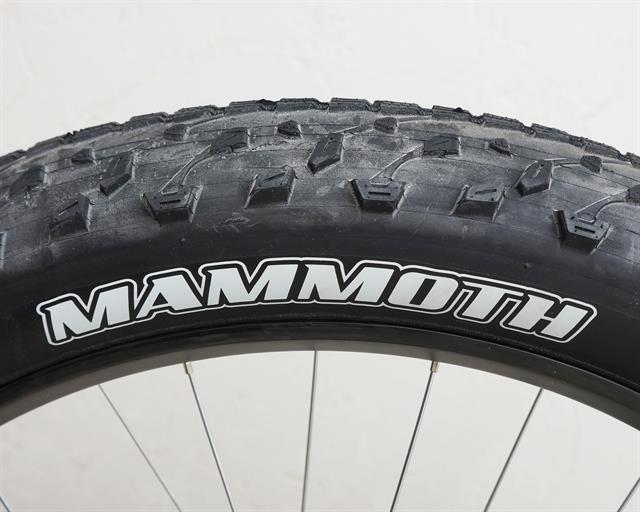 Size, Weight, and Thickness Measurements
Size, Weight, and Thickness Measurements
Specified Weight
1270 grams
Measured Weight
1271 grams
Measured Width Carcass
97 mm (un-round)
Measured Width Tread
98 mm
Measured Height
80 mm (un-round)
Measured Knob Height Center
3.0 mm
Measured Knob Height Edge
5.5 mm
Measured Total Thickness Center (excluding knobs)
2.40 mm
Measured Total Thickness Sidewall
Members Only
All size measurements are taken at an air pressure of 16 psi / 1.1 bars on a 65 mm inner width rim.
Specified weight of the 26x4.00 120 TPI EXO Mammoth is 1270 grams, my sample came in at 1271 grams which is pretty much spot on. The maximum width of the casing is 97 mm, the knobs stick out a bit further making the total width 98 mm on a 65C rim at an air pressure of 16 psi / 1.1 bars.
The knobs in the center of the tire have a height of just 3 mm, which is less than most other fat bike tires. The side knobs are much bigger and have a height of 5.5 mm. With a thickness of 0.95 mm, the sidewalls are of average thickness.
Rolling Resistance Test Results
Rolling Resistance Test Results
Inner Tube
None (60 ml sealant)

(current protocol)
Schwalbe SV13J (390 gr)

(test protocol)
Rolling Resistance 20 PSI / 1.4 Bar
Members Only
Members Only
Rolling Resistance 16 PSI / 1.1 Bar
Members Only
Members Only
Rolling Resistance 12 PSI / 0.8 Bar
35.2 Watts
CRR: 0.01055
40.7 Watts
CRR: 0.01220
Rolling Resistance 8 PSI / 0.6 Bar
47.2 Watts
CRR: 0.01415
54.7 Watts
CRR: 0.01640
All numbers are for a single tire at a speed of 29 km/h / 18 mph and a load of 42.5 kg / 94 lbs.

Use the formula: RR (Watts) = CRR * speed (m/s) * load (N) to calculate rolling resistance at a given speed and load.
At very high air pressures, the rolling resistance of the Mammoth is OKish. When dropping air pressure, rolling resistance rises sharply and ends up at a very high 54.5 watts at an air pressure of 8 psi / 0.6 bars. My guess is this is because, at higher air pressures, the (almost) continuous center knobs help to keep rolling resistance relatively low. At lower air pressures, the sidewalls and edge knobs become the dominant factor and rolling resistance goes up big time.
I expected more from a first try from one of the biggest MTB tire manufacturers. I didn't expect a stellar performance from the Mammoth as their normal-sized MTB tires do not perform that great in the rolling resistance test either, but it's a disappointment to see this tire perform so bad at the low air pressures most fat bike riders like to use.
Puncture Resistance Test Results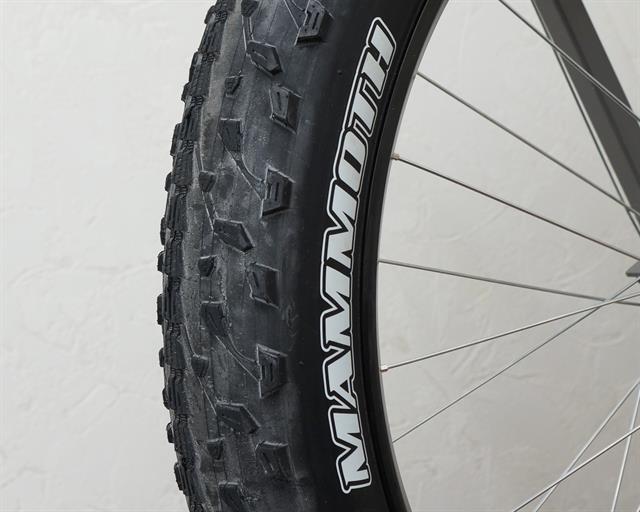 Puncture Resistance Test Results (higher is better)
Total Puncture Score Tread
35 Points
Total Puncture Score Sidewall
Members Only
Tread Puncture Force Sharp Needle
8 Points
Tread Puncture Force Blunt Needle
Members Only
Tread Total Tire Thickness
2.40 mm
Sidewall Puncture Force Sharp Needle
Members Only
Sidewall Puncture Force Blunt Needle
Members Only
Sidewall Total Tire Thickness
Members Only
Although rolling resistance is quite high, the Mammoth with EXO sidewalls performs very strong in the puncture tests. The sidewalls on this tire are one of the strongest and also have a decent thickness. Running these in a tubeless configuration shouldn't be a problem at all. In the tread puncture test, it also performs on the upper end of the spectrum. If you're looking for a strong tire, the Mammoth is a good choice.
Conclusion
If you run your fat bike tires at air pressures over 16 psi / 1.1 bars, the Maxxis Mammoth might be a decent tire. If you like to go down to really low air pressures (< 12 psi / 0.8 bars), the Maxxis will really start to drag you down. In the puncture resistance tests, the Mammoth performs strongly. The bad part is you can find more puncture resistant tires that offer a lower rolling resistance, lower weight, and an even better puncture resistance.
I rate the Maxxis Mammoth 2 out of 5 because this is Bicycle Rolling Resistance and rolling resistance is the most important criteria. I know fat bikers like to drop air pressures to very low values to be able to ride over anything. Check the overview pages (overview) to see which tires perform better than the Mammoth.
Ad Buy Maxxis Mammoth at Amazon.com
RATING: 2 / 5
TEST VERDICT: Not Recommended
Comments