Continental Grand Prix 5000 S TR Tubeless Vs Inner Tubes: Rolling Resistance Tests
---
---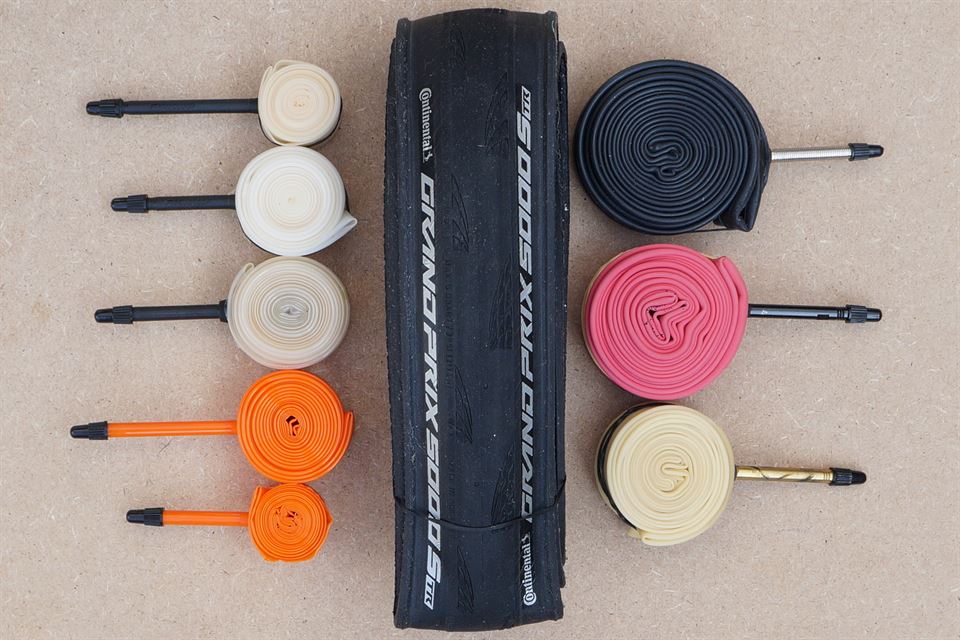 Continental released the tubeless-ready Grand Prix 5000 S TR to replace the popular Grand Prix 5000 TL as their main tubeless road bike tire. By now, we've already done quite a lot of tests with the S TR version, but we still have mixed feelings as it's gotten a bit lighter but the weight reduction came at the cost of decreased puncture resistance of the tread.
Ad Buy Continental Grand Prix 5000 S TR at Amazon.com
From the looks of our tire voting system, where our Pro Members can submit their monthly vote, the Grand Prix 5000 S TR is hugely popular among our members, and they want to know about every detail of the 5000 S TR. Below is a list with all articles that include tests with the Grand Prix 5000 S TR:
As the 5000 S TR is a tubeless-ready road bike tire, most people will use it in a tubeless set up with sealant, but there is also a lot of interest in seeing how it performs when fitted with inner tubes. For this test, we've tested the 25-622 version of the 5000 S TR tubeless with sealant and a bunch of inner tubes we had laying around to see how it does with inner tubes.
Test Set Up and Conditions
Tire:
Continental Grand Prix 5000 S TR 25-622
We've used the following tubes:
Vredestein Race Latex (50 grams)
Vittoria Latex 25/28 (80 grams)
Continental Race 28 Light (75 grams)
Continental Race 28 (102 grams)
Schwalbe SV20 Light (72 grams)
Tubolito S-Tubo Road (22 grams)
Tubolito Road (39 grams)
Revoloop Ultra (25 grams)
Revoloop (39 grams)
Schwalbe Aerothan (43 grams)
All rolling resistance tests were performed with our standard test protocol. This is the same protocol used for nearly all of the rolling resistance data found on this website.
Rolling Resistance Test Conditions
Speed of 8 m/s - 28.8 km/h - 18 mph
Total wheel load of 42.5 kg / 94 lbs
17.8 mm internal width rim
Temperature between 21.5-22.5 °C / 71-72 °F
Diamond plate drum surface
77 cm drum diameter
Grand Prix 5000 S TR 25-622 Rolling Resistance Test Results
Inner Tube
Type
Weight

Rolling Resistance at 100 psi / 6.9 bars

RR
100 psi
6.9 bar

Rolling Resistance at 80 psi / 5.5 bars

RR
80 psi
5.5 bar

Rolling Resistance at 60 psi / 4.1 bars

RR
60 psi
4.1 bar
Grams
Watts
Watts
Watts
Tubeless (20 ml sealant)
~ 20
9.2
10.3
12.1
Vredestein Latex
Latex
50
9.4
10.5
12.4
Vittoria Latex 25/28
Latex
80
9.4
10.6
12.6
Revoloop Ultra
TPU
25
9.6
10.9
13.0
Tubolito S-Tubo Road
TPU
22
9.9
11.2
13.2
Revoloop
TPU
39
10.2
11.4
13.5
Schwalbe Aerothan
TPU
43
10.3
11.4
13.5
Conti Race28 Light
Butyl
75
10.5
11.8
14.2
Schwalbe SV20 Light
Butyl
72
10.7
12.0
14.6
Tubolito Road
TPU
39
10.7
12.2
14.9
Conti Race28
Butyl
102
11.3
13.0
15.9
Speed: 29 kmh / 18 mph, Load: 42.5 kg / 417 N
As expected, rolling resistance increases when using an inner tube in a tubeless tire. Depending on the inner tube and air pressure, this increase can be anywhere from 0.2 watts up to 3.8 watts per tire.
When looking at the performance of the different tubes, the latex tubes still show the strongest performance. There is a tiny difference between the 50 grams Vredestein latex tube and the 80 grams Vittoria latex tube. The biggest gain here seems to be the 30 grams of weight you lose per wheel.
The ultra-light TPU tubes with a weight of approximately 25 grams also perform quite strongly but are a bit slower than the latex tubes. The "regular" TPU tubes with a weight of approximately 40 grams look good as they outperform light butyl tubes in both weight and rolling resistance.
The "standard" ~100 grams Continental Race28 Butyl inner tube is the slowest out of these tubes, but it probably doesn't make sense to use such a heavy butyl tube in a tire like the Grand Prix 5000 S TR.
Conclusion
Using an inner tube with the Grand Prix 5000 S TR increases rolling resistance and weight. From a performance perspective, it doesn't make sense to use inner tubes with tubeless tires, but it probably can come in handy from a practical standpoint sometimes.
If you still want to run inner tubes, it's better to go with the "regular" clincher version of the Grand Prix 5000. It's cheaper, lighter, offers better tread puncture resistance, and will roll faster when fitted with the same inner tube.
Comments