Touring Bike Tire Test:

Schwalbe

Marathon Supreme
Schwalbe Marathon Supreme
---
---
---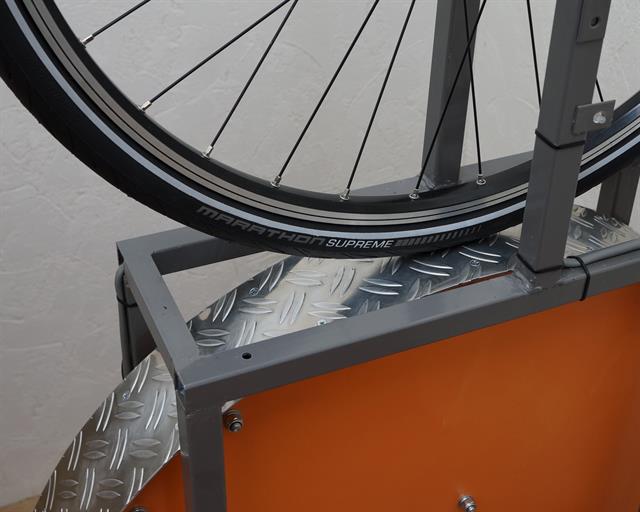 The 2016 version of the Schwalbe Marathon Supreme has some significant improvements over the first generation Supreme. The biggest change is the use of the same OneStar compound that is also used on Schwalbe's top end road bike tires. The road bike tires that use the OneStar compound perform great in our rolling resistance test. It's good to see Schwalbe is now using this fast compound on a touring bike tire as well.
Ad Buy Schwalbe Marathon Supreme at Amazon.com
Another change over the old Supreme is a newly designed tread pattern that makes it roll even better and gives the new Supreme a modern and clean look. Some things that haven't changed are the 67 TPI casing with LiteSkin sidewalls and the use of an "HD Speed Guard" puncture protection layer. Unlike the Marathon GreenGuard and Plus, this puncture resistance layer is of the thin, but hard to penetrate kind.
Something else that's new in the 2016 Supreme lineup is a TL-Easy tubeless version. The Marathon Supreme TL-Easy uses the same MicroSkin layer that's also used on the Schwalbe Pro One. Schwalbe claims rolling resistance of the TL-Easy Supreme to be even lower. For now, the TL-Easy is only available in the 37-622 and 42-622 sizes.
Manufacturer Specifications
Manufacturer Specs
Brand
Schwalbe
Model
Marathon Supreme
Year
2016
Supplied By
Bought in store
New or Used
New
Mileage
0 km
Price Range
High
Buy At

Ad

Amazon.com
Manufacturer part number
11600780
TPI
67
Compound
OneStar
Bead
Folding
ETRTO
37-622
Size Inch
28"
Width mm
37.00
Specified Weight
440 grams
Max Air Pressure (psi)
85
Made In
Members Only
Available Sizes
50-622 (28x2.00)
42-622 (28x1.60)
37-622 (28x1.40)
32-622 (28x1.25)
50-584 (27.5x2.00)
42-584 (27.5x1.60)
50-559 (26x2.00)
42-559 (26x1.60)
Schwalbe Marathon Supreme Test Results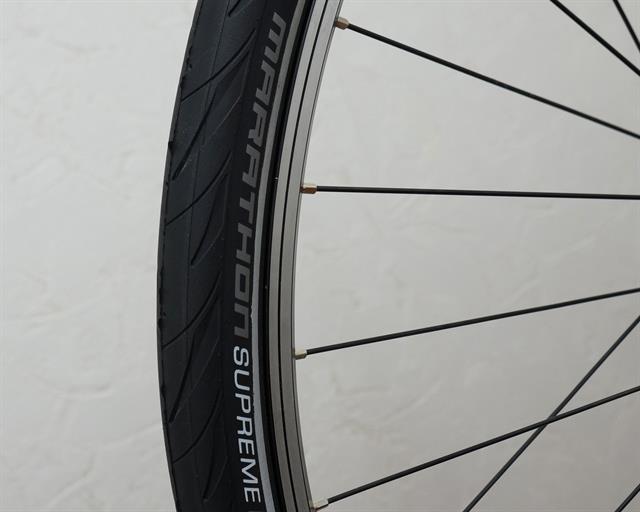 Size, Weight, and Thickness Measurements
Size, Weight, and Thickness Measurements
Specified Weight
440 grams
Measured Weight
431 grams
Measured Width
35 mm (un-round)
Measured Height
34 mm (un-round)
Tread Depth
1.6 mm
Total Tire Thickness Center
5.0 mm
Total Tire Thickness Sidewall
Members Only
All size measurements are taken at an air pressure of 60 psi / 4 bars on a 17.8 mm inner width rim.
Specified weight is unchanged at 440 grams, my sample of the 37-622 Supreme comes in at a slightly lower 431 grams. The maximum measured width on a 17C rim, at an air pressure of 60 psi, is 35 mm. The measured height is 34 mm. Just like all other Marathon tires, the Supreme is a bit small for a 37-622 tire.
Measured tread depth is 1.6 mm, which is still decent for a fast tire and comparable to the Marathon Racer (1.5 mm). The maximum thickness of the tire at the center of the tread is 5.0 mm. A thickness of 5 mm is excellent for a tire like the Marathon Supreme; most other similar tires come in closer to 4.5 mm. This means there is a decent amount of rubber to wear down. On the contrary, the sidewalls are very thin with a measured thickness of just 0.7 mm.
Rolling Resistance Test Results
Rolling Resistance Test Results
Inner Tube
Conti Tour 28 (170 gr butyl)
Rolling Resistance
75 PSI / 5 Bar
16.9 Watts
CRR: 0.00507
Rolling Resistance
60 PSI / 4 Bar
19.1 Watts
CRR: 0.00573
Rolling Resistance
45 PSI / 3 Bar
Members Only
Rolling Resistance
30 PSI / 2 Bar
Members Only
All numbers are for a single tire at a speed of 29 km/h / 18 mph and a load of 42.5 kg / 94 lbs.

Use the formula: RR (Watts) = CRR * speed (m/s) * load (N) to calculate rolling resistance at a given speed and load.
As expected, rolling resistance of the Marathon Supreme is lower than the Marathon GreenGuard and Marathon Racer. At the higher end of the air pressure range, the Supreme outperforms the Marathon GreenGuard by close to 3 watts. I must add that the performance of the Marathon GreenGuard is still very strong when we compare it to the Marathon Supreme at similar air pressures.
At lower air pressures, rolling resistance rises much faster when compared to the Marathon GreenGuard. At the low air pressure of 45 psi, rolling resistance between the two is nearly equal. At the very low air pressure of 30 psi, the Marathon GreenGuard stretches its legs and is able to outperform the Supreme by 1.7 watts. I suggest keeping the Supreme over 45 psi at a load of 42.5 kg.
Comparing touring bike tires and air pressure
When digging into these rolling resistance results a bit deeper, part of the reason why the Supreme performs worse at lower air pressures is probably in the thick and stiff layer the Marathon GreenGuard uses. The Marathon Supreme is a much more flexible tire. To achieve the same comfort level and tire drop, you can run a higher air pressure on the Marathon Supreme. A higher air pressure would lower rolling resistance a bit more when compared to the GreenGuard.
Unfortunately, I don't have exact data that can tell us how much a thick and stiff anti-puncture layer affects comfort and tire drop. Keep this in mind when comparing the different tires in the Tour/E-Bike category.
Puncture Resistance Test Results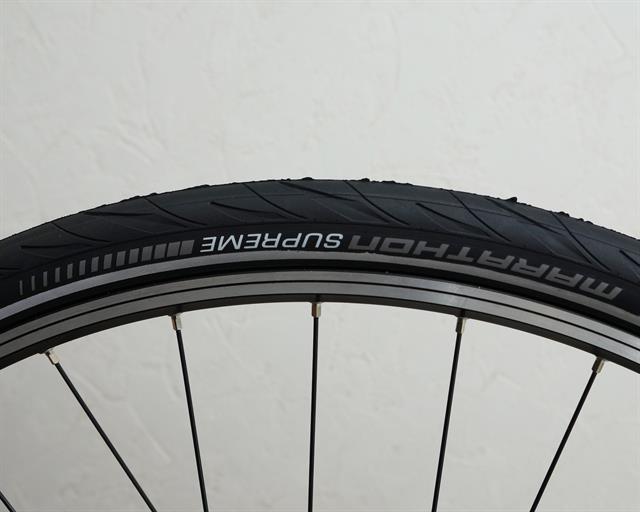 Puncture Resistance Test Results (higher is better)
Total Puncture Score Tread
99 Points
Total Puncture Score Sidewall
Members Only
Tread Puncture Force Sharp Needle
15 Points
Tread Puncture Force Blunt Needle
No Data
Tread Total Tire Thickness
5.0 mm
Sidewall Puncture Force Sharp Needle
Members Only
Sidewall Puncture Force Blunt Needle
No Data
Sidewall Total Tire Thickness
Members Only
In the raw tread puncture test, which measures the force required to puncture the tread of the tire, the Marathon Supreme scores 15 points. 15 points is better than both the Marathon GreenGuard (14) and Marathon Plus (13). In the sidewall test, it scores just 4 points which is a below average score.
Because the Marathon Supreme is a much thinner tire than both the Marathon GreenGuard and Plus, it scores lower than both those tires in the Puncture Factor calculation. Puncture Factor Tread is still decent because the Supreme has both a decent thickness of 5.0 mm and a raw puncture resistance of 15 points (PF = 75). Puncture Factor Sidewall is very low at just 3 points. The low sidewall score is the result of an easy to puncture, but also very thin sidewall.
Static Grip Test Results
NOTE: Grip test data is only available on tires tested after November 2018. You can find more information about our grip test here: Introducing Grip Testing
Static Grip Test Results
Wet Grip Average
No Data
Wet Grip Center
No Data
Wet Grip Edge
No Data
Grip in points = coefficient of friction * 100
Tour/E-Bike grip test rim width = 23.0 mm
Conclusion
The Schwalbe Marathon Supreme offers a very low rolling resistance and low weight while at the same time still providing a decent puncture resistance. I suspect that in real-life when used at comparable comfort levels, the Marathon Supreme will offer an even bigger advantage over tires with a much thicker and stiffer anti-puncture layer than the raw numbers show.
I didn't test the previous version of the Marathon Supreme, but the new version should have a lower rolling resistance based on tests of other tires that use the OneStar compound. Unfortunately, I can't tell you how it compares on the road, where grip and wear are just as important.
Ad Buy Schwalbe Marathon Supreme at Amazon.com
RATING: 5.0 / 5
TEST VERDICT: Highly Recommended
Comments