Road Bike Tire Test:

Hutchinson

Fusion 5 Galactik TLR 11Storm
Hutchinson Fusion 5 Galactik TLR 11Storm
---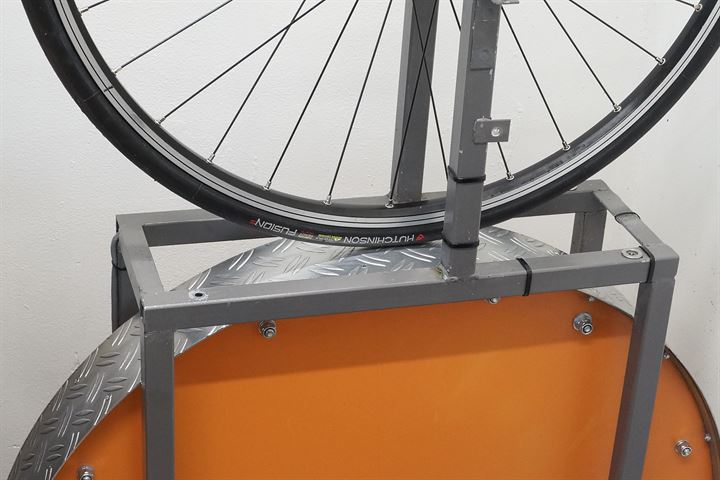 The Hutchinson Fusion 5 Galactik TLR with 11Storm compound is the lightest and fastest version of Hutchinson's Fusion 5 range of tires. This 11Storm version launched back in 2017 just after we tested the previous version of the Fusion 5 Galactik with the older HDF 5.1 compound. As there are so many tires out there, we just didn't get around to testing the newer 11Storm versions.
Unfortunately, this review comes a bit too late as the Galactik version has already been discontinued by Hutchinson at the beginning of 2021. We're testing this tire now because our members voted for this tire and it got enough votes to get tested. You can still find the Galactik in stock but the stock will probably dry up soon. The exact message we got from Hutchinson was:
"The Fusion 5 Galactik has been discontinued because, whilst it has been highly praised for its performance and light weight, general feedback that we've had from the market is that aside from pro's (who do not pay for their products) who look for pure performance, in general most riders want tires which are more robust, so that they can use them for longer and throughout a wider range of conditions. This is why we decided to keep the Fusion 5 Performance and All Season, which incorporate puncture-proof reinforcements and what we consider as being the best ratio between performance / comfort / weight / puncture resistance."
From our test results, we suspect there simply is very little difference between the Galactik and Performance versions as the specified weight is only 5 grams apart between these tires. They also use nearly the same construction and compound so the Performance version probably comes with a slightly higher tread thickness.
The previous versions of the Fusion 5 with the HDF 5.x compounds that we tested back in 2017 had different versions of the compound for the Galactik (HDF 5.1), Performance (HDF 5.2), and All Season (HDF 5.3) versions. Those HDF 5.x versions also were a bit heavier as they were true tubeless tires instead of the 11Storm versions that are tubeless-ready and require sealant to get a reliable seal.
Manufacturer Specifications
Manufacturer Specifications
Brand
Hutchinson
Model
Fusion 5 Galactik TLR 11Storm
Year
2021
Tire Type
Tubeless
Supplied By
Bought in store
New or Used
New
Mileage
0 km
Price Range
High
Buy At
Manufacturer part number
PV527711-701530
EAN
3248382073015
TPI
127
Compound
11Storm
Bead
Folding
ETRTO
25-622
Size Inch
28"
Specified Width (mm)
25
Specified Weight
240 grams
Max Air Pressure (psi)
115
Made In
Members Only
Available Sizes
23-622 (700x23c)
25-622 (700x25c)
Hutchinson Fusion 5 Galactik TLR 11Storm Test Results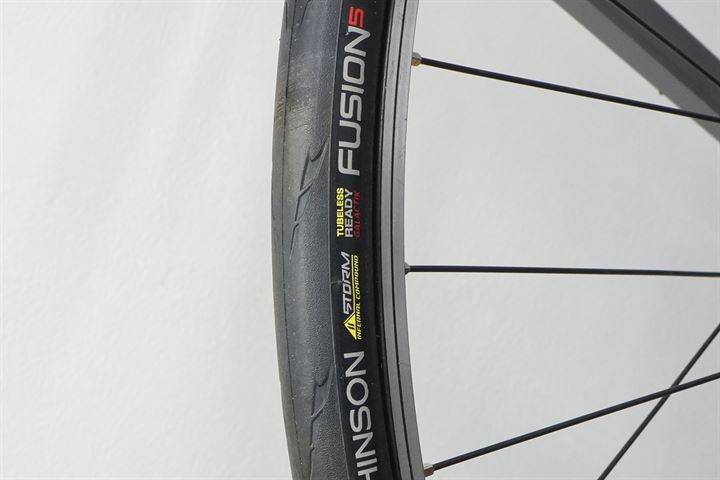 Size, Weight, and Thickness Measurements
advertisement
Size, Weight and Thickness Measurements
Specified Weight
240 grams
Measured Weight
226 grams
System Adjusted Weight
(tire + valve + rim seal)
246 grams
Measured Width
27 mm (un-round)
Measured Height
23 mm (un-round)
Total Tire Thickness Center
2.4 mm
Total Tire Thickness Sidewall
Members Only
Unmounted Casing Width
65 mm
Unmounted Tread Width
Members Only
All size measurements are taken at an air pressure of 100 psi / 6.9 bars on a 17.8 mm inner width rim.
Rolling Resistance Test Results
Rolling Resistance Test Results
Inner Tube
None (20 ml sealant)
Rolling Resistance
140 PSI / 9.7 Bar
Not Tested
Rolling Resistance
120 PSI / 8.3 Bar
12.0 Watts
CRR: 0.00360
Rolling Resistance
100 PSI / 6.9 Bar
13.1 Watts
CRR: 0.00393
Rolling Resistance
80 PSI / 5.5 Bar
Members Only
Rolling Resistance
60 PSI / 4.1 Bar
Members Only
All numbers are for a single tire at a speed of 29 km/h / 18 mph and a load of 42.5 kg / 94 lbs.

Use the formula: RR (Watts) = CRR * speed (m/s) * load (N) to calculate rolling resistance at a given speed and load.
Puncture Resistance Test Results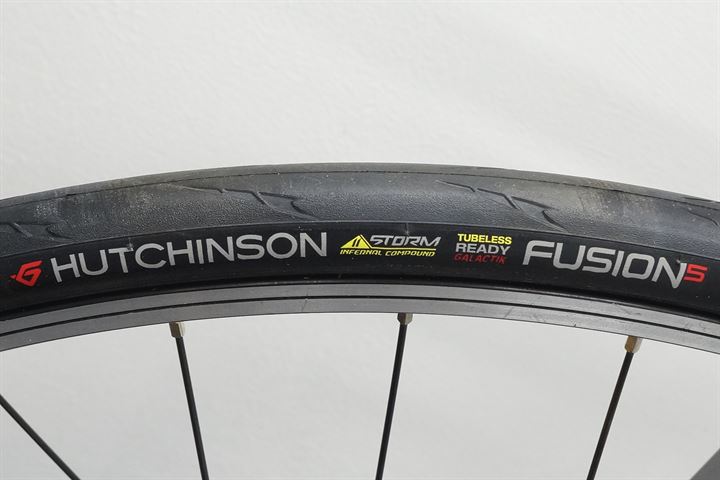 Puncture Resistance Test Results (higher is better)
Total Puncture Score Tread
43 Points
Total Puncture Score Sidewall
Members Only
Tread Puncture Force Sharp Needle
Members Only
Tread Puncture Force Blunt Needle
Members Only
Tread Total Tire Thickness
2.4 mm
Sidewall Puncture Force Sharp Needle
Members Only
Sidewall Puncture Force Blunt Needle
Members Only
Sidewall Total Tire Thickness
Members Only
Static Grip Test Results
NOTE: Grip test data is only available on tires tested after November 2018. You can find more information about our grip test here: Introducing Grip Testing
Static Grip Test Results
Wet Grip Average
65 Points
Wet Grip Center
Members Only
Wet Grip Edge
Members Only
Grip in points = coefficient of friction * 100
Conclusion
Although this isn't a bad tire, we're not impressed by the Fusion 5 Galactik with 11Storm compound. Even though it's a much lighter tire, rolling resistance of the 11Storm version has gone backward when compared to the older Fusion 5 Galactik with the HDF 5.1 compound. The only advantage seems to be a lower weight and sidewalls that have increased in strength.
The Galactik version has now been discontinued by Hutchinson but we suspect the Performance version of the Fusion 5 is nearly the same tire except for a slightly thicker tread. Our estimate would be both rolling resistance and puncture resistance would be +10% to +15% over the Galactik version.
RATING: 3.5 / 5
TEST VERDICT: Recommended
Comments