Fat Bike Tire Test:

45NRTH

Husker Du
---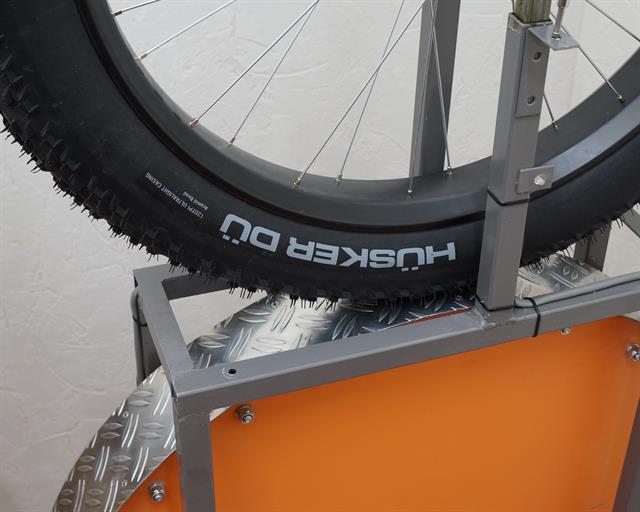 According to 45NRTH, the Husker Du fat bike tire is the ultimate combination of traction and low rolling resistance. To try to make this a fast rolling tire, they've used tightly spaced center knobs and a 120 TPI ultralight casing. The loosely spaced edge knobs have the same height as the edge knobs and should provide a good amount of cornering grip. Unfortunately, the Husker Du doesn't have tubeless-ready beads which will make it hard to seal these tires when used tubeless.
Together with the Surly fat bike tires, the 45NRTH tires are by far the most expensive fat bike tires you can buy. Even the cheaper 33 and 27 TPI versions of these brands are more expensive than most 120 TPI top of the line versions from other brands. With the high prices also come high expectations. Based solely on price, the Husker Du should perform great on our tests and outperform virtually every other fat bike tire out there.
Let's test this tire to see if the top of the line 120 TPI Husker Du really has the low rolling resistance 45NRTH claims it to have.
Manufacturer Specifications
Manufacturer Specifications
Brand
45NRTH
Model
Husker Du
Year
2016
Supplied By
Bought in store
Sponsored by
Wolf Tooth Components
New or Used
New
Mileage
0 km
Price Range
High
Buy At
Manufacturer part number
TPI
120
Compound
Bead
Folding
ETRTO
Size Inch
26"
Width Inch
4.00
Specified Weight
0 grams
Max Pressure
30
Made In
Members Only
Available Sizes
26 x 4.00
45NRTH Husker Du Test Results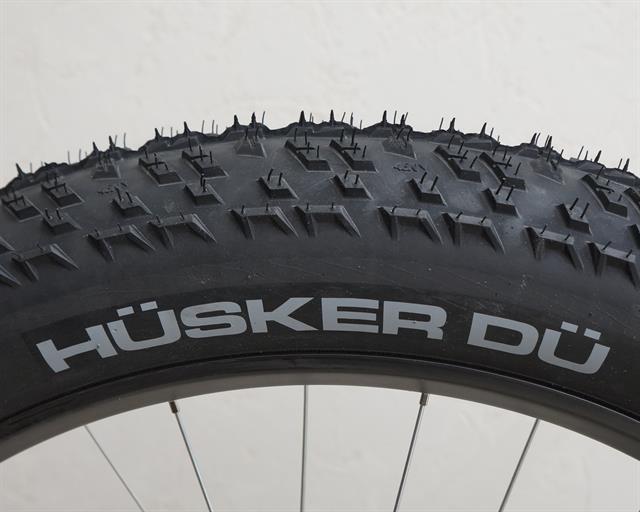 Size, Weight, and Thickness Measurements
advertisement
Size, Weight, and Thickness Measurements
Specified Weight
0 grams
Measured Weight
1290 grams
Measured Width Carcass
95 mm (un-round)
Measured Width Tread
90 mm
Measured Height
83 mm (un-round)
Measured Knob Height Center
4.3 mm
Measured Knob Height Edge
4.3 mm
Measured Total Thickness Center (excluding knobs)
2.30 mm
Measured Total Thickness Sidewall
Members Only
All size measurements are taken at an air pressure of 16 psi / 1.1 bars on a 65 mm inner width rim.
It appears 45NRTH doesn't specify the weight of their tires. My sample of the Husker Du comes in at 1290 grams which is an average weight for a fat bike tire. On my 65 mm inner width rim, at an air pressure of 16 psi, the casing has a maximum width of 95 mm. The shoulder knobs have a maximum knob to knob distance of 90 mm. The total height of the tire is 83 mm.
Both the center and shoulder knobs have a height of 4.3 mm which is decent. The sidewalls have a thickness of 0.9 mm which seems to be an average value for most fat bike tires.
Rolling Resistance Test Results
Rolling Resistance Test Results
Inner Tube
Schwalbe SV13J (390 gr)
Rolling Resistance 20 PSI / 1.4 Bar
Members Only
Rolling Resistance 16 PSI / 1.1 Bar
Members Only
Rolling Resistance 12 PSI / 0.8 Bar
40.6 Watts
CRR: 0.01217
Rolling Resistance 8 PSI / 0.6 Bar
51.7 Watts
CRR: 0.01550
All numbers are for a single tire at a speed of 29 km/h / 18 mph and a load of 42.5 kg / 94 lbs.

Use the formula: RR (Watts) = CRR * speed (m/s) * load (N) to calculate rolling resistance at a given speed and load.
In the rolling resistance tests, the performance of the Husker Du disappoints. At both the high and low end of the air pressure range, the Husker Du gets outperformed by fat bike tires from other brands. When we look at the rolling resistance at low air pressures, 10-15 watts per tire is lost against the top performing tires.
After testing a lot of MTB tires, I've noticed tires with tightly spaced center knobs really don't provide a lower rolling resistance than slightly wider spaced center knobs that provide much better traction as a bonus. If you consider that these tests are performed on a steel drum which resembles asphalt, the continuous center knobs tires should shine. In real off-road conditions, the disadvantage only gets bigger.
Puncture Resistance Test Results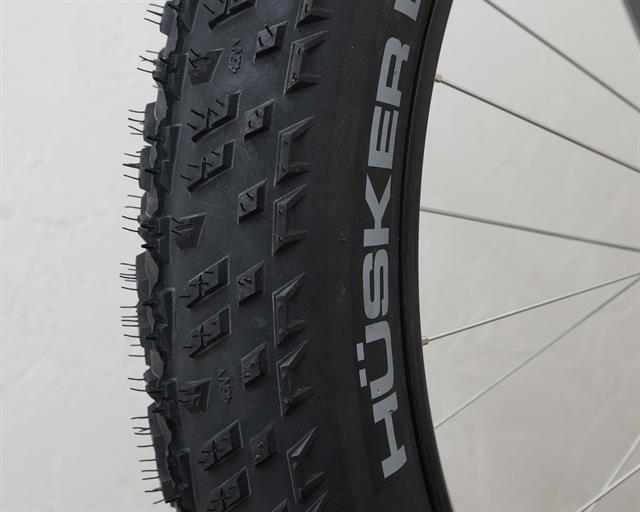 Puncture Resistance Test Result (higher is better)
Puncture Resistance Tread
7 Points
Puncture Resistance Sidewall
Members Only
In the puncture resistance tests, the Husker Du doesn't impress either. With a tread and sidewall puncture score of 7 and 5 points respectively, performance isn't bad but doesn't impress either.
Conclusion
I must admit, I had very high expectations from the 45NRTH tires because of the very high prices on these tires. Unfortunately, the Husker Du doesn't impress in the rolling resistance test and is slower than most other fat bike tires from other brands. Knob height also isn't that impressive and performance in the puncture resistance is just average. On top of that, this tire isn't even tubeless-ready which I feel is a must have for fat bike tires.
Rated 2 out of 5 because it just doesn't impress me that much. If you look around a bit more you can find better tires for less money. Look at the fat bike tires overview page (overview) to see which tires perform better on our tests.
RATING: 2 / 5
TEST VERDICT: Not Recommended
Comments