Touring Bike Tire Test:

Continental

Sport Contact II
Continental Sport Contact II
---
---
---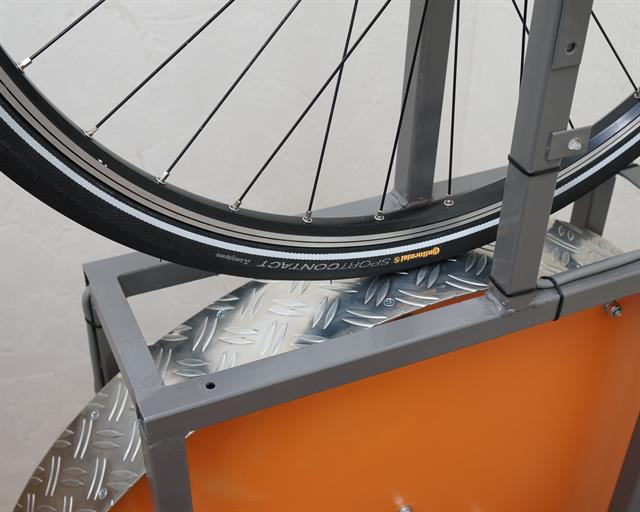 The Continental Sport Contact II is an almost slick touring bike tire that looks a bit like their top of the line Competition tubular road bike tire. I've been digging into Continental's touring bike tires and, together with the expensive Top Contact II, this should be their fastest touring bike tire. The Sport Contact comes with a hard wearing tread compound, 3/180 TPI casing, and a double layer of Safety System anti-puncture material under the tread.
Ad Buy Continental Sport Contact II at Amazon.com
The tread pattern of the Sport Contact isn't the typical tread pattern you'd expect from a touring bike tire. Because the "micro-diamonds" have a height of just 0.5 mm, I expect the tread in the center of the tire to wear down quickly resulting in a slick center part of the tire. This doesn't mean the tire is fully worn. I feel it should have had at least two tread wear indicators as the thickness measurements (see below) indicate this tire should have close to 2.5 mm of rubber to wear down before the tire needs to be changed.
Manufacturer Specifications
Manufacturer Specs
Brand
Continental
Model
Sport Contact II
Year
2016
Supplied By
Bought in store
New or Used
New
Mileage
0 km
Price Range
Med
Buy At

Ad

Amazon.com
Manufacturer part number
0101015
TPI
3/180
Compound
Bead
Wire
ETRTO
37-622
Size Inch
28"
Width mm
37.00
Specified Weight
520 grams
Max Air Pressure (psi)
90
Made In
Members Only
Available Sizes
42-622 (28x1.60)
37-622 (28x1.40)
32-622 (28x1.25)
28-622 (28x1.10)
50-559 (26x2.00)
42-559 (26x1.60)
32-559 (26x1.25)
28-406 (20x1.10)
Continental Sport Contact II Test Results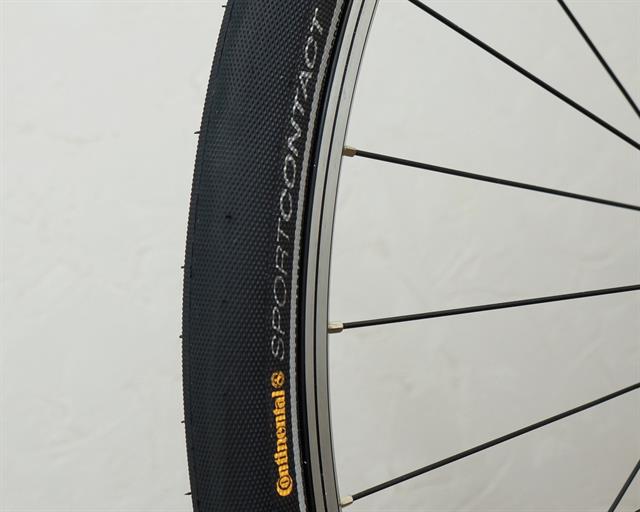 Size, Weight, and Thickness Measurements
Size, Weight, and Thickness Measurements
Specified Weight
520 grams
Measured Weight
479 grams
Measured Width
36 mm (un-round)
Measured Height
34 mm (un-round)
Tread Depth
0.5 mm
Total Tire Thickness Center
4.2 mm
Total Tire Thickness Sidewall
Members Only
All size measurements are taken at an air pressure of 60 psi / 4 bars on a 17.8 mm inner width rim.
Specified weight of the Sport Contact II 37-622 is 520 grams; my sample comes in at a much lower 479 grams which is a nice bonus. At 36 mm wide, the measured width comes in very close to the rated 37 mm. The measured height is 34 mm. Both these measurements are average values for 37-622 rated tires.
As previously noted, the micro-diamonds have a height of 0.5 mm. Tire life should be much higher than the tread indicates as the total thickness of the tire at the center of the tread is 4.2 mm. Most other touring bike tires without thick anti-puncture layers come in at a thickness of 4 - 5 mm, this means the usable tread to wear down is quite similar to tires with a more conventional tread pattern. Thickness of the sidewall is 1.0 mm (including micro-diamonds)
Rolling Resistance Test Results
Rolling Resistance Test Results
Inner Tube
Conti Tour 28 (170 gr butyl)
Rolling Resistance
75 PSI / 5 Bar
18.9 Watts
CRR: 0.00567
Rolling Resistance
60 PSI / 4 Bar
20.6 Watts
CRR: 0.00618
Rolling Resistance
45 PSI / 3 Bar
Members Only
Rolling Resistance
30 PSI / 2 Bar
Members Only
All numbers are for a single tire at a speed of 29 km/h / 18 mph and a load of 42.5 kg / 94 lbs.

Use the formula: RR (Watts) = CRR * speed (m/s) * load (N) to calculate rolling resistance at a given speed and load.
In the rolling resistance test, the Sport Contact performs very strong for a medium priced tire. Rolling resistance is actually lower than the much more expensive Continental Top Contact II (read review). Compared to the current top performers in the touring bike class (Vittoria Hyper (read review) and Schwalbe Supreme (read review)), the Sport Contact gets outperformed by 10 to 20 % at pressures over 60 psi / 4 bars.
When we look at the performance at lower air pressures, the relative performance of the Sport Contact improves. At an air pressure of 45 psi, it performs nearly equal to the Schwalbe Marathon Supreme and it's even able to get a bit closer to the Vittoria Voyager Hyper. Both those tires are much more expensive so if you're looking for fast tires that don't break the bank, these are excellent.
Puncture Resistance Test Results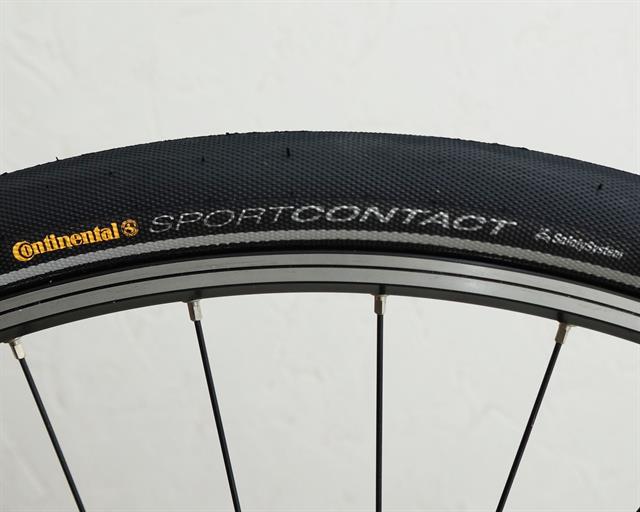 Puncture Resistance Test Results (higher is better)
Total Puncture Score Tread
76 Points
Total Puncture Score Sidewall
Members Only
Tread Puncture Force Sharp Needle
13 Points
Tread Puncture Force Blunt Needle
No Data
Tread Total Tire Thickness
4.2 mm
Sidewall Puncture Force Sharp Needle
Members Only
Sidewall Puncture Force Blunt Needle
No Data
Sidewall Total Tire Thickness
Members Only
With a score of 13 points in the tread puncture test, performance is decent but a bit lower than the Conti Top Contact. It does outperform the very fast Vittoria Voyager Hyper by 1 point. In the sidewall puncture test, performance is very average as well with a score of 5 points.
Puncture Factor, which gives a better indication of the puncture resistance of touring bike tires as it also takes tire thickness into consideration, comes in at 55 points. 55 points means it slots right in between the fast Voyager Hyper (40 pt) and Schwalbe Marathon Supreme (75 pt). The Conti Top Contact also performs better in this test with a score of 70 points.
Static Grip Test Results
NOTE: Grip test data is only available on tires tested after November 2018. You can find more information about our grip test here: Introducing Grip Testing
Static Grip Test Results
Wet Grip Average
No Data
Wet Grip Center
No Data
Wet Grip Edge
No Data
Grip in points = coefficient of friction * 100
Conclusion
If you're looking for a fast touring bike tire with reasonable puncture resistance, the Continental Sport Contact II is a great value for money tire. With the micro-diamond tread pattern, it doesn't resemble a classic touring bike tire. After measuring the total thickness of the tire, tire-life should be comparable to other touring bike tires, but keep in mind it's hard to see if the tire needs to be replaced as it doesn't have tread wear indicators.
It would have been nice if a lighter folding (premium) version was available as well as that could make it a real contender for the top spot in the touring bike section. Still, the wire bead Sport Contact II is a great tire for its price.
Ad Buy Continental Sport Contact II at Amazon.com
RATING: 4.0 / 5
TEST VERDICT: Recommended
Comments