Road Bike Tire Test:

Schwalbe

Pro One TT TLE Addix
Schwalbe Pro One TT TLE Addix
---
---
---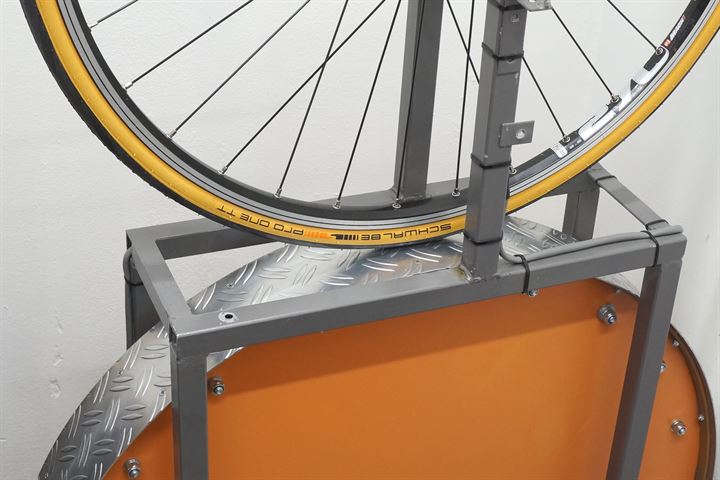 NOTE: We added wet grip test data on 2021-11-26. The rating of the Schwalbe One TT TLE Addix has been downgraded by 0.5 points because of below average results in the grip test.
The Pro One TT TLE with Addix Race Single compound is the fastest option within the new Pro One lineup from Schwalbe. Together with the TT version, Schwalbe also released a regular TLE (read review) version and a tube-type (read review) version for cyclists that still prefer to use inner tubes. The Pro One TT TLE is made for time-trials, triathlon, or other competitions where you need every last bit of speed.
Ad Buy Schwalbe Pro One TT TLE Addix at Amazon.com
Compared to the regular Pro One TLE that is more of an all-round training/racing tire, the TT comes with a much thinner tread and no anti-puncture strip under the tread. Schwalbe also went from the Addix Race Multi compound to the Addix Race Single compound. This tire uses a single compound because only the compound that gives the lowest rolling resistance is used. Vittoria does the same thing with their Corsa Speed (read review) tires which are currently the fastest tires out there (road bike overview).
Although the Pro One TT TLE looks like a cotton casing tire, it uses the same 2x127 TPI casing as the other Pro One's. The sidewalls have simply been painted/coated in a yellowish shade to give it that classic/cotton look. I haven't found any info on whether a black version will be made available as well.
If you want to compare the various models of the Schwalbe Pro One with Addix compounds, you can compare all data side by side on our comparison section here: Pro One TT vs TLE vs tubetype
Manufacturer Specifications
Manufacturer Specifications
Brand
Schwalbe
Model
Pro One TT TLE Addix
Year
2020
Tire Type
Tubeless
Supplied By
Bought in store
New or Used
New
Mileage
0 km
Price Range
High
Buy At

Ad

Amazon.com
Manufacturer part number
11653972
EAN
4026495863070
TPI
2x127
Compound
Addix Race Single
Bead
Folding
ETRTO
25-622
Size Inch
28"
Specified Width (mm)
25
Specified Weight
205 grams
Max Air Pressure (psi)
110
Made In
Members Only
Available Sizes
25-622 (700x25c)
28-622 (700x28c)
Schwalbe Pro One TT TLE Addix Test Results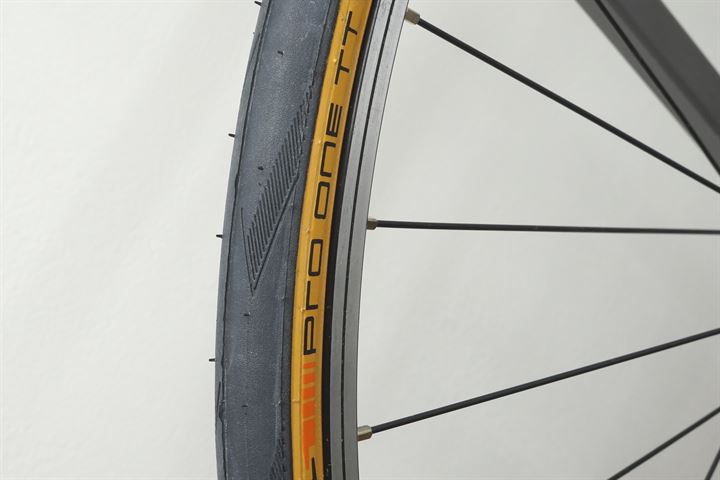 Size, Weight, and Thickness Measurements
advertisement
Size, Weight and Thickness Measurements
Specified Weight
205 grams
Measured Weight
222 grams
System Adjusted Weight
(tire + valve + rim seal)
242 grams
Measured Width
27 mm (un-round)
Measured Height
24 mm (un-round)
Total Tire Thickness Center
1.6 mm
Total Tire Thickness Sidewall
Members Only
Unmounted Casing Width
66 mm
Unmounted Tread Width
Members Only
Tread Cover (Tread / Casing Ratio)
Members Only
All size measurements are taken at an air pressure of 100 psi / 6.9 bars on a 17.8 mm inner width rim.
Rolling Resistance Test Results
Rolling Resistance Test Results
Inner Tube
None (20 ml sealant)
Measured Width
27 mm (un-round)
Rolling Resistance
Real tire width in mm:
22-24 = 132 psi/9.1 bar
25-27 = 120 psi/8.3 bar
28-29 = 108 psi/7.4 barUltra High Air Pressure
(120 psi / 8.3 bar)
7.5 Watts
CRR: 0.00225
Rolling Resistance
Real tire width in mm:
22-24 = 110 psi/7.6bar
25-27 = 100 psi/6.9 bar
28-29 = 90 psi/6.2 barExtra High Air Pressure
(100 psi / 6.9 bar)
8.1 Watts
CRR: 0.00243
Rolling Resistance
Real tire width in mm:
22-24 = 88 psi/6.1 bar
25-27 = 80 psi/5.5 bar
28-29 = 72 psi/5.0 barHigh Air Pressure
(80 psi / 5.5 bar)
Members Only
Rolling Resistance
Real tire width in mm:
22-24 = 66 psi/4.6 bar
25-27 = 60 psi/4.1 bar
28-29 = 54 psi/3.7 barMedium Air Pressure
(60 psi / 4.1 bar)
Members Only
The Road Bike section is a multi tire size section, air pressures have been adjusted to the measured casing width.

All numbers are for a single tire at a speed of 29 km/h / 18 mph and a load of 42.5 kg / 94 lbs.

Use the formula: RR (Watts) = CRR * speed (m/s) * load (N) to calculate rolling resistance at a given speed and load.
Puncture Resistance Test Results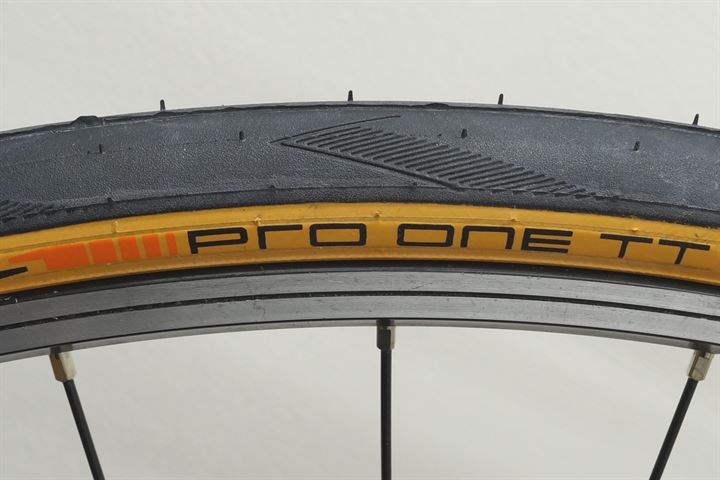 Puncture Resistance Test Results (higher is better)
Total Puncture Score Tread
24 Points
Total Puncture Score Sidewall
Members Only
Tread Puncture Force Sharp Needle
6 Points
Tread Puncture Force Blunt Needle
Members Only
Tread Total Tire Thickness
1.6 mm
Sidewall Puncture Force Sharp Needle
Members Only
Sidewall Puncture Force Blunt Needle
Members Only
Sidewall Total Tire Thickness
Members Only
Static Grip Test Results
NOTE: Grip test data is only available on tires tested after November 2018. You can find more information about our grip test here: Introducing Grip Testing
Static Grip Test Results
Wet Grip Average
55 Points
Wet Grip Center
Members Only
Wet Grip Edge
Members Only
Grip in points = coefficient of friction * 100
Conclusion
The Schwalbe Pro One TT TLE is one hell of a fast tire! It does come in slightly behind the Vittoria Corsa Speed G+ 2.0 TLR (read review) that currently is the fastest tire on our site.
When looking at the other results from our tests, we see tread thickness is even less than the Corsa Speed and the tread is also easier to penetrate. Weight is nearly the same for both tires. The only positives over the Corsa Speed are slightly stronger sidewalls and a wider tread.
We had a hard time deciding between a 4, or a 5 out of 5 rating because the Pro One TT is this fast. When looking objectively at both the Pro One TT and Corsa Speed, we feel the Corsa Speed is just a tad better when you simply need the fastest tires. We also know puncture resistance of the Corsa Speed is already borderline and going even lower may just be a bridge too far.
Ad Buy Schwalbe Pro One TT TLE Addix at Amazon.com
RATING: 3.5 / 5
TEST VERDICT: Recommended
Comments