Road Bike Tire Test:

Schwalbe

Pro One (tubetype) Addix
Schwalbe Pro One (tubetype) Addix
---
---
---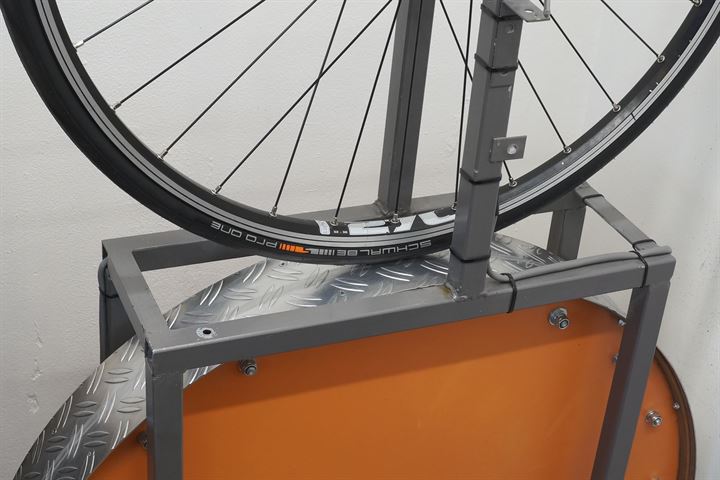 The tube-type version of the Schwalbe Pro One replaces the Schwalbe One V-Guard (read review) that has been around since 2014 as Schwalbe's top of the line road bike tire. Starting with the 2020 model, Schwalbe has downgraded the plain (non Pro) Schwalbe One to a "Performance Line" tire which basically means it's a midrange tire now. When you want Schwalbe's top of the line road bike tires, you need to look for the Pro One.
Ad Buy Schwalbe Pro One (tubetype) Addix at Amazon.com
It looks like Schwalbe is moving their entire product line to their new Addix compounds as the Pro One now comes with the Addix Race compound instead of the OneStar compound. The casing is now a 2 x 127 TPI instead of the 127 TPI of the previous version which results in stronger sidewalls. Also new is a "Souplesse Carcass" construction which according to Schwalbe comes close to riding a tubular tire. The V-Guard anti-puncture strip is unchanged from the previous version.
The tube-type Pro One is very similar to the Tubeless-Easy (TLE) Pro One (read review). The only differences we've found seems to be in the rubber coated beads and slightly more coated sidewalls of the Pro One TLE. We don't think there will be much of a difference in rolling resistance between the Pro One TLE and Pro One tube-type when both tires as used with an inner tube.
Schwalbe also adjusted the casing sizes to be more in line with the wider rims used these days which is something we've seen other manufacturers do as well. As can be seen from our measurements below, the 25-622 Pro One is now closer in size to a 23-622 of the previous generation. Schwalbe did introduce a bigger 30-622 size as well but that's probably the same size as the older 28-622.
Manufacturer Specifications
Manufacturer Specifications
Brand
Schwalbe
Model
Pro One (tubetype) Addix
Year
2020
Tire Type
Tubetype (clincher)
Supplied By
Bought in store
New or Used
New
Mileage
0 km
Price Range
High
Buy At

Ad

Amazon.com
Manufacturer part number
11653977
EAN
4026495862592
TPI
2x127
Compound
Addix Race Multi
Bead
Folding
ETRTO
25-622
Size Inch
28"
Specified Width (mm)
25
Specified Weight
235 grams
Max Air Pressure (psi)
130
Made In
Members Only
Available Sizes
23-622 (700x23c)
25-622 (700x25c)
28-622 (700x28c)
30-622 (700x30c)
Schwalbe Pro One (tubetype) Addix Test Results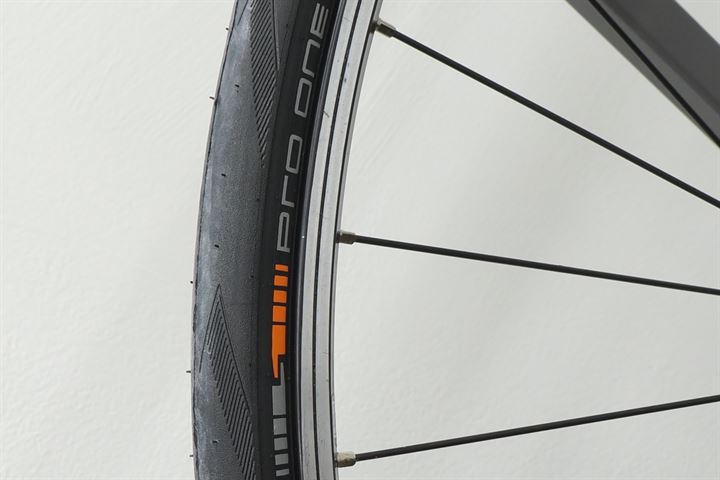 Size, Weight, and Thickness Measurements
advertisement
Size, Weight and Thickness Measurements
Specified Weight
235 grams
Measured Weight
243 grams
System Adjusted Weight
(tire + inner tube (100 gr)
343 grams
Measured Width
25 mm (un-round)
Measured Height
23 mm (un-round)
Total Tire Thickness Center
2.9 mm
Total Tire Thickness Sidewall
Members Only
Unmounted Casing Width
62 mm
Unmounted Tread Width
Members Only
Tread Cover (Tread / Casing Ratio)
Members Only
All size measurements are taken at an air pressure of 100 psi / 6.9 bars on a 17.8 mm inner width rim.
Rolling Resistance Test Results
Rolling Resistance Test Results
Inner Tube
Conti Race28 (100gr butyl)
Rolling Resistance
140 PSI / 9.7 Bar
Not Tested
Rolling Resistance
120 PSI / 8.3 Bar
12.8 Watts
CRR: 0.00384
Rolling Resistance
100 PSI / 6.9 Bar
13.8 Watts
CRR: 0.00414
Rolling Resistance
80 PSI / 5.5 Bar
Members Only
Rolling Resistance
60 PSI / 4.1 Bar
Members Only
All numbers are for a single tire at a speed of 29 km/h / 18 mph and a load of 42.5 kg / 94 lbs.

Use the formula: RR (Watts) = CRR * speed (m/s) * load (N) to calculate rolling resistance at a given speed and load.
Puncture Resistance Test Results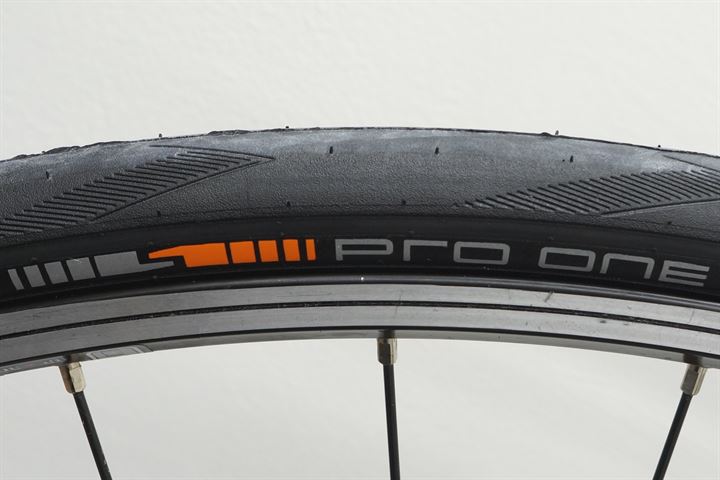 Puncture Resistance Test Results (higher is better)
Total Puncture Score Tread
48 Points
Total Puncture Score Sidewall
Members Only
Tread Puncture Force Sharp Needle
11 Points
Tread Puncture Force Blunt Needle
Members Only
Tread Total Tire Thickness
2.9 mm
Sidewall Puncture Force Sharp Needle
Members Only
Sidewall Puncture Force Blunt Needle
Members Only
Sidewall Total Tire Thickness
Members Only
Static Grip Test Results
NOTE: Grip test data is only available on tires tested after November 2018. You can find more information about our grip test here: Introducing Grip Testing
Static Grip Test Results
Wet Grip Average
63 Points
Wet Grip Center
Members Only
Wet Grip Edge
Members Only
Grip in points = coefficient of friction * 100
Conclusion
When compared to the older Schwalbe One V-Guard which is the predecessor of the Pro One tube-type, the Pro One tube-type performs a bit worse on pretty much all of our tests. Rolling resistance is worse, puncture resistance has gone down, it's heavier and it offers lower volume. The positives are thicker and stronger sidewalls which is the result of Schwalbe now using the same casing for both the tube-type and tubeless Pro Ones.
Rated 4 out of 5 as the tube-type Pro One is now clearly behind the Grand Prix 5000 (read review) which is the new benchmark in the road bike category. It does offer a slightly better puncture resistance of both the tread and sidewalls when compared to the Grand Prix 5000.
Feel free to leave your review of the new Pro One in the comments below and help others out with information about wet grip, durability and general road feel.
Ad Buy Schwalbe Pro One (tubetype) Addix at Amazon.com
RATING: 4.0 / 5
TEST VERDICT: Recommended
Comments