Road Bike Tire Test:

Schwalbe

One V-Guard
---
---
---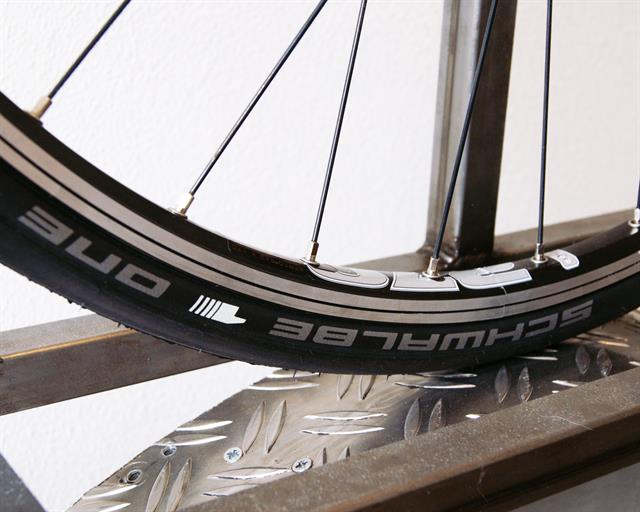 NOTE: We have a test available of a newer version of this tire: Schwalbe Pro One (tubetype) Addix 2020
According to Schwalbe, their new One series of road bike tires are the fastest rolling tires they have ever manufactured; they even built a brand new factory to produce these tires. Today I'm testing the Schwalbe One V-Guard 700 x 25C which is the clincher version of the One. The One is also available as a tubular or tubeless road bike tire. It seems like Schwalbe removed the Ultremo series from the 2015 model line-up, at least they don't show up on the official Schwalbe website anymore. Everybody that loved the Ultremo has to move up to the Schwalbe One.
Ad Buy Schwalbe One V-Guard at Amazon.com
The biggest improvement over the Ultremo is a new compound: OneStar. This compound was developed specifically for low rolling resistance. It's a triple compound which is based on special polymers that have only recently become available. Schwalbe says this results in a great improvement in the trade-off between durability, wet adhesion and rolling resistance. However, weight has increased by 10 grams when compared to the Ultremo of the same size; this is attributed to the amount of material used.
Manufacturer Specifications
Manufacturer Specifications
Brand
Schwalbe
Model
One V-Guard
Year
2014
Tire Type
Tubetype (clincher)
Supplied By
Bought in store
New or Used
New
Mileage
0 km
Price Range
High
Buy At

Ad

Amazon.com
Manufacturer part number
11600518
TPI
127
Compound
OneStar
Bead
Folding
ETRTO
25-622
Size Inch
28"
Specified Width (mm)
25
Specified Weight
225 grams
Max Air Pressure (psi)
130
Made In
Members Only
Available Sizes
23-622 (700x23C)
25-622 (700x25C)
28-622 (700x28C)
25-584 (650x25B)
25-571 (650x25C)
25-559 (26x1.00)
25-540 (24x1.00)
25-451 (20x1.00)
28-406 (20x1.10)
Schwalbe One V-Guard Test Results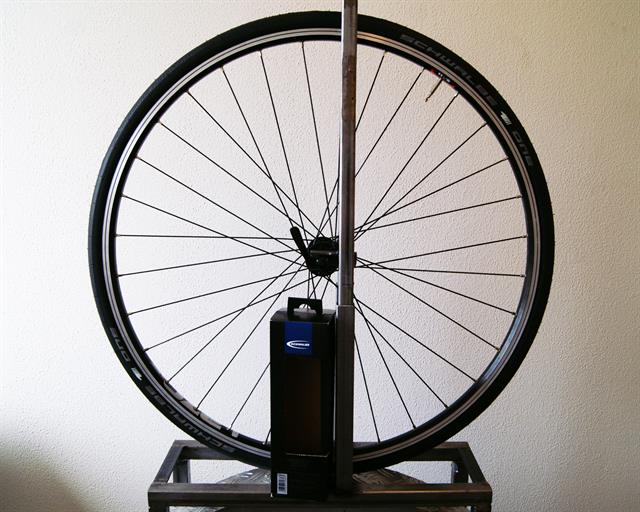 Size, Weight, and Thickness Measurements
advertisement
Size, Weight and Thickness Measurements
Specified Weight
225 grams
Measured Weight
243 grams
System Adjusted Weight
(tire + inner tube (100 gr)
343 grams
Measured Width
27 mm (un-round)
Measured Height
24 mm (un-round)
Total Tire Thickness Center
2.9 mm
Total Tire Thickness Sidewall
Members Only
Unmounted Casing Width
No Data
Unmounted Tread Width
No Data
Tread Cover (Tread / Casing Ratio)
No Data
All size measurements are taken at an air pressure of 100 psi / 6.9 bars on a 17.8 mm inner width rim.
Unfortunately, this particular Schwalbe One is overweight by quite a bit: 243 grams versus a claimed weight of 225 grams. This means there is more material and rolling resistance will be a bit higher. The measured width is 27 mm. Height is 24 mm.
Rolling Resistance Test Results
Rolling Resistance Test Results
Inner Tube
Conti Race28 (100gr butyl)
Rolling Resistance
140 PSI / 9.7 Bar
Not Tested
Rolling Resistance
120 PSI / 8.3 Bar
12.3 Watts
CRR: 0.00369
Rolling Resistance
100 PSI / 6.9 Bar
12.8 Watts
CRR: 0.00384
Rolling Resistance
80 PSI / 5.5 Bar
Members Only
Rolling Resistance
60 PSI / 4.1 Bar
Members Only
All numbers are for a single tire at a speed of 29 km/h / 18 mph and a load of 42.5 kg / 94 lbs.

Use the formula: RR (Watts) = CRR * speed (m/s) * load (N) to calculate rolling resistance at a given speed and load.
At an air pressure of 120 psi, rolling resistance is 12.3 Watts. At 100 psi, it comes in as a very fast tire beating the Continental Grand Prix 4000S II by 0.1 Watts. Unfortunately, it can't keep up this strong performance. At air pressures of 80 and 60 psi, rolling resistance is 14.0 Watts and 16.6 Watts respectively. This is 0.3 and 1.1 Watts higher when compared to the GP4000S II.
Puncture Resistance Test Results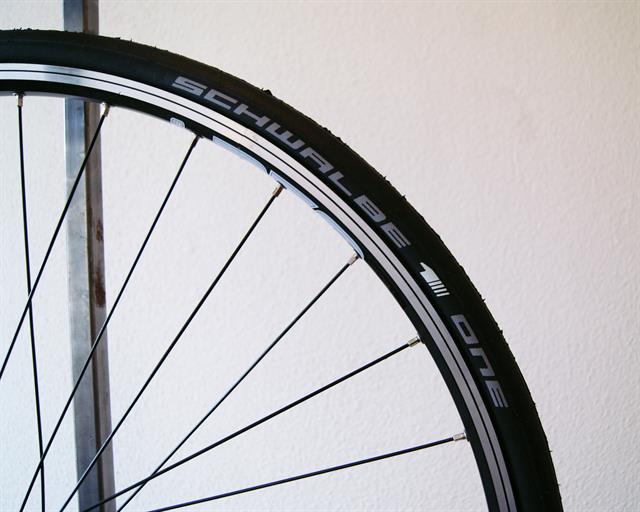 Puncture Resistance Test Results (higher is better)
Total Puncture Score Tread
59 Points
Total Puncture Score Sidewall
Members Only
Tread Puncture Force Sharp Needle
12 Points
Tread Puncture Force Blunt Needle
No Data
Tread Total Tire Thickness
2.9 mm
Sidewall Puncture Force Sharp Needle
Members Only
Sidewall Puncture Force Blunt Needle
No Data
Sidewall Total Tire Thickness
Members Only
Performance in the puncture resistance test is average for an all-round summer tire. With a puncture resistance score of 12, it beats the GP4000S II by 1 point. If we take the low rolling resistance into consideration as well, a score of 12 is very good. It looks like Schwalbe hit the sweet spot with the One.
Static Grip Test Results
NOTE: Grip test data is only available on tires tested after November 2018. You can find more information about our grip test here: Introducing Grip Testing
Static Grip Test Results
Wet Grip Average
No Data
Wet Grip Center
No Data
Wet Grip Edge
No Data
Grip in points = coefficient of friction * 100
Conclusion
It's a shame my sample of the Schwalbe One has so much overweight, I'm pretty sure if it came in at the claimed weight of 225 grams, it would have beaten the Grand Prix 4000S II at 120 100 and 80 psi, I'm not sure about 60 psi. A score of 12 in the puncture resistance test is also very good for such a fast road bike tire. It's clear that the Schwalbe One is a very big improvement over the Ultremo. I don't think anyone is going to miss that tire when you can get the new Schwalbe One.
I'm glad Schwalbe wasn't lying when they said this is the fastest road bike tire they have ever made. If you're looking for a fast road bike tire and can get hold of a sub 225 grams Schwalbe One V-Guard, definitely get it!
Ad Buy Schwalbe One V-Guard at Amazon.com
RATING: 5.0 / 5
TEST VERDICT: Highly Recommended
Comments