Touring Bike Tire Test:

Vredestein

Perfect-E
---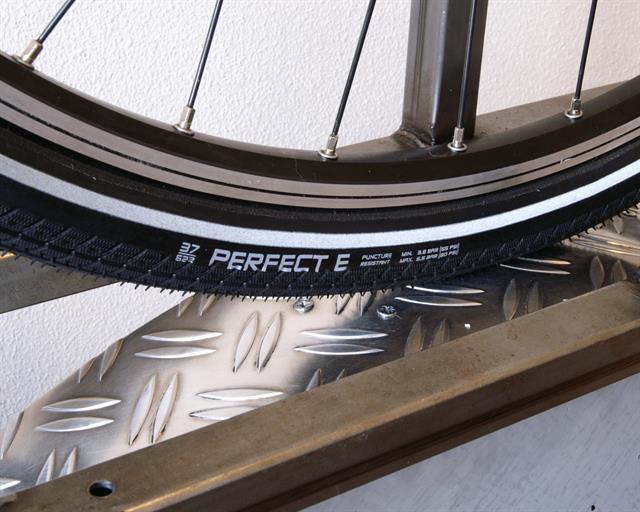 The Vredestein Perfect-E is a tire which has been specifically designed for use on E-Bikes. As expected for a tire that was designed for E-bike use, it has the ECE-R75 approval (up to 50 km/h). After checking the Vredestein website, the Perfect-E should be one of their fastest tires as they rate it the maximum of 6/6 on rolling resistance. It has a 30 TPI carcass, Vredestein OSP compound, and the Vredestein 'excellent protection' puncture protection.
The 'excellent protection' means there is a thick weave polyamide layer under the tread. This thick weave polyamide layer is still much thinner than the 3 or 5 mm thick layer the Schwalbe Marathon (read review) and Marathon Plus (read review) have. Vredestein also has the 'xtreme protection' puncture resistance system. This system does use both the polyamide layer and also a thicker, more elastic layer of rubber under the tread. The xtreme protection is used in the Vredestein Perfect Xtreme.
Manufacturer Specifications
Manufacturer Specs
Brand
Vredestein
Model
Perfect-E
Year
2015
Supplied By
Supplied by Continental
New or Used
New
Mileage
0 km
Price Range
Med
Buy At
Manufacturer part number
TPI
30
Compound
Bead
Wire
ETRTO
37-622
Size Inch
28"
Width mm
37.00
Specified Weight
660 grams
Max Pressure
80
Made In
Members Only
Available Sizes
47-622 (28x1.75)
40-622 (28x1.50)
37-622 (28x1.40)
47-559 (26x1.75)
Vredestein Perfect-E Test Results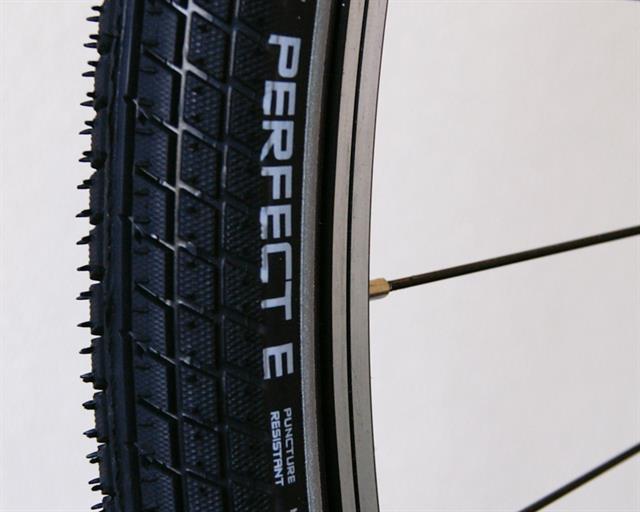 Size, Weight, and Thickness Measurements
advertisement
Size, Weight, and Thickness Measurements
Specified Weight
660 grams
Measured Weight
693 grams
Measured Width
37 mm (un-round)
Measured Height
37 mm (un-round)
Tread Depth
2.2 mm
Total Tire Thickness Center
4.8 mm
Total Tire Thickness Sidewall
Members Only
All size measurements are taken at an air pressure of 60 psi / 4 bars on a 17.8 mm inner width rim.
While specified weight is 660 grams, my sample comes in at 693 grams. The measured width of the 37-622 Perfect-E is 37 mm and height is 38 mm. Sizewise, the Perfect-E measures very nice. It's good to see a 37-622 rated tire actually measure 37 mm wide. Most tires seem to come a bit short.
Tread depth is 2.2 mm, which is above average and indicates there's plenty of rubber on the tire. The total thickness of the tire at the center of the tread is 4.8 mm. 4.8 mm indicates the puncture resistance material is quite thin. The sidewalls measure 1.4 mm thick, which is an average value.
Rolling Resistance Test Results
Rolling Resistance Test Results
Inner Tube
Conti Tour 28 (170 gr butyl)
Rolling Resistance
90 PSI / 6 Bar
No Data

Rolling Resistance
75 PSI / 5 Bar
24.6 Watts
CRR: 0.00737
Rolling Resistance
60 PSI / 4 Bar
27.3 Watts
CRR: 0.00818
Rolling Resistance
45 PSI / 3 Bar
Members Only

Rolling Resistance
30 PSI / 2 Bar
Members Only

All numbers are for a single tire at a speed of 29 km/h / 18 mph and a load of 42.5 kg / 94 lbs.

Use the formula: RR (Watts) = CRR * speed (m/s) * load (N) to calculate rolling resistance at a given speed and load.
For a tire that is supposed to have the lowest rolling resistance in the Vredestein lineup, the Perfect-E doesn't impress in the rolling resistance test. With a rolling resistance of 24.6 watts at an air pressure of 75 psi, it's already 5 watts less efficient than our benchmark tire: the Schwalbe Marathon. When dropping air pressure, this disadvantage grows to 10.7 watts at an air pressure of 30 psi.
Even the Schwalbe Marathon Plus (read review) with its 5 mm thick anti-puncture layer has less rolling resistance. Let's hope the Perfect-E can impress us a bit more in the puncture resistance tests.
Puncture Resistance Test Results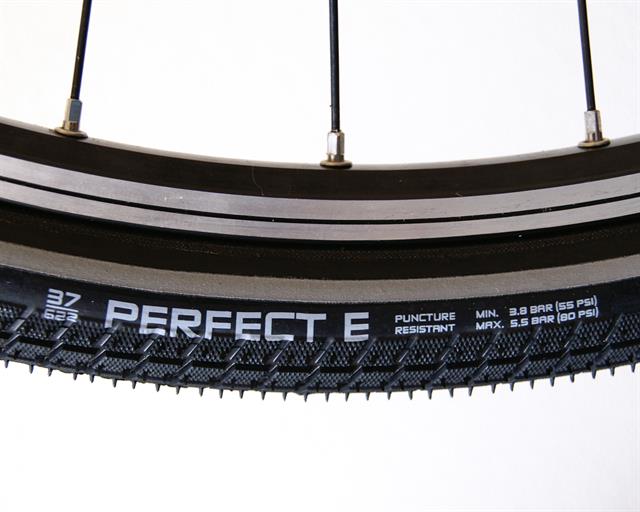 Puncture Resistance Test Result (higher is better)
Puncture Resistance Tread
13 Points
Puncture Resistance Sidewall
Members Only
Puncture Factor Tread *
62 Points
Puncture Factor Sidewall *
Members Only
* Puncture Factor = Puncture Resistance * Total Tire Thickness.
Puncture Factor provides a more realistic puncture resistance score for touring tires
In the puncture resistance tests, which measures the force required to puncture the tire, the Perfect-E doesn't impress either. With a score of 13 points in the tread test and 4 points in the sidewall test, it scores lower than the Marathon as well.
The Puncture Factor scores are calculated by multiplying the puncture resistance scores with the thickness of the tire. Because the Perfect-E doesn't use any thick anti-puncture layer and the thickness of the tire isn't impressive, both Puncture Factor Tread and Sidewall come in on the low side as well.
Conclusion
The Vredestein Perfect-E is a very mediocre tire. It doesn't impress us once, but on the other hand, also doesn't perform extremely poor in any of our tests. If these tires are already on your bike it probably wouldn't be worth replacing them. If you're looking for new tires, I'm sure better tires can be had at the same price point and weight. I'm looking forward to testing more Vredestein tires to see how they perform.
Rated 2/5 Not Recommended simply because much better tires can be had for the same price. The Schwalbe Marathon (read review) outperforms the Perfect-E in all of our tests and is still our number 1 recommendation.
RATING: 2 / 5
TEST VERDICT: Not Recommended
Comments