Road Bike Tire Test:

Michelin

Power Road
---
---
---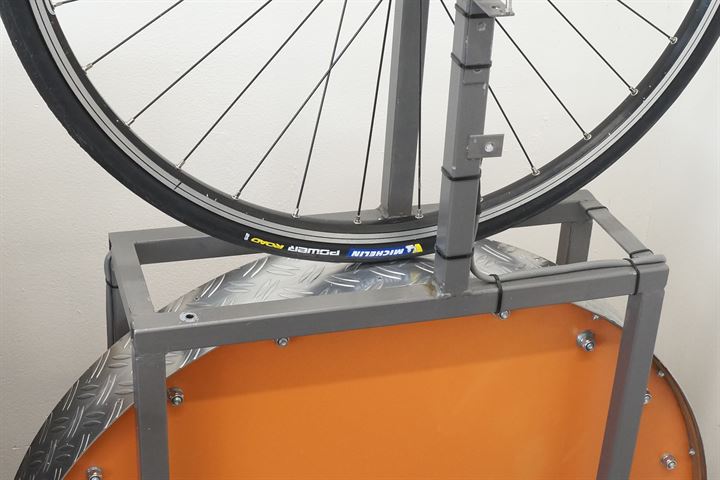 The Michelin Power Road is an all-round road bike tire optimized for both training and competition use. When we compare the Power Road to the Power Competition (read our review) and Power Endurance (read our review) that both have been around since 2016, our tests indicate the Power Road fits right in between those two tires when looking at speed and puncture resistance.
Ad Buy Michelin Power Road at Amazon.com
On paper, the Power Road is very similar to many other premium all-round road bike tires. The Power Road uses a 3x120 TPI casing with an "Aramid Protek+" anti-puncture strip under the tread. The 3x120 TPI casing is a bit stronger when compared to the thinner 3x180 TPI casing of the Power Competition. The compound is a new "X-Race" compound that is a compromise between rolling resistance, grip, and wear.
This is a test of the tubetype (clincher) version of the Power Road. Michelin also released a TLR (tubeless-ready) version which is their first entrance into the tubeless road bike market. We'll test the Power Road TLR as soon as we can get our hands on it.
Manufacturer Specifications
Manufacturer Specifications
Brand
Michelin
Model
Power Road
Year
2020
Tire Type
Tubetype (clincher)
Supplied By
Bought in store
New or Used
New
Mileage
0 km
Price Range
High
Buy At

Ad

Amazon.com
Manufacturer part number
017605
EAN
3528700176056
TPI
3x120
Compound
X-Race compound
Bead
Folding
ETRTO
25-622
Size Inch
28"
Specified Width (mm)
25
Specified Weight
235 grams
Max Air Pressure (psi)
116
Made In
Members Only
Available Sizes
23-622 (700x23c)
25-622 (700x25c)
28-622 (700x28c)
Michelin Power Road Test Results
Size, Weight, and Thickness Measurements
advertisement
Size, Weight and Thickness Measurements
Specified Weight
235 grams
Measured Weight
239 grams
System Adjusted Weight
(tire + inner tube (100 gr)
339 grams
Measured Width
27 mm (un-round)
Measured Height
24 mm (un-round)
Total Tire Thickness Center
2.8 mm
Total Tire Thickness Sidewall
Members Only
Unmounted Casing Width
67 mm
Unmounted Tread Width
Members Only
All size measurements are taken at an air pressure of 100 psi / 6.9 bars on a 17.8 mm inner width rim.
Rolling Resistance Test Results
Rolling Resistance Test Results
Inner Tube
Conti Race28 (100gr butyl)
Rolling Resistance
140 PSI / 9.7 Bar
Not Tested
Rolling Resistance
120 PSI / 8.3 Bar
12.4 Watts
CRR: 0.00372
Rolling Resistance
100 PSI / 6.9 Bar
13.3 Watts
CRR: 0.00399
Rolling Resistance
80 PSI / 5.5 Bar
Members Only
Rolling Resistance
60 PSI / 4.1 Bar
Members Only
All numbers are for a single tire at a speed of 29 km/h / 18 mph and a load of 42.5 kg / 94 lbs.

Use the formula: RR (Watts) = CRR * speed (m/s) * load (N) to calculate rolling resistance at a given speed and load.
Puncture Resistance Test Results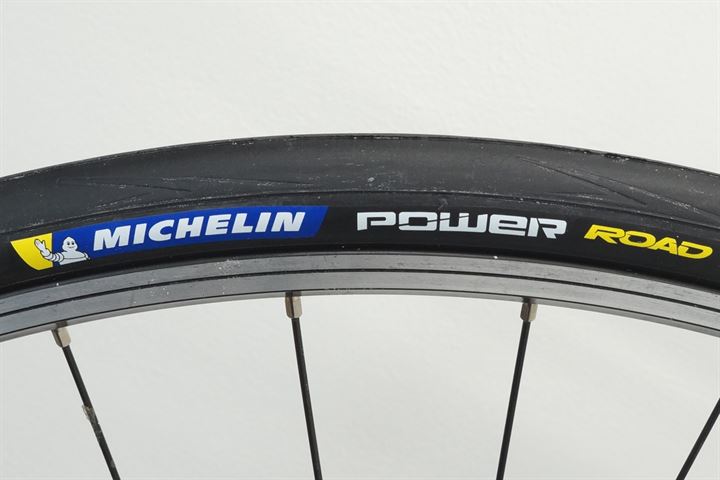 Puncture Resistance Test Results (higher is better)
Total Puncture Score Tread
55 Points
Total Puncture Score Sidewall
Members Only
Tread Puncture Force Sharp Needle
11 Points
Tread Puncture Force Blunt Needle
Members Only
Tread Total Tire Thickness
2.8 mm
Sidewall Puncture Force Sharp Needle
Members Only
Sidewall Puncture Force Blunt Needle
Members Only
Sidewall Total Tire Thickness
Members Only
Static Grip Test Results
NOTE: Grip test data is only available on tires tested after November 2018. You can find more information about our grip test here: Introducing Grip Testing
Static Grip Test Results
Wet Grip Average
68 Points
Wet Grip Center
Members Only
Wet Grip Edge
Members Only
Grip in points = coefficient of friction * 100
Conclusion
The Michelin Power Road is a bit slower than the Power Competition but you'll get a bit more robustness in return for those few lost watts. The Power Road looks to be a good compromise between the Power Competition and Power Endurance if you're looking for an all-round tire for both training and racing.
For a side by side overview, jump over to our comparison section: Power Road vs Power Competition vs Power Endurance.
When we compare the Power Road to the popular Continental Grand Prix 5000 (read our review), we see the Power Road is slower but performs slightly better in the puncture resistance test. The sidewalls also are a bit thicker which we think will result in a slightly better puncture resistance of the sidewalls and overall robustness of the tire.
Ad Buy Michelin Power Road at Amazon.com
RATING: 4.0 / 5
TEST VERDICT: Recommended
Comments