MTB Tire Test:

Schwalbe

Racing Ralph 2019 TLE Addix Speed
Schwalbe Racing Ralph 2019 TLE Addix Speed
---
---
---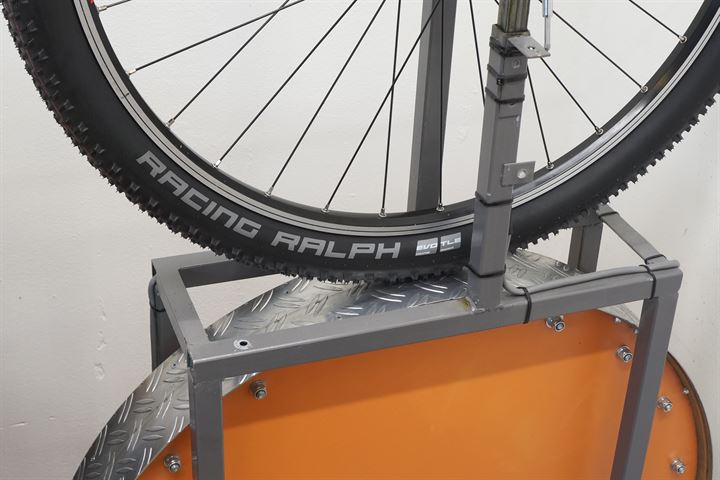 The Schwalbe Racing Ralph has been around for as long as I can remember. Starting with the 2019 model, the tread pattern has been redesigned. The 2019+ model now has a completely new tread pattern that is more optimized for use on the rear wheel. The updated tread pattern makes it a completely new tire of which only the name is the same. The rear wheel optimized tread pattern makes sense as many people were already using the previous model Racing Ralph on the rear with a grippier tire like the Nobby Nic or Rocket Ron on the front.
Ad Buy Schwalbe Racing Ralph 2019 TLE Addix Speed at Amazon.com
Schwalbe launched the new Racing Ralph as a pairing with the Racing Ray that is optimized for front wheel use. The new Racing Ralph/Racing Ray combination seems a good replacement for the classic Racing Ralph/Rocket Ron pairing. To further indicate the intended front/rear use of the new Racing Ralph and Racing Ray, the Racing Ralph is only available with the faster Addix Speed compound and the Racing Ray only with the grippier Addix SpeedGrip compound.
From a technical standpoint, it's interesting to see Schwalbe only offers the new Racing Ralph with the Addix Speed compound instead of both the Speed and SpeedGrip compounds that they did with the previous generation. Furthermore, they also dropped the LiteSkin versions and now only offer SnakeSkin/TLE versions in just 4 sizes. We're not sure if other versions will be released in the future or if this is the new direction Schwalbe is going for the future.
Manufacturer Specifications
Manufacturer Specs
Brand
Schwalbe
Model
Racing Ralph 2019 TLE Addix Speed
Year
2019
Supplied By
Bought in store
New or Used
New
Mileage
0 km
Price Range
High
Buy At

Ad

Amazon.com
Manufacturer part number
11601099
EAN
4026495843775
TPI
67
Compound
Addix Speed
Bead
Folding
ETRTO
57-622
Size Inch
28"
Width Inch
2.25
Specified Weight
625 grams
Max Air Pressure (psi)
54
Made In
Members Only
Available Sizes
26x2.25
27.5x2.25
29x2.10
29x2.25
Schwalbe Racing Ralph 2019 TLE Addix Speed Test Results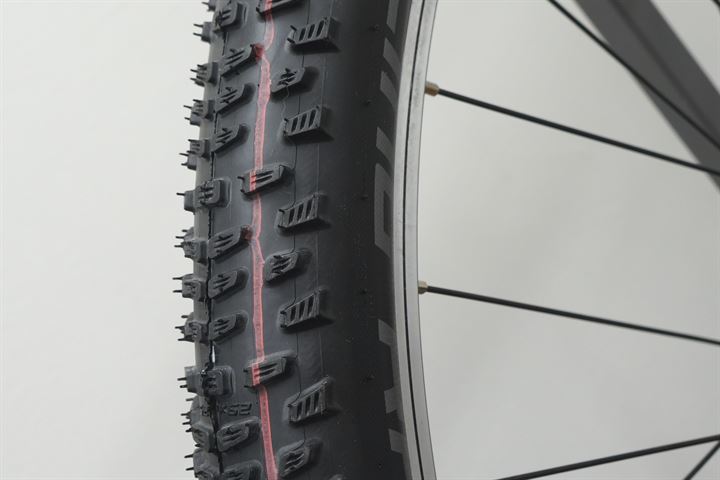 Size, Weight, and Thickness Measurements
Size, Weight, and Thickness Measurements
Specified Weight
625 grams
Measured Weight
609 grams
Measured Width Carcass
53 mm (un-round)
Measured Width Tread
56 mm
Measured Height
51 mm (un-round)
Measured Knob Height Center
2.3 mm
Measured Knob Height Edge
4.0 mm
Measured Total Thickness Center (excluding knobs)
1.5 mm
Measured Total Thickness Sidewall
Members Only
All size measurements are taken at an air pressure of 35 psi / 2.4 bars on a 17.8 mm inner width rim.
Rolling Resistance Test Results
Rolling Resistance Test Results
Inner Tube
None (40 ml sealant)

(current protocol)
Conti MTB 29 (225 gr butyl)

(test protocol)
Rolling Resistance
55 PSI / 3.8 Bar
Members Only
Members Only
Rolling Resistance
45 PSI / 3.1 Bar
Members Only
Members Only
Rolling Resistance
35 PSI / 2.4 Bar
20.2 Watts
CRR: 0.00606
23.7 Watts
CRR: 0.00710
Rolling Resistance
25 PSI / 1.7 Bar
22.5 Watts
CRR: 0.00674
27.0 Watts
CRR: 0.00809
All numbers are for a single tire at a speed of 29 km/h / 18 mph and a load of 42.5 kg / 94 lbs.

Use the formula: RR (Watts) = CRR * speed (m/s) * load (N) to calculate rolling resistance at a given speed and load.
Puncture Resistance Test Results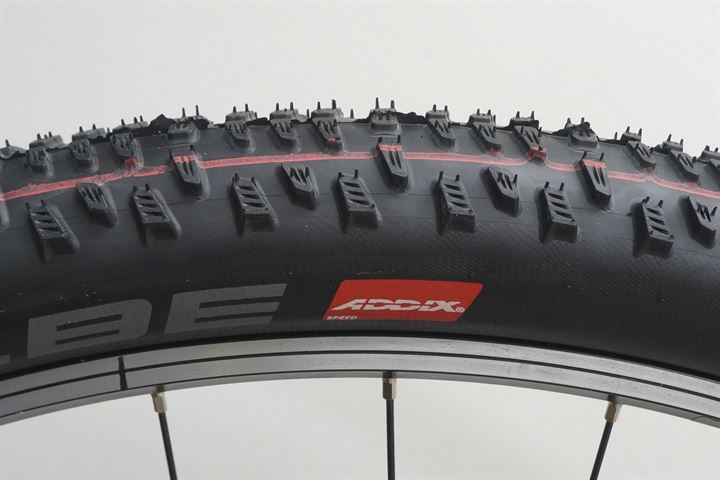 Puncture Resistance Test Results (higher is better)
Total Puncture Score Tread
20 Points
Total Puncture Score Sidewall
Members Only
Tread Puncture Force Sharp Needle
5 Points
Tread Puncture Force Blunt Needle
Members Only
Tread Total Tire Thickness
1.5 mm
Sidewall Puncture Force Sharp Needle
Members Only
Sidewall Puncture Force Blunt Needle
Members Only
Sidewall Total Tire Thickness
Members Only
Conclusion
Schwalbe Racing Ralph 2019 TLE Addix Speed
Performance compared to all other MTB tires
(100% is fastest - lightest - highest - strongest)
In 2019, we're still not convinced by the Addix Speed compound as it is not as fast as the older PaceStar compound that Schwalbe used up to 2017. Schwalbe made big claims about the Addix Speed compound being faster than the PaceStar compound but our tests once again indicate that's not true. To see this for yourself, you can now compare 3 generations of Schwalbe Racing Ralph TLE side by side on our website here: Racing Ralph TLE 2015 vs Racing Ralph TLE 2017 vs Racing Ralph TLE 2019
When we compare the new 2019 Racing Ralph to the 2017 Racing Ralph (read review) that uses the same compound, we see performance on our tests is very close. One positive thing is we now at least got a tire that weighed less than the specified weight. With such small differences, it's going to be up to your individual use case whether the new Racing Ralph is going to be an improvement or not.
Ad Buy Schwalbe Racing Ralph 2019 TLE Addix Speed at Amazon.com
RATING: 4.0 / 5
TEST VERDICT: Recommended
Comments