Touring Bike Tire Test:

Continental

Contact Urban
Continental Contact Urban
---
---
---
The Contact Urban is a new touring bike tire from Continental that comes with a modern look and feel. A couple of months back, we already tested its little brother, the Grand Prix Urban (read our review). While the Grand Prix Urban is targeted more towards performance, the Contact Urban comes closer to traditional touring bike tires as it's heavier and comes with more puncture protection.
Ad Buy Continental Contact Urban at Amazon.com
Together with the Continental Contact Urban test, we're introducing wet grip testing to the touring bike section. Today, you can find wet grip test results of 5 touring bike tires, and every new test in this category will also include the wet grip test from now on. We only re-tested 4 other touring bike tires as we only re-test tires newer than 3 years, and the touring bike section hasn't been all that popular. We hope the addition of the wet grip test will spark some new life into the touring bike section.
The Continental Contact Urban comes with a 3/180 TPI casing which is quite common on Continental tires. The compound is the PureGrip compound used on many other "medium-priced" tires from Continental, and it's ranked just behind their BlackChili compound. What seems new is the "SafetyPro" layer of anti-puncture material under the tread, which we haven't seen on any other Continental tire yet.
Before testing the Contact Urban, we already spotted one significant advantage over many of its competitors: it's available in a HUGE amount of different sizes. Check the table below to see all available sizes, but this tire should be on the list of everyone looking for 27.5", 26", 20", and even 16" tires.
Manufacturer Specifications
Manufacturer Specs
Brand
Continental
Model
Contact Urban
Year
2022
Supplied By
Bought in store
New or Used
New
Mileage
0 km
Price Range
Med
Buy At

Ad

Amazon.com
Manufacturer part number
0150351
TPI
3/180
Compound
PureGrip
Bead
Wire
ETRTO
40-622
Size Inch
28"
Width mm
40.00
Specified Weight
545 grams
Max Air Pressure (psi)
94
Made In
Members Only
Available Sizes
28-622 (700x28c)
32-622 (700x32c)
35-622 (700x35c)
37-622 (700x37c)
40-622 (700x40c)
42-622 (700x42c)
47-622 (700x47c)
50-622 (700x50c)
55-622 (700x55c)
42-584 (650x42b)
50-584 (650x50b)
55-584 (650x55c)
47-559
50-559
55-559
32-406
42-406
50-406
35-349
Continental Contact Urban Test Results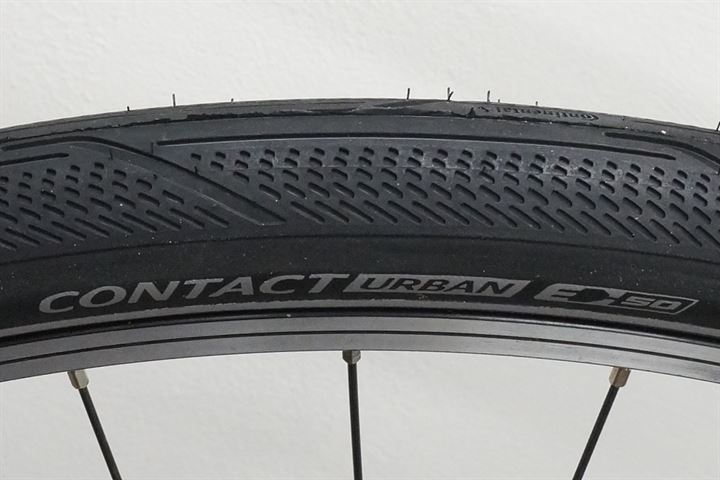 Size, Weight, and Thickness Measurements
Size, Weight, and Thickness Measurements
Specified Weight
545 grams
Measured Weight
538 grams
Measured Width
39 mm (un-round)
Measured Height
38 mm (un-round)
Tread Depth
1.3 mm
Total Tire Thickness Center
4.4 mm
Total Tire Thickness Sidewall
Members Only
All size measurements are taken at an air pressure of 60 psi / 4 bars on a 17.8 mm inner width rim.
Rolling Resistance Test Results
Rolling Resistance Test Results
Inner Tube
Conti Tour 28 (170 gr butyl)
Rolling Resistance
75 PSI / 5 Bar
16.9 Watts
CRR: 0.00507
Rolling Resistance
60 PSI / 4 Bar
18.4 Watts
CRR: 0.00552
Rolling Resistance
45 PSI / 3 Bar
Members Only
Rolling Resistance
30 PSI / 2 Bar
Members Only
All numbers are for a single tire at a speed of 29 km/h / 18 mph and a load of 42.5 kg / 94 lbs.

Use the formula: RR (Watts) = CRR * speed (m/s) * load (N) to calculate rolling resistance at a given speed and load.
Puncture Resistance Test Results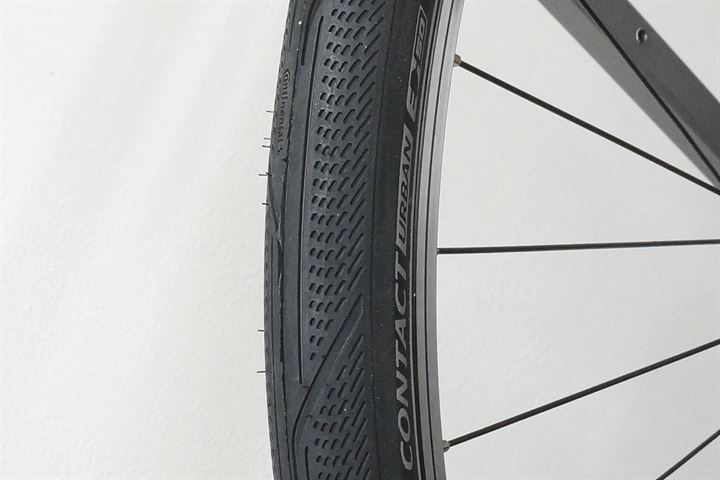 Puncture Resistance Test Results (higher is better)
Total Puncture Score Tread
95 Points
Total Puncture Score Sidewall
Members Only
Tread Puncture Force Sharp Needle
Members Only
Tread Puncture Force Blunt Needle
Members Only
Tread Total Tire Thickness
4.4 mm
Sidewall Puncture Force Sharp Needle
Members Only
Sidewall Puncture Force Blunt Needle
Members Only
Sidewall Total Tire Thickness
Members Only
Static Grip Test Results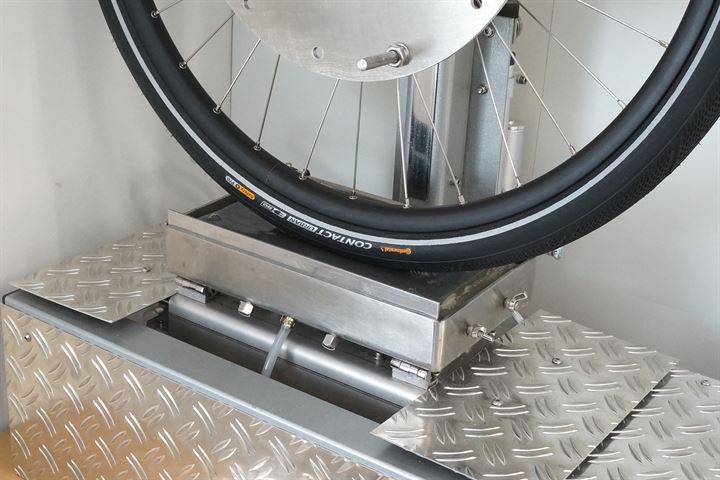 Static Grip Test Results
Wet Grip Average
81 Points
Wet Grip Center
Members Only
Wet Grip Edge
Members Only
Grip in points = coefficient of friction * 100
Conclusion
We're impressed by the performance of the Contact Urban, especially when considering its friendly price. It's one of the fastest rolling touring bike tires, offers excellent tread puncture resistance, and is simply the best performing tire in our wet grip test. The main weakness can be found in the sidewalls as they aren't really up to touring bike standards.
As the Contact Urban is available in so many different sizes, we want to dig a bit deeper into the wet grip test results. We've noticed over the years that bigger tires in the same series sometimes come with a softer compound than the smaller versions. The reason is that bigger tires can use softer compounds as the pressure per square mm of contact area is lower. In other words: a small tire with a very soft compound would wear too fast, and they require a harder compound to have the same durability.
We're not sure if Continental also does this with the Contact Urban, but we suggest getting at least the 40 mm version (on test here) if you're buying it because of the wet grip performance.
Ad Buy Continental Contact Urban at Amazon.com
RATING: 5.0 / 5
TEST VERDICT: Highly Recommended
Comments