Touring Bike Tire Test:

Continental

Top Contact II
Continental Top Contact II
---
---
---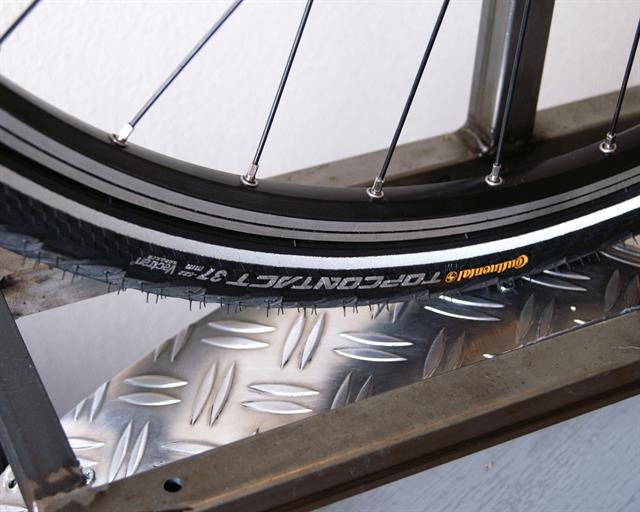 The Continental TopContact II is Continental's top of the line tour/e-bike tire. This tire is handmade in Germany, has folding beads, a 3/180 TPI carcass, state of the art rubber compound and a double layer of Vectran puncture protection. It also comes with the ECE-R75 certification which makes it suitable for up to 50 km/h e-bikes. Continental claims this to be the ultimate tour/e-bike tire with a low rolling resistance, high puncture protection, and long life.
Ad Buy Continental Top Contact II at Amazon.com
The double layer of Vectran puncture protection used in the TopContact is the same material Conti uses in their top performing road bike tires like the Grand Prix 4000S II and Grand Prix 4-Season. Those tires are among the top performers in the rolling resistance and puncture resistance tests. The double layer of Vectran is much lighter and thinner than the softer but thicker material the Schwalbe Marathon uses to protect against punctures. This offers a different kind of puncture protection, both have pros and cons.
Because this is a 'premium' tire, it also comes at a premium price. The TopContact II is a good bit more expensive than our favorite tire: the Schwalbe Marathon (read review). It's obvious this higher price also ups our expectations. Let's see how it performs on our tests.
Manufacturer Specifications
Manufacturer Specs
Brand
Continental
Model
Top Contact II
Year
2015
Supplied By
Supplied by Continental
New or Used
New
Mileage
0 km
Price Range
High
Buy At

Ad

Amazon.com
Manufacturer part number
0100441
TPI
3/180
Compound
Bead
Folding
ETRTO
37-622
Size Inch
28"
Width mm
37.00
Specified Weight
600 grams
Max Air Pressure (psi)
88
Made In
Members Only
Available Sizes
47-622 (28x1.75)
42-622 (28x1.60)
37-622 (28x1.40)
50-559 (26x2.00)
Continental Top Contact II Test Results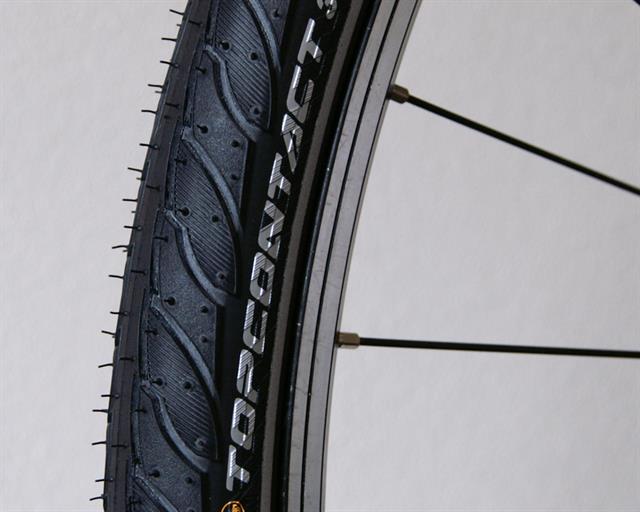 Size, Weight, and Thickness Measurements
Size, Weight, and Thickness Measurements
Specified Weight
600 grams
Measured Weight
584 grams
Measured Width
37 mm (un-round)
Measured Height
35 mm (un-round)
Tread Depth
2.5 mm
Total Tire Thickness Center
4.4 mm
Total Tire Thickness Sidewall
Members Only
All size measurements are taken at an air pressure of 60 psi / 4 bars on a 17.8 mm inner width rim.
Specified weight of the 37-622 TopContact II is 600 grams, my sample comes in at 584 grams. The measured width on a 17C rim is 37 mm, height is 35 mm. It's nice to see a tire that's rated to be 37 mm wide to actually have a width of 37 mm. Most other 37-622 tires seem to measure less than 37 mm.
I've measured tread depth at 2.5 mm, which is the highest value I've measured up to now. This is a good indication that service life will be good. The Total Tire Thickness Tread measurement comes in at 4.4 mm. 4.4 mm is much less than the 7.3 mm of the Schwalbe Marathon, which uses a 3 mm thick anti-puncture layer. Total Tire Thickness Sidewall comes in at 1.05 mm, which is also on the low side.
Rolling Resistance Test Results
Rolling Resistance Test Results
Inner Tube
Conti Tour 28 (170 gr butyl)
Rolling Resistance
75 PSI / 5 Bar
22.1 Watts
CRR: 0.00662
Rolling Resistance
60 PSI / 4 Bar
24.2 Watts
CRR: 0.00725
Rolling Resistance
45 PSI / 3 Bar
Members Only
Rolling Resistance
30 PSI / 2 Bar
Members Only
All numbers are for a single tire at a speed of 29 km/h / 18 mph and a load of 42.5 kg / 94 lbs.

Use the formula: RR (Watts) = CRR * speed (m/s) * load (N) to calculate rolling resistance at a given speed and load.
With the lower weight and thin anti-puncture layer, the TopContact should rock in the rolling resistance test, Right? Not exactly. Rolling resistance is higher than the Schwalbe Marathon (read review) at all air pressures. At very high air pressures, even the cheaper Continental Contact has a slightly lower rolling resistance. The TopContact improves at the lower end of the air pressure range.
Although the TopContact has a higher rolling resistance than the Schwalbe Marathon, it isn't a slow tire. On average there seems to be only a 3 watts per tire disadvantage, which will be hard to notice and can easily be made up by other factors like better service life or grip on wet roads.
Puncture Resistance Test Results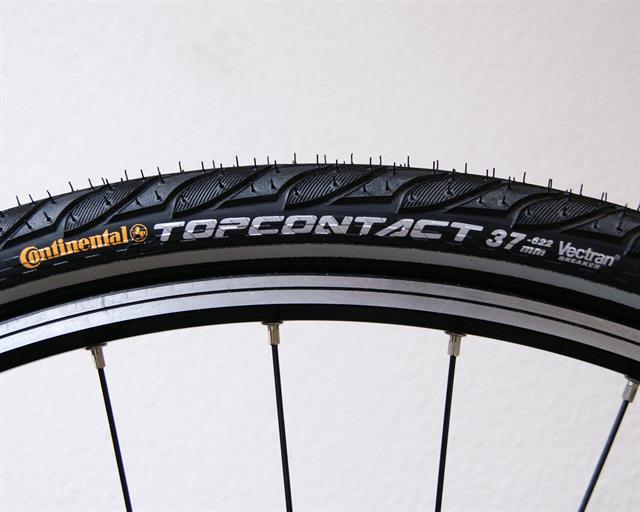 Puncture Resistance Test Results (higher is better)
Total Puncture Score Tread
95 Points
Total Puncture Score Sidewall
Members Only
Tread Puncture Force Sharp Needle
16 Points
Tread Puncture Force Blunt Needle
No Data
Tread Total Tire Thickness
4.4 mm
Sidewall Puncture Force Sharp Needle
Members Only
Sidewall Puncture Force Blunt Needle
No Data
Sidewall Total Tire Thickness
Members Only
In the puncture resistance test, which measures the force required to puncture the tire, the TopContact performs excellently. With a score of 16 points in the tread test, it scores 2 points more than the Marathon. In the sidewall test, it performs great as well. With a score of 6 points, it scores 1 point more than the Marathon.
Because the TopContact doesn't use a thick layer of puncture protection material, Puncture Factor comes in lower for both the Tread and Sidewall calculations. With a tire thickness of only 4.4 mm at the center of the tire, Puncture Factor Tread ends up at 70 points. With sidewalls with a thickness of just 1.05 mm thick, Puncture Factor Sidewall ends up at 6 points, which is average.
Static Grip Test Results
NOTE: Grip test data is only available on tires tested after November 2018. You can find more information about our grip test here: Introducing Grip Testing
Static Grip Test Results
Wet Grip Average
No Data
Wet Grip Center
No Data
Wet Grip Edge
No Data
Grip in points = coefficient of friction * 100
Conclusion
The Continental TopContact II doesn't impress, rolling resistance is higher than I expected from the top of the line Continental touring bike/e-bike tire. It does perform very well in the raw puncture resistance tests. Puncture Factor, on the other hand, is only average because of the absence of a thick anti-puncture layer. The pros are a good tread depth, good volume, and a low weight.
The TopContact isn't a bad tire, but based on our tests, I would prefer the Schwalbe Marathon (read review) as it performs better in almost all tests and is available at a much lower price point. If you're willing to spend, it might be worth trying.
Ad Buy Continental Top Contact II at Amazon.com
RATING: 3.0 / 5
TEST VERDICT: Recommended
Comments