Road Bike Tire Test:

Veloflex

Corsa Evo TLR
---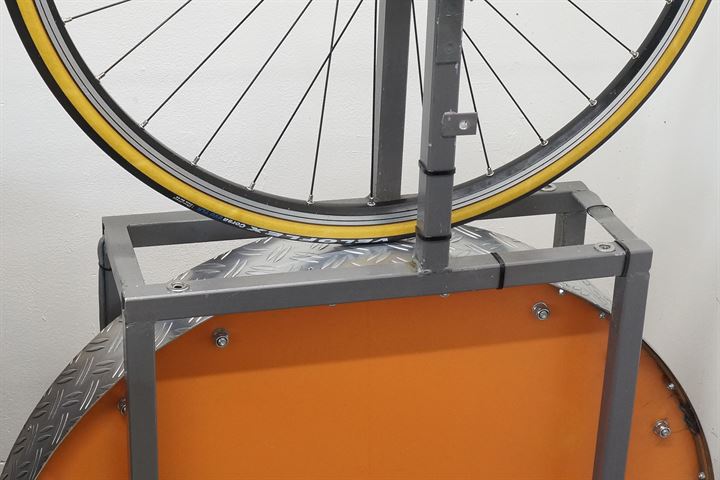 Veloflex is a small tire company that designs and manufactures handmade cotton tires in Italy. Veloflex revamped many of their tires in 2020 and released their first tubeless-ready road bike tires with the Corsa Race TLR and Corsa Evo TLR. The Corsa Race is the fastest, with the Evo version being oriented a bit more towards durability.
The main difference between the Corsa Race TLR (read our review) and Corsa Evo TLR seems to be the casing which is 350 TPI corespun on the Corsa Race TLR and 320 TPI corespun on the Corsa Evo. The 320 TPI casing is slightly thicker and should make the Evo TLR a bit more durable and puncture-resistant when compared to the thinner and lighter 350 TPI casing.
When we look at all the other specifications, there don't appear to be many other differences. The specified weight of the Evo TLR is just 10 grams higher than the Race TLR, which is an indication that the casing is the only thing that's changed. Both tires come with the same Air-Lock membrane and non-extendable Zylon beads that make it tubeless-ready. The tread is also the same as both tires use the "natural rubber and silica exclusive" compound and the same RKB (Resilient Kinetic Belt) to add extra puncture protection
Mounting the Corsa Evo TLR was very similar to the Corsa Race TLR, as it was effortless to get onto the rim but required an air compressor to get the tire inflated (may be different on other rims). Sealing also wasn't that spectacular as this tire requires a couple of hours for the sealant to do its job; you can't just mount these and go for a ride as you won't get far.
Unlike the Race TLR that's only available in the 25-622 size, you can get the Evo TLR in both the 25-622 and 28-622 sizes. If you like cotton tires with gum/tan sidewalls, the Evo TLR and Race TLR are pretty much the only option for tubeless tires.
Manufacturer Specifications
Manufacturer Specifications
Brand
Veloflex
Model
Corsa Evo TLR
Year
2021
Tire Type
Tubeless
Supplied By
Bought in store
New or Used
New
Mileage
0 km
Price Range
High
Buy At
Manufacturer part number
TE25G
EAN
8033959675250
TPI
320
Compound
Natural rubber silica
Bead
Folding
ETRTO
25-622
Size Inch
28"
Specified Width (mm)
25
Specified Weight
235 grams
Max Air Pressure (psi)
115
Made In
Members Only
Available Sizes
25-622 (700x25c)
28-622 (700x28c)
Veloflex Corsa Evo TLR Test Results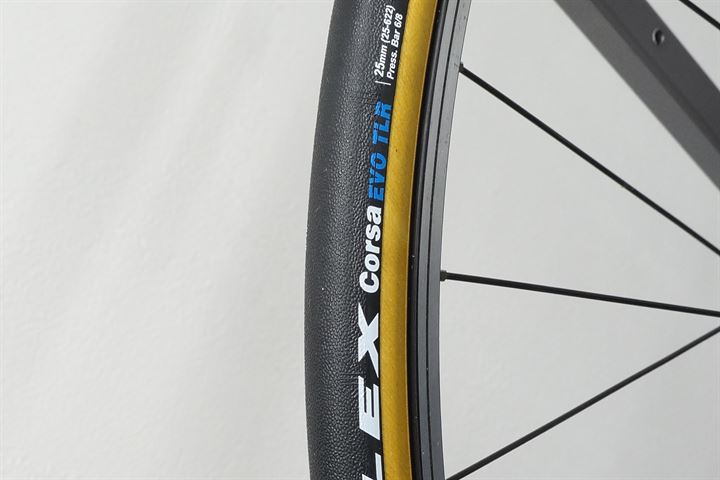 Size, Weight, and Thickness Measurements
advertisement
Size, Weight and Thickness Measurements
Specified Weight
235 grams
Measured Weight
236 grams
System Adjusted Weight
(tire + valve + rim seal)
256 grams
Measured Width
25 mm (un-round)
Measured Height
22 mm (un-round)
Total Tire Thickness Center
2.4 mm
Total Tire Thickness Sidewall
Members Only
Unmounted Casing Width
67 mm
Unmounted Tread Width
Members Only
Tread Cover (Tread / Casing Ratio)
Members Only
All size measurements are taken at an air pressure of 100 psi / 6.9 bars on a 17.8 mm inner width rim.
Rolling Resistance Test Results
Rolling Resistance Test Results
Inner Tube
None (20 ml sealant)
Rolling Resistance
140 PSI / 9.7 Bar
Not Tested
Rolling Resistance
120 PSI / 8.3 Bar
11.9 Watts
CRR: 0.00357
Rolling Resistance
100 PSI / 6.9 Bar
12.8 Watts
CRR: 0.00384
Rolling Resistance
80 PSI / 5.5 Bar
Members Only
Rolling Resistance
60 PSI / 4.1 Bar
Members Only
All numbers are for a single tire at a speed of 29 km/h / 18 mph and a load of 42.5 kg / 94 lbs.

Use the formula: RR (Watts) = CRR * speed (m/s) * load (N) to calculate rolling resistance at a given speed and load.
Puncture Resistance Test Results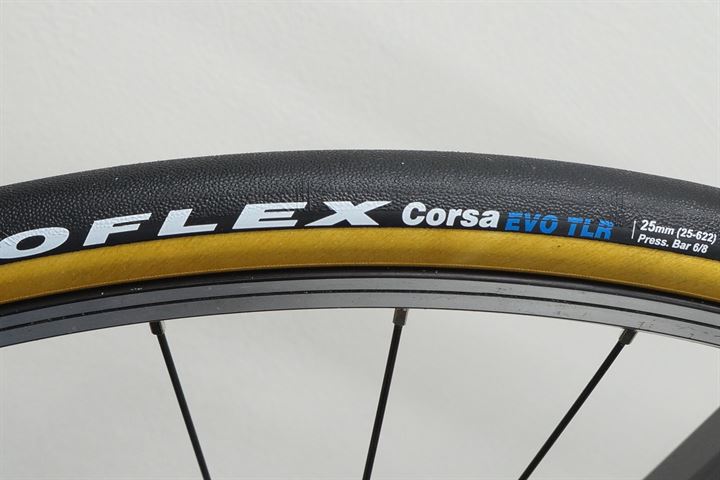 Puncture Resistance Test Results (higher is better)
Total Puncture Score Tread
60 Points
Total Puncture Score Sidewall
Members Only
Tread Puncture Force Sharp Needle
Members Only
Tread Puncture Force Blunt Needle
Members Only
Tread Total Tire Thickness
2.4 mm
Sidewall Puncture Force Sharp Needle
Members Only
Sidewall Puncture Force Blunt Needle
Members Only
Sidewall Total Tire Thickness
Members Only
Static Grip Test Results
NOTE: Grip test data is only available on tires tested after November 2018. You can find more information about our grip test here: Introducing Grip Testing
Static Grip Test Results
Wet Grip Average
68 Points
Wet Grip Center
Members Only
Wet Grip Edge
Members Only
Grip in points = coefficient of friction * 100
Conclusion
Performance of the Veloflex Corsa Evo TLR comes very close to the Veloflex Corsa Race TLR (read our review) with the Evo TLR having a slight edge in puncture resistance at the cost of a 12% higher rolling resistance.
We're not sure if the durability of the tread will be higher than on the Race TLR as there hardly is a difference when we look at the total tire thickness at the center of the tread and consider that some of that 0.2 mm is consumed by the slightly thicker casing. The weight is still exceptionally low for a tubeless-ready road bike tire that offers good puncture resistance.
If you have to choose between the Evo TLR and Race TLR, it's going to be up to you to decide which will suit you best. In that case, we recommend you to jump over to our comparison section and compare them side by side: Veloflex Corsa Evo TLR Vs Veloflex Corsa Race TLR.
RATING: 4.0 / 5
TEST VERDICT: Recommended
Comments