Road Bike Tire Test:

Veloflex

Corsa Race TLR
---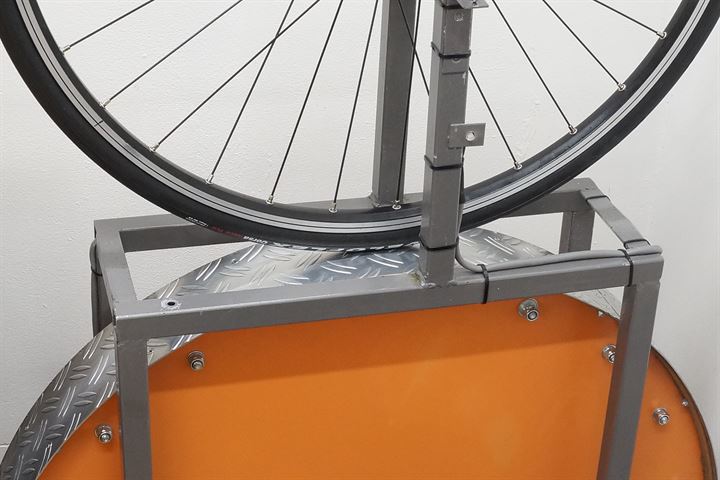 Veloflex is a small tire company that designs and manufactures its handmade cotton tires in Italy. Veloflex revamped a lot of their tires in 2020 and also released their first tubeless-ready road bike tires with the Corsa Race TLR and Corsa Evo TLR. The Corsa Race is the fastest of these with the Evo version being oriented a bit more towards durability.
The Veloflex Corsa Race TLR comes with a 350 TPI Corespun casing with an extra layer of "Air Lock Membrane" that, together with sealant, minimizes air loss. Under the tread section, we find an extra layer of "RKB (Resilient Kinetic Belt)" that helps reduce punctures of the tread. The rubber compound is a "natural rubber and silica exclusive compound" that is designed for high grip and low rolling resistance.
For a tubeless-ready road bike tire, the Corsa Race TLR is an exceptionally light tire given that it still includes an anti-puncture belt and a reasonable amount of tread thickness. Our sample even came in a couple of grams below the specified weight which is always nice.
If you're into cotton tires and like the look of the light-colored sidewalls, the good news is that even the tubeless versions of the Veloflex Corsa are available with both black as well as light-colored sidewalls. If you want that cotton tire look and tubeless tires, this is the real deal.
Mounting the Corsa Race TLR was relatively easy as it went onto the rim very easily. Inflation was a bit harder as we couldn't inflate it with a simple floor pump but needed to use our compressor. With the compressor, it was easy as we could still leave the valve core in place. Sealing wasn't very good for the first 2-3 hours as this tire definitely needs some time for the sealant to do its work. After testing and about 5 hours later, the tire held air really well.
Manufacturer Specifications
Manufacturer Specifications
Brand
Veloflex
Model
Corsa Race TLR
Year
2021
Tire Type
Tubeless
Supplied By
Bought in store
New or Used
New
Mileage
0 km
Price Range
High
Buy At
Manufacturer part number
TR25B
EAN
8033959675359
TPI
350
Compound
Natural rubber silica
Bead
Folding
ETRTO
25-622
Size Inch
28"
Specified Width (mm)
25
Specified Weight
225 grams
Max Air Pressure (psi)
116
Made In
Members Only
Available Sizes
25-622 (700x25c)
Veloflex Corsa Race TLR Test Results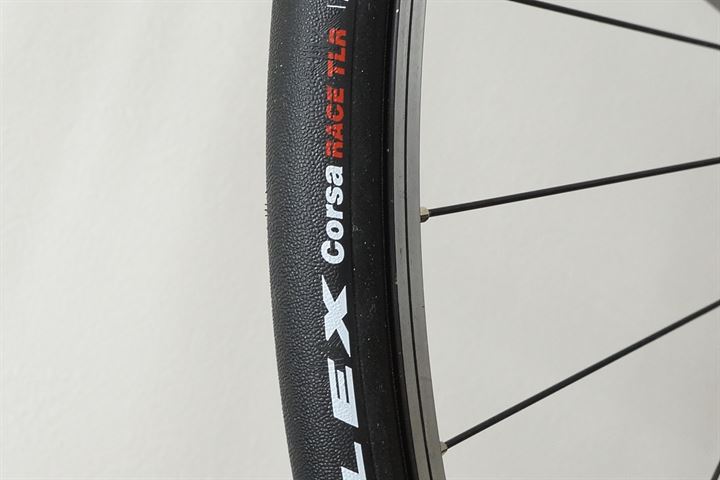 Size, Weight, and Thickness Measurements
advertisement
Size, Weight and Thickness Measurements
Specified Weight
225 grams
Measured Weight
222 grams
System Adjusted Weight
(tire + valve + rim seal)
242 grams
Measured Width
26 mm (un-round)
Measured Height
22 mm (un-round)
Total Tire Thickness Center
2.2 mm
Total Tire Thickness Sidewall
Members Only
Unmounted Casing Width
67 mm
Unmounted Tread Width
Members Only
All size measurements are taken at an air pressure of 100 psi / 6.9 bars on a 17.8 mm inner width rim.
Rolling Resistance Test Results
Rolling Resistance Test Results
Inner Tube
None (20 ml sealant)
Rolling Resistance
140 PSI / 9.7 Bar
Not Tested
Rolling Resistance
120 PSI / 8.3 Bar
10.6 Watts
CRR: 0.00318
Rolling Resistance
100 PSI / 6.9 Bar
11.4 Watts
CRR: 0.00342
Rolling Resistance
80 PSI / 5.5 Bar
Members Only
Rolling Resistance
60 PSI / 4.1 Bar
Members Only
All numbers are for a single tire at a speed of 29 km/h / 18 mph and a load of 42.5 kg / 94 lbs.

Use the formula: RR (Watts) = CRR * speed (m/s) * load (N) to calculate rolling resistance at a given speed and load.
Puncture Resistance Test Results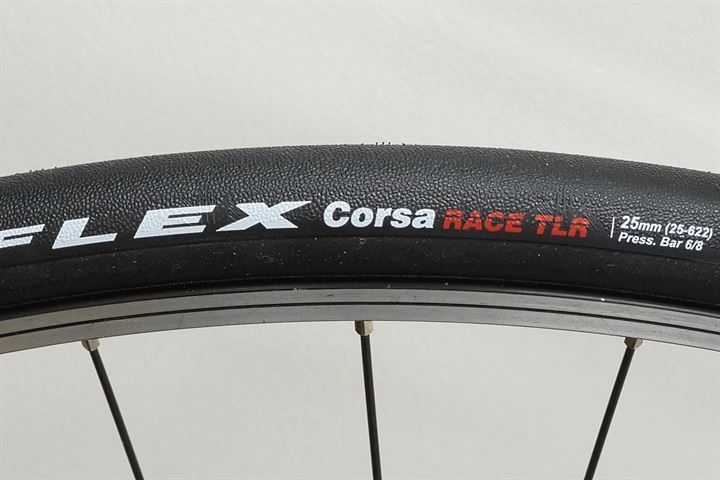 Puncture Resistance Test Results (higher is better)
Total Puncture Score Tread
58 Points
Total Puncture Score Sidewall
Members Only
Tread Puncture Force Sharp Needle
Members Only
Tread Puncture Force Blunt Needle
Members Only
Tread Total Tire Thickness
2.2 mm
Sidewall Puncture Force Sharp Needle
Members Only
Sidewall Puncture Force Blunt Needle
Members Only
Sidewall Total Tire Thickness
Members Only
Static Grip Test Results
NOTE: Grip test data is only available on tires tested after November 2018. You can find more information about our grip test here: Introducing Grip Testing
Static Grip Test Results
Wet Grip Average
66 Points
Wet Grip Center
Members Only
Wet Grip Edge
Members Only
Grip in points = coefficient of friction * 100
Conclusion
The Veloflex Corsa Race TLR is a remarkable tire as it offers an exceptionally low weight yet still performs very strong in the puncture tests of the tread. Rolling resistance isn't the absolute lowest but still very strong, especially at the lower air pressures. Tread thickness isn't at the levels of some other tires but still better than tires that are made for the absolute lowest rolling resistance.
We really like the Veloflex Corsa TLR as it is an original design for a tubeless tire and uses some stuff that we haven't seen before. If you're looking for tubeless-ready cotton tires that offer enough puncture resistance for most situations and even are available with the classic light-colored sidewalls, the Veloflex Corsa Race TLR would be our recommendation.
RATING: 4.3 / 5
TEST VERDICT: Highly Recommended
Comments