---
Touring Bike Tire Test:

Vittoria

Voyager Hyper
---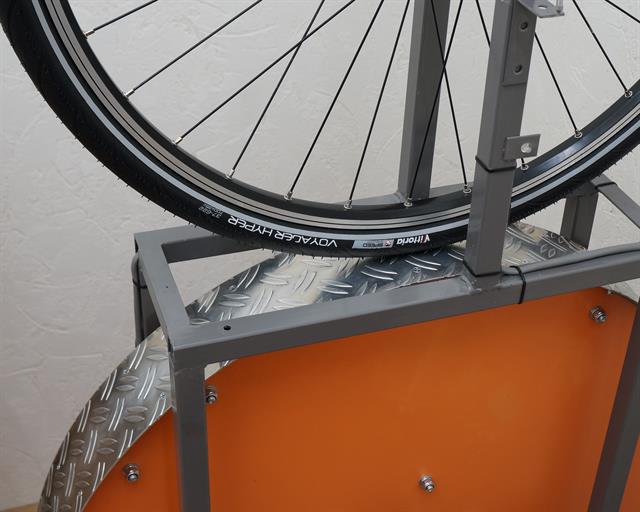 The Voyager Hyper is Vittoria's lightest and fastest touring bike tire. Vittoria specifies the Voyager Hyper as an ultra-light touring bike tire that inherits most of the technology that's also used on their fastest road bike tires. With a specified weight of just 395 grams for the 37-622 version, this is indeed one of the lightest touring bike tires on the market. The 37-622 version is used for this test, 32-622 and 40-622 sizes are available as well.
Ad Buy Cycling Equipment at Amazon.com
Although the Voyager Hyper is very similar to a big road bike tire, it does come with a layer of "Speed Shielding" puncture resistance material. The extra layer of puncture resistance material prevents punctures while still providing a low rolling resistance and weight. Furthermore, the Voyager Hyper has a 120 TPI nylon casing, Kevlar 3D compound, and an almost slick tread design that gives it a fast look.
After testing the Vittoria Randonneur (read review) some time ago, I'm looking forward to testing another Vittoria touring bike tire to see if Vittoria can challenge Schwalbe for the lowest rolling resistance touring bike tire. The Voyager Hyper seems very similar to the Schwalbe Marathon Supreme (read review) that I've tested recently as well, the Supreme will be the main tire to compare this tire with for now.
advertisement
Manufacturer Specifications
Manufacturer Specs
Brand
Vittoria
Model
Voyager Hyper
Year
2016
Supplied By
Bought in store
New or Used
New
Mileage
0 km
Price Range
High
Buy At
Manufacturer part number
111.3VH.20.37.111BX
TPI
120
Compound
Aramid 3D
Bead
Folding
ETRTO
37-622
Size Inch
28"
Width mm
37.00
Specified Weight
395 grams
Max Pressure
90
Made In
Thailand
Available Sizes
40-622 (28x1.50)
37-622 (28x1.40)
32-622 (28x1.25)
Vittoria Voyager Hyper Test Results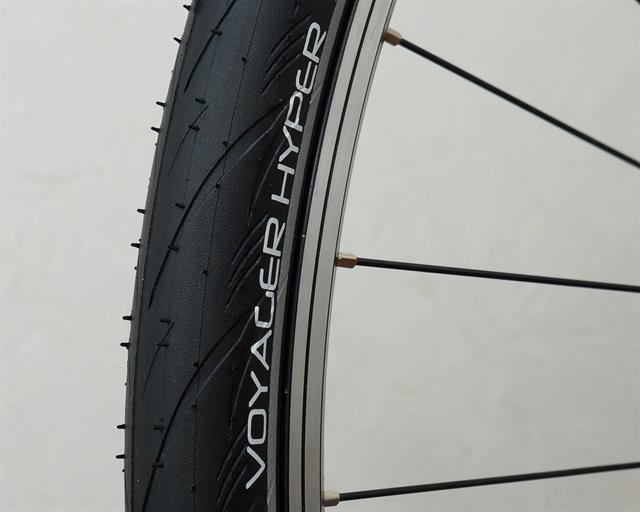 Size, Weight, and Thickness Measurements
advertisement
Size, Weight, and Thickness Measurements (Bike Wheel: 622-17C, Pressure: 60 psi / 4 bar)
Specified Weight
395 grams
Measured Weight
415 grams
Measured Width
37 mm
Measured Height
35 mm
Tread Depth
0.8 mm
Total Tire Thickness Center
3.3 mm
Total Tire Thickness Sidewall
0.80 mm
Although the specified weight of the 37-622 Voyager Hyper is 395 grams, my sample of the Voyager Hyper comes in at 415 grams. The measured width on a 17C rim, at an air pressure of 60 psi is 37 mm. 37 mm is nice for a 37-622 rated tire and a bit bigger than the Schwalbe Marathons of the same size. The measured height is 35 mm, which is good as well.
As expected from a tire with an almost slick tread design, tread depth of the main grooves is low at just 0.8 mm deep. What's more interesting with (almost) slick tires is the Total Tire Thickness Tread measurement which tells us how much rubber is on the tire. With a thickness of 3.3 mm at the center of the tread, thickness is comparable to fast road bike tires but much less than most other touring bike tires. The Schwalbe Marathon Supreme has a thickness of 5 mm which means it has almost twice as much rubber to wear down.
The total thickness of the sidewalls is 0.8 mm, which is reasonable for such a light tire. 0.8 mm is slightly more than the Marathon Supreme which came in at 0.7 mm.
Rolling Resistance Test Results
Rolling Resistance Test Results (Speed: 29 kmh / 18 mph / 8 m/s, Load: 42.5 kg / 417 N)
Inner Tube
Conti Tour 28 (170 gr butyl)
Rolling Resistance
90 PSI / 6 Bar
14.8 Watts
CRR: 0.00444
Rolling Resistance
75 PSI / 5 Bar
15.5 Watts
CRR: 0.00465
Rolling Resistance
60 PSI / 4 Bar
17.7 Watts
CRR: 0.00531
Rolling Resistance
45 PSI / 3 Bar
21.1 Watts
CRR: 0.00632
Rolling Resistance
30 PSI / 2 Bar
27.7 Watts
CRR: 0.00830
Use the formula: RR (Watts) = CRR * speed (m/s) * load (N) to calculate rolling resistance at a given speed and load.
In the rolling resistance test, the Voyager Hyper performs very, very strong for a touring bike tire. It outperforms the Schwalbe Marathon Supreme by close to 10% at the higher end of the air pressure range. At the lower end of the air pressure range, the advantage of the Voyager Hyper grows to close to 15%.
When we compare the Voyager Hyper to fast road bike tires, rolling resistance is almost just as low. Although rolling resistance is slightly lower than the top performing all-round tires like the Continental GP4000S II (read review) or Vittoria Open Corsa (read review) , it does come very close to tires like the Vittoria Rubino Pro (read review), Michelin Pro 4 Service Course (read review), or Continental Grand Prix (read review) . It's obvious you don't need fragile and light tires to have a low rolling resistance.
Puncture Resistance Test Results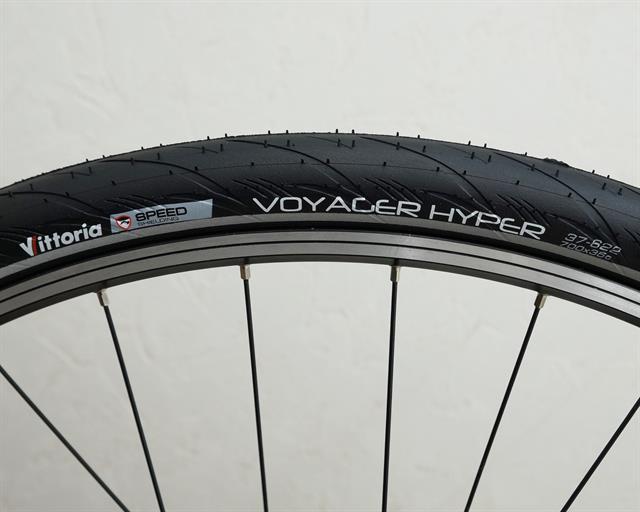 Puncture Resistance Test Result (higher is better)
Puncture Resistance Tread
12 Points
Puncture Resistance Sidewall
6 Points
Puncture Factor Tread *
40 Points
Puncture Factor Sidewall *
5 Points
* Puncture Factor = Puncture Resistance * Total Tire Thickness.
Puncture Factor provides a more realistic puncture resistance score for touring tires
In the raw puncture resistance tread test, the Voyager Hyper scores 12 points. 12 points is a bit less than the Marathon Supreme which scored 15 points. In the sidewall test, it does outperform the Supreme by 2 points (4 Vs 6). When compared to fast road bike tires, performance is decent as most other all-round tires in the road bike class score close to 12 points in the tread test as well.
Because the Voyager Hyper has a very low total tire thickness at the center of the tire, Puncture Factor is very low. With a Puncture Factor Tread score of just 40 points, it sits at the bottom of the touring bike category. The Marathon Supreme scores 75 points in this test which is almost twice as much. With a score of 5 points, the Voyager Hyper does outperform the Supreme (3 points) in the Puncture Factor Sidewall calculation.
Conclusion
The Vittoria Voyager Hyper is pretty much a big road bike tire disguised as a touring bike tire. Rolling resistance at an air pressure of 90 psi is comparable to all-round road bike tires pumped up to 120 psi. When compared to other touring bike tires, the low rolling resistance does come at the cost of a low total tire thickness (less rubber to wear down) and low puncture resistance.
I rate the Voyager Hyper 5/5 because it sits at the top of the touring bike category for now and rolling resistance is still the most important factor here. I must add that the Schwalbe Marathon Supreme (read review) is probably the better all-round tire when you look at the big picture and consider other things like the amount of rubber to wear down and puncture resistance. If you want the absolute lowest rolling resistance, the Voyager Hyper is the tire to get.
Ad Buy Cycling Equipment at Amazon.com
RATING: 5 / 5
TEST VERDICT: Highly Recommended
Comments