Road Bike Tire Test:

Vittoria

Corsa G+ 1.0 (open) 25
Vittoria Corsa G+ 1.0 (open) 25
---
---
---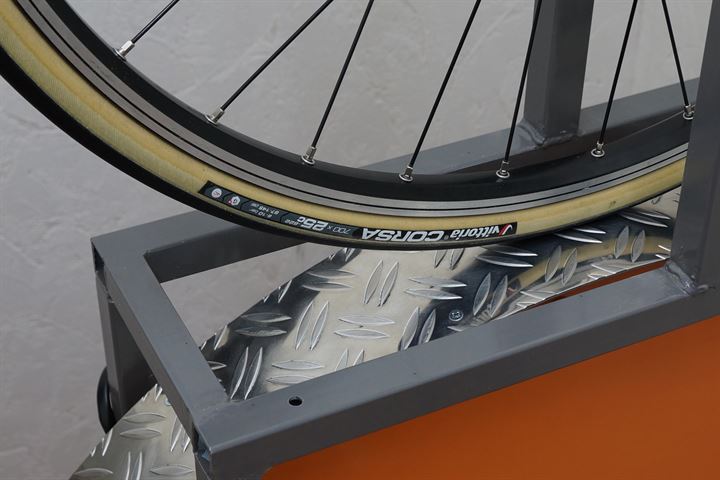 NOTE: We have a test available of a newer version of this tire: Vittoria Corsa G+ 2.0 (open) 2019
The Vittoria Corsa G+ with the all new G+ Isotech compound replaces both the Corsa SC and CX as Vittoria's top of the line all-round competition tires. This is a review of the "open tubular" version, a new tubular Corsa is available as well. Vittoria claims this to be a revolutionary tire because they now use a graphene compound. They claim graphene doesn't require as many compromises and is superior in speed, grip, durability, and wear resistance.
Ad Buy Cycling Equipment at Amazon.com - Tires, Parts, and Bikes
The Corsa G+ uses four different versions of the new graphene compound on a single tire, which is quite a unique feature by itself. Unfortunately, compared to the older Corsa, weight has gone up a bit to a claimed weight of 240 grams for the 25-622 Corsa G+ versus 220 grams for the older 25-622 Corsa CX III. I'm not sure why weight has gone up as it looks like they still use the same 320 TPI Corespun-K casing.
The Corsa G+ is available in 23, 25, and 28 mm wide versions with skin-colored sidewalls. I'm not sure if a version with black sidewalls will be released later, but the skin-colored sidewalls sure do look fast... Let's test this tire!
Manufacturer Specifications
Manufacturer Specifications
Brand
Vittoria
Model
Corsa G+ 1.0 (open)
Year
2016
Tire Type
Tubetype (clincher)
Supplied By
Bought in store
New or Used
New
Mileage
0 km
Price Range
High
Buy At
Manufacturer part number
111.3CX.00.25.411BX
TPI
320
Compound
4C G+ Isotech
Bead
Folding
ETRTO
25-622
Size Inch
28"
Specified Width (mm)
25
Specified Weight
240 grams
Max Air Pressure (psi)
145
Made In
Members Only
Available Sizes
23-622 (700x23C)
25-622 (700x25C)
28-622 (700x28C)
23-571 (650x23C)
Vittoria Corsa G+ 1.0 (open) 25 Test Results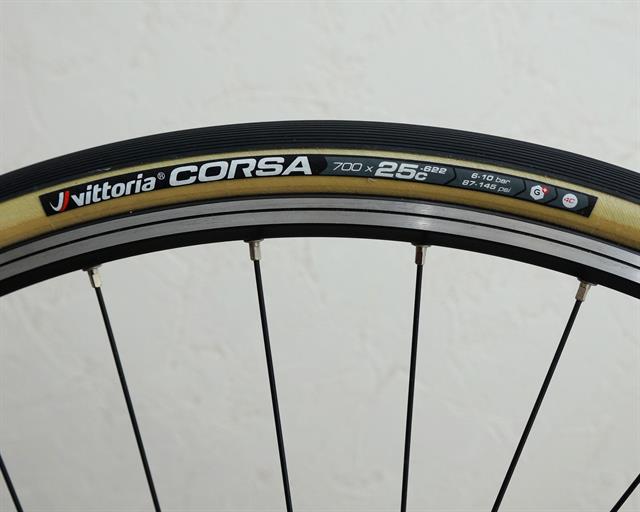 Size, Weight, and Thickness Measurements
Size, Weight and Thickness Measurements
Specified Weight
240 grams
Measured Weight
255 grams
System Adjusted Weight
(tire + inner tube (100 gr)
355 grams
Measured Width
27 mm (un-round)
Measured Height
24 mm (un-round)
Total Tire Thickness Center
2.4 mm
Total Tire Thickness Sidewall
Members Only
Unmounted Casing Width
No Data
Unmounted Tread Width
No Data
Tread Cover (Tread / Casing Ratio)
No Data
All size measurements are taken at an air pressure of 100 psi / 6.9 bars on a 17.8 mm inner width rim.
As previously mentioned, the claimed weight of the 25-622 version of the Corsa G+ is 240 grams. My sample came in at 255 grams; this is quite a bit higher than specified. Most of its direct competitors come in closer to 220-240 grams. The maximum width at an air pressure of 100 psi, on a 17C rim, is 27 mm. The measured height is 24 mm.
The total thickness of the tire at the center of the tread is 2.4 mm, this is a bit less than both the Grand Prix 4000S II (read review) and Schwalbe One (read review) and indicates there is less rubber on the tire. The sidewalls are quite thick with an average thickness of 0.75 mm. I must add this 0.75 mm measurement is the average between the thickness at the bead (1.0 mm) and thickness where the tread starts (0.5 mm).
Rolling Resistance Test Results
Rolling Resistance Test Results
Inner Tube
Conti Race28 (100gr butyl)
Measured Width
27 mm (un-round)
Rolling Resistance
Real tire width in mm:
22-24 = 132 psi/9.1 bar
25-27 = 120 psi/8.3 bar
28-29 = 108 psi/7.4 barUltra High Air Pressure
(120 psi / 8.3 bar)
12.2 Watts
CRR: 0.00366
Rolling Resistance
Real tire width in mm:
22-24 = 110 psi/7.6bar
25-27 = 100 psi/6.9 bar
28-29 = 90 psi/6.2 barExtra High Air Pressure
(100 psi / 6.9 bar)
12.9 Watts
CRR: 0.00387
Rolling Resistance
Real tire width in mm:
22-24 = 88 psi/6.1 bar
25-27 = 80 psi/5.5 bar
28-29 = 72 psi/5.0 barHigh Air Pressure
(80 psi / 5.5 bar)
Members Only
Rolling Resistance
Real tire width in mm:
22-24 = 66 psi/4.6 bar
25-27 = 60 psi/4.1 bar
28-29 = 54 psi/3.7 barMedium Air Pressure
(60 psi / 4.1 bar)
Members Only
The Road Bike section is a multi tire size section, air pressures have been adjusted to the measured casing width.

All numbers are for a single tire at a speed of 29 km/h / 18 mph and a load of 42.5 kg / 94 lbs.

Use the formula: RR (Watts) = CRR * speed (m/s) * load (N) to calculate rolling resistance at a given speed and load.
So does this new graphene stuff provide a lower rolling resistance? Yes! Rolling resistance is some 5-6% less than the older Corsa CX III which already had a low rolling resistance. At the very high air pressure of 120 psi, rolling resistance is 12.2 watts and is equal to the Continental GP4000S II. It is able to keep up this strong performance at 100 psi. At lower air pressures, the Corsa G+ gets outperformed slightly by the Conti.
I think it's safe to say the Corsa G+ is a decent improvement upon the older Corsa. I must add that the Corsa G+ has a maximum inflation pressure of 145 psi which is higher than most other 25 mm road bike tires. At this maximum air pressure, rolling resistance probably comes close to 11.8 watts. If you ride on very smooth surfaces and want to inflate to higher pressures, the Corsa will do better.
Puncture Resistance Test Results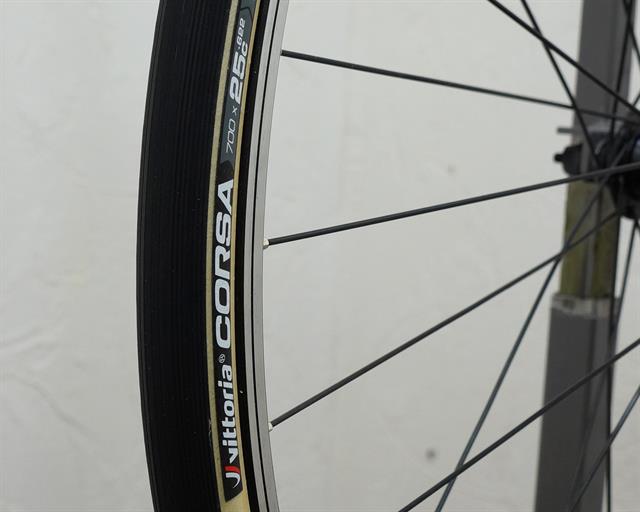 Puncture Resistance Test Results (higher is better)
Total Puncture Score Tread
47 Points
Total Puncture Score Sidewall
Members Only
Tread Puncture Force Sharp Needle
11 Points
Tread Puncture Force Blunt Needle
No Data
Tread Total Tire Thickness
2.4 mm
Sidewall Puncture Force Sharp Needle
Members Only
Sidewall Puncture Force Blunt Needle
No Data
Sidewall Total Tire Thickness
Members Only
With a score of 11 points in the puncture resistance tread test, puncture resistance is decent. It does score 1 point less than the older CX III, but this is probably the margin of error of the test. In the sidewall test, it gets to a score of 5 points which is similar to other tires as well. I didn't perform the sidewall test on the older Corsa as that test has been added recently.
Static Grip Test Results
NOTE: Grip test data is only available on tires tested after November 2018. You can find more information about our grip test here: Introducing Grip Testing
Static Grip Test Results
Wet Grip Average
No Data
Wet Grip Center
No Data
Wet Grip Edge
No Data
Grip in points = coefficient of friction * 100
Conclusion
I'm happy to see Vittoria's claims to be true. At least in the rolling resistance department, the new Corsa G+ is a good improvement upon its older predecessors. While it doesn't outperform the popular Continental GP4000S II (read review) or Schwalbe One (read review) in the rolling resistance test, I know there are people that wouldn't trade their Corsas for anything. If grip and wear have increased as well, these will be great tires.
If you want more speed than the Corsa G+, Vittoria sells the Corsa Speed G+ (read review) as well. The Corsa Speed has a non-reinforced carcass, thinner tread, less puncture protection and the open version comes as a tubeless-ready tire.
Ad Buy Cycling Equipment at Amazon.com - Tires, Parts, and Bikes
RATING: 5.0 / 5
TEST VERDICT: Highly Recommended
Comments