Vittoria

Corsa G+ 2.0 (open)

- Lab Test Review
---
---
Vittoria Corsa G+ 2.0 (open)
---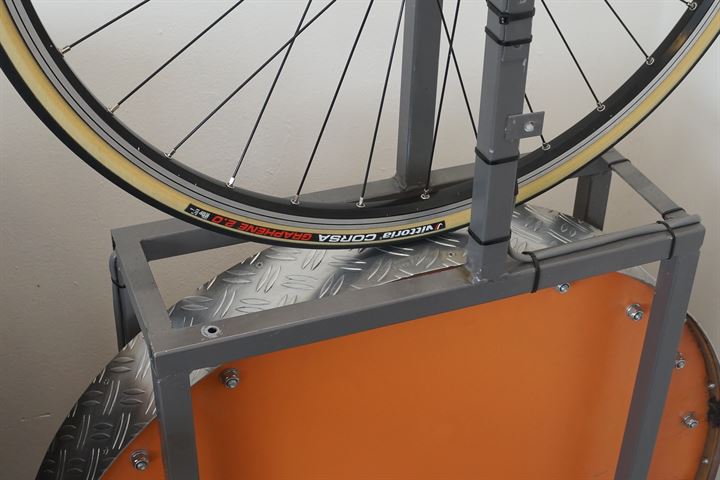 Vittoria recently announced they've improved their Graphene compound and released a new range of tires featuring the Graphene 2.0 compound. Vittoria claims they've made improvements to reduce rolling resistance, increase wear life, and improve grip on the sides. As it's very hard to make improvements to all important aspects of a compound at the same time, this is quite a bold claim by Vittoria.
Ad Buy Vittoria Corsa G+ 2.0 (open) at Amazon.com
We've tested the original Graphene compound in 2016 so we can directly compare the new tires to the old tires and see if Vittoria's claims make any sense (at least the rolling resistance part). The new cotton Corsa tires look very similar to the old except for the Graphene 2.0 part that's printed on the sidewalls. Vittoria also released a bigger size (30-622) and almost all sizes are available in full black or with para sidewalls.
Vittoria also released tubeless-ready (TLR) versions of the 25-622 and 28-622 sizes of the regular Corsa. With the previous generation, only the Corsa Speed was available as a TLR version (read review). The TLR version is about 35-40 grams heavier but should be a bit faster and lighter when used without an inner tube. For this test, we've used the regular Corsa 25-622 with para sidewalls as this is the exact substitute for the Corsa G 1.0 (read review) that we've tested back in 2016.
Manufacturer Specifications
Manufacturer Specifications
Brand
Vittoria
Model
Corsa G+ 2.0 (open)
Year
2019
Tire Type
Tubetype (clincher)
Supplied By
Bought in store
New or Used
New
Mileage
0 km
Price Range
High
Buy At

Ad

Amazon.com
Manufacturer part number
11A.00.092
EAN
8022530018838
TPI
320
Compound
4C G+ 2.0
Bead
Folding
ETRTO
25-622
Size Inch
28"
Specified Width (mm)
25
Specified Weight
255 grams
Max Air Pressure (psi)
145
Made In
Members Only
Available Sizes
23-622 (700x23c)
25-622 (700x25c)
28-622 (700x28c)
30-622 (700x30c)
23-571 (650x23B)
Vittoria Corsa G+ 2.0 (open) Test Results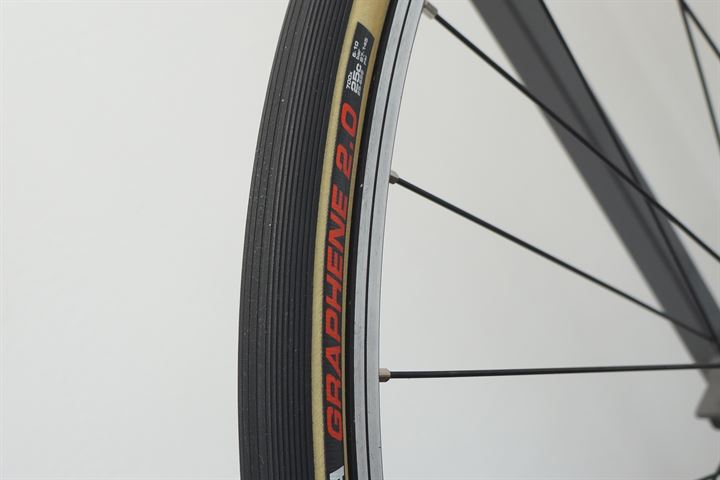 Size, Weight, and Thickness Measurements
advertisement
Size, Weight and Thickness Measurements
Specified Weight
255 grams
Measured Weight
260 grams
System Adjusted Weight
(tire + inner tube (100 gr)
360 grams
Measured Width
27 mm (un-round)
Measured Height
24 mm (un-round)
Total Tire Thickness Center
2.6 mm
Total Tire Thickness Sidewall
Members Only
Unmounted Casing Width
70 mm
Unmounted Tread Width
Members Only
All size measurements are taken at an air pressure of 100 psi / 6.9 bars on a 17.8 mm inner width rim.
Weight. It looks like Vittoria upped the specified weight of the 25-622 Corsa to 255 grams as according to our own data, the previous generation was specced at 240 grams. Our sample of the 25-622 Corsa G+ 2.0 comes in at 260 grams which is a bit over the specified weight. Our sample of the previous generation Corsa 25-622 (read review) came in at 255 grams so the new specified weight looks to be more realistic.
Size. It looks like size wise, the tires remain unchanged as both the new and old Corsa measure 27 mm wide and have a height of 24 mm on our 17 mm internal width rim.
Tire Thickness. The new Corsa G+ 2.0 comes with a bit more tread thickness as tread thickness has increased to 2.6 mm as opposed to the 2.4 mm thickness of the previous generation. 0.2 mm is only a very small difference so it's possible this is up to manufacturing tolerances and accuracy of our measurements.
The sidewalls also measure a bit thicker at 0,90 mm as compared to the 0,75 mm of the previous generation. Again this could be up to manufacturing tolerances or our own measuring accuracy.
The sidewalls of the cotton tires are actually quite hard to measure as the lower part of the sidewall is made up of a double layer of cotton. Our measurement is the average thickness of the sidewall.
Rolling Resistance Test Results
Rolling Resistance Test Results
Inner Tube
Conti Race28 (100gr butyl)
Rolling Resistance
140 PSI / 9.7 Bar
Not Tested
Rolling Resistance
120 PSI / 8.3 Bar
13.0 Watts
CRR: 0.00390
Rolling Resistance
100 PSI / 6.9 Bar
14.0 Watts
CRR: 0.00420
Rolling Resistance
80 PSI / 5.5 Bar
Members Only
Rolling Resistance
60 PSI / 4.1 Bar
Members Only
All numbers are for a single tire at a speed of 29 km/h / 18 mph and a load of 42.5 kg / 94 lbs.

Use the formula: RR (Watts) = CRR * speed (m/s) * load (N) to calculate rolling resistance at a given speed and load.
Unfortunately, we can't confirm Vittoria's claim of reduced rolling resistance of the Graphene 2.0 compound. At the high air pressure of 120 psi / 8.3 bars, the Corsa G 2.0 comes in at 13.0 watts while the Corsa G 1.0 came in at 12.2 watts. Although 0.8 watts isn't a big difference, it's opposite to Vittoria's claim of reduced rolling resistance. We would have been happy if the new Corsa came in somewhere around 11 watts at 120 psi / 8.3 bars.
At lower air pressures, the gap between the new and old Corsa grows even bigger. At the more realistic air pressure of 80 psi / 5.5 bars, the gap has grown to 1.4 watts.
It gets even worse when we compare the new Corsa G 2.0 to the Corsa CX III from 2014 which is essentially the same tire from 2 generations back (compare 3 generations of Vittoria Corsa side by side here). Even the CX III had a lower rolling resistance which means Vittoria essentially made zero improvements in the rolling resistance department from 2014 to 2019. Let's hope they did make improvements to improve grip and durability.
Puncture Resistance Test Results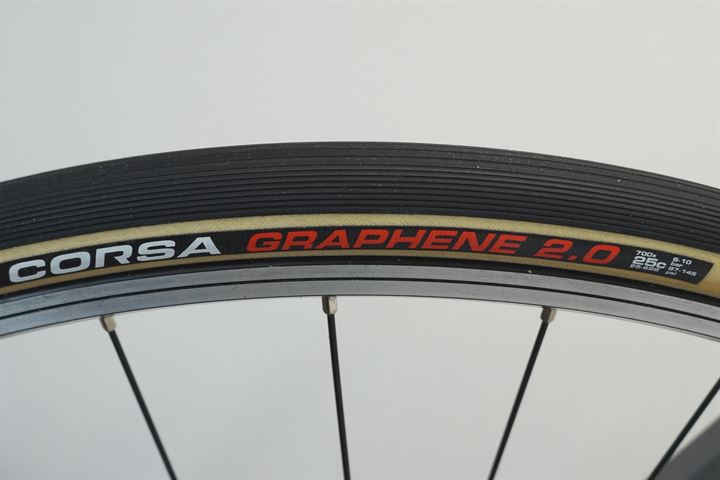 Puncture Resistance Test Results (higher is better)
Total Puncture Score Tread
49 Points
Total Puncture Score Sidewall
Members Only
Tread Puncture Force Sharp Needle
12 Points
Tread Puncture Force Blunt Needle
Members Only
Tread Total Tire Thickness
2.6 mm
Sidewall Puncture Force Sharp Needle
Members Only
Sidewall Puncture Force Blunt Needle
Members Only
Sidewall Total Tire Thickness
Members Only
In the tread puncture resistance test, the new Corsa 2.0 does score 1 point more than the Corsa 1.0. This might be contributed to the slightly thicker tread thickness or simply the margin of error of the test.
In the sidewall puncture test, both tires perform exactly the same at 5 points for both.
When we once again compare the Corsa G+ 2.0 to the Corsa CX III from 2 generations back, we see there have been essentially zero improvements in the puncture resistance of these tires.
Static Grip Test Results
NOTE: Grip test data is only available on tires tested after November 2018. You can find more information about our grip test here: Introducing Grip Testing
Static Grip Test Results
Wet Grip Average
69 Points
Wet Grip Center
Members Only
Wet Grip Edge
Members Only
Grip in points = coefficient of friction * 100
Conclusion
We had high hopes of the Graphene 2.0 compound as Vittoria made some bold claims about improvements to all aspects of the compound. We don't perform grip or durability tests, but we have found rolling resistance has actually gone up when compared to the previous generation. It's hard to have faith in their other claims when at least one of their claims about the Graphene 2.0 compound isn't true.
I'm really divided between rating this tire 3 or 4 out of 5. I guess it should be a 3.5 but I've given it a 4 out of 5 rating because if you're looking for cotton tires, the Vittoria Corsa tires are probably still your best bet.
Ad Buy Vittoria Corsa G+ 2.0 (open) at Amazon.com
RATING: 4.0 / 5
TEST VERDICT: Recommended
Comments