Road Bike Tire Test:

Cadex

Race Tubeless
---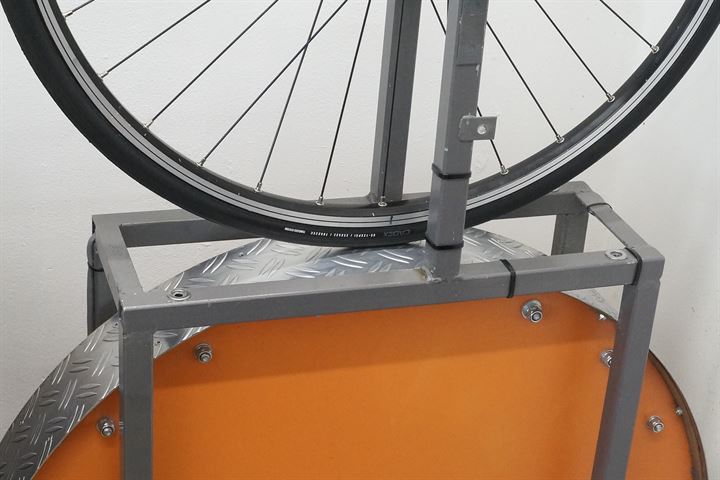 The Cadex Race Tubeless is the first time we've tested a Cadex tire, and as always, we're excited to see how it performs in our tests. As Cadex is in the business of creating the best-performing cycling equipment, our expectations are set to a high level right from the start. What raises our expectations even higher, as the compound is what makes up 70-80% of a tire's performance, is that they claim they've created a compound for superior tire performance.
According to Cadex, their RR-S Compound is a "state of the art silica-based tire compound for elite riders who demand ultimate speed and grip". They also claim this compound has "significantly less rolling resistance and boasts markedly increased grip when cornering, especially in the wet". That all sounds very good, and we're sure this compound will perform well, but the really interesting thing will be how it compares to other compounds from competing brands.
The other 20-30% of a tire's performance will be made up by the casing and additional puncture layers. In the case of the Cadex Race Tubeless, we're looking at a 170 TPI "single layer" casing which is about as good as it gets. An additional layer of "Race Shield" anti-puncture material is applied under the tread, which is similar to what we find on most other "all-round" road bike tires.
From a specification standpoint, everything sounds good, and we're sure this tire will perform well. The exciting thing will be how it compares to the competition, as pretty much all brands claim the same things about their tires. We've run the tests, so let's dive in and see how it does.
Manufacturer Specifications
Manufacturer Specifications
Brand
Cadex
Model
Race Tubeless
Year
2022
Tire Type
Tubeless
Supplied By
Bought in store
New or Used
New
Mileage
0 km
Price Range
Very High
Buy At
Manufacturer part number
340000202
EAN
4713250833156
TPI
170
Compound
RR-S
Bead
Folding
ETRTO
25-622
Size Inch
28"
Specified Width (mm)
25
Specified Weight
270 grams
Max Air Pressure (psi)
125
Made In
Members Only
Available Sizes
23-622 (700x23c)
25-622 (700x25c)
28-622 (700x28c)
Cadex Race Tubeless Test Results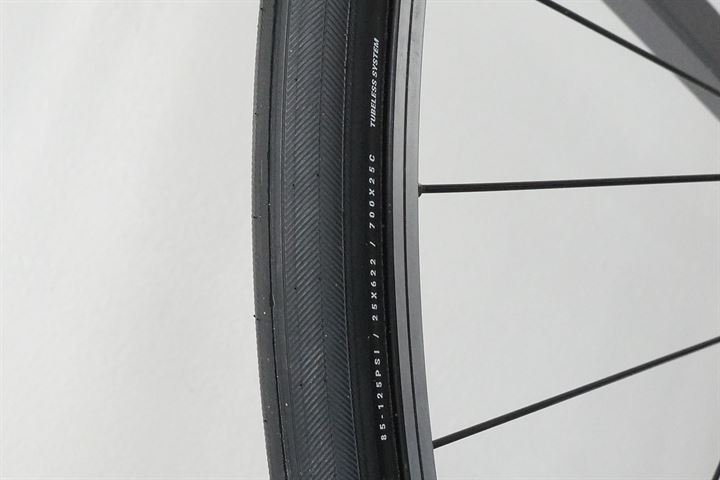 Size, Weight, and Thickness Measurements
advertisement
Size, Weight and Thickness Measurements
Specified Weight
270 grams
Measured Weight
276 grams
System Adjusted Weight
(tire + valve + rim seal)
296 grams
Measured Width
26 mm (un-round)
Measured Height
23 mm (un-round)
Total Tire Thickness Center
2.6 mm
Total Tire Thickness Sidewall
Members Only
Unmounted Casing Width
67 mm
Unmounted Tread Width
Members Only
All size measurements are taken at an air pressure of 100 psi / 6.9 bars on a 17.8 mm inner width rim.
Rolling Resistance Test Results
Rolling Resistance Test Results
Inner Tube
None (20 ml sealant)
Rolling Resistance
140 PSI / 9.7 Bar
Not Tested
Rolling Resistance
120 PSI / 8.3 Bar
13.0 Watts
CRR: 0.00390
Rolling Resistance
100 PSI / 6.9 Bar
13.8 Watts
CRR: 0.00414
Rolling Resistance
80 PSI / 5.5 Bar
Members Only
Rolling Resistance
60 PSI / 4.1 Bar
Members Only
All numbers are for a single tire at a speed of 29 km/h / 18 mph and a load of 42.5 kg / 94 lbs.

Use the formula: RR (Watts) = CRR * speed (m/s) * load (N) to calculate rolling resistance at a given speed and load.
Puncture Resistance Test Results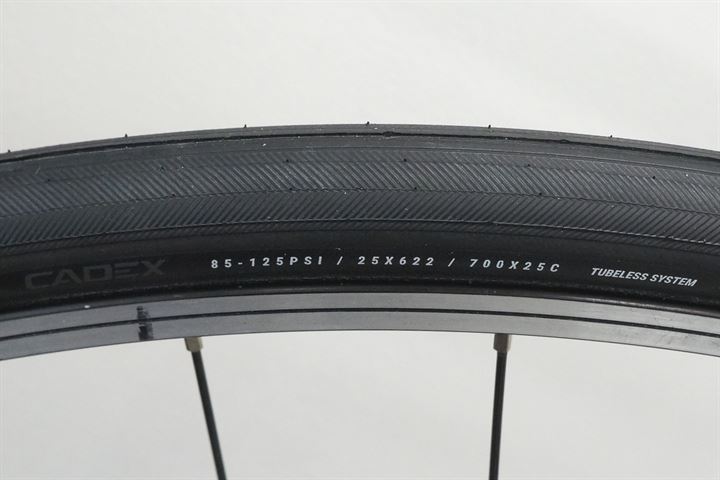 Puncture Resistance Test Results (higher is better)
Total Puncture Score Tread
48 Points
Total Puncture Score Sidewall
Members Only
Tread Puncture Force Sharp Needle
Members Only
Tread Puncture Force Blunt Needle
Members Only
Tread Total Tire Thickness
2.6 mm
Sidewall Puncture Force Sharp Needle
Members Only
Sidewall Puncture Force Blunt Needle
Members Only
Sidewall Total Tire Thickness
Members Only
Static Grip Test Results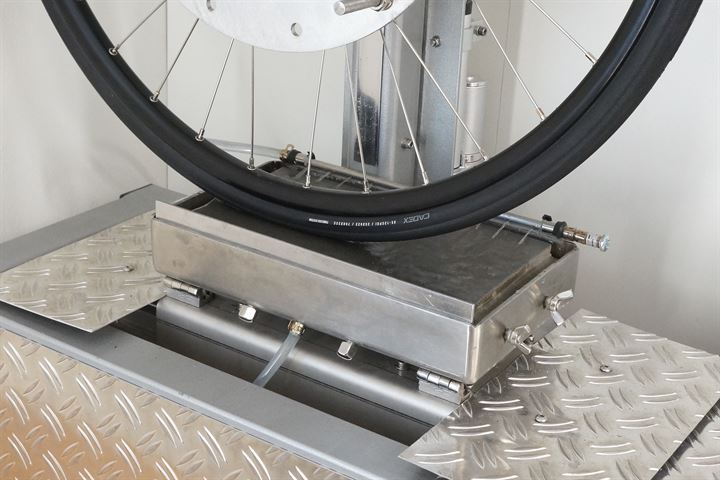 Static Grip Test Results
Wet Grip Average
71 Points
Wet Grip Center
Members Only
Wet Grip Edge
Members Only
Grip in points = coefficient of friction * 100
Conclusion
The Cadex Race Tubeless is an average performer in almost all of our tests. The high points of this tire are the wet grip of the center and the wide tread and corresponding high tread to casing ratio, making this an excellent tire for use on wide rims. The edge grip comes in a bit lower (still good), but we attribute this to the file tread pattern along the edge of the tire as we've seen that reduces grip due to reduced contact patch and flexibility of the file tread edges.
The main shortcoming of this tire seems to be the rolling resistance which is on the high side for a tire that is supposed to offer pinnacle performance and comes with a corresponding price tag. The Cadex Race Tubeless isn't a bad tire, and we're sure it will be a fine performer in real-life, but you can find tires that perform better and that also come at a lower price point -> Road Bike Overview.
RATING: 3.5 / 5
TEST VERDICT: Recommended
Comments