---
Touring Bike Tire Test:

Continental

City Ride II
---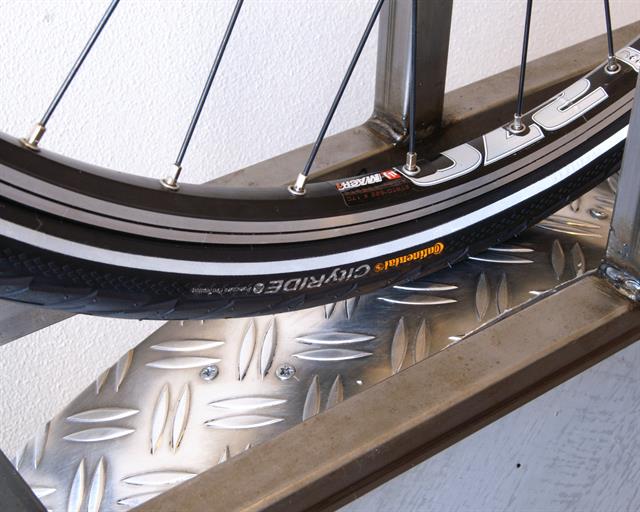 The Continental City Ride II is a value for money tire optimized for use in urban areas. The City Ride II comes with a 3/66 carcass, a modern looking tread pattern, 1 mm thick puncture protection layer under the tread, and a long lasting rubber compound. It's available in the most popular 26 and 28-inch sizes and seems to be available at quite an attractive price for a big-brand tire.
Ad Buy Continental City Ride II at Amazon.com
I've already tested the more expensive Continental Contact (read review) and TopContact (read review) touring bike tires. Both those tires didn't impress me in any of our tests. I find it interesting to test some cheaper tires as well to find out how much worse (if any) those tires perform compared to the top of the line tires that often carry a hefty price tag. Let's see if this tire is a good buy.
Manufacturer Specifications
Manufacturer Specs
Brand
Continental
Model
City Ride II
Year
2015
Supplied By
Supplied by Continental
New or Used
New
Mileage
0 km
Price Range
Low
Buy At

Ad

Amazon.com
Manufacturer part number
0100706
TPI
Compound
Bead
Wire
ETRTO
37-622
Size Inch
28"
Width mm
37.00
Specified Weight
740 grams
Max Pressure
75
Made In
Members Only
Available Sizes
47-622 (28x1.75)
42-622 (28x1.60)
37-622 (28x1.40)
32-622 (28x1.25)
37-590 (26x1.40)
47-559 (26x1.75)
Continental City Ride II Test Results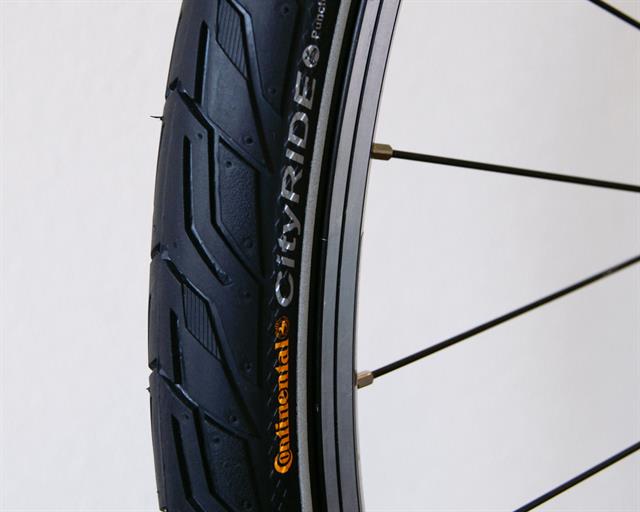 Size, Weight, and Thickness Measurements
advertisement
Size, Weight, and Thickness Measurements
Specified Weight
740 grams
Measured Weight
782 grams
Measured Width
37 mm (un-round)
Measured Height
36 mm (un-round)
Tread Depth
2.2 mm
Total Tire Thickness Center
5.5 mm
Total Tire Thickness Sidewall
Members Only
All size measurements are taken at an air pressure of 60 psi / 4 bars on a 17.8 mm inner width rim.
The City Ride II is quite a heavy tire, specified weight of the 37-622 version is 740 grams. My sample comes in at an even higher 782 grams. It measures 37 mm wide and 37 mm high on a 17C rim, this is a good size as most other 37-622 rated tires have a bit less volume.
At 2.2 mm deep, tread depth is above average and should provide for a decent mileage. With a total tire thickness at the center of the tread of 5.5 mm, it's obvious this tire has a 1 mm thick anti-puncture layer. Most tires without a thick anti-puncture layer come in at 4 - 5 mm. At 1.8 mm thick, the sidewalls are above average as well.
Rolling Resistance Test Results
Rolling Resistance Test Results
Inner Tube
Conti Tour 28 (170 gr butyl)
Rolling Resistance
90 PSI / 6 Bar
No Data

Rolling Resistance
75 PSI / 5 Bar
23.9 Watts
CRR: 0.00716
Rolling Resistance
60 PSI / 4 Bar
25.1 Watts
CRR: 0.00752
Rolling Resistance
45 PSI / 3 Bar
Members Only

Rolling Resistance
30 PSI / 2 Bar
Members Only

All numbers are for a single tire at a speed of 29 km/h / 18 mph and a load of 42.5 kg / 94 lbs.

Use the formula: RR (Watts) = CRR * speed (m/s) * load (N) to calculate rolling resistance at a given speed and load.
Compared to the other Continental touring bike tires, performance in the rolling resistance test is decent. On average, rolling resistance is about 1 watt higher when compared to the Contact or TopContact. For its price, performance is great.
When we look at the best performing tires with comparable or better puncture resistance, the City Ride II lags the Marathon GreenGuard (read review) and Energizer Plus (read review) by close to 4 - 6 watts. It looks like Continental has some work to do.
Puncture Resistance Test Results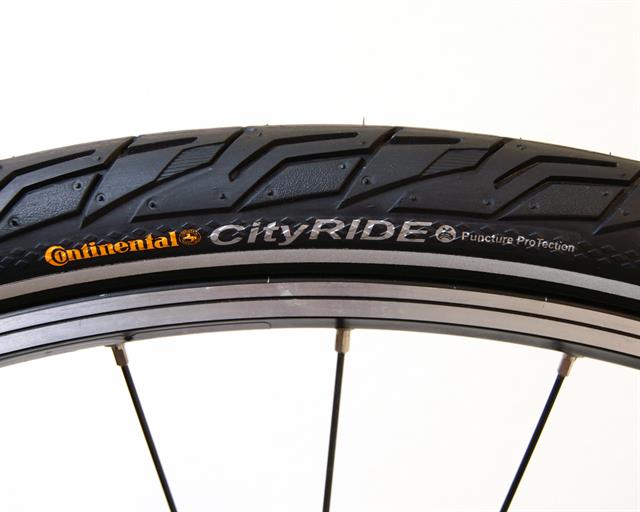 Puncture Resistance Test Result (higher is better)
Puncture Resistance Tread
13 Points
Puncture Resistance Sidewall
Members Only
Puncture Factor Tread *
72 Points
Puncture Factor Sidewall *
Members Only
* Puncture Factor = Puncture Resistance * Total Tire Thickness.
Puncture Factor provides a more realistic puncture resistance score for touring tires
In the puncture resistance test, the City Ride II performs average. With a score of 13 points in the tread test and 6 points in the sidewall test, it outperforms the more expensive Continental Contact by 2 points (13 Vs 11). With a score of 6 points in the sidewall test, the sidewalls are strong enough.
When looking at the Puncture Factor scores (which are more important for touring bike tires), the City Ride II is able to outperform both the Contact and TopContact thanks to its greater total thickness of the tire in both the center of the tire and sidewalls.
Conclusion
For the money, the Continental City Ride II performs great. When we compare this tire to the more expensive Continental Contact and TopContact, rolling resistance is a bit (5-10%) higher than both those tires. The good part is that it outperforms those tires in the puncture tests thanks to its 1 mm thick puncture layer which increases the thickness of the tire to provide for a better puncture resistance.
While the City Ride II performs great when compared against similar tires from Continental, adding other brands into the mix changes things. The Schwalbe Marathon (read review) is still our number 1 pick as it offers a lower rolling resistance and provides for a better puncture resistance. The Marathon can be found for just a bit more money (10 - 20%).
Ad Buy Continental City Ride II at Amazon.com
RATING: 4 / 5
TEST VERDICT: Recommended
Comments