Road Bike Tire Test:

Zipp

Tangente Course 25
---
---
---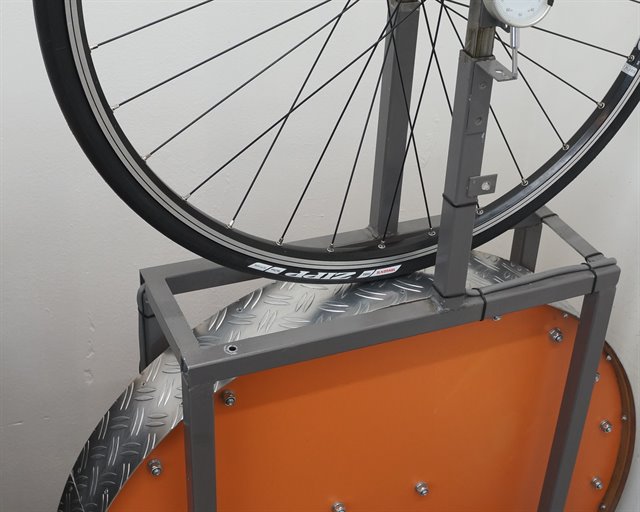 Zipp is mostly known for producing high-quality wheels and components. When you own a set of Zipp aero wheels, it might be interesting to pair these with Zipp tires as they claim the aerodynamic profile of their tires is optimized for use with their wheels. Of course, when improving aerodynamic performance, we shouldn't forget about rolling resistance; you don't want to reduce aerodynamic drag at the cost of rolling resistance and end up going backward.
Ad Buy Zipp Tangente Course at Amazon.com
The Zipp Tangente Course is Zipp's all-round tire for dry weather conditions. This means the Tangente Course fits the same category as well-known tires like the Continental Grand Prix 4000S (read review), Schwalbe One (read review), Vittoria Corsa G+ (read review), Michelin Power Competition (read review) etc. The Tangente Course is made up of a folding 120 TPI nylon casing with a nylon puncture protection strip, and a low rolling resistance rubber compound with an aero tread pattern.
The Tangente Course is available in a 23 and 25 mm wide version and should suit most riders looking for a racing and training tire. If you're looking for a true racing tire, Zipp also offers the Tangente Speed that comes with an even lighter 220 TPI casing, no extra puncture protection, and a thinner layer of rubber.
Manufacturer Specifications
Manufacturer Specifications
Brand
Zipp
Model
Tangente Course
Year
2017
Tire Type
Tubetype (clincher)
Supplied By
Bought in store
New or Used
New
Mileage
0 km
Price Range
High
Buy At

Ad

Amazon.com
Manufacturer part number
00.1918.192.040
TPI
120
Compound
Bead
Folding
ETRTO
25-622
Size Inch
28"
Specified Width (mm)
25
Specified Weight
0 grams
Max Air Pressure (psi)
145
Made In
Members Only
Available Sizes
23-622 (700x23C)
25-622 (700x25C)
Zipp Tangente Course 25 Test Results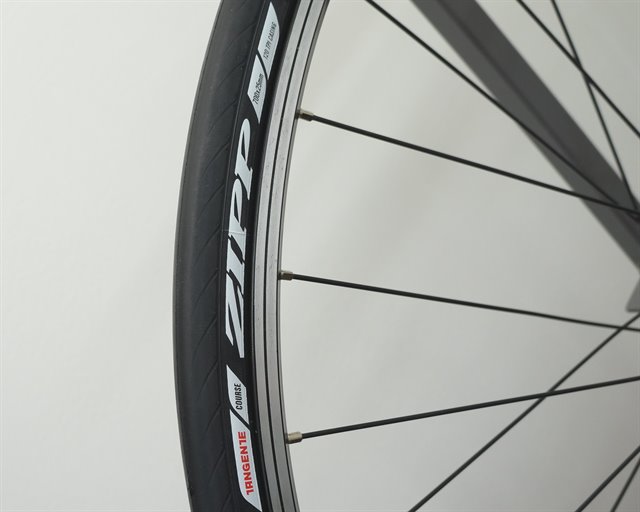 Size, Weight, and Thickness Measurements
Size, Weight and Thickness Measurements
Specified Weight
0 grams
Measured Weight
215 grams
System Adjusted Weight
(tire + inner tube (100 gr)
315 grams
Measured Width
25 mm (un-round)
Measured Height
22 mm (un-round)
Total Tire Thickness Center
2.7 mm
Total Tire Thickness Sidewall
Members Only
Unmounted Casing Width
No Data
Unmounted Tread Width
No Data
Tread Cover (Tread / Casing Ratio)
No Data
All size measurements are taken at an air pressure of 100 psi / 6.9 bars on a 17.8 mm inner width rim.
Weight. I couldn't find an officially published specified weight of the 25 mm Tangente Course, but my sample (store bought) comes in at 215 grams which is quite light for an all-round road bike tire.
Size. The 25 mm version of this tire measures exactly 25 mm wide when mounted to a 17 mm inner width rim and inflated to an air pressure of 100 psi.
Tire Thickness. The total thickness at the center of the tread comes in at 2.7 mm. Most of the other tires that fit the all-round category come in between 2.5 and 2.9 mm.
The sidewalls are just a tiny bit thicker at 0.65 mm with most other tires coming in closer to 0.55 mm.
Rolling Resistance Test Results
Rolling Resistance Test Results
Inner Tube
Conti Race28 (100gr butyl)
Measured Width
25 mm (un-round)
Rolling Resistance
Real tire width in mm:
22-24 = 132 psi/9.1 bar
25-27 = 120 psi/8.3 bar
28-29 = 108 psi/7.4 barUltra High Air Pressure
(120 psi / 8.3 bar)
15.3 Watts
CRR: 0.00459
Rolling Resistance
Real tire width in mm:
22-24 = 110 psi/7.6bar
25-27 = 100 psi/6.9 bar
28-29 = 90 psi/6.2 barExtra High Air Pressure
(100 psi / 6.9 bar)
16.7 Watts
CRR: 0.00501
Rolling Resistance
Real tire width in mm:
22-24 = 88 psi/6.1 bar
25-27 = 80 psi/5.5 bar
28-29 = 72 psi/5.0 barHigh Air Pressure
(80 psi / 5.5 bar)
Members Only
Rolling Resistance
Real tire width in mm:
22-24 = 66 psi/4.6 bar
25-27 = 60 psi/4.1 bar
28-29 = 54 psi/3.7 barMedium Air Pressure
(60 psi / 4.1 bar)
Members Only
The Road Bike section is a multi tire size section, air pressures have been adjusted to the measured casing width.

All numbers are for a single tire at a speed of 29 km/h / 18 mph and a load of 42.5 kg / 94 lbs.

Use the formula: RR (Watts) = CRR * speed (m/s) * load (N) to calculate rolling resistance at a given speed and load.
Unfortunately, rolling resistance of the Tangente Course is quite a bit higher than similar tires from competing brands. At the very high air pressure of 120 psi / 8.3 bars, rolling resistance is 15.3 Watts which isn't even that bad as the competition comes in closer to ~12 watts. At lower air pressures, rolling resistance of the Tangente Course goes up faster than competing brands resulting in a rolling resistance of 18.9 watts at an air pressure of 80 psi / 5.5 bars while the competition comes in at ~14 watts.
Even if the Zipp Tangente provides better aero efficiency when combined with Zipp wheels, it's a shame rolling resistance isn't more competitive when compared to tires from the leading manufacturers. It will be hard to make up the higher rolling resistance with aero gains when compared to other tires that have the same width when mounted to the rim. Keep in mind that most tires from leading manufacturers are 2 mm wider than the specified size while the Tangente Course is spot on to the rated size.
Puncture Resistance Test Results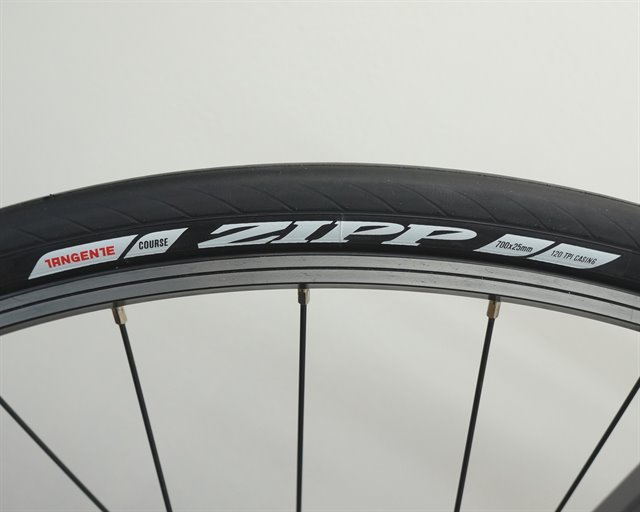 Puncture Resistance Test Results (higher is better)
Total Puncture Score Tread
55 Points
Total Puncture Score Sidewall
Members Only
Tread Puncture Force Sharp Needle
12 Points
Tread Puncture Force Blunt Needle
No Data
Tread Total Tire Thickness
2.7 mm
Sidewall Puncture Force Sharp Needle
Members Only
Sidewall Puncture Force Blunt Needle
No Data
Sidewall Total Tire Thickness
Members Only
Tread puncture resistance is pretty similar to most other tires in the all-round category of tires that have a tread thickness of 2.5 - 3.0 mm and come with an extra layer of puncture resistant material under the tread. The sidewalls are spot on to the average score in this category as well.
Static Grip Test Results
NOTE: Grip test data is only available on tires tested after November 2018. You can find more information about our grip test here: Introducing Grip Testing
Static Grip Test Results
Wet Grip Average
No Data
Wet Grip Center
No Data
Wet Grip Edge
No Data
Grip in points = coefficient of friction * 100
Conclusion
I'm disappointed by the high rolling resistance of the Zipp Tangente Course as Zipp usually provides high-quality components. I'm not saying these are bad tires, but you shouldn't expect huge gains because of having matched wheels and tires. I recommend running tires from other manufacturers on your Zipp rims that have the same true width as the Zipp tires when mounted to the wheel. Keep in mind that most tires from other manufacturers are a bit bigger for the same rated size.
Which other manufacturers am I talking about? Take a look at the road bike overview page to find out which tires will suit you best.
Ad Buy Zipp Tangente Course at Amazon.com
RATING: 3.0 / 5
TEST VERDICT: Recommended
Comments