Road Bike Tire Test:

Michelin

Power Competition
---
---
Michelin Power Competition
---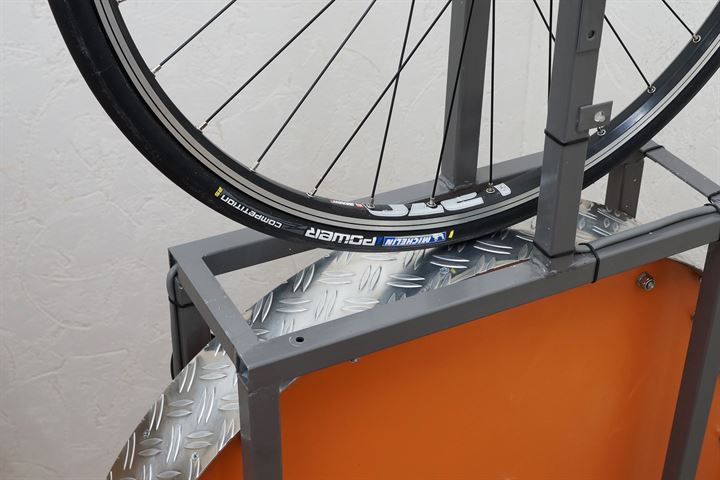 The new Michelin Power road bike tires are the successors of the Michelin Pro 4 tires that have been around for a while. The new Power range consists of 4 tires: Power Competition, Power Endurance, Power All Season, and Power Protection+. The Power Protection+ is exclusive to North-America and will be released later. This is a review of the Power Competition, which is the successor of the old Pro 4 Service Course and is the fastest member of the new Power tires.
Ad Buy Michelin Power Competition at Amazon.com
The Power Competition uses an all new 3x180 TPI carcass, a new Power race compound, and a thinner Aramid Protek layer. According to Michelin, this new construction results in 25% less rolling resistance when compared to the Pro 4 Service Course. My test of the Pro 4 Service Course (read review) back in 2014 resulted in a rolling resistance of 14.9 Watts per tire. If Michelin's claims are true, the new tires should outperform the 'gold standard' Continental GP4000S II.
Although Michelin claims the Power Competition to be the successor of the Pro 4 Service Course, and after testing the Competition, Endurance, and All Season, I feel that isn't completely true. In my opinion, the Power Competition replaces the Pro 4 Comp, and the Power Endurance is the real replacement of the Pro 4 Service Course. It seems there isn't a true replacement of the Pro 4 Endurance (read review) which had an all-round compound and reinforced sidewalls. Keep an eye on the site as I'll get the other reviews online in the next few days.
Manufacturer Specifications
Manufacturer Specifications
Brand
Michelin
Model
Power Competition
Year
2016
Tire Type
Tubetype (clincher)
Supplied By
Bought in store
New or Used
New
Mileage
0 km
Price Range
High
Buy At

Ad

Amazon.com
Manufacturer part number
028426
TPI
3x180
Compound
Race compound
Bead
Folding
ETRTO
25-622
Size Inch
28"
Specified Width (mm)
25
Specified Weight
215 grams
Max Air Pressure (psi)
120
Made In
Members Only
Available Sizes
23-622 (700x23C)
25-622 (700x25C)
Michelin Power Competition Test Results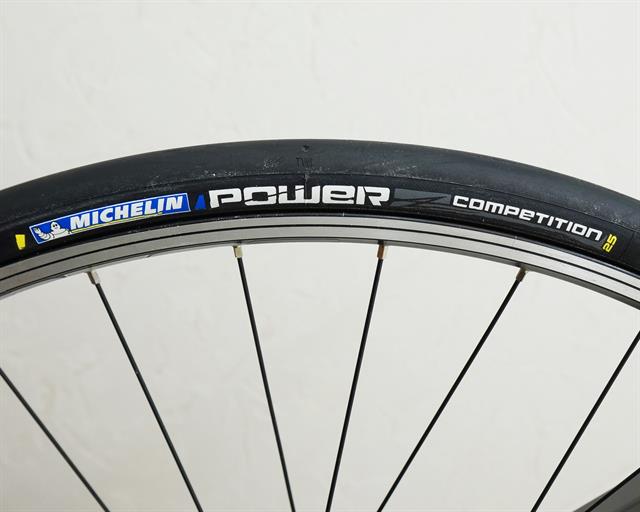 Size, Weight, and Thickness Measurements
advertisement
Size, Weight and Thickness Measurements
Specified Weight
215 grams
Measured Weight
212 grams
System Adjusted Weight
(tire + inner tube (100 gr)
312 grams
Measured Width
27 mm (un-round)
Measured Height
24 mm (un-round)
Total Tire Thickness Center
2.6 mm
Total Tire Thickness Sidewall
Members Only
Unmounted Casing Width
No Data
Unmounted Tread Width
No Data
All size measurements are taken at an air pressure of 100 psi / 6.9 bars on a 17.8 mm inner width rim.
The Pro 4 range of tires were very, very big tires. Both the 25 mm Pro 4 Service Course and 25 mm Pro 4 Endurance measured 28 mm wide on my 17C rim. With the Power tires, Michelin seems to have fixed this. My sample of the Power Competition measures 27 mm wide and 24 mm high. This seems to be more in-line with other 25 mm rated tires that mostly come in at 26/27 mm wide. The measured weight comes in at 212 grams which is a bit less than the specified weight of 215 grams.
The measured total thickness at the center of the tire comes in at 2.6 mm. 2.6 mm is a bit less than both the Conti GP4000S II and Schwalbe One which both came in at 2.9 mm, but a bit more than the very fast tires like the Conti GP TT (1.9 mm) (read review) and Specialized Turbo Cotton (2.1 mm) (read review). The sidewalls have a thickness of 0.5 mm which is in-line with other high TPI tires.
Rolling Resistance Test Results
Rolling Resistance Test Results
Inner Tube
Conti Race28 (100gr butyl)
Rolling Resistance
140 PSI / 9.7 Bar
Not Tested
Rolling Resistance
120 PSI / 8.3 Bar
10.9 Watts
CRR: 0.00327
Rolling Resistance
100 PSI / 6.9 Bar
11.8 Watts
CRR: 0.00354
Rolling Resistance
80 PSI / 5.5 Bar
Members Only
Rolling Resistance
60 PSI / 4.1 Bar
Members Only
All numbers are for a single tire at a speed of 29 km/h / 18 mph and a load of 42.5 kg / 94 lbs.

Use the formula: RR (Watts) = CRR * speed (m/s) * load (N) to calculate rolling resistance at a given speed and load.
So does the new Power Competition really have 25% less rolling resistance when compared to the Pro 4 Service Course? Yes, it does! At an air pressure of 120 psi, rolling resistance comes in at 10.9 Watts which is indeed close to 25% less than the Service Course (read review). What's even better is the performance of the Power Competition compared to popular tires like the Conti GP4000S II (read review), Schwalbe One V-Guard (read review), and Vittoria Corsa (read review) as it outperforms all those tires at air pressures over 80 psi.
It's great to see a tire with a decent tread thickness (2.5+ mm) finally outperform the Continental GP4000S II on the rolling resistance tests. It's also great to see Michelin has put so much work into building faster tires. Let's hope these advancements don't stop here and we'll see even faster tires in the next few years.
Puncture Resistance Test Results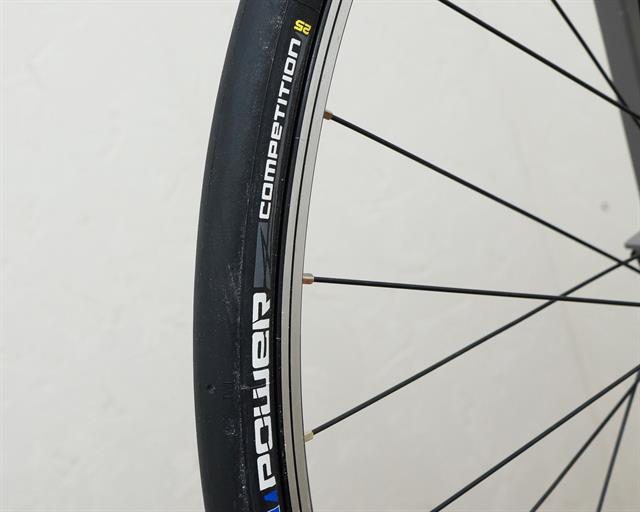 Puncture Resistance Test Results (higher is better)
Total Puncture Score Tread
50 Points
Total Puncture Score Sidewall
Members Only
Tread Puncture Force Sharp Needle
11 Points
Tread Puncture Force Blunt Needle
No Data
Tread Total Tire Thickness
2.6 mm
Sidewall Puncture Force Sharp Needle
Members Only
Sidewall Puncture Force Blunt Needle
No Data
Sidewall Total Tire Thickness
Members Only
While the rolling resistance of the Pro 4 Service Course was a bit higher than the previously mentioned competition, puncture resistance was a bit better. Unfortunately, puncture resistance of the Power Competition has gone down to GP4000S II levels. I guess this can be expected from a tire designed to offer such a low rolling resistance.
In the sidewall puncture test, it scores just 3 points which is a bit less than comparable tires that come in closer to 4/5 points. The 3x180 carcass is thin and fast, but easy to puncture.
Conclusion
Michelin Power Competition
Performance compared to all other road bike tires
(100% is fastest - lightest - thickest - strongest)
Michelin has made some great advancements in the rolling resistance department with the new Power Competition road bike tire. I'm happy to confirm that Michelin's claimed 25% reduction in rolling resistance when compared to the Pro 4 Service Course appears to be true. It must be said the lower rolling resistance comes at the cost of less puncture resistance and tire thickness as well. In my opinion, the Power Competition is the successor of the Pro 4 Comp and not the Pro 4 Service Course.
The Michelin Power Competition now fits perfectly between the Continental GP4000S II, Schwalbe One V-Guard, and Vittoria Corsa as one of the top performing road bike tires with average puncture resistance. As these are brand new tires, not much is known about grip and wear yet. When purely looking at rolling resistance, puncture resistance, and Michelin's reputation, these should be good tires.
Ad Buy Michelin Power Competition at Amazon.com
RATING: 5.0 / 5
TEST VERDICT: Highly Recommended
Comments