Road Bike Tire Test:

Continental

Grand Prix TT
Continental Grand Prix TT
---
---
---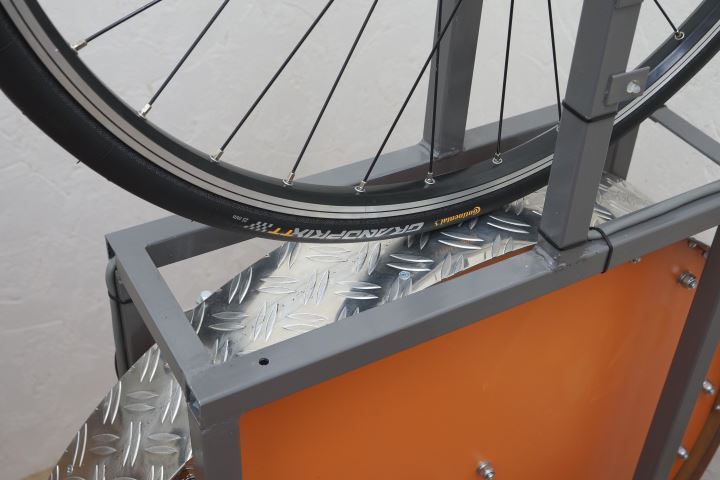 The Continental Grand Prix TT is a tire optimized to gain those last few seconds in the race against the clock. While the Grand Prix TT has been available for some time in the 23-622 size, I'm testing a brand new 25-622 version. After waiting for more than a year for this tire to become available, it finally arrived at my door two weeks ago. I'm not sure if this new 25 mm version will be easy to get a hold of, but the 23 mm version is readily available.
Ad Buy Continental Grand Prix TT at Amazon.com
To make the Grand Prix TT a truly no compromise tire optimized for speed, it comes with only a limited amount of tread depth. You shouldn't buy these tires if you want your tires to last a long time. The TT does come with a Vectran Breaker under the tread that helps protect against punctures. Continental claims the Vectran layer only adds a slight amount of rolling resistance.
Just like the Continental Grand Prix 4000S II (read review), the Grand Prix TT uses the well known Black Chili compound and a 3/330 carcass. On paper, both these tires seem very closely related. The Grand Prix 4000S II has proven to be a great mix between speed, puncture resistance and tread life. Let's see how much lower rolling resistance can go at the cost of puncture resistance and tread life.
Manufacturer Specifications
Manufacturer Specifications
Brand
Continental
Model
Grand Prix TT
Year
2016
Tire Type
Tubetype (clincher)
Supplied By
Supplied by Continental
New or Used
New
Mileage
0 km
Price Range
High
Buy At

Ad

Amazon.com
Manufacturer part number
0101077
TPI
3/330
Compound
Black Chili
Bead
Folding
ETRTO
25-622
Size Inch
28"
Specified Width (mm)
25
Specified Weight
190 grams
Max Air Pressure (psi)
120
Made In
Members Only
Available Sizes
23-622 (700x23C)
25-622 (700x25C)
Continental Grand Prix TT Test Results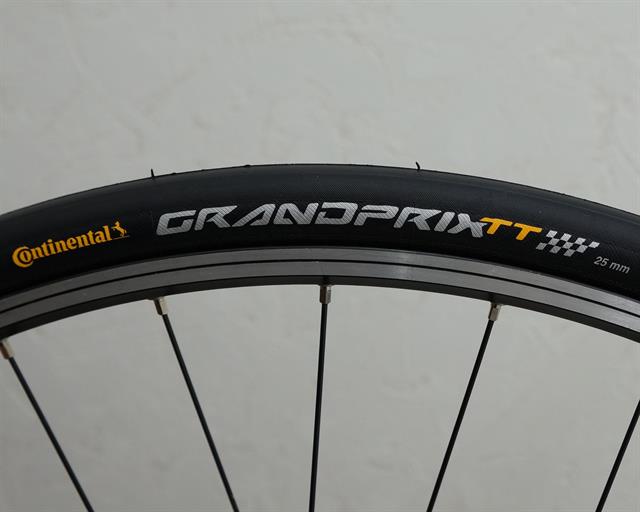 Size, Weight, and Thickness Measurements
advertisement
Size, Weight and Thickness Measurements
Specified Weight
190 grams
Measured Weight
195 grams
System Adjusted Weight
(tire + inner tube (100 gr)
295 grams
Measured Width
27 mm (un-round)
Measured Height
24 mm (un-round)
Total Tire Thickness Center
1.9 mm
Total Tire Thickness Sidewall
Members Only
Unmounted Casing Width
No Data
Unmounted Tread Width
No Data
Tread Cover (Tread / Casing Ratio)
No Data
All size measurements are taken at an air pressure of 100 psi / 6.9 bars on a 17.8 mm inner width rim.
Claimed weight of the 25-622 Grand Prix TT is 190 grams; my sample came in at a weight of 195 grams. Just like the Grand Prix 4000S II, the 25-622 TT measures 27 mm wide at an air pressure of 100 psi on a 17C rim. Height is 24 mm, which is 1 mm less than the 4000S.
Continental claims this tire to be a limited tread depth tire, but how limited is limited? With a total tire thickness of 1.9 mm, the TT is a thin tire. The GP4000S II came in at a more average 2.9 mm. After subtracting the thickness of the carcass and Vectran layer, I'm estimating the TT to have close to 0.7 mm of usable tread to wear down. The GP4000S II should have closer to 1.7 mm of usable tread. The thin tread means tire life will be 35 - 40% of a GP4000S II.
Rolling Resistance Test Results
Rolling Resistance Test Results
Inner Tube
Conti Race28 (100gr butyl)
Rolling Resistance
140 PSI / 9.7 Bar
Not Tested
Rolling Resistance
120 PSI / 8.3 Bar
9.9 Watts
CRR: 0.00297
Rolling Resistance
100 PSI / 6.9 Bar
10.5 Watts
CRR: 0.00315
Rolling Resistance
80 PSI / 5.5 Bar
Members Only
Rolling Resistance
60 PSI / 4.1 Bar
Members Only
All numbers are for a single tire at a speed of 29 km/h / 18 mph and a load of 42.5 kg / 94 lbs.

Use the formula: RR (Watts) = CRR * speed (m/s) * load (N) to calculate rolling resistance at a given speed and load.
Please note that all these tests are performed with the same 100 grams butyl inner tube. When substituting the 100 grams butyl tube with a latex tube, rolling resistance will be another 1.5 - 2.5 watts lower (link). Fitted with a latex tube, this should be one of the fastest tires available.
Puncture Resistance Test Results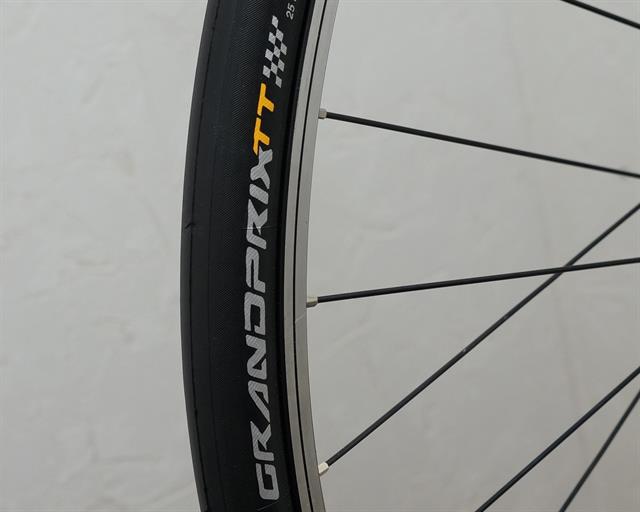 Puncture Resistance Test Results (higher is better)
Total Puncture Score Tread
34 Points
Total Puncture Score Sidewall
Members Only
Tread Puncture Force Sharp Needle
8 Points
Tread Puncture Force Blunt Needle
No Data
Tread Total Tire Thickness
1.9 mm
Sidewall Puncture Force Sharp Needle
Members Only
Sidewall Puncture Force Blunt Needle
No Data
Sidewall Total Tire Thickness
Members Only
Low rolling resistance and low tread thickness don't relate to a great performance in the puncture resistance test. In the puncture resistance tread test, the Grand Prix TT scores a low 8 points. Although tread thickness is very low, it does have a Vectran layer that provides some puncture protection. 8 points is comparable to the Vittoria Rubino Pro Speed (read review) but much lower than the all-round tires like the GP4000S II etc that score 11 - 12 points in the same test.
In the sidewall test, performance is average. With a score of 4 points, the TT scores in line with most other road bike tires without reinforced sidewalls.
Static Grip Test Results
NOTE: Grip test data is only available on tires tested after November 2018. You can find more information about our grip test here: Introducing Grip Testing
Static Grip Test Results
Wet Grip Average
No Data
Wet Grip Center
No Data
Wet Grip Edge
No Data
Grip in points = coefficient of friction * 100
Conclusion
If you're looking for a very fast road bike tire that will shave those last few seconds off of your time-trial, and you don't care about tire life or puncture resistance, the Continental Grand Prix TT is an awesome tire. For a pair of tires, these will save you 5+ watts over the popular GP4000S II (read review) or other all-round tires that do provide higher mileage and better puncture resistance.
Fitted with latex tubes, the Grand Prix TT is one of the fastest tires on the market and will be hard to beat by even the best tubular tires.
Ad Buy Continental Grand Prix TT at Amazon.com
RATING: 5.0 / 5
TEST VERDICT: Highly Recommended
Comments