---
Road Bike Tire Test:

Specialized

S-Works Turbo
Specialized S-Works Turbo
---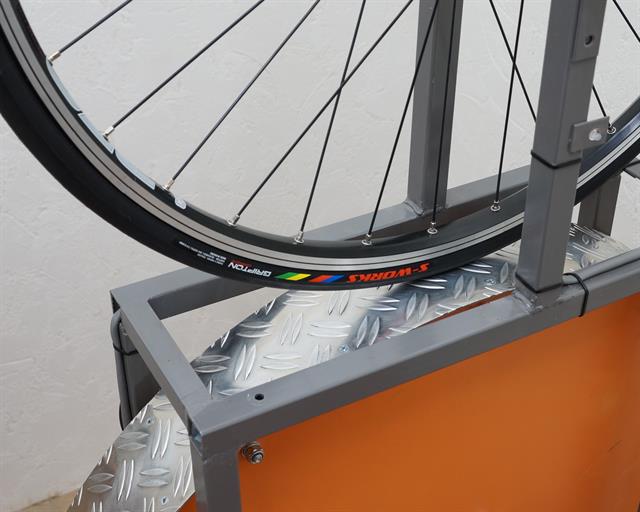 "World's fastest tire" is printed on the front of the packaging the Specialized S-Works Turbo comes in. This is quite a bold claim, and it means it should be even faster than the very fast and expensive Specialized Turbo Cotton that I reviewed some time ago. On the backside of the packaging, they also claim this tire to have 20% less rolling resistance and superior grip over the next best competitor.
Ad Buy Cycling Equipment at Amazon.com
That next best competitor is probably the Continental Grand Prix 4000S II (read review) which is a tire that performs very strong in the rolling resistance test. To beat the GP4000S II, this tires uses a 120 TPI folding bead nylon casing, the Specialized Gripton compound, and a layer of Specialized BlackBelt anti-puncture material under the tread.
The S-Works Turbo is available in 700x22, 700x24, 700x26, and 700x28 sizes. I've gone with the 700x24 as I try to stick to tires rated at 23-25 mm wide for these tests. I must add that after measuring the true size of the S-Works Turbo, the 700x26 version comes a lot closer to most other 25-622 rated tires than the 24-622 version. If you're looking to replace your 700x25 tires with these, go with the 700x26.
advertisement
Manufacturer Specifications
Manufacturer Specifications
Brand
Specialized
Model
S-Works Turbo
Year
2016
Tire Type
Tubetype (clincher)
Supplied By
Bought in store
New or Used
New
Mileage
0 km
Price Range
High
Buy At
Manufacturer part number
00015-1074
TPI
120
Compound
Gripton
Bead
Folding
ETRTO
24-622
Size Inch
28"
Width
25
Specified Weight
210 grams
Max Pressure
125
Made In
Thailand
Available Sizes
24-622 (700x24C)
26-622 (700x26C)
28-622 (700x28C)
Specialized S-Works Turbo Test Results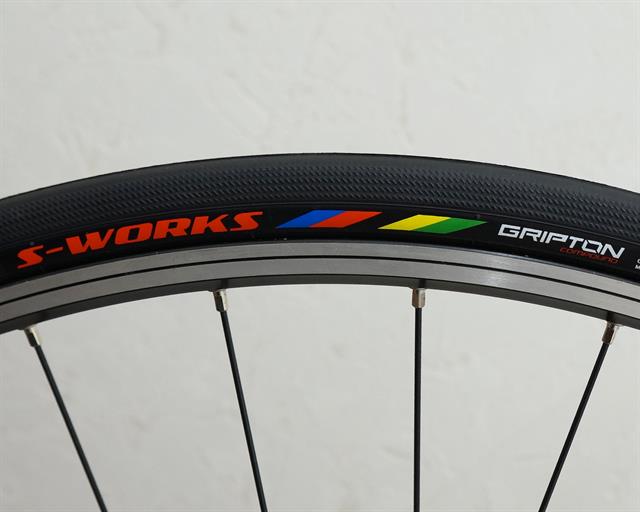 Size, Weight, and Thickness Measurements
advertisement
Size, Weight and Thickness Measurements
Specified Weight
210 grams
Measured Weight
215 grams
System Adjusted Weight
(tire + inner tube (100 gr)
315 grams
Measured Width
25 mm
Measured Height
22 mm
Total Tire Thickness Center
2.8 mm
Total Tire Thickness Sidewall
0.5 mm
Unmounted Casing Width
60 mm
Unmounted Tread Width
30 mm
All size measurements are taken at an air pressure of 100 psi / 6.9 bars on a 17.8 mm inner width rim.
The specified weight of the 700x24 S-Works Turbo is 210 grams; my sample comes in slightly higher at 215 grams. The measured width and height on a 17C rim, at an air pressure of 100 psi / 6.8 bars is 25 and 22 mm respectively.
The total thickness of the tire at the center of the tread is 2.8 mm. 2.8 mm is similar to most other all-round tires that seem to come in at 2.5 - 3.0 mm. The sidewalls have a thickness of 0.5 mm which is also similar to other tires in the same class.
Rolling Resistance Test Results
Rolling Resistance Test Results
Inner Tube
Conti Race28 (100gr butyl)
Rolling Resistance
140 PSI / 9.7 Bar
Not Tested
CRR: Not Tested
Rolling Resistance
120 PSI / 8.3 Bar
13.4 Watts
CRR: 0.00402
Rolling Resistance
100 PSI / 6.9 Bar
14.4 Watts
CRR: 0.00432
Rolling Resistance
80 PSI / 5.5 Bar
16.3 Watts
CRR:0.00489
Rolling Resistance
60 PSI / 4.1 Bar
19.6 Watts
CRR: 0.00588
All numbers are for a single tire at a speed of 29 km/h / 18 mph and a load of 42.5 kg / 94 lbs.

Use the formula: RR (Watts) = CRR * speed (m/s) * load (N) to calculate rolling resistance at a given speed and load.
Rolling resistance definitely isn't 20% lower than the Continental GP4000S II (read review). At an air pressure of 120 psi / 8.3 bars, rolling resistance is 13.4 watts which is already 1.2 watts more than the GP4000S II. At lower air pressures, the disadvantage gets even bigger. At an air pressure of 60 psi / 4.1 bars, rolling resistance of the Turbo is 19.6 watts Vs 15.5 watts for the GP4000S II.
So is this the world's fastest tire? Rolling resistance is 20% less than the next best competitor? That just isn't true, and it's very misleading to put something like that on the packaging.
Puncture Resistance Test Results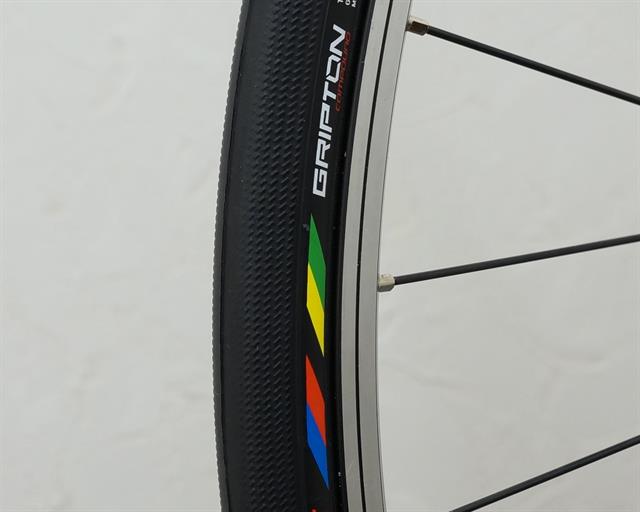 Puncture Resistance Test Results (higher is better)
Puncture Resistance Tread
10 Points
Puncture Resistance Sidewall
4 Points
Maybe the puncture resistance is much better than the competition? Nope, also not right. The S-Works Turbo scores just 10 points in the puncture resistance test, which is less than the competition. Most of the other all-round tires like the Conti GP4000S II, Michelin Power Competition, and Schwalbe One score 11-12 points in this test.
Puncture resistance of the sidewall is also average at best. It scores 4 points which is similar to most other high TPI tires with unprotected sidewalls.
Conclusion
Specialized S-Works Turbo
Performance compared to all other road bike tires
(100% is fastest - lightest - thickest - strongest)
After reading all the marketing talk on the packaging of the Specialized S-Works Turbo, I was looking forward to seeing some great results from this tire. According to the packaging, this tire should have come in at less than 10 watts in the rolling resistance test. In reality, It comes in at 13.4 watts, and rolling resistance rises much faster at lower air pressures when compared to the competition. To make things even worse, puncture resistance isn't impressive either.
When you forget about all the claims of this being the fastest tire in the world, the Specialized S-Works Turbo isn't a bad tire and grip could very well be superb. If you want truly fast Specialized tires, spend a bit more and grab a pair of Turbo Cottons. If you're looking for some more all-round tires, the Conti GP4000S II (read review), Michelin Power Competition (read review), and Schwalbe One (read review) will be faster.
Ad Buy Cycling Equipment at Amazon.com
RATING: 3.0 / 5
TEST VERDICT: Recommended
Comments