---
Vittoria

Rubino Pro G+ 2.0

- Lab Test Review
Vittoria Rubino Pro G+ 2.0
---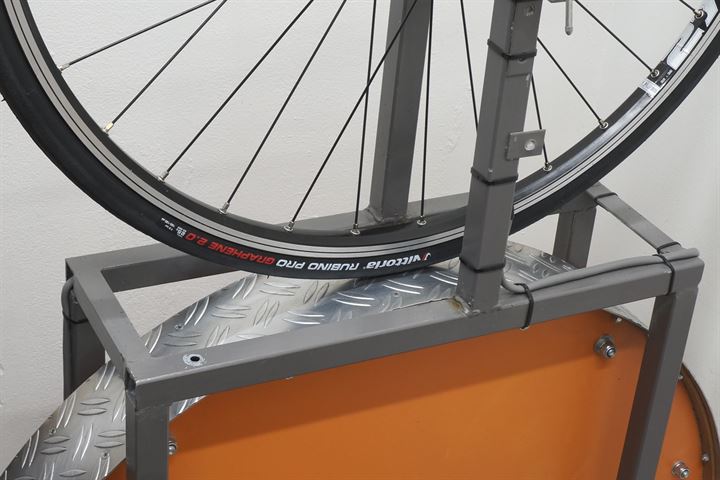 The Vittoria Rubino Pro G+ 2.0 is an updated version of the Rubino Pro G+ 1.0 that was released in 2016. Just like nearly all Vittoria G+ tires, the Rubino Pro now comes with the latest 2.0 version of Vittoria's Graphene compound. For the Rubino product line, Vittoria claims to have improved wet grip and mileage of the G+ 2.0 compound when compared to the G+ 1.0 compound. They do not claim reduced rolling resistance for the new Rubino compounds so it'll be interesting to see how it performs in our test.
Ad Buy Vittoria Rubino Pro G+ 2.0 at Amazon.com
Before the Rubino Pro G+ 1.0, there was the Rubino Pro III (read review) of which we were big fans. The Rubino Pro III offered a relatively low rolling resistance and good puncture resistance at a decent price. With the release of the Rubino Pro G+ 1.0 (read review) that changed a bit as the G+ 1.0 Rubino Pro was slower and more expensive than the older Rubino Pro III. Although Vittoria doesn't claim improved rolling resistance for the Rubino range, we do hope the new Rubino Pro G+ 2.0 surprises us in some way.
Also interesting to note is that some sizes (25, 28, 30) of the Rubino Pro G+ 2.0 are now available as TLR (tubeless-ready) versions. The TLR versions add about 30 grams of weight and should be used with sealant to completely seal the tires but will still be a bit lighter than the equivalent Rubino Pro with an inner tube. The Rubino Pro TLR versions are interesting as they probably are one of the first medium price range tubeless road bike tires.
Manufacturer Specifications
Manufacturer Specifications
Brand
Vittoria
Model
Rubino Pro G+ 2.0
Year
2019
Tire Type
Tubetype (clincher)
Supplied By
Bought in store
New or Used
New
Mileage
0 km
Price Range
Med
Buy At

Ad

Amazon.com
Manufacturer part number
11A.00.140
EAN
8022530019798
TPI
150
Compound
3C G+ 2.0
Bead
Folding
ETRTO
25-622
Size Inch
28"
Width
25
Specified Weight
250 grams
Max Pressure
130
Made In
Thailand
Available Sizes
23-622 (700x23c)
25-622 (700x25c)
28-622 (700x28c)
30-622 (700x30c)
23-571 (650x23B)
Vittoria Rubino Pro G+ 2.0 Test Results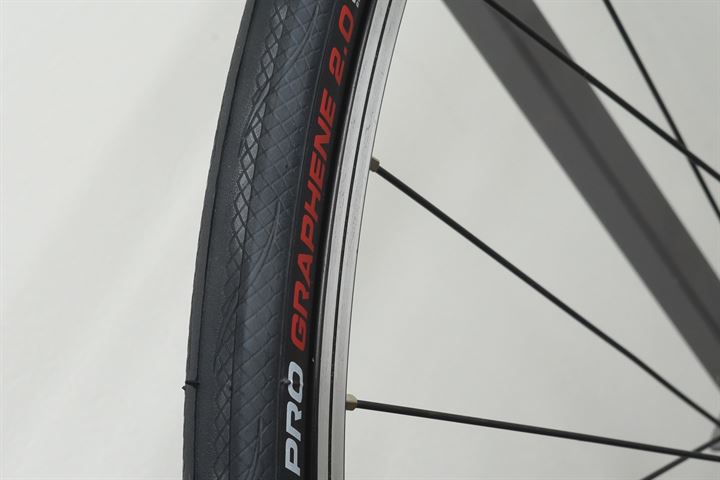 Size, Weight, and Thickness Measurements
advertisement
Size, Weight and Thickness Measurements
Specified Weight
250 grams
Measured Weight
245 grams
System Adjusted Weight
(tire + inner tube (100 gr)
345 grams
Measured Width
26 mm
Measured Height
23 mm
Total Tire Thickness Center
2.9 mm
Total Tire Thickness Sidewall
0.65 mm
Unmounted Casing Width
64 mm
Unmounted Tread Width
34 mm
All size measurements are taken at an air pressure of 100 psi / 6.9 bars on a 17.8 mm inner width rim.
Rolling Resistance Test Results
Rolling Resistance Test Results
Inner Tube
Conti Race28 (100gr butyl)
Rolling Resistance
140 PSI / 9.7 Bar
Not Tested
Rolling Resistance
120 PSI / 8.3 Bar
15.2 Watts
CRR: 0.00456
Rolling Resistance
100 PSI / 6.9 Bar
16.4 Watts
CRR: 0.00492
Rolling Resistance
80 PSI / 5.5 Bar
19.0 Watts
CRR: 0.00570
Rolling Resistance
60 PSI / 4.1 Bar
23.6 Watts
CRR: 0.00707
All numbers are for a single tire at a speed of 29 km/h / 18 mph and a load of 42.5 kg / 94 lbs.

Use the formula: RR (Watts) = CRR * speed (m/s) * load (N) to calculate rolling resistance at a given speed and load.
Puncture Resistance Test Results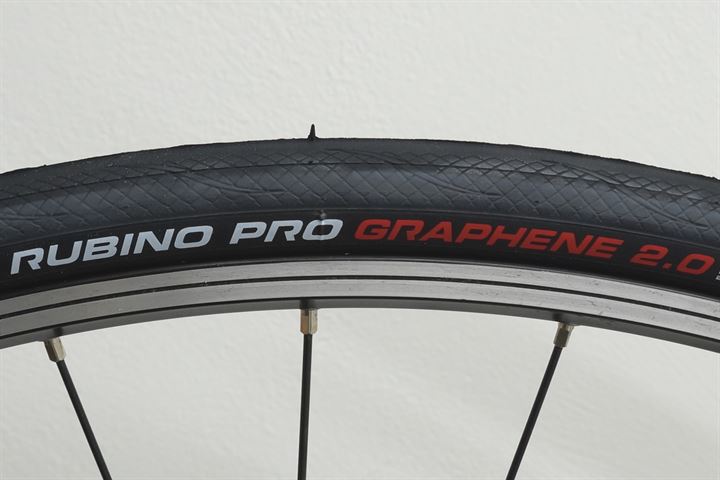 Puncture Resistance Test Results (higher is better)
Puncture Resistance Tread
11 Points
Puncture Resistance Sidewall
5 Points
Conclusion
Vittoria Rubino Pro G+ 2.0
Performance compared to all other road bike tires
(100% is fastest - lightest - thickest - strongest)
In our tests, the new G+ 2.0 version of the Rubino Pro doesn't impress. Rolling resistance has once again gone up a bit when compared to the previous G+ 1.0 (read review) version of this tire. On top of that, puncture resistance has also gone down a bit. Unfortunately, we don't test wet grip or durability, but our test results do make it plausible that, as claimed by Vittoria, they have improved wet grip and mileage of the Rubino G+ 2.0 compound.
If you're looking for a fast-rolling tire that doesn't break the bank, the Continental Grand Prix (read review), or Ultra Sport II (read review) now look like the top picks. The Rubino Pro III was once our top pick in this category but it looks like that tire has been discontinued a long time ago. You can now compare 3 generations of Rubino Pro on our site here.
Ad Buy Vittoria Rubino Pro G+ 2.0 at Amazon.com
RATING: 3.0 / 5
TEST VERDICT: Recommended
Comments