Road Bike Tire Test:

Bontrager

R3 Hard-Case Lite TLR
Bontrager R3 Hard-Case Lite TLR
---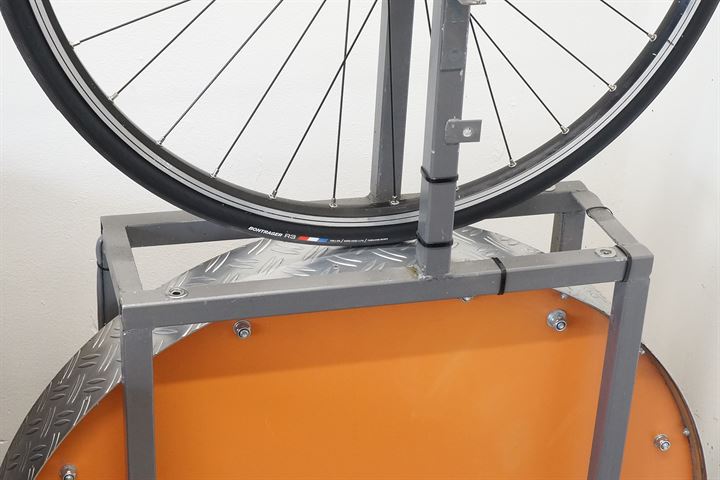 According to Bontrager, the R3 Hard-Case Lite TLR is a tubeless-ready road bike tire designed for speed, traction, and durability for everyday riding. Bontrager's description fits well with other tires that we categorize as all-round road bike tires like the Continental Grand Prix 5000, Schwalbe Pro One, Michelin Road, Vittoria Corsa, etc.
The basis of the R3 Hard-Case Lite TLR is a 170 TPI tubeless-ready casing with an extra layer of puncture protection material under the tread, which is a well-known recipe for an all-round road bike tire. The "TR-Speed" compound is developed by Bontrager itself, has a hardness of 60a, and should roll very quickly according to Bontrager.
The R3 Hard-Case Lite TLR is available in the 25-622, 28-622, and 32-622 sizes. We think this is a good size availability for tubeless road bike tires as some cyclists are really looking for the 32-622 size for more comfort and better sealing capabilities if you do have a puncture.
Bontrager claims the R3 Hard-Case Lite TLR is easy to assemble and inflate because it should work perfectly with its own wheels. Unfortunately, we don't have a Bontrager wheel available to test this. On our standard test wheel, the tire went over the edge easily, but inflation was impossible without a compressor and the valve core removed.
Let's see if the Bontrager R3 Hard-Case Lite TLR is worth checking out at all if you're not completely tied to Bontrager...
Manufacturer Specifications
Manufacturer Specifications
Brand
Bontrager
Model
R3 Hard-Case Lite TLR
Year
2021
Tire Type
Tubeless
Supplied By
Bought in store
New or Used
New
Mileage
0 km
Price Range
Very High
Buy At
Manufacturer part number
599499
TPI
170
Compound
TR-Speed 60a
Bead
Folding
ETRTO
25-622
Size Inch
28"
Specified Width (mm)
25
Specified Weight
285 grams
Max Air Pressure (psi)
125
Made In
Members Only
Available Sizes
25-622 (700x25c)
28-622 (700x28c)
32-622 (700x32c)
Bontrager R3 Hard-Case Lite TLR Test Results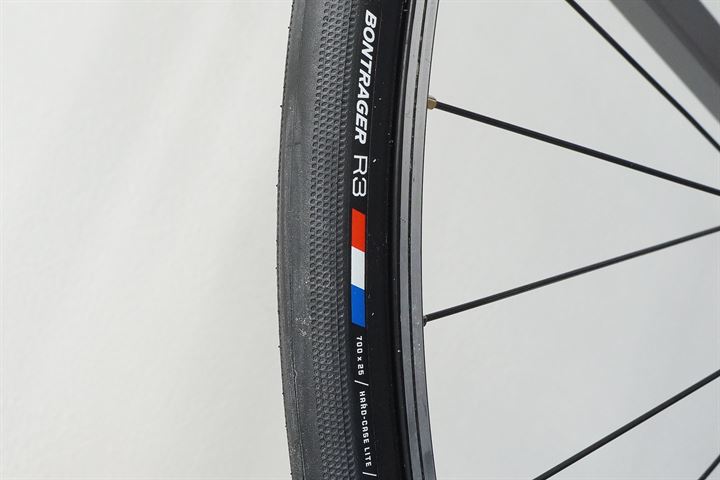 Size, Weight, and Thickness Measurements
advertisement
Size, Weight and Thickness Measurements
Specified Weight
285 grams
Measured Weight
300 grams
System Adjusted Weight
(tire + valve + rim seal)
320 grams
Measured Width
26 mm (un-round)
Measured Height
23 mm (un-round)
Total Tire Thickness Center
2.8 mm
Total Tire Thickness Sidewall
Members Only
Unmounted Casing Width
65 mm
Unmounted Tread Width
Members Only
Tread Cover (Tread / Casing Ratio)
Members Only
All size measurements are taken at an air pressure of 100 psi / 6.9 bars on a 17.8 mm inner width rim.
Rolling Resistance Test Results
Rolling Resistance Test Results
Inner Tube
None (20 ml sealant)
Rolling Resistance
140 PSI / 9.7 Bar
Not Tested
Rolling Resistance
120 PSI / 8.3 Bar
13.6 Watts
CRR: 0.00408
Rolling Resistance
100 PSI / 6.9 Bar
14.4 Watts
CRR: 0.00432
Rolling Resistance
80 PSI / 5.5 Bar
Members Only
Rolling Resistance
60 PSI / 4.1 Bar
Members Only
All numbers are for a single tire at a speed of 29 km/h / 18 mph and a load of 42.5 kg / 94 lbs.

Use the formula: RR (Watts) = CRR * speed (m/s) * load (N) to calculate rolling resistance at a given speed and load.
Puncture Resistance Test Results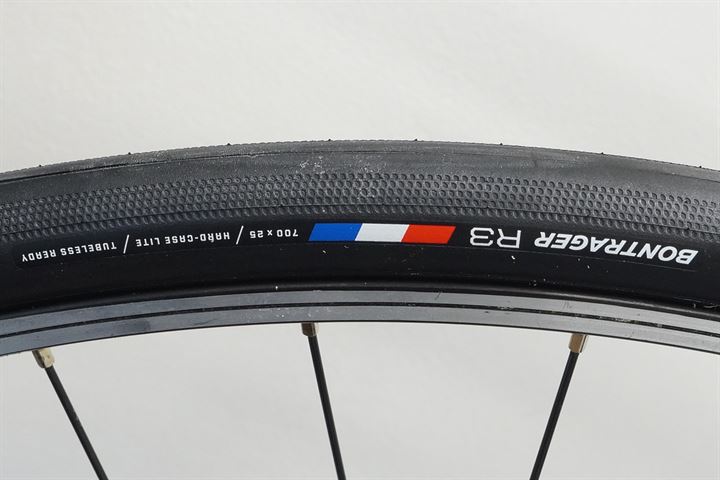 Puncture Resistance Test Results (higher is better)
Total Puncture Score Tread
55 Points
Total Puncture Score Sidewall
Members Only
Tread Puncture Force Sharp Needle
Members Only
Tread Puncture Force Blunt Needle
Members Only
Tread Total Tire Thickness
2.8 mm
Sidewall Puncture Force Sharp Needle
Members Only
Sidewall Puncture Force Blunt Needle
Members Only
Sidewall Total Tire Thickness
Members Only
Static Grip Test Results
NOTE: Grip test data is only available on tires tested after November 2018. You can find more information about our grip test here: Introducing Grip Testing
Static Grip Test Results
Wet Grip Average
67 Points
Wet Grip Center
Members Only
Wet Grip Edge
Members Only
Grip in points = coefficient of friction * 100
Conclusion
We're not impressed with the Bontrager Hard-Case Lite TLR. In almost all of our tests, the R3 Hard-Case Lite TLR comes out as an average road bike tire. If we also take the high price Bontrager is asking for this tire into consideration for our final judgment, it is better to pick a tire from another brand. We only recommend this tire if you're tied to Bontrager or have some nice Bontrager wheels and want to stick with Bontrager tires.
Although the R3 Hard-Case Lite isn't a stellar performer in our tests, there is a reason for celebration as it's the 100th road bike tire we've tested since we started this website back in 2014. If you're looking for some road bike tires, we recommend you to visit our road bike overview where you can compare the R3 Hard-Case Lite TLR against 99 other road bike tires.
RATING: 3.0 / 5
TEST VERDICT: Recommended
Comments