Road Bike Tire Test:

Vittoria

Rubino Pro III
---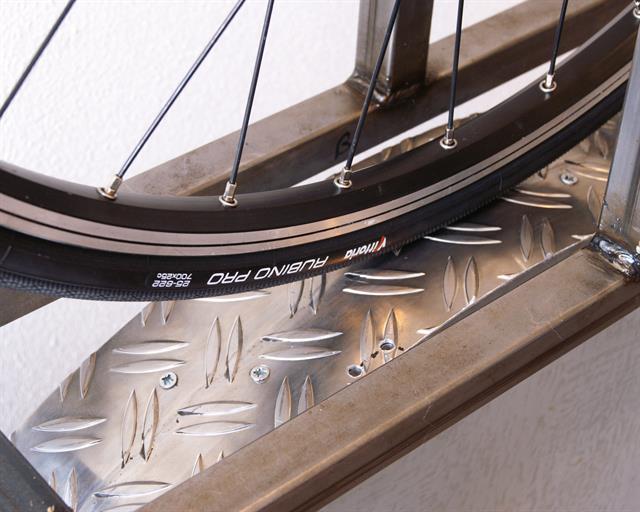 NOTE: We have a test available of a newer version of this tire: Vittoria Rubino Pro G+ 1.0 2016
The Rubino Pro 3 700 x 25C is a medium priced road bike tire from Vittoria. It comes with a 150 TPI nylon casing, long-life rubber compound, effective puncture resistance and a low weight of 235 grams. There is also a non-Pro version of the Rubino Pro 3 which comes with a 60 TPI casing and a wire bead. claimed weight of the non-Pro Rubino is 335 grams, which makes it unlikely to have a low rolling resistance. Although I'm testing the version with the tread pattern, both of these tires are available as a slick version as well.
The Rubino family is positioned under the top of the line 320 TPI Corsa family and above the Zaffiro family which are low-budget road bike tires. This is the second medium priced road bike tire I'm testing after the Continental Grand Prix. I find it interesting to see how much of a difference this makes and how much you can gain with top of the line tires. I also plan to test some € 10,- ultra low budget tires.
Manufacturer Specifications
Manufacturer Specifications
Brand
Vittoria
Model
Rubino Pro III
Year
2014
Tire Type
Tubetype (clincher)
Supplied By
Bought in store
New or Used
New
Mileage
0 km
Price Range
Med
Buy At
Manufacturer part number
111.365.21.25.111BX
TPI
150
Compound
-
Bead
Folding
ETRTO
25-622
Size Inch
28"
Specified Width (mm)
25
Specified Weight
235 grams
Max Air Pressure (psi)
130
Made In
Members Only
Available Sizes
20-622 (700x20C)
23-622 (700x23C)
25-622 (700x25C)
28-622 (700x28C)
23-571 (650x23C)
Vittoria Rubino Pro III Test Results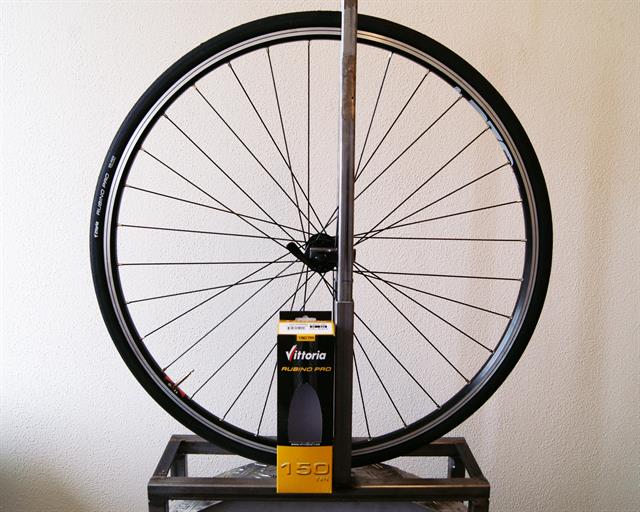 Size, Weight, and Thickness Measurements
advertisement
Size, Weight and Thickness Measurements
Specified Weight
235 grams
Measured Weight
238 grams
System Adjusted Weight
(tire + inner tube (100 gr)
338 grams
Measured Width
26 mm (un-round)
Measured Height
24 mm (un-round)
Total Tire Thickness Center
3.2 mm
Total Tire Thickness Sidewall
Members Only
Unmounted Casing Width
No Data
Unmounted Tread Width
No Data
All size measurements are taken at an air pressure of 100 psi / 6.9 bars on a 17.8 mm inner width rim.
The measured weight of 238 grams is close to the specified weight of 235 grams and is only 1 gram more than the Open Corsa CX which I measured at 237 grams. The Rubino Pro measures 26 mm wide on a 17C rim at 100 psi. Height is 24 mm. This is very close to the rated size of 25C.
Rolling Resistance Test Results
Rolling Resistance Test Results
Inner Tube
Conti Race28 (100gr butyl)
Rolling Resistance
140 PSI / 9.7 Bar
Not Tested
Rolling Resistance
120 PSI / 8.3 Bar
13.4 Watts
CRR: 0.00402
Rolling Resistance
100 PSI / 6.9 Bar
14.0 Watts
CRR: 0.00420
Rolling Resistance
80 PSI / 5.5 Bar
Members Only
Rolling Resistance
60 PSI / 4.1 Bar
Members Only
All numbers are for a single tire at a speed of 29 km/h / 18 mph and a load of 42.5 kg / 94 lbs.

Use the formula: RR (Watts) = CRR * speed (m/s) * load (N) to calculate rolling resistance at a given speed and load.
Rolling resistance is surprisingly good and even better at the higher air pressures. At 120 psi / 8.3 bars, rolling resistance is 13.4 watts which is only 0.4 watts higher when compared to the Open Corsa CX. At an air pressure of 100 psi / 6.9 bars, performance is still very strong with a rolling resistance of 14.0 watts. At lower air pressures, the difference gets a little bit bigger. At 80 psi / 5.5 bars, rolling resistance has increased to 16 watts which is 1.2 watts more than the Open Corsa CX.
Puncture Resistance Test Results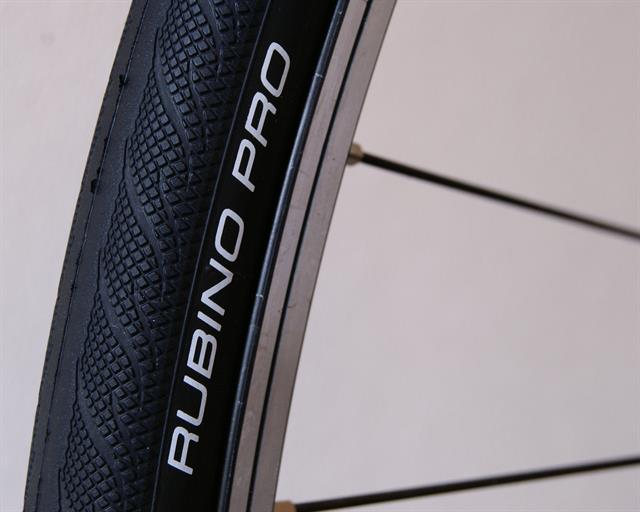 Puncture Resistance Test Results (higher is better)
Total Puncture Score Tread
60 Points
Total Puncture Score Sidewall
Members Only
Tread Puncture Force Sharp Needle
12 Points
Tread Puncture Force Blunt Needle
No Data
Tread Total Tire Thickness
3.2 mm
Sidewall Puncture Force Sharp Needle
Members Only
Sidewall Puncture Force Blunt Needle
Members Only
Sidewall Total Tire Thickness
Members Only
The Rubino Pro is able to score 12 points in the tread puncture resistance test. 12 points is pretty average for an all-round tire and equal to the Open Corsa CX.
Static Grip Test Results
NOTE: Grip test data is only available on tires tested after November 2018. You can find more information about our grip test here: Introducing Grip Testing
Static Grip Test Results
Wet Grip Average
No Data
Wet Grip Center
No Data
Wet Grip Edge
No Data
Grip in points = coefficient of friction * 100
Conclusion
At very high air pressures, the Rubino Pro performs excellent, at 120 and 100 psi you're only losing 0.4 watts when compared to the Open Corsa CX III. The Rubino Pro seems to "break down" when dropping air pressure to 80 psi. This results in a 1.2 watts advantage for the Open Corsa. 80-90 psi is probably the pressure you would want to run with 25mm tires. This means low-pressure performance is important as well. At these pressures, this tire equals the Continental Grand Prix which is a tire in the same price range.
When making a correction for an average road bike speed of 36 km/h / 23 mph (tests are run at 29km/h), and you want to spend a little less on tires, you will lose roughly 3 watts for a pair of tires when compared to the Vittoria Open Corsa. When compared with the "gold standard" Continental GP4000S II, you'll lose close to 5 watts for a pair of tires. 3 - 5 watts isn't much when you're just riding for fun, but if you're racing, it could be those last few seconds or meters you needed for the win.
RATING: 4.0 / 5
TEST VERDICT: Recommended
Comments